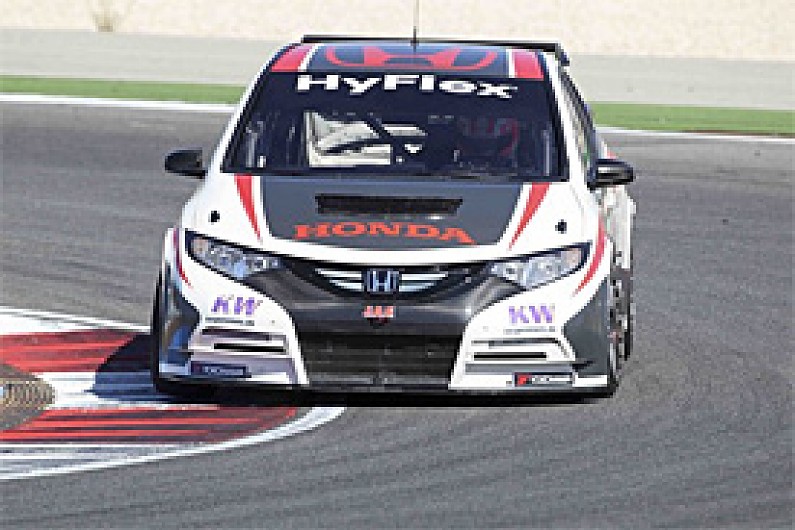 Tiago Monteiro believes his new Honda Civic WTCC has a realistic chance of breaking into the top 10 when it makes its competitive debut this weekend at Suzuka.
As revealed by AUTOSPORT in August, Monteiro will drive the car for the first time at Honda's home race, before also competing at Shanghai and Macau ahead of a full season in 2013.
Despite Honda therefore prioritising data-gathering and gaining experience, Monteiro believes the top 10 should be achievable.
"We must not lose sight of our goal for this first appointment: we need to gain experience and test several technical solutions that could be beneficial for the 2013 season," he said.
"We need real information. Getting a good result is not our goal, but in our true spirit, the top 10 should be a reachable target."
Monteiro praised the efforts of Honda and the JAS team which runs the operation in readying the Civic for Suzuka, saying the final shakedown had proved the car's reliability, if not its pace.
"JAS and Honda have done an excellent job over the last six months," he added.
"The whole team has worked very hard so that we can participate in these two Japanese races, Honda's home ground.
"The final shakedown took place at Sugo and everything went well. The car is very reliable in regard to performance, but we were the only ones on the track so it is difficult to get an idea of its actual speed compared to the others."
Monteiro's future team-mate Gabriele Tarquini has previously cautioned that immediate results shouldn't be expected, while Honda's WTCC team boss Alessandro Mariani insisted he was aiming to win the opening race of 2013.