Yvan Muller was out to defend his world title, but with opposition coming from SEAT team-mate Gabriele Tarquini, the BMWs of former champion Andy Priaulx and Augusto Farfus, and the leading Chevrolet of Rob Huff, the battle was set to rage from the opening race in March all the way to the final lap in November. This is how the year unfolded.
Round 1 Curitiba, March 7-8

Yvan Muller got his title defence off to a perfect start with victory in the Brazil season opener. He led a train of four factory SEATs with the Chevrolets and BMWs disappearing into the distance behind.

Tarquini started the reverse-grid race in fifth, but quickly infiltrated the BMWs ahead. The rest of the SEATs followed him through, while Farfus, Hernandez, Priaulx and Porteiro went backwards. Jorg Muller was the best of the BMWs, storming from 19th up to fifth - the first non-SEAT.

Round 2 Puebla, March 21-22

Rydell jumped from fourth to first at the rolling start, and held off pole-sitter Farfus to win. BMW got stronger late in the race with Priaulx passing Tarquini and Yvan Muller to complete the podium.

Yvan Muller won race two, able to keep the quicker BMW of Priaulx behind on the long straight. Rydell was third, again just ahead of Farfus. Chevrolet was still struggling to get the new Cruze up to speed and Larini was only ninth from pole, after Tarquini was excluded for taking Jorg Muller out of second.

Round 3 Marrakech, May 2-3

After quiet races in South America, Chevrolet burst into life with Huff and Larini winning in Morocco. Huff held the flock of SEATs at bay into the first corner from pole and ran the show from there.

Larini took his maiden WTCC win in the second race after Jorg Muller clipped the wall at the last corner. Huff fought tirelessly to wrestle second from Yvan Muller but the Frenchman remained unflappable.

Round 4 Pau, May 16-17

Huff won again after Farfus hit some oil and slid wide on the second lap, then spent the rest of the race just inches from the Cruze's bumper. Five more BMWs followed Farfus with Menu slowing to secure race two pole. SEAT was nowhere.

Menu made it four in a row for Chevrolet in race two after four separate crashes caused a red flag on the first lap. Engstler's was leading at the time but rammed the safety car which was sitting in the road after a blind kink. Farfus had to follow a Chevy home in second again, with Huff third. Tarquini was the best SEAT in sixth.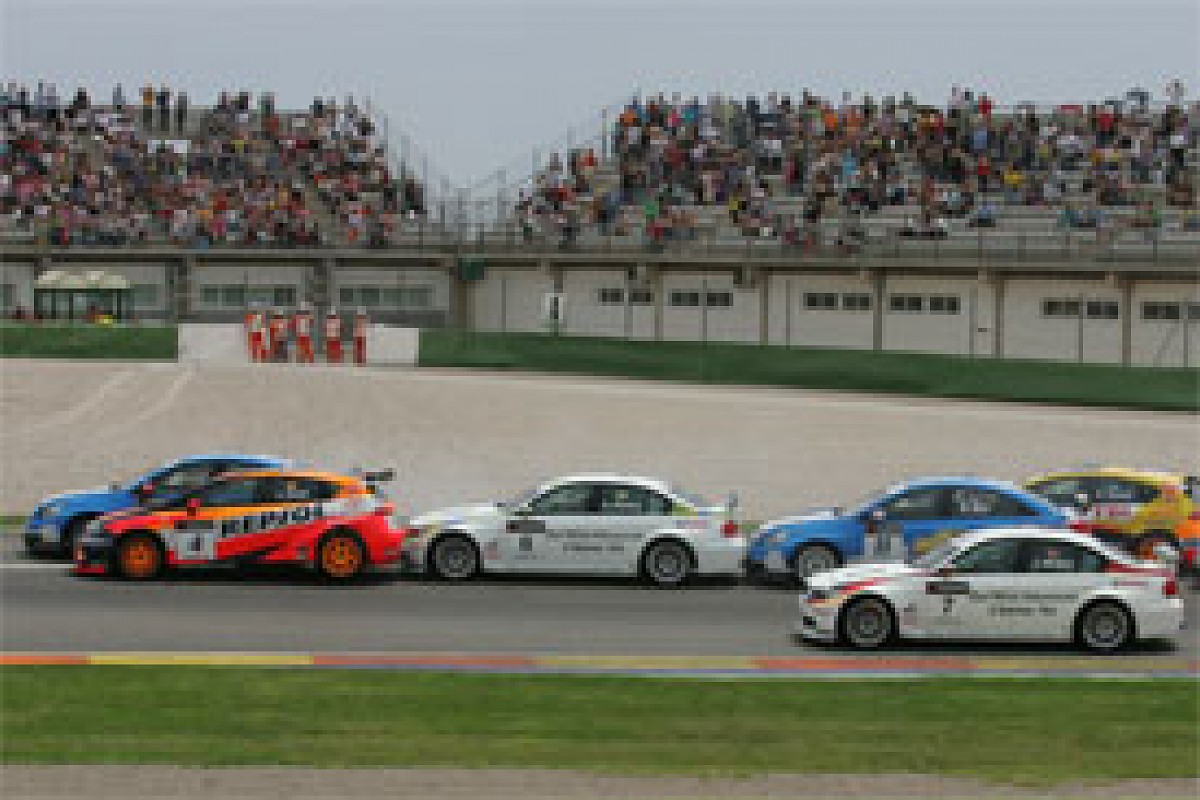 Action in the first turn at Valencia © XPB
Round 5 Valencia, May 30-31

Nice and light on home soil after a dismal showing in Pau, SEAT was back on form. Yvan Muller won comfortably with ORECA team-mate Monteiro second ahead of Tarquini.
BMW finally scored its first win of the season in race two as Farfus and Jorg Muller controlled the reverse-grid race and pulled clear of Tarquini.
Round 6 Brno, June 20-21

Zanardi capitalised on first corner carnage to take his habitual win of the year. Pole-sitter Farfus managed to wipe out himself, Priaulx, Gene and all three Chevrolets, leaving Tarquini in the lead. Zanardi nipped past his countryman a few corners into the race for the lead, and Jorg Muller stormed passed the remaining four works SEATs to take second.
Hernandez took his maiden WTCC victory in race two after wrestling the lead from countryman Porteiro early on. Yvan Muller and Monteiro also passed Porteiro to complete the podium.
Round 7 Porto, July 4-5

Tarquini won quite easily after an early red flag stoppage for several first-lap crashes. Huff couldn't quite stay in touch in second and Muller had an easy third after Priaulx slowed and dropped five places to ensure that Farfus had race two pole.
Farfus put it to good use, winning from a line of four SEATs headed by Yvan Muller. Tarquini was the only absentee after colliding with Larini and landing in the wall.
Round 8 Brands Hatch, July 18-19
Menu converted pole position into a fourth victory in four years at the British circuit. Huff had taken the lead around the outside at Paddock Hill Bend but handed the place back as part of a pre-race deal between the team-mates not to fight each other on the opening lap.
Yvan Muller hit Farfus at Druids on the opening lap and then had Porteiro land on his SEAT, forcing him to retire. Farfus recovered to charge to another eighth place.
Farfus cruised to victory in race two with Jorg Muller again riding shotgun for him. Tarquini was the lead SEAT in third, while Yvan Muller had to charge from the back to collect two points for seventh.
Round 9 Oschersleben, September 5-6
Priaulx stormed from 14th to first to take his first win of the season. He survived first lap mayhem and came out fourth, then passed the SEATs of Coronel, Rydell and Tarquini. Yvan Muller retired when he clipped the tyres at the first chicane after being passed by Farfus.
Farfus took another race two win after passing the independent BMWs of D'Aste and Engstler. Priaulx followed him through to watch his back in second, with Tarquini again the best SEAT in third after D'Aste's drive-through and Engstler's car failure. Yvan Muller once again had to come from the back to seventh.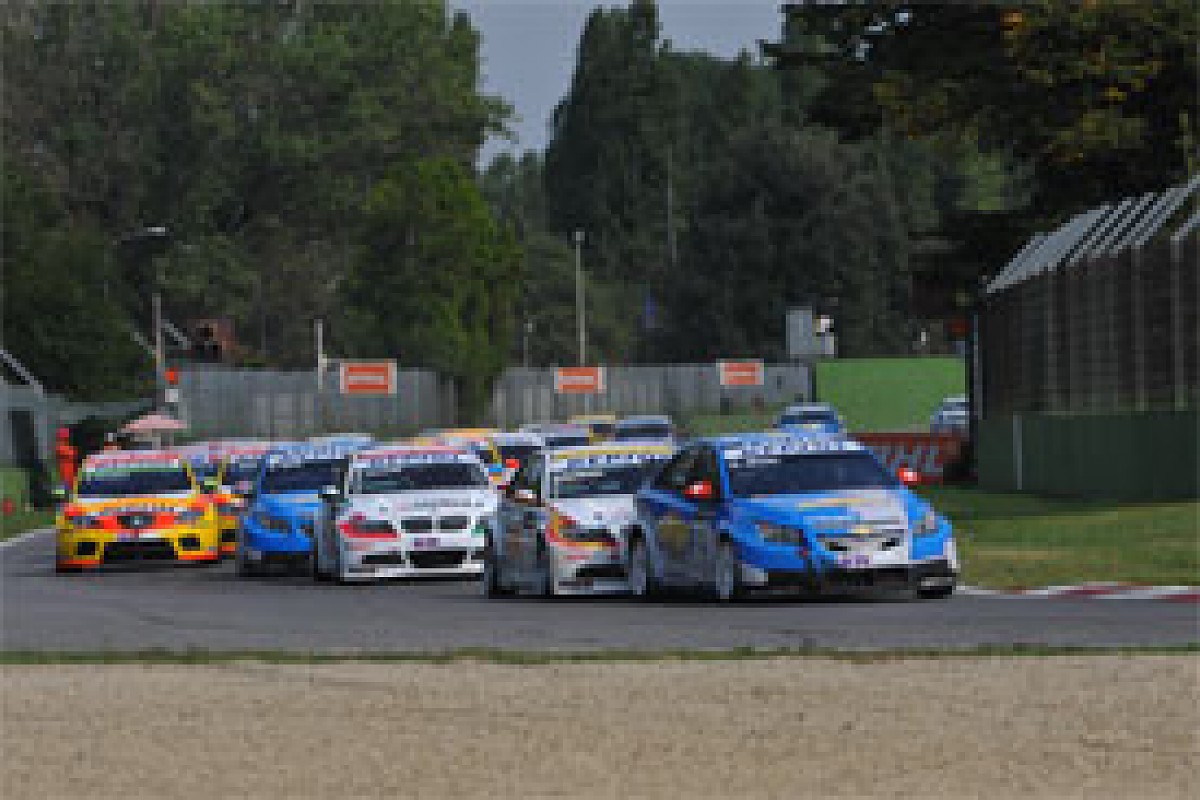 Alain Menu leads the field at Imola © XPB
Round 10 Imola, September 19-20
Tarquini led from start to finish but had to soak up relentless pressure from Yvan Muller to do it - with Huff close behind in third. Gene triggered a first corner pile-up that wiped out Farfus, Rydell, Jorg Muller and Monteiro. Zanardi, Coronel and Thompson evaded the carnage to earn fourth, fifth and sixth places.
Muller turned the tables and led his team-mate home in race two, but only after Tarquini had shoved Huff off the road on the opening lap.
Round 11 Okayama, October 31-November 1
Pole-sitter Tarquini slid off the road at the second corner in torrential conditions, leaving Priaulx to fight off an intense charge from Jorg Muller all the way to the flag. Huff was third with Yvan Muller and Tarquini well down the road in fourth and fifth.
Farfus had followed Tarquini off on lap one but once again recovered to eighth and race two pole. And again he turned it into a victory to keep his slim title hopes alive. Monteiro squeezed Jorg Muller onto the grass, which triggered a crash which took several cars - including Tarquini - off the road in avoidance. Priaulx was second to Farfus with Yvan Muller third and Tarquini seventh.
Round 12 Macau, November 21-22
Huff is making a habit of winning in Macau and stormed to another unchallenged win. It was made to look easier than it was once Monteiro and Gene slowed to hand places to Yvan Muller and Tarquini.
Farfus finished the year with another victory from reverse-grid pole, with Jorg and Yvan Muller in close attendance. Fifth was enough for Tarquini to seal the title, while sitting on the grid waiting for a restart that never came following a huge accident involving Engstler, Porteiro and Couto.