Wildcard driver Sebastien Eriksson stunned the World Rallycross Championship's established order by claiming an emphatic home victory at Holjes.
The fastest time in the fourth and final qualifying session of the weekend elevated the Olsbergs MSE driver to second overall before he then won the first semi-final by passing Niclas Gronholm in the final corners to secure pole position for the final.
In the main event, Eriksson - in just his fourth WRX wildcard appearance - took the lead at the opening corner as a fast-starting Gronholm from the second row headed straight into the Turn 2 joker.
But Gronholm was forced wide on entry by Timmy Hansen, who slid up the inside of the Hyundai.
Running fourth on the opening lap, despite showing pace in the semi-final, Gronholm's challenge in the final was short-lived as he punctured his left-rear tyre on landing from the circuit's first jump on the second lap and dropped back down the order.
Punctures would prove decisive in the final reckoning and crucially cost Hansen.
His brother Kevin took his joker on the third tour from second on the grid and returned to the main circuit just behind his elder brother and the pair banged doors repeatedly after the joker merge in the semi-finals.
But, the positions swapped again at the end of the same lap when Timmy Hansen's Peugeot 208 suffered a front right puncture, causing to him run deep into the final turn and allowing brother Kevin to dive up the inside and chase down Eriksson.
On its first WRX outing of the season, the Olsbergs MSE team struggled with oil temperatures with its Ford Fiestas, meaning the pace dropped off in the latter half of the longer semi-final and final races.
While the Hansen brothers battled, Eriksson set the fastest lap of the day on the third tour and then took his joker on lap four to cover off Kevin Hansen behind.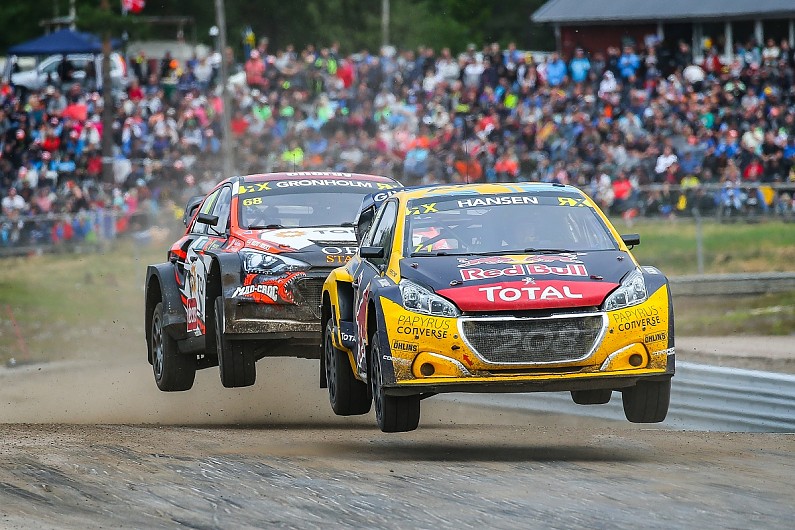 Eriksson maintained track position but then had to defend in the final two laps.
Kevin Hansen made a bid to overtake in the final corner and pushed Eriksson's Fiesta sideways, but followed the winner over the line in second to take the points lead.
Eriksson had previously been denied victory on his debut at the same circuit in 2014, driving for the same Andreas Eriksson-owned, but a broken suspension handed the win to Mattias Ekstrom.
Reigning European champion Reinis Nitiss completed the podium and climbed from fifth to third by virtue of Timmy Hansen and Gronholm suffering from punctures.
Gronholm finished fourth on the road but was given a five-second penalty for a track limits infringement, handing the place to Abbring, while Timmy Hansen was fifth.
Despite qualifying top in the intermediate classification and leading the first semi-final, RX Cartel driver and title-contender Andreas Bakkerud dropped back on the second lap with a broken driveshaft and did not make the final.
Final result - 6 laps
| Pos | Driver | Team | Car | Gap |
| --- | --- | --- | --- | --- |
| 1 | Sebastian Eriksson | Olsbergs MSE | Ford | 4m26.658s |
| 2 | Kevin Hansen | Team Hansen MJP | Peugeot | 0.338s |
| 3 | Reinis Nitiss | GRX Set | Hyundai | 4.331s |
| 4 | Kevin Abbring | ES Motorsport - Labas Gas | Skoda | 20.110s |
| 5 | Niclas Gronholm | GRX Taneco Team | Hyundai | 21.522s |
| 6 | Timmy Hansen | Team Hansen MJP | Peugeot | 45.860s |
Drivers' championship
| Pos | Driver | Points |
| --- | --- | --- |
| 1 | Kevin Hansen | 131 |
| 2 | Timmy Hansen | 125 |
| 3 | Andreas Bakkerud | 109 |
| 4 | Niclas Gronholm | 96 |
| 5 | Janis Baumanis | 89 |
| 6 | Timur Timerzyanov | 78 |
| 7 | Liam Doran | 76 |
| 8 | Timo Scheider | 64 |
| 9 | Anton Marklund | 63 |
| 10 | Krisztian Szabo | 55 |
| 11 | Guerlain Chicherit | 49 |
| 12 | Cyril Raymond | 45 |
| 13 | Joni Wiman | 39 |
| 14 | Kevin Abbring | 35 |
| 15 | Sebastian Eriksson | 29 |