The 2019 World Rallycross championship will be run over just 11 rounds, after being held over 12 events in recent seasons.
For the first time, the series will be book-ended by flyaway events, beginning in Abu Dhabi at the Yas Marina Circuit in April before concluding on the last weekend of November in South Africa.
The Portuguese round has been dropped from the schedule.
Aside from the Montalegre circuit not appearing on the WRX calendar for the first time, and the German round at Estering being run as a European-championship only standalone event in August, the schedule maintains a similar look to recent seasons.
The Barcelona circuit will host round two, following a four-year extension of the Spanish venue's WRX contract.
The third round will be held on Spa's new rallycross track, which takes the place of Mettet on the second weekend in May, two weeks before the British event at Silverstone.
After the Norwegian round at Hell in mid-June, the Swedish, Canadian and French rounds maintain thei traditional slots on the first weekends of July, August and September respectively.
The Swedish event at Holjes will remain on the series' schedule until at least 2023, after concluding a five-year deal.
The final leg of the season will be made up of the Latvian round in September before WRX visits for the second time Austin two weeks later, ahead of the final round in Cape Town.
The European rallycross championship will again run alongside WRX at five rounds (Britain, Norway, Sweden, France and Latvia), with the additional sixth event at Estering in the middle of the year.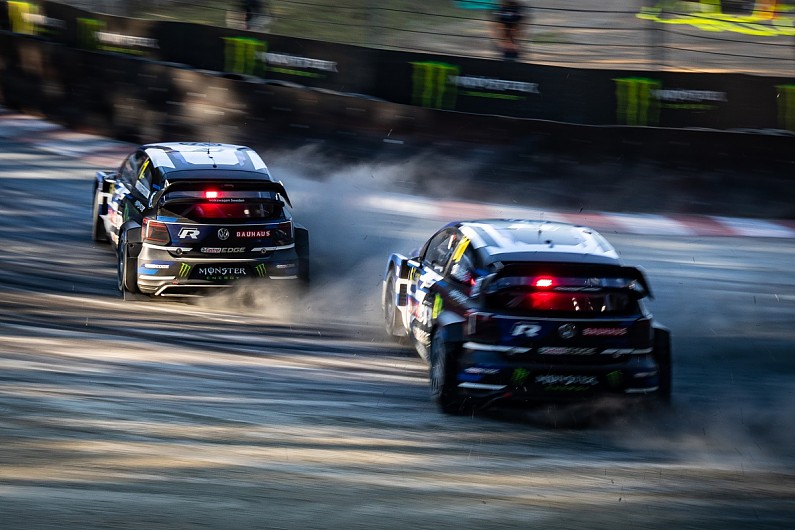 The Super1600 category will appear six times at European events, starting in Spain and including Spa.
The RX2 single-make support class calendar is yet to be announced.
"A tremendous amount of hard work has gone on behind-the-scenes to put together what we believe is a perfect blend of rallycross tradition and exciting new venues to truly challenge competitors and thrill fans," said WRX managing director Paul Bellamy.
"We are firmly focused on the future of the world championship and are confident that next season will mark another major step forward in the growth of rallycross' biggest international series."
The calendar remains provisional until it is approved by the FIA's World Motor Sport Council on December 5.
2019 World Rallycross calendar
April 5-6 Abu Dhabi (Yas Marina)
April 27-28 Spain (Barcelona)
May 11-12 Belgium (Spa-Francorchamps)
May 25-26 Britain (Silverstone)
June 15-16 Norway (Hell)
July 6-7 Sweden (Holjes)
August 3-4 Canada (Trois-Rivieres)
August 31-September 1 France (Loheac)
September 14-15 Latvia (Riga)
September 28-29 US (Austin)
November 30-December 1 South Africa (Cape Town)