Peugeot's CEO has clarified the brand's shock decision to withdraw from the World Rallycross Championship is not based on its recent results.
The manufacturer announced on Thursday it will quit World RX after the next month's season finale in South Africa.
Peugeot boss Jean-Philippe Imparato went on record on Friday to stress the programme was being terminated so the brand can focus on its recently announced push with electric sports vehicles, after World RX postponed its switch to electric cars until 2021 and extended the deadline for manufacturers to sign up for the series until the end of March '19.
Imparato also confirmed nine-time World Rally champion Sebastien Loeb, the only driver other than Johan Kristoffersson to have won a World RX round so far this season, will remain a PSA driver - having raced for Peugeot in World RX since 2016.
"I have seen a lot of emotions since yesterday [Thursday] on my Twitter account," said Imparato. "So I want to give you more keys to help you understand our decision.
"First, this announcement is not linked with our results in the competition or our pilots.
"I want to congratulate and thank all the Hansen family and team for the exceptional talent, fighting spirit, determination and for the Swedish kindness they shared with us.
"For Sebastien it's too early to say, but he remains a pilot for PSA Motorsport so we will think about the future with him."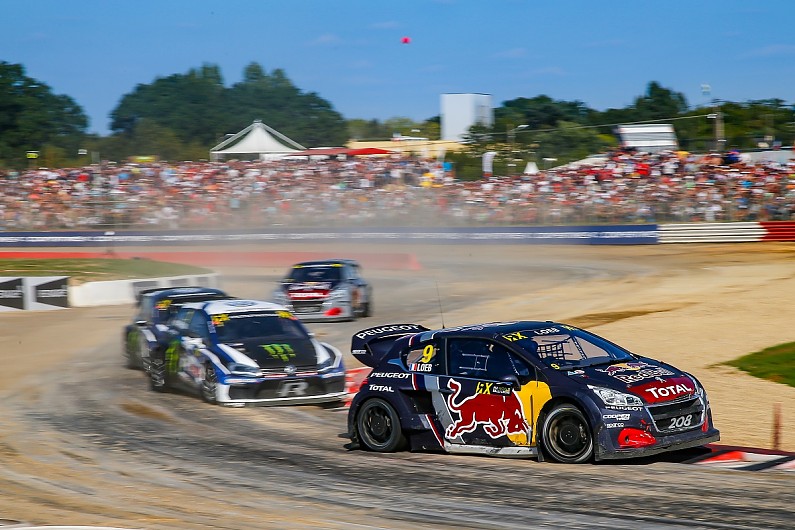 Imparato said new European legislation on CO2 emissions was a driving force behind the decision.
"The decision to stop WRX appears very brutal, but my mission as a CEO is to make decisions at the right moment to ensure the sustainability of the company and the employees," he said.
"And the actual context pushed us to react quickly. Last October 3, during the Paris Motor Show, the European institutions decided to tighten up regulation in Europe with a 40% reduction in CO2 emissions in 2030, on the basis of the 95g already fixed for 2020.
"We have no other choice to be compliant with the new thresholds if we don't want to disappear by inertia.
"The uncertainty of a future EWRX championship is not compatible with the calendar of our electrified offensive, which is starting now! That's why we are withdrawing from WRX."
Peugeot will now restructure and develop low-emission, high-performance sports vehicles together with Peugeot Sport.
Responding to Peugeot's exit, World RX managing director Paul Bellamy said: "We are disappointed with the announcement that Peugeot is to withdraw, but respect their decision.
"Manufacturers inevitably come and go in motorsports and this is no different.
"We would like to thank Peugeot for their support of and participation in the series, and wish them every success in the future."
Bellamy added World RX was maintaining its push to switch to electric cars for 2021.