Mattias Ekstrom has picked Andreas Bakkerud, left drive-less when Ken Block's Hoonigan team withdrew from World Rallycross, as his team-mate at EKS Audi for the 2018 championship.
Ekstrom announced on Monday that he would end his DTM career to focus fully on World RX, with Audi continuing to support his team and building two new S1 RX quattro Supercars.
Bakkerud has won six World RX events in the last four years.
"It's a great honour for me to be driving in Mattias' team," said the 26-year-old Norwegian.
"We've had a good rapport with each other for many years and I've been closely following the development of EKS.
"Together with the team I'd now like to make the next step in my career and be in contention for the title."
He revealed on his 'Bakkerud Life' YouTube channel before the Audi announcement that he had been speaking with Ekstrom since August 2013, and Ekstrom had tried to sign him for the start of the EKS RX programme in '14.
"I don't even know what to say, I'm very, very excited to share this secret," continued Bakkerud. "I've kept it from everyone and it's been really tough.
"It's a pro contract and in motorsport that doesn't come very often. I'm basically now living the dream which I've had since I was a little kid."
Bakkerud told Autosport before Christmas that his focus for 2018 was on securing a drive with long-term prospects, particularly given plans to make electric rallycross part of the world championship as early as 2020.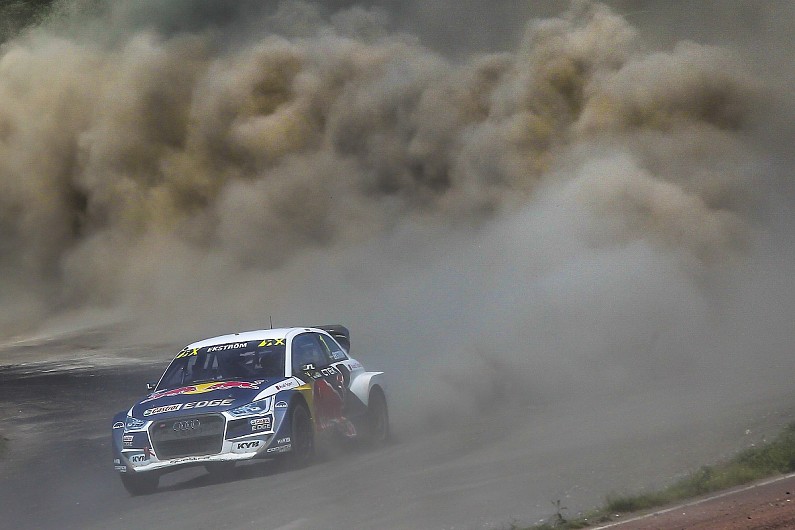 Head of Audi Motorsport Dieter Gass confirmed Audi's interest in electric rallycross.
"We gathered very positive experiences in the World RX last year and are convinced of the series' growth potential," he said.
"In the medium run, we hope to see electric cars being fielded in this racing series because electrification is a focus topic at Audi in motorsport."
Ekstrom and his squad won both the RX drivers' and teams' titles in 2016.
Last year Ekstrom, leading a three-car squad with Toomas Heikkinen and Reinis Nitis alongside, was runner-up to Johan Kristoffersson in the drivers' points while EKS was third in the teams' standings.
"With support from Audi we're able to go for all-out attack," said Ekstrom.
"Our aim for 2018 is clear: we're battling for the drivers' and teams' world championship titles.
"It was clear that we needed to make some changes. That's why we're preparing two new cars and putting the competition from Volkswagen and Peugeot in their place."