M-Sport has revealed the successor to its best-selling Ford Fiesta R5 rally car.
The new car is a ground-up overhaul of the original Fiesta which, launched in 2013, was the world's first R5 car to break cover.
Since then, the Cumbrian-built machine has become the world's best-selling car in the category with close to 300 examples sold around the world. Those cars have won 45 domestic rally titles worldwide since 2014.
Outwardly, the new Fiesta R5 - which went through 18 months' development - looks radically different to its predecessor, with a completely new aerodynamic package that draws heavily on the latest generation Fiesta World Rally Car.
The car features more power, response and drivability from its 1600cc engine. The transmission includes a brand new Sadev five-speed gearbox, while the steering has been improved with hydraulic, servo-assisted rack and pinion revisions.
Brembo deliver new brakes, while lighter Reiger dampers have been tuned to revised geometry aimed at delivering improved stability and traction.
M-Sport managing director Malcolm Wilson, who tested the car himself earlier this year, told Autosport: "It felt fantastic. To be honest, I like to get out in all the new cars, just for half a day, so I was away up to Greystoke [forest] and I didn't stop smiling.
"It's a very, very good car and it had to be to improve on the original R5 - our most successful global rally car.
"It's a very special car for M-Sport and even though the original cars continue to win rallies and championships all over the world, we have taken our time to ensure this new model is even better with performance gains in every area."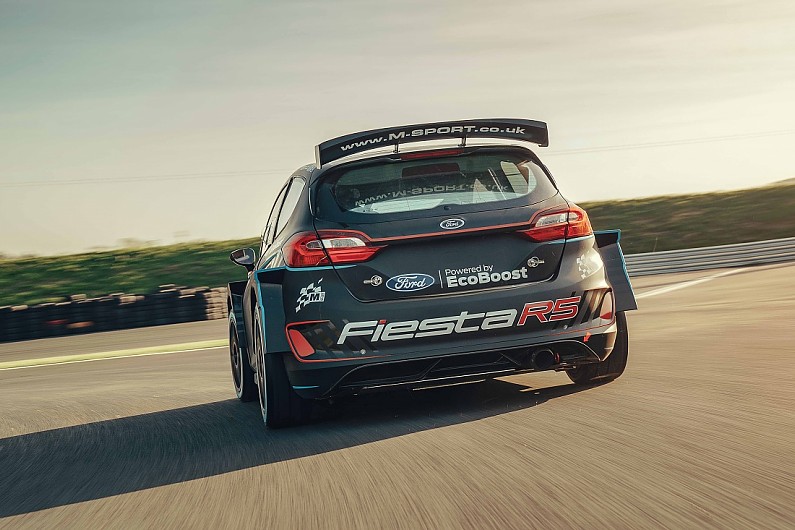 Eight drivers, including Gus Greensmith and Eric Camilli, have done much of the test work, and Camilli will give the new car its first public appearance at the Ypres Rally at the end of the month.
Greensmith will give the Fiesta its World Rally Championship debut at Rally Finland in August. Wilson said: "The test programme has been extensive, and we have worked hard to ensure this new car suits every level of driver.
"We have quite literally travelled the world - testing on a wide range of surfaces, in varying conditions and with a whole host of drivers taking to the wheel.
"This car is extremely important to us, and its adaptability is vital to its success."
M-Sport has once again worked closely with Ford Motor Company on a rally car based on the road-going Fiesta ST-Line.
Ford Performance senior manager Gerard Quinn said: "This is another important milestone for Ford as the introduction of the all-new Ford Fiesta R5 heralds the introduction of the latest in motorsport technology packaged into Europe's best-selling car in its category.
"Ford investment in the new Fiesta R2 - revealed earlier this year - and the latest Fiesta R5 ensures that we are supporting a sustainable future in rally for competitors and our partners M-Sport.
"This new Fiesta R5 also enables us to provide a high-quality replacement for its remarkably successful predecessor which was introduced six years ago.
"In the past two seasons the Fiesta R5 has won more than 40 championships globally, and we are looking forward to much more success with this latest model."