Kalle Rovanpera feels he could be ready for a full-time World Rally Championship seat by 2020, and Skoda would release him from his contract if he secures one.
There is strong speculation that Rovanpera's manager Timo Jouhki already has the 18-year-old's future tied down in a long-term agreement with another of his former drivers - Toyota WRC team principal Tommi Makinen.
Both Jari-Matti Latvala and Kris Meeke have single-season Toyota agreements for 2019, with one of them widely expected to step aside for Rovanpera thereafter.
Although Skoda has a long-term contract with Rovanpera, team manager Pavel Hortek confirmed it would not stand in his way.
"On one side I can tell you we have a long-term agreement with Kalle," said Hortek.
"But like you saw with Juho [Hanninen] and Esapekka [Lappi], we have never broken the opportunity for a young driver when he came to us and said: 'Guys, I have the proposal to go higher'. We never stopped them.
"Kalle is an extremely talented young guy and we wait for his future.
"It's risky to say too much when a guy is only 18, but I hope he will continue to go up."
Rovanpera said 2019 will be "about the experience" of contesting as many WRC rounds as possible and the "WRC2 title is not what it's about for me".
He will drive a privateer Fabia R5 for former WRC driver Toni Gardemeister's TGS Worldwide team when he is not in the factory car.
Though keen on a 2020 WRC move, he insisted he was not set on such a development.
"It depends how next year goes, but after that I think I can be ready if we get that experience and the speed is good," said Rovanpera.
"But nobody knows what will happen and R5 is still a good place to have a fight with the fast guys.
"If I drive two years or three years in WRC2, I don't mind. I'm not in such a hurry."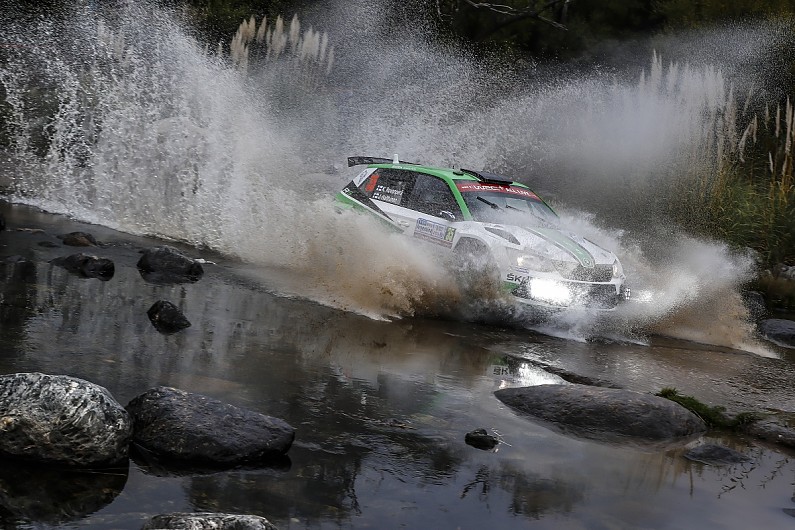 Rovanpera's 2018 team-mate Pontus Tidemand has left Skoda because he feels time is running out for him to reach the top class.
"I have been here four years, they offered me one more year, so we had a chance to stay here, but the years are flying now," said the 2017 WRC2 champion.
"I'm 28 soon and if I want to become a WRC driver then I need to do something else.
"We are working on some opportunities to do something in a World Rally Car, [Rally] Sweden would always be a wish and that's certainly one of the events where I think we could make a result.
"I'm happy with the time at Skoda, but for motivation and for my career the time has come for me to move on."
Tidemand also lauded Rovanpera, saying: "Honestly, he is something special. We didn't see anything like him before. He learns so quick and finds the speed so quick."