Toyota's Ott Tanak completed a hat-trick of World Rally Championship event wins on Rally Turkey, capitalising on the retirement of title rivals Sebastien Ogier of M-Sport and Hyundai's Thierry Neuville.
Many of the top World Rally Championship cars retired in one of the toughest rallies in recent memory, as they returned to Turkey for the first time since 2010.
Tanak had seemed well out of the victory battle and was as low as ninth on Friday, but surged through the field to capitalise in the tricky conditions. He then inherited the lead as Andreas Mikkselsen hit trouble on Saturday afternoon.
Once Tanak was established in the lead on Yesilbelde, SS11, Toyota confirmed it would use team orders to keep him ahead of Jari-Matti Latvala, who started the event seventh in the championship while Tanak is thick in the fight for a first WRC drivers' title.
Tanak moves into second in the standings with the victory, 13 points behind Neuville and 11 ahead of Ogier, who loses second. Toyota now leads the manufacturers' standings.
The title battle between Neuville and Ogier was breathless in an epic battle on Friday, with three tenths splitting them in that order to close out the day.
But Neuville's broken-suspension enforced retirement handed Ogier the lead on Saturday morning.
He then went off shortly after on SS11 and beached his Ford Fiesta, unable to return until the next day.

Neuville also returned on Sunday, and took the loop easy to save tyres for the powerstage, which he won earning five additional bonus points, while Ogier suffered a rear left puncture but still took four points for second on the last stage.
M-Sport had Elfyn Evans check-in early to give his team-mate Ogier an extra place on Sunday morning, which paid off as Ogier got a point for 10th in the overall classification.
Hayden Paddon completed an uneventful rally in third for his best result of the year after two consecutive fourth-place finishes, ahead of M-Sport's Teemu Suninen who took the event equally as cautiously to avoid trouble.
Mikkelsen lost the lead as quickly as he had inherited it on Saturday morning, as his car was reduced to rear-wheel drive and he fell back to an eventual fifth overall.
Jan Kopecky won in the WRC2 championship as he continued his 100% record this year aboard his works Skoda Fabia R5 and took seventh overall. European Championship frontrunner Chris Ingram earned a podium in third on his series debut.
Henning Solberg would have won WRC2 in his Skoda but wasn't registered. He took a brilliant sixth overall.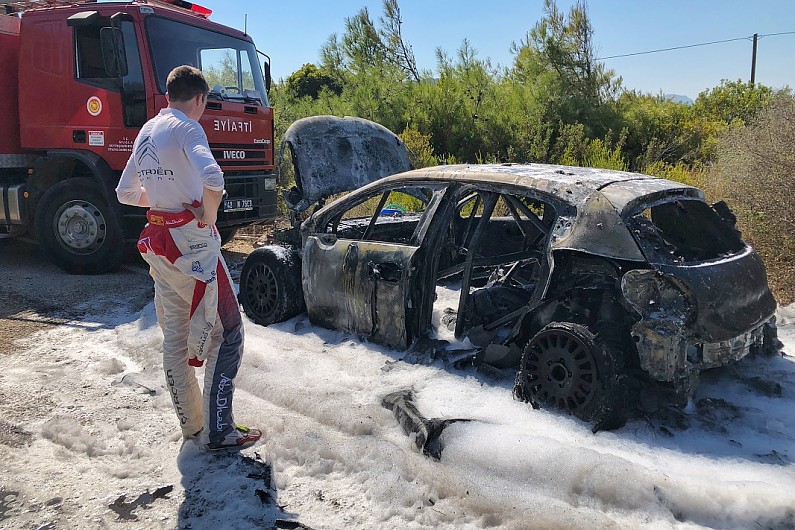 The retirement list was long. Mads Ostberg and Evans both suffered broken suspension on Friday, Ostberg's Citroen team-mate Craig Breen's car burned to a crisp on a Saturday road section while Esapekka Lappi's Toyota retired just before Breen after a crash. Lappi and Breen did not return on Sunday.
Leading finishers
| Pos | Driver | Team | Car | Gap |
| --- | --- | --- | --- | --- |
| 1 | Ott Tanak, M.Jarveoja | Toyota Gazoo Racing WRT | Toyota | 3h59m24.5s |
| 2 | Jari-Matti Latvala, M.Anttila | Toyota Gazoo Racing WRT | Toyota | 22.3s |
| 3 | Hayden Paddon, S.Marshall | Hyundai Shell Mobis WRT | Hyundai | 1m46.3s |
| 4 | Teemu Suninen, M.Markkula | M-Sport Ford WRT | Ford | 4m10.9s |
| 5 | Andreas Mikkelsen, A.Jager | Hyundai Shell Mobis WRT | Hyundai | 7m11.7s |
| 6 | Henning Solberg, I.Minor | Henning Solberg | Skoda | 13m40.6s |
| 7 | Jan Kopecky, P.Dresler | Skoda Motorsport II | Skoda | 18m25.2s |
| 8 | Simone Tempestini, S.Itu | Simone Tempestini | Citroen | 19m37.1s |
| 9 | Chris Ingram, R.Whittock | Toksport WRT | Skoda | 20m21.3s |
| 10 | Sebastien Ogier, J.Ingrassia | M-Sport Ford WRT | Ford | 20m51.2s |
Leading powerstage times
| Pos | Driver | Team | Car | Gap |
| --- | --- | --- | --- | --- |
| 1 | Thierry Neuville, N.Gilsoul | Hyundai Shell Mobis WRT | Hyundai | 4m59.5s |
| 2 | Sebastien Ogier, J.Ingrassia | M-Sport Ford WRT | Ford | 1.7s |
| 3 | Ott Tanak, M.Jarveoja | Toyota Gazoo Racing WRT | Toyota | 3.9s |
| 4 | Jari-Matti Latvala, M.Anttila | Toyota Gazoo Racing WRT | Toyota | 6.5s |
| 5 | Elfyn Evans, D.Barritt | M-Sport Ford WRT | Ford | 8.0s |
Drivers' standings
| Pos | Driver | Points |
| --- | --- | --- |
| 1 | Thierry Neuville | 177 |
| 2 | Ott Tanak | 164 |
| 3 | Sebastien Ogier | 154 |
| 4 | Esapekka Lappi | 88 |
| 5 | Jari-Matti Latvala | 75 |
| 6 | Andreas Mikkelsen | 75 |
| 7 | Dani Sordo | 60 |
| 8 | Teemu Suninen | 54 |
| 9 | Elfyn Evans | 53 |
| 10 | Hayden Paddon | 49 |