Kris Meeke says the crash that ruled him out of Rally Argentina was the biggest of his career.
Meeke's Citroen rolled 14 times after he hit a rock on the outside of a sixth-gear right-hander on the second run at Los Gigantes last Saturday.
It was his second roll of the event, coming after his C3 was thrown into the air by an unexpected compression on the opening day when running second.
VIDEO: MEEKE'S SS14 CRASH
Meeke and co-driver Paul Nagle were taken to the medical centre for a check-up following the leg two crash.
"It was a big one - the biggest," Meeke told Autosport.
"I remember everything. We had: 'Flat right, 200 and tightens minus late' in our notes and basically it was a flat-out corner that tightens a wee bit at the end so you have to brake in the middle.
"It's easy flat, but just at the last minute I moved maybe four or five centimetres to the left to get a line, but from the [other drivers'] lines, you could see I turned in at the same point.
"Then it just started to understeer, but I was like: 'I'm fine, I'm fine...'.
"But there was a small rock on the outside covered in sand. We hit that and bang."
Meeke, whose maiden World Rally Championship victory came when when he last contested Argentina in 2015, was running 14th at the time but 30 minutes away from the points having rejoined under Rally2 following his Friday crash.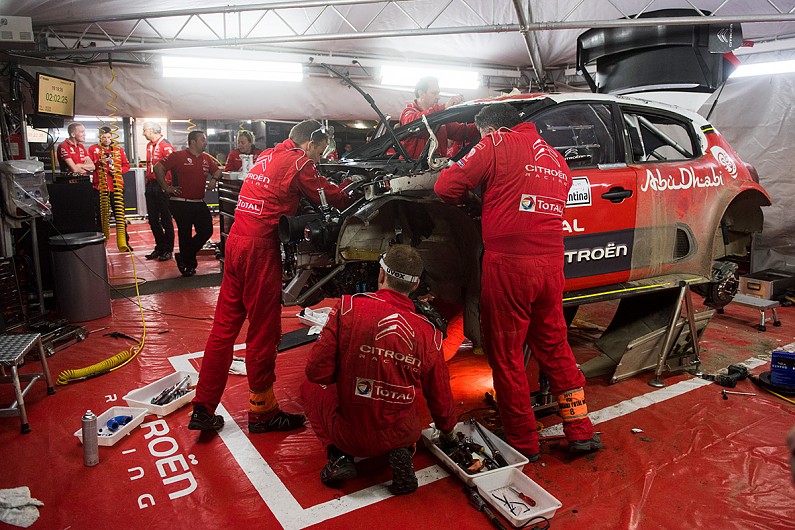 "I have made a lot of mistakes in my time and I've made errors in brave places where I shouldn't have been brave, but what ended up happening this time, I don't think I deserved that," he continued.
"People might say: 'What were you doing having an accident in superally [Rally2]?'
"But it wasn't a brave accident, or a stupid one or a commitment one.
"But anyway, I take that one on the chin.
"It was my fault, but Paul and I are fine.
"The medical team checked us over and recommended we went for a [CT] scan which we did - it's always sensible to do these things, but everything was grand.
"There's a mandatory check before Portugal, but that's just a procedural thing."
Though Meeke has had incidents or problems on every rally this year bar when he won in Mexico, he continued to show the Citroen's pace in Argentina.
He set a top-three time on every gravel stage he completed and took two stage wins on Saturday.