World Rally Championship stages deemed to be too fast will not be tolerated this season, FIA rally chiefs insist.
The second run of Rally Sweden's Knon stage last weekend was called off after pacesetter Ott Tanak's M-Sport Ford set an average speed of 85.62mph on its first use.
The FIA is considering regulatory changes to ensure average speeds do not go above 80mph.
FIA rally director Jarmo Mahonen told Autosport: "These cars are quicker than the old cars - but in this stage even last year's [cars] were going more than 130km/h [80mph]
"These kind of stages teach us one thing: we need to take a more firm grip when organisers want to introduce new stages, we have to be present to check them.
"If we see a stage time of more than 130km/h then it's an indicator that we need to be looking at this.
"From our point of view this was too fast. What we want to do is look at a guideline on this, but maybe we need to think to the regulations."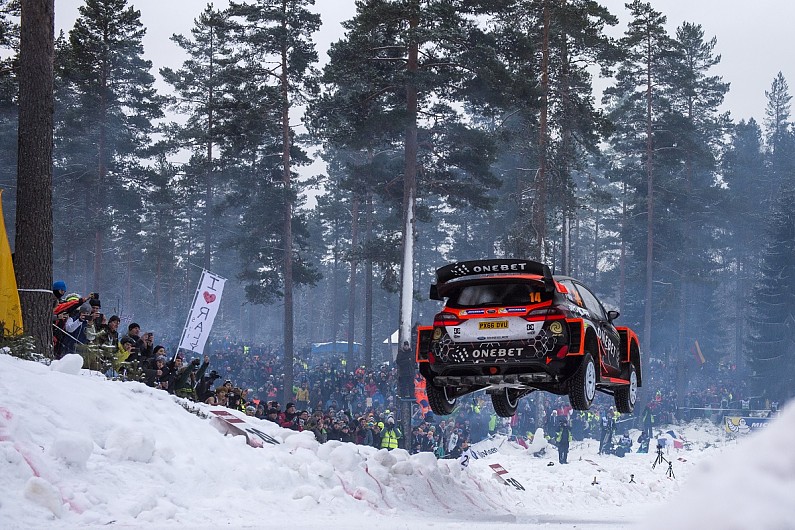 Mahonen hopes other rally organisers will take note of what happened in Sweden.
"We want the cancellation of this stage to send a message to the other organisers to think carefully about their route," he said.
"We want speeds lower than 130km/h, but I remember when I was an organiser and I didn't want to use straw bales to make chicanes.
"I understand that, and the answer is simple: use smaller roads that will be slower. This is what we have to do."
The Swedish stage cancellation prompted criticism from drivers.
One said: "I don't understand how we can get to this point in the rally before the FIA stepped in and did something about it.
"The road was just straight, not dangerous, just boring. But it was like this when the FIA inspected the route."
Mahonen confirmed the FIA would be taking a more active role in checking new stage routes in the future, but said organisers had to do more too.
"Maybe some of the organisers use older drivers who have not been in this game in several years and maybe they don't have an idea of how quick these cars are," he said.
Autosport has produced a standalone special magazine to celebrate our 70th birthday. All current print subscribers will receive a copy for free. To order your copy of the 196-page Autosport 70th Anniversary issue, please go to: autosport.com/autosport70th