The entry list for this month's Monte Carlo Rally has confirmed Elfyn Evans' status as a factory driver with the M-Sport World Rally Team.
The Welshman's return to rallying's top flight comes with the Cumbrian squad, where he drives the number three Ford Fiesta WRC alongside team-mates Sebastien Ogier and Ott Tanak.
Evans' car will, however, run on DMACK tyres while Frenchman and Estonian will run on Michelins.
Reigning champions Ogier and co-driver Julien Ingrassia are listed at number one - the first time an M-Sport car has started the season in such a position.
Hayden Paddon, Thierry Neuville and Dani Sordo drive the Hyundai i20 Coupe WRCs numbered four, five and six.
Under the new regulations, the top two finishers from those three registered drivers can score manufacturer points.
As expected Citroen and Toyota field just two 2017 cars each, with Kris Meeke and Stephane Lefebvre taking the wheel of the French firm's C3 WRCs.
Lefebvre's co-driver Gabin Moreau returns to the WRC action for the first time since he suffered multiple fractures in their Rally Germany crash last August.
Jari-Matti Latvala leads Finnish countryman Juho Hanninen in a brace of Toyota Yaris WRCs.
Irishman Craig Breen will tackle the January 19-22 season opener in a 2016-spec DS 3 WRC run by the Citroen Total Abu Dhabi Team. He is expected to make his debut in the 2017 car at next month's Rally Sweden.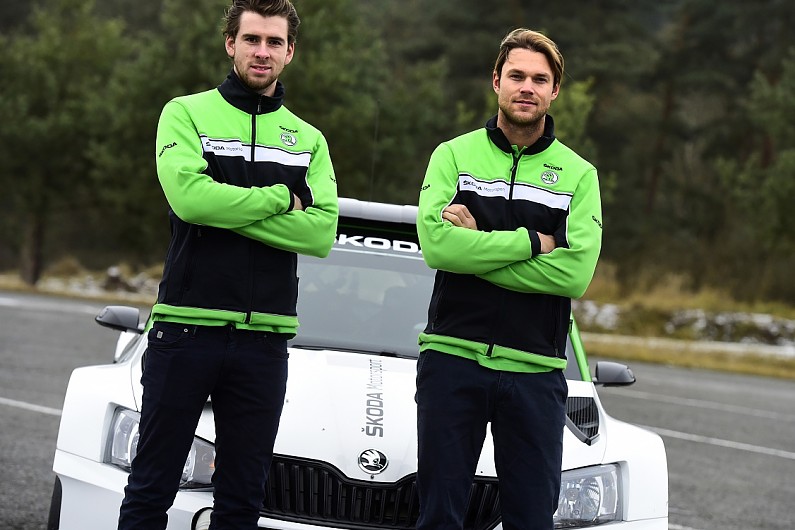 Skoda returns to the WRC2 series, with Andreas Mikkelsen spearheading its attack, with Jan Kopecky running as his team-mate in the second factory Fabia R5.
Eric Camilli's demotion to a Fiesta R5 is also confirmed by M-Sport's WRC2 entry for the Frenchman on the Monaco and Gap-based rally.
Greek driver Jourdan Serderidis is the only FIA WRC Trophy entrant in a DS 3 WRC.
This year's FIA R-GT Cup has been boosted by three Fiat 124 entries, including one from former Monte winner Francois Delecour. His main class rival will be the Porsche 911 of Romain Dumas.
Monte Carlo Rally leading entries
1 Sebastien Ogier/Julien Ingrassia Ford Fiesta WRC
2 Ott Tanak/Martin Jarveoja Ford Fiesta WRC
3 Elfyn Evans/Dan Barritt Ford Fiesta WRC
4 Hayden Paddon/John Kennard Hyundai i20 Coupe WRC
5 Thierry Neuville/Nicolas Gilsoul Hyundai i20 Coupe WRC
6 Dani Sordo/Marc Marti Hyundai i20 Coupe WRC
7 Kris Meeke/Paul Nagle Citroen C3 WRC
8 Stephane Lefebvre/Gabin Moreau Citroen C3 WRC
10 Jari-Matti Latvala/Miikka Anttila Toyota Yaris WRC
11 Juho Hanninen/Kaj Lindstrom Toyota Yaris WRC
12 Craig Breen/Scott Martin DS3 WRC
20 Jourdan Serderidis/Frederic Miclotte DS 3 WRC
31 Andreas Mikkelsen/Anders Jaerger Skoda Fabia R5
32 Jan Kopecky/Pavel Dresler Skoda Fabia R5
33 Max Rendina/Emanuele Inglesi Skoda Fabia R5
34 Armin Kremer/Pirmin Winklhofer Skoda Fabia R5
35 Quentin Gilbert/Renaud Jamoul Hyundai i20 R5
36 Yoann Bonato/Benjamin Boulloud DS 3 R5
37 Quentin Giordano/Thomas Roux Peugeot 208 T16
38 Emil Bergkvist/Joakim Sjoberg DS 3 R5
39 Eric Camilli/Benjamin Veillas Ford Fiesta R5