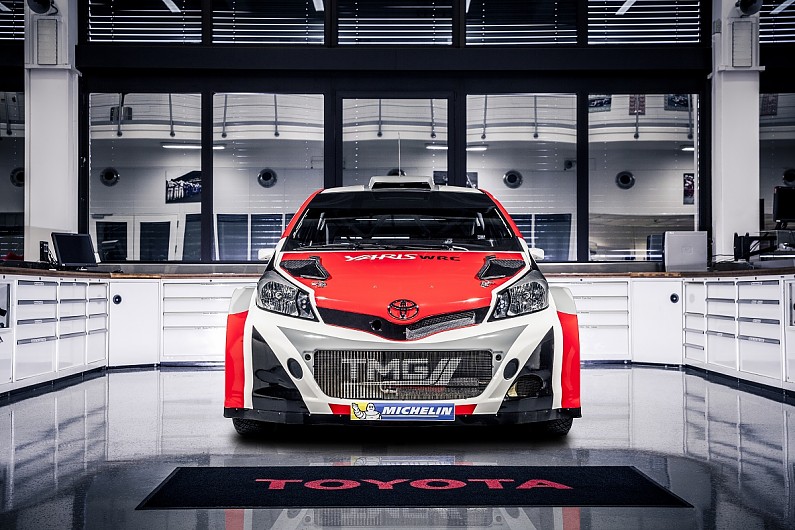 Toyota's 2017 Yaris World Rally Car will test for the first time at the start of next month, according to team principal Tommi Makinen.
There had been plans to run the Finnish-built Yaris this week, but a delay in the arrival of some parts has forced a rethink of the initial rollout run.
Four-time WRC champion Makinen told Autosport: "The original plan for the test was in April.
"Then there was a chance it could be March and we tried for this, but it wasn't possible so we go back to the original plan.
"We are not late, everything is still on track just as it should be.
"This is just a very small thing. Everything is ready, the engine is in the car and now we are just waiting for some small components.
"Really, this is not a drama at all."
The shakedown and first test will take place in central Finland before moving further afield.
"By early May we should be testing in the south of Europe and in central Europe," Makinen added.
"And then we are going to be doing a lot of kilometres."
In an effort to hit the team's target of starting next year's Monte Carlo Rally, Toyota Gazoo Racing will run two separate test teams to hurriedly build a bank of data to work from with the new car.
Makinen himself could be the driver who runs the Yaris WRC for the first time.
"I think that's possible," he said.
"I would like to drive for the first test, it would be nice.
"Of course I will take the engineers with me, but I think I can still drive..."
Toyota has won six WRC titles in its history but has not fielded a factory effort since it halted its last programme to focus on its Formula 1 project at the end of 1999.