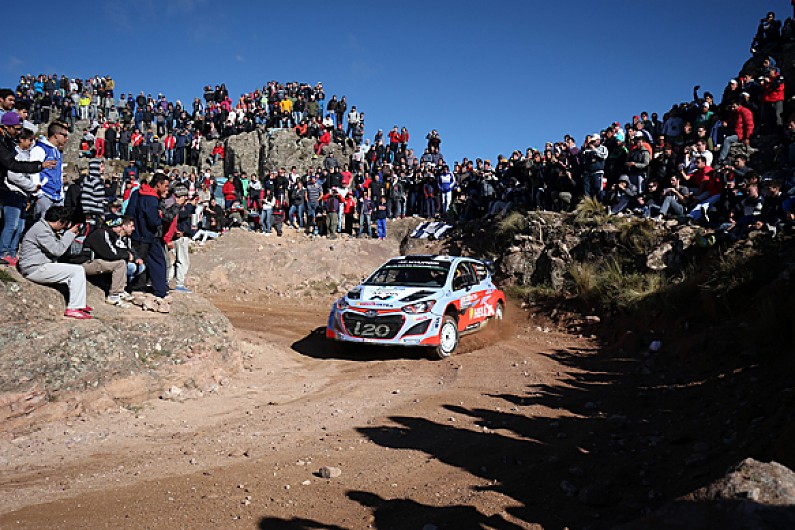 World Rally Championship safety delegate Michele Mouton had a crunch meeting in Argentina last week in an effort to safeguard the future of the country's WRC round.
This season Rally Argentina, like Rally Poland, is running under a yellow card.
The warning was handed down by the FIA last season, following a report from the event stewards.
Both rallies struggled to contain spectators, with fans involved in Hayden Paddon's crash in South America.
Also of concern in Argentina were decisions made after Andreas Mikkelsen and Thierry Neuville crashed on the powerstage.
FIA rally director Jarmo Mahonen has promised a hard line if there is any repeat of last year's problems.
"If we have the same issues in Argentina, then it's a red card and you are not in the calendar in the future," Mahonen told Autosport.
Mahonen admitted he was surprised by the decision to keep sending cars onto the El Condor powerstage after the accidents last year.
"When I watched this on television last year, I was saying: 'what is going on?'" he said.
"We have had a few cases, and I'm being open and honest here, like last year in Argentina when they let [Dani] Sordo start the stage after there had been an accident; because the TV guys were there.
"This will never happen again. This is number one: if an accident takes place, it will be stopped.
"The TV guys don't have any authority. The TV people are talking live with the people at the stage, but you don't leave them to decide [about safety]."
Argentina has a long history in the WRC, but Mahonen underlined the need for a step forward this season.
"For us Argentina is a very important event in the calendar, it's the showcase for all of South America," he said.
"It seems they are very keen to work with us and our safety department, so we have to implement it.
"The problem is that we can look at the safety plan and everybody can make really good papers, but when the rally is running, if they are not implementing, then what's the point?
"They have to now come with enough marshals and police to put everything together."
Rally Argentina runs from April 21-24 this year.