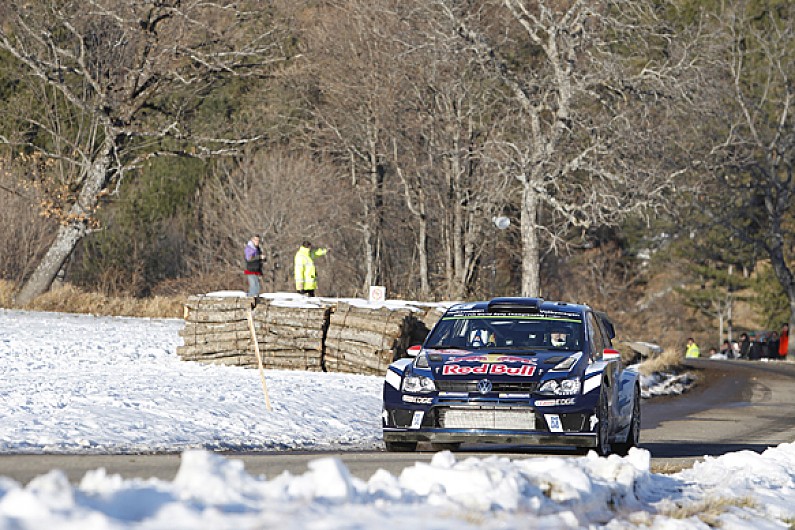 Jari-Matti Latvala has been given a suspended one-round ban from the World Rally Championship after hitting a spectator as he rejoined from an incident on the Monte Carlo Rally.
Video footage showed Latvala's Volkswagen knocking a fan to the ground as it went through a field on the way back onto the course on SS11 following an error.
VW said it believed the spectator was uninjured in the incident.
The Polo had travelled through a ditch and Latvala said mud and water was obscuring his view at the time.
A stewards' statement said Latvala had argued: "It was only when the visibility came back that he saw some people jumping to the side and at the same time he saw the possibility where he could get back onto the road. He added that he never thought [of] having hit someone."
But the officials said on-board camera footage suggested Latvala would have seen the impact.
"The stewards stated that, looking at the images, it would be hard to believe that the driver and/or co-driver had not realised that they had hit a spectator as the body could be seen quite prominently on the bonnet and right in front of the windscreen.
"At that moment the visibility through the windscreen on the driver's side was not so bad and the body could clearly be seen clearly."
According to the stewards' report, Latvala contended his head would have been moving up and down as the car bounced over the grass at the time and he would not have had a clear view.
But the officials concluded: "It is not plausible for the stewards that the crew did not even consider the possibility that they had hit a spectator.
"As can be seen from the video footage, there were many people standing closely in a large row on the left side of the special stage where the crew went off.
"Also, when the car was on its way to rejoin the stage, people were running away to the left and to the right.
"In such a situation, it would have been the obligation of the crew to stop at the venue of the incident and check if a spectator was affected."
There was also a discrepancy between WRC television reporter Julian Porter and Latvala's accounts of a conversation about the incident as the Finn tried to fix his car after the stage.
In a submission to the stewards, Porter said Latvala had said to him "when we went off we hit a spectator, we did not hit him hard but can you please check he is OK".
Latvala said his request to Porter was "can you go and confirm with the marshals that I haven't hit anybody".
The stewards fined Latvala and co-driver Miikka Anttila €5000 and imposed a one-rally ban on Latvala, suspended for the rest of the 2016 WRC season.