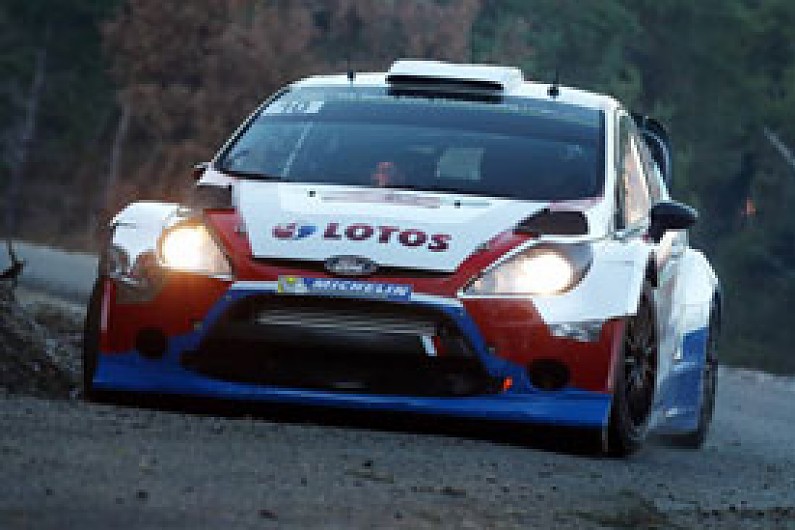 Robert Kubica says his early Monte Carlo Rally pace does not alter his target for a finish on this week's opening round of the World Rally Championship.
The RK M-Sport driver led the event for the first two stages before he dropped time on the wrong tyres on SS3.
He finished his first day as a full-time factory driver in third overall.
Kubica said: "If I was [here for the] fifth time, I would have a different target - to try to win.
"But for me there are many new things so we have to stay calm.
"I am driving with the target to finish the rally and this will be my objective for the next two days."
Kubica said the tricky conditions had also limited his ambition on individual stages.
"We drove a clever day without big problems," he added.
"When I was confident I pushed more and when I was not really confident I tried to keep the car on the road, which was not the easiest thing.
"In some places it was very, very slippery driving on slick tyres; going downhill on quite a snowy road was a big challenge.
"But fortunately we are here and that's good news.
"In this condition staying on the road is not the easiest thing, [so] we have to be pleased for what we did.
"This is better than expected. We lost nearly one and a half minutes in stage three with a tyre choice that was not really ideal, [but] the first two stages for the first time in Monte Carlo we did the fastest time, so we have to be pleased."
Follow the Monte Carlo Rally as it happens on AUTOSPORT Race Centre Live, back for tomorrow's stages from 7.45am UK time.
This week's AUTOSPORT magazine features a comprehensive Monte Carlo Rally supplement, including a look back at Mini's 1960s success and technical insight into the Volkswagen Polo R WRC