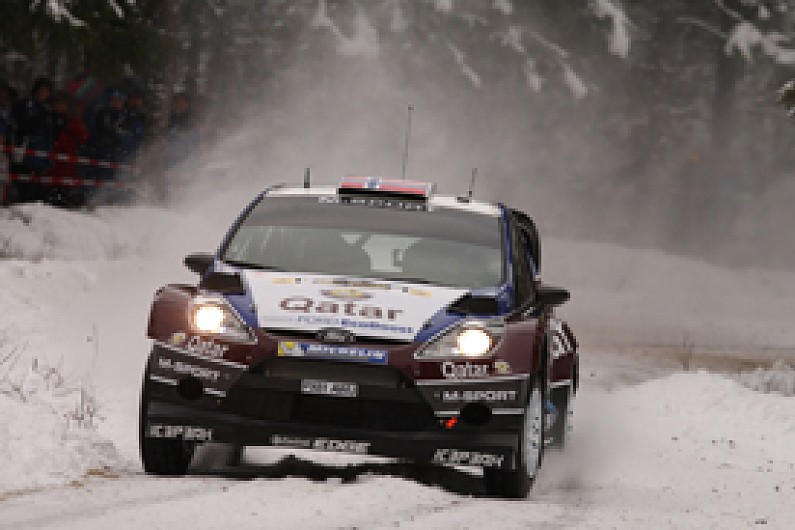 Qatar M-Sport team principal Malcolm Wilson is confident Mads Ostberg is still a threat for Rally Sweden victory despite a water leak on Friday morning.
Ostberg suffered problems throughout the morning, with the water pressure dropping and the water temperature rising to 140 degrees on the day's opening test.
He topped up the engine's water level after the stage and tried to fix the leak.
On the second stage, the protective padding from the side of his seat came loose and dropped into the footwell.
"It has not been a good morning," said Ostberg, who has also been hit by a 20-second road penalty for arriving late at the start of SS3 after spending time fixing the car.
"We had lots of warning lights and the car was going into safe mode in all of the stages - and then I was playing football [with the padding] as well in the second one. Not good.
"There's a long way to go, the important thing for me is to stay in the middle of the road. If I push too hard, then we go wide and we start to lose time."
Wilson is sure the engine will be fine for the rest of the weekend.
"We've looked at the data here in service and we don't think there will be any more issues," he said.
"There's no question, the engine has been hot, but the we have bled the system and fitted a new water pump along with a few other components."
Ostberg was initially placed sixth at the end of the loop, before an adjustment to his penalty raised him to fourth, exactly 30s off the lead. He was quickest through SS4, Vargasen.
"This fight is not over yet," said Wilson. "There's a very long way to go and anything can happen.
"One thing is sure, though, we have seen the pace that Mads is capable of, especially in that last stage."