Right on cue, Tommi Makinen delivers. Kris Meeke is extolling the four-time World Rally champion's virtues as a team principal when the Finn emerges from a side room. Seeing his latest signing talking to Autosport, he breaks into a broad grin.
Walking past us, he holds his arms up and makes a cross above his head. "Team photo is cancelled," he says, sounding like a Finnish schoolboy who's just talked his way out of detention. What now then, Tommi? Said picture is the last official engagement of the day.
Any ideas how the hour or so can be passed before a flight out of Birmingham and Autosport International's WRC launch? Makinen pauses, mentally testing a most-British of answers. Word perfect, he grins again and returns with a one-worder that doubled as an answer and invitation: "Pint."
Moments before, Meeke has been detailing his dealings with one of his boyhood idols.
"I enjoy Tommi's character," he says. "I enjoy speaking to him. You know he was my childhood hero? To be here now with him as team boss is something pretty special. Honestly, the atmosphere in the team's just brilliant - and that starts with Tommi.
"The dynamic in this team is pretty special. To have that relationship with someone who has been there and done it, someone who dominated the sport in the late 1990s... It's very easy to have a conversation with him because he knows where you're coming from, he knows what you're thinking. He knows what a driver wants.
"Conversations and negotiations with him have been straightforward. That's the way the Finnish are. I like it."
The difference in this 2019 evolution of Kris Meeke is quite remarkable. Twelve months ago, two years ago, this same guy was a bundle of nervous energy waiting to explode into a stage. Looking back through transcripts of pre-season interviews, Meeke stared into the abyss in 2017, not knowing what to expect, full of hope and apprehension.
A year on and he was tying himself in knots with explanations of how he felt 2018 could be better. It wasn't - it was a whole lot worse. And on Thursday, May 24, Meeke was fired by Citroen following his Rally Portugal crash.
The Northern Irishman maintains that the Monte Carlo Rally of 2017, not Portugal the following year, was the low point. After a year of development, the team hit the WRC opener barely walking, let alone running. It was a disaster.
"Somebody asked me that question: what was the lowest point of my career?" he says. "I think it was that: Monte Carlo 2017. We'd had all the big build-up and somebody put the pin in the balloon and we were so, so far away. The following event in Sweden was horrific as well and that's where it all started.
"After that nobody listened, the bad atmosphere crept in, the commitment disappeared from Citroen and it all unfolded from there.
"Looking back I could have handled situations a bit different, but we arrived in Monte after doing relatively little testing. And what testing we did do was in Sanremo. I questioned that at the time, but I was told to just drive. The car felt mega in Sanremo and, as we saw in Corsica and Catalunya, it was mega on Tarmac - but not in Monte. We were so far away."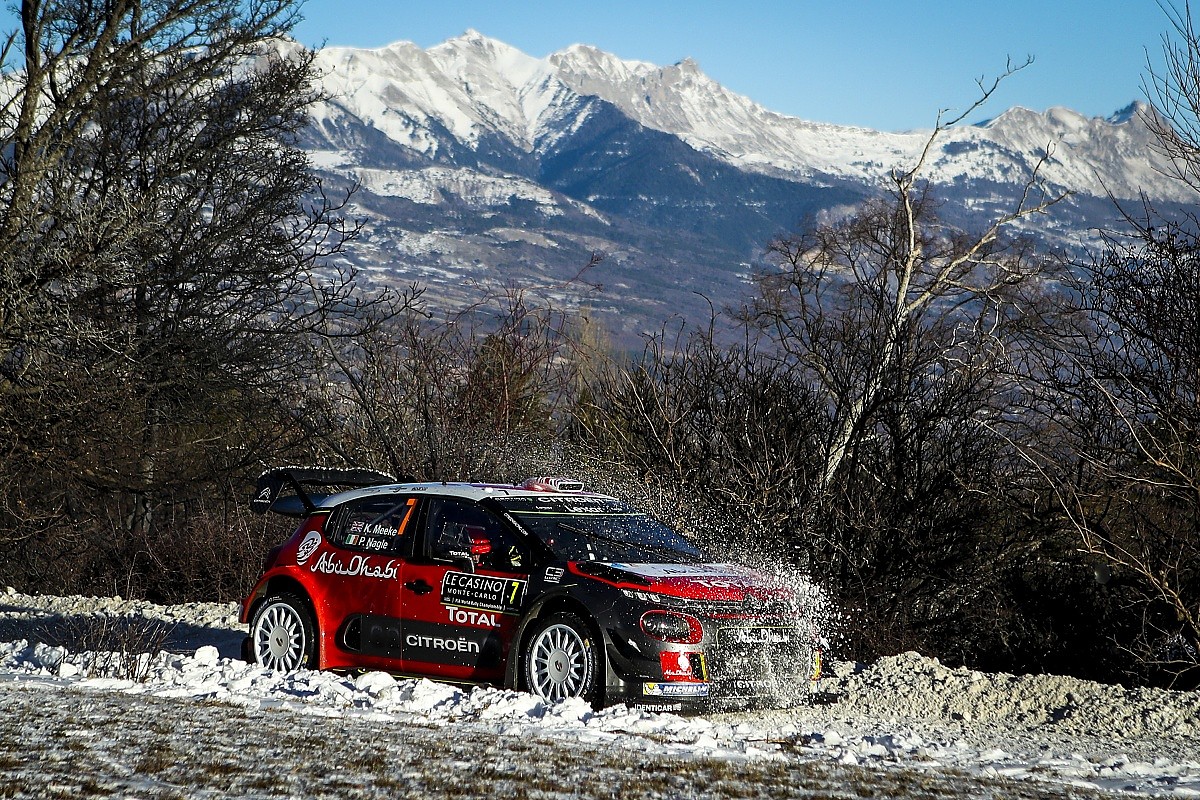 The following year and a bit wasn't all bad. There were wins in Mexico and Spain in 2017 and genuine promise at the start of last season. Meeke opened '18 with a powerstage win in Monte Carlo, and held the lead in Mexico before finishing on the podium. He was running second in Corsica until a pacenote error, and in Argentina before a puncture. And then Portugal.
"I got a phone call for about one minute where I was told that maybe I wasn't doing Sardinia," he says. "'What? Right, OK'. I said to Pierre [Budar, Citroen team principal], 'We've got to chat about this'. He was, 'Er, er...' Then 10 minutes later I read on the internet that my career was over. Nobody has spoken to me since. I tried to make calls, but there was nothing. I tried to call Pierre back, but there was no answer.
"After Sweden nobody listened, the bad atmosphere crept in, the commitment disappeared from Citroen and it all unfolded from there" Kris Meeke
"That evening, my wife was away shopping. When she came home we went down to the local park, the kids played in the park, I took a beer and I said, 'Right, we're going to chill for a while'. I enjoyed time with the family, got on my bike and did my stuff."
Meeke did his own stuff for three months. He didn't talk to anybody, and he kept his head down. But he wasn't done.
"I knew it was pointless to lift the phone the week after Portugal," he says. "I knew I had to wait two or three months to let the dust settle. You can make that call before Finland [in July], but nobody thinks about drivers at that time. After Finland or Germany you make a phone call. You never know, they might say, 'No, we're not interested', and so you talk to somebody else and if they're not interested then OK. It's done.
"You're not in control in that situation and that's the situation Citroen put me in. They tried to destroy my career with what they said. Once I'd made a few calls after Rally Germany [in mid-August], within a week I had an offer, then another one, and then we started to talk seriously with Toyota and things came together quickly. That showed what a lot of people thought. That showed the job I was doing in 2018 was fine. I made one mistake."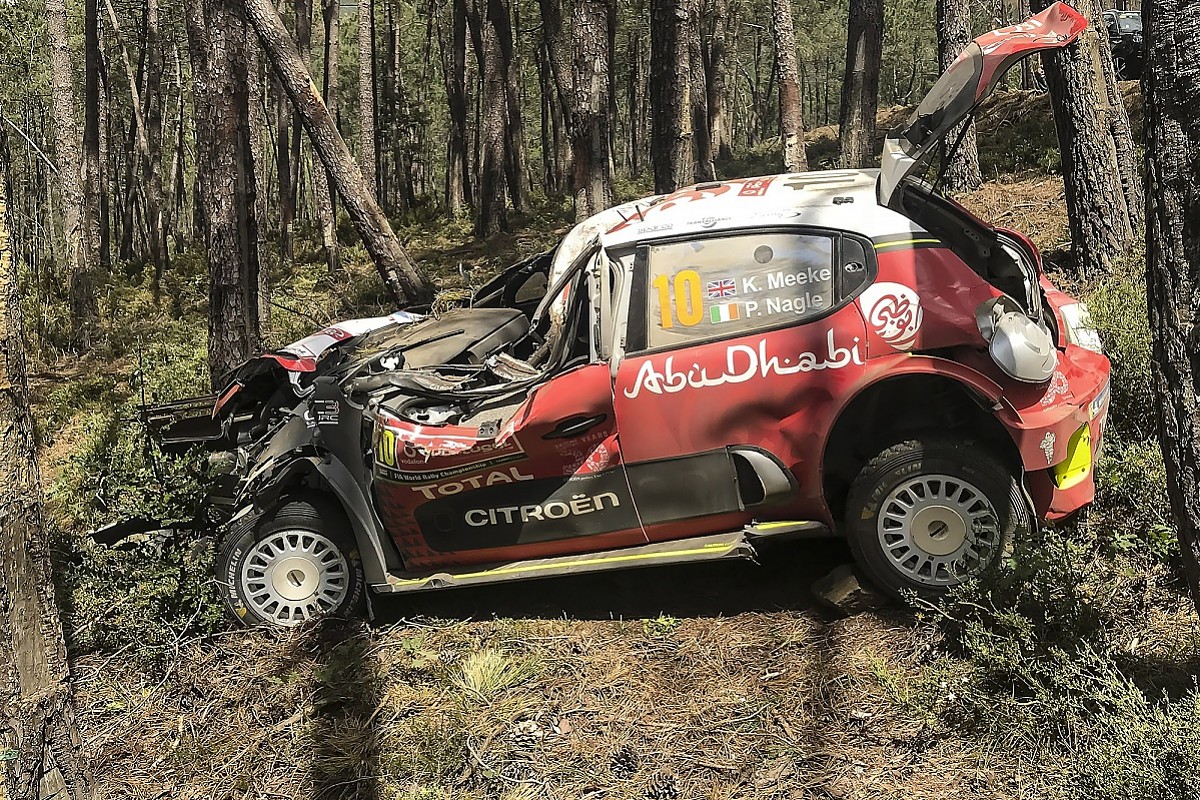 This interview is interspersed with talk of water under the bridge. But all roads seem to lead back to what remains one of the most shocking decisions in the history of the world championship. Curiously, that brought redemption and justification for Meeke.
"What happened in Finland [where Mads Ostberg finished second in Meeke's Citroen] confirmed I was right," says Meeke. "When we started developing the new car in 2016, my first question was about who would be backing up the development. Volkswagen had had [Carlos] Sainz and [Marcus] Gronholm as well as their regular drivers. Fundamentally, Citroen got it wrong.
"They knew that. All the changes I was fighting for, and never got the chance to try, came in Finland last year. If I'm wrong and Citroen think they're right, why don't they go back to the Monte 2017 set-up and put a bomb in there for Ogier? Anyway, that's water under the bridge."
And, finally, it is. Meeke's over it. His quotes may sound a touch irate here and there, but that's not how they came across in person. He's very matter of fact, very straightforward. The old emotion and the defensive intensity have gone.
"All I want to do now is enjoy my rallying," says the 39-year-old. "I want to get that feeling back. The best period of my career was 2016. I was just loving it. I could do fastest times at will and I could dominate rallies. People might talk about road position [at that time], but Sebastien Ogier was lying second to me, while running first on the road.
"If I wasn't there, there wouldn't have been any talk of road position. And even when he did have the same conditions as me on the second day in Finland, we were far out front. Clearly, that was the best period in my career. We battled for the lead in Monte and Sweden, we won Portugal, won Finland. I just want that feeling back. Who's to say if that'll be enough to beat Ott [Tanak, his Toyota team-mate]?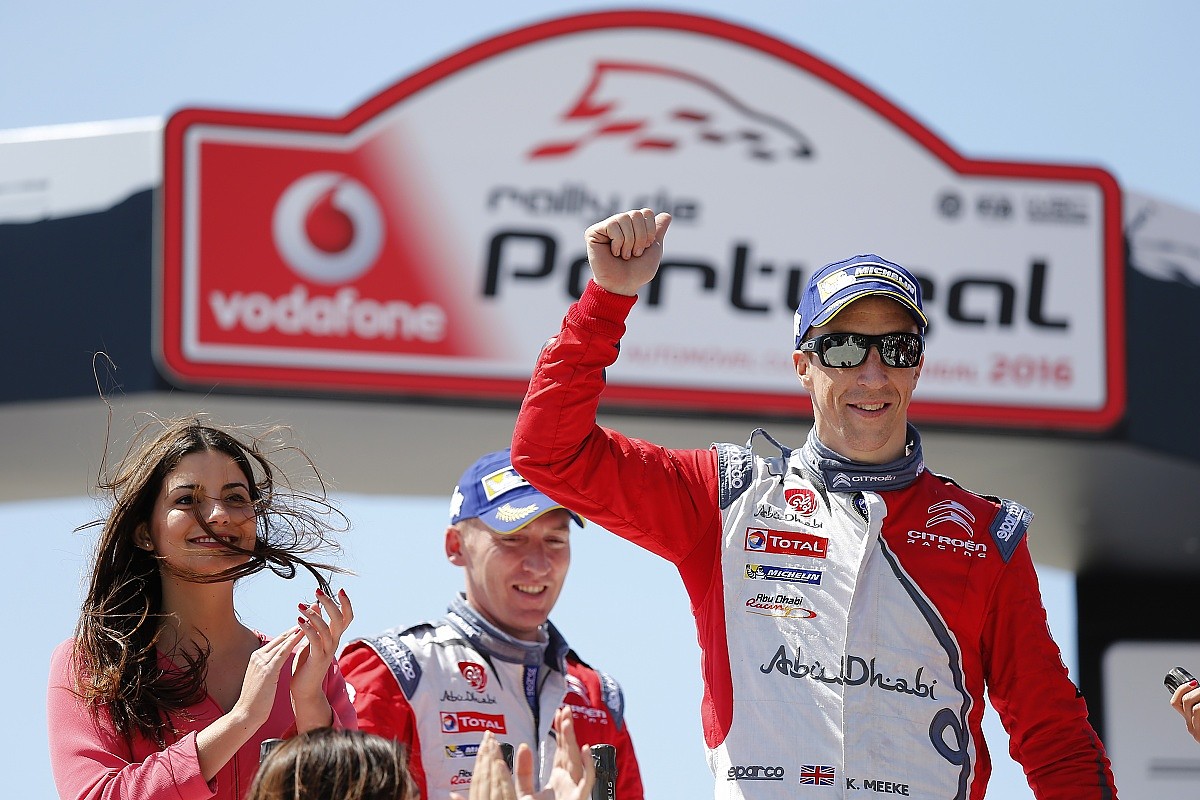 "We all know how fast he is. Like everybody, I want to win rallies and have a strong championship and there are going to be good moments and tough moments, but above all I want to enjoy it like 2016."
Enjoying 2019 means success, and success means beating the man everybody's talking about right now: Tanak.
Meeke agrees: "Ott is clearly the fastest in the championship, we all knew he had this blinding speed, but now it's blinding speed on every stage. He's able to dominate rallies and he could have won the last six 2018 events on the trot and easily been world champion.
"If I'm wrong and Citroen think they're right, why don't they go back to the Monte 2017 set-up and put a bomb in there for Ogier?" Kris Meeke
"I want to start from a clean sheet. I might be one of the elder statesmen of the championship, but I've only ever done three full seasons [actually he's done two, as he missed Rally Poland in 2017 - ed] and a guy like Elfyn Evans, who's 10 years my junior has more experience in the WRC and a World Rally Car than I do. So, I still have a lot to learn in terms of WRC experience.
"Sometimes there are expectations of me, that I've been about for so long, but I have to temper that. But once I have something beneath me that I can trust and I can enjoy, that's when the speed comes naturally. And when the speed comes naturally, that's when it becomes quite simple. That's the feeling every driver chases. That's the feeling I want."
That feeling's on tap at Toyota. It wasn't just Tanak who was flying the Yaris flag high late last season, Jari-Matti Latvala was bang on the money as well. Working alongside a pair of hard-charging drivers is not going to be easy, but it's a chance Meeke relishes.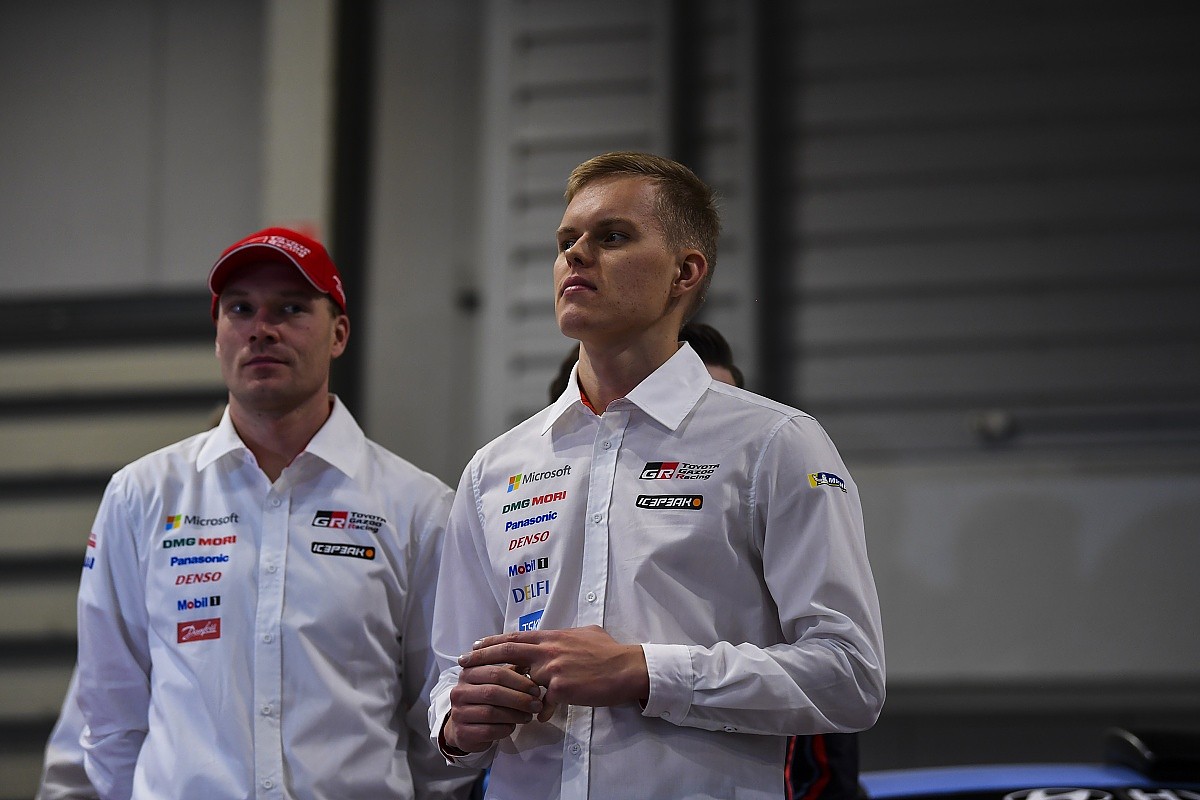 "Like I said, the atmosphere is fantastic in the team," he says. "Jari's the kind of guy you can easily lose an hour with. He and I were out in Japan doing a drive day at the end of last year. We were on a bus for two and a half hours and we just sat and chatted. We made our WRC debut on the same event: Rally GB in 2002.
"We talked all through that era and then about JWRC, when he did some events in a Suzuki. It was mega. The difference is, he starts his 200th WRC round this year, whereas Monte will be my 68th start in a World Rally Car."
And Tanak? What does he expect from sharing a team with him? "Ott's Ott. He's quiet, straightforward, there's no bullshit. I've always got on well with him. Our careers followed similar paths. He's been kicked out of a team trying to run before you can walk... In the last two years, he's taken that jump - but he's got the experience of five full seasons now.
"There's no doubt I'm in the strongest combination, but Tommi's been fantastic. I've been away eight months and I feel no pressure to do anything immediately. We all know you can have a strong season by arriving in Mexico in sixth or seventh position in the championship - that's prime position, nearly.
"To get to Mexico first on the road means starting a series of gravel events near the front. Don't get me wrong - I want a strong Monte and Sweden, but I have to bed myself in. Ninety-five per cent of what you do comes from the feeling in the car. The last few per cent is the feeling in the team."
With that, Meeke's new co-driver Seb Marshall finds us and reminds Kris of the alternative use of the time allocated to the team photograph.
Our work is done and conversation turns to the more mundane - including, from a tanned Meeke, what had clearly been a warm Christmas: "We took the kids to the Caribbean for 10 days. It was mega. Just mega. You know, if rallying stops again, it's not a drama. I've two brilliant kids and I've had a brilliant career - OK, it's been a wee bit up and down at times, but there's more to life than rallying, you know."
Meeke's reboot is complete.