Malcolm Wilson doesn't swear. At least not without significant provocation. Even then he rarely reaches for the hardercore profanities. Which is what makes this story even harder for him to tell.
The tale takes us back to a time when Ott Tanak was in his team. He can't remember the precise rally in question, it doesn't matter. Tanak, it seems, had chucked another Fiesta at another tree and Wilson had seen enough. The Estonian was invited into Wilson's on-event office to discuss the matter. It wasn't the first time. Not the first shunt. Not the first rollicking.
"We, err, we talked about what had happened," says Wilson, "and I might have used the f-word. Anyway, it all went quiet and I thought that was the end of it. But then Ott came back and told me to f-off.
"I was pretty surprised. He told me I'd asked him to push and I had to f'ing accept that this could happen.
"Fair play.
"I must admit, I came away with a bit more respect for him."
Before we continue, a brief aside for any future young driver finding themselves in Wilson's office under such circumstances: don't go in there thinking liberal use of the f-bomb will get you off. It won't. It'll get you fired.
Tanak was the exception. And so he remains.
He has gatecrashed what was lining up to be a two-way 2018 World Rally Championship title fight courtesy of his first ever WRC hat-trick of wins in Finland, Germany and, most recently, Turkey.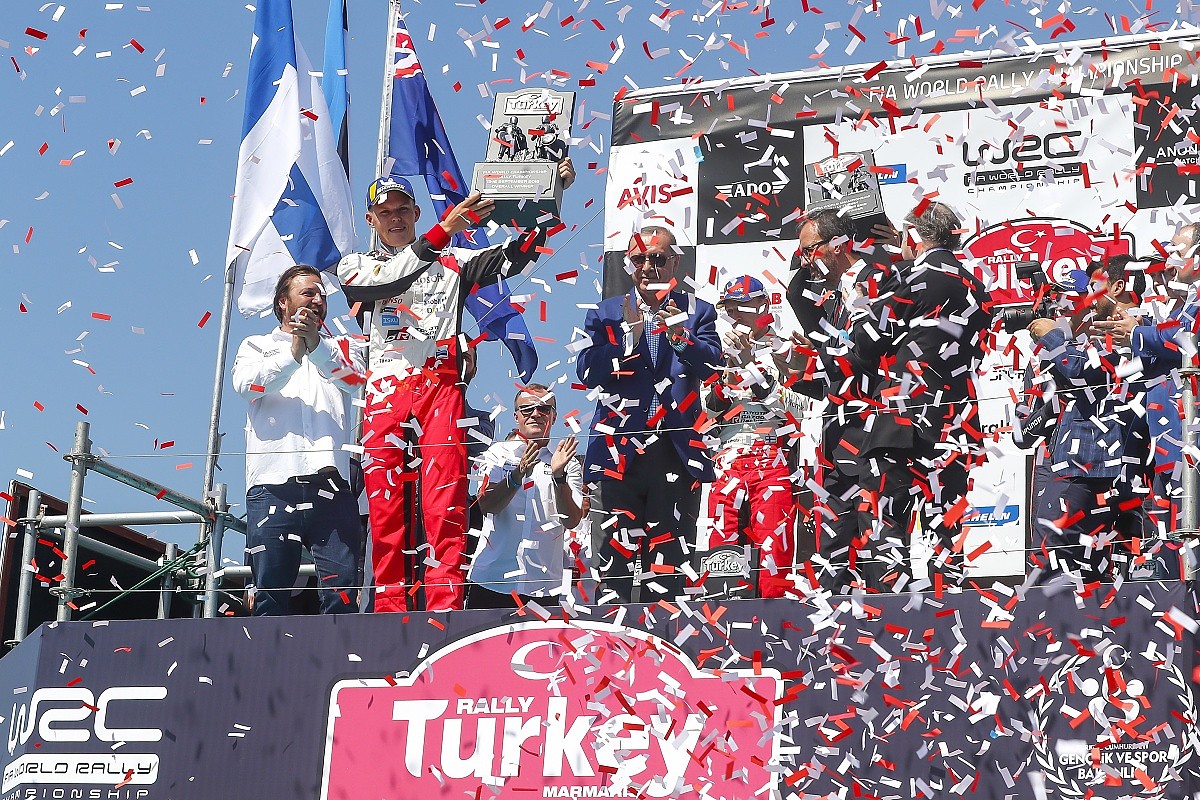 He's the first chap not called Sebastien to win three in a row since Mikko Hirvonen collected successive maximum scores in Greece, Poland, Finland and Australia. That was 2009, the same year Tanak made his WRC debut.
Portugal was his first event nine years ago and, I'll be honest, I don't remember it especially well. But I do remember his second event in Finland a couple of months later. Driving a Group N Subaru, he was battling with local young star Jarkko Nikara and then seasoned campaigner Patrik Flodin. These were the days when genuine showroom motors were lumped into the same class as the more advanced and quicker Super 2000 cars; Juho Hanninen was out front in the N4 category in a Skoda Fabia S2000.
In the pouring rain, Ogier picked Tanak up, put him on his shoulder and carried him back to his car
Tanak was being run by fellow Estonian and world rally star Markko Martin's team and that's the reason I remember the event. I bumped into Markko in the service park and he introduced me to Ott. Anybody who knows five-time world rally winner Martin knows that he doesn't throw compliments about comfortably or easily. And he didn't with Tanak. He asked me to have a look and see what I thought.
For his part, Ott said very little. He got in the car and drove. And drove very, very quickly. He'd done plenty in Estonia in the preceding years (but only a single season in a four-wheel-drive car), but nothing in Finland. Regardless of where you sit on the entry list, first-timers in Jyvaskyla are not expected to do what he did. He passed Nikara and Flodin and, after the second shot at Jukojarvi, he was the first of the conventional Group N runners - and five seconds up on Kimi Raikkonen's Abarth Grande Punto. Then he crashed.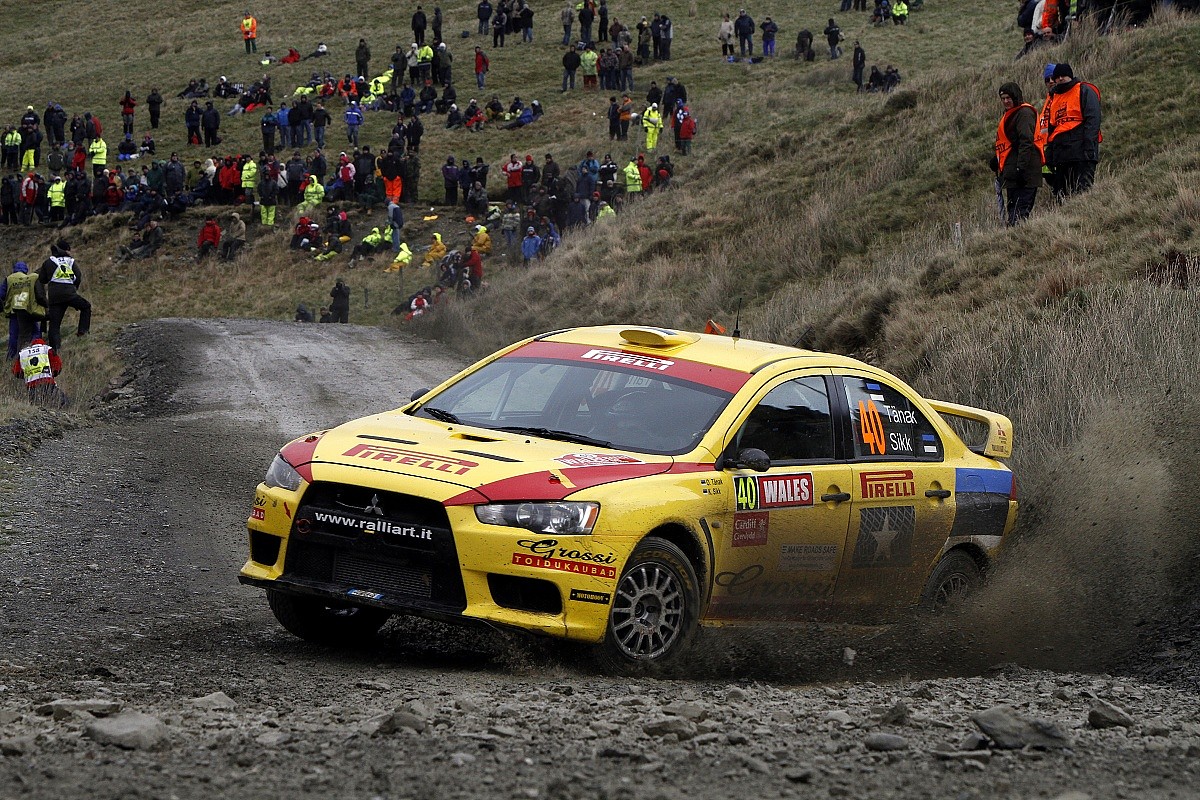 The next time we saw him was at the Pirelli Star Driver shootout in Freistadt, Austria. This was the big one. If he could impress the judges, he would land a six-round WRC programme in a Mitsubishi Lancer, courtesy of the Italian tyre giant's single-tyre-supplier deal in the 2010 series.
Pirelli Star Driver took talent from across the FIA's regions, with a certain Hayden Paddon representing Asia Pacific. The Kiwi star was the only one who could hold a candle to Tanak. Through much of 2010, the best of the rest would compete among themselves, discounting the charging Estonian's pace; his future was assured, even at that level. And that future was assured by Wilson's M-Sport squad.
There must have been times, however, when Wilson considered a revolving door at the entrance to Dovenby Hall. A strong maiden SWRC campaign in 2011 meant Tanak was in the factory M-Sport team for '12. But at the end of it, he was out.
Back in a Group N Subaru in Estonia in 2013, he returned to a limited WRC effort with DMACK in '14. Wilson was convinced again and Ott was back in the big-time in '15. Only to be dropped again after another troubled year.
Throughout that rollercoaster ride and despite what he says, Wilson never really lost the faith. Martin definitely didn't. And nor did Dick Cormack at DMACK.
When Tanak made his third reappearance with M-Sport's main team alongside Sebastien Ogier in 2017, he was well aware he'd entered the last-chance saloon.
Aged 29 and now a father, Tanak had evolved, matured and developed superbly as a person and a driver.
After coming within an ace of winning Poland twice in successive seasons, nobody could or would ever doubt his searing speed. The second time he missed the win in Mikolajki, the world saw a different side to Tanak. Utterly bereft after a tyre was knocked off the rim, dropping him to second, the normally impassive, detached driver struggled for words through the final stage interview. He headed away quietly, stepped out of the car and into the arms of his wife Janika.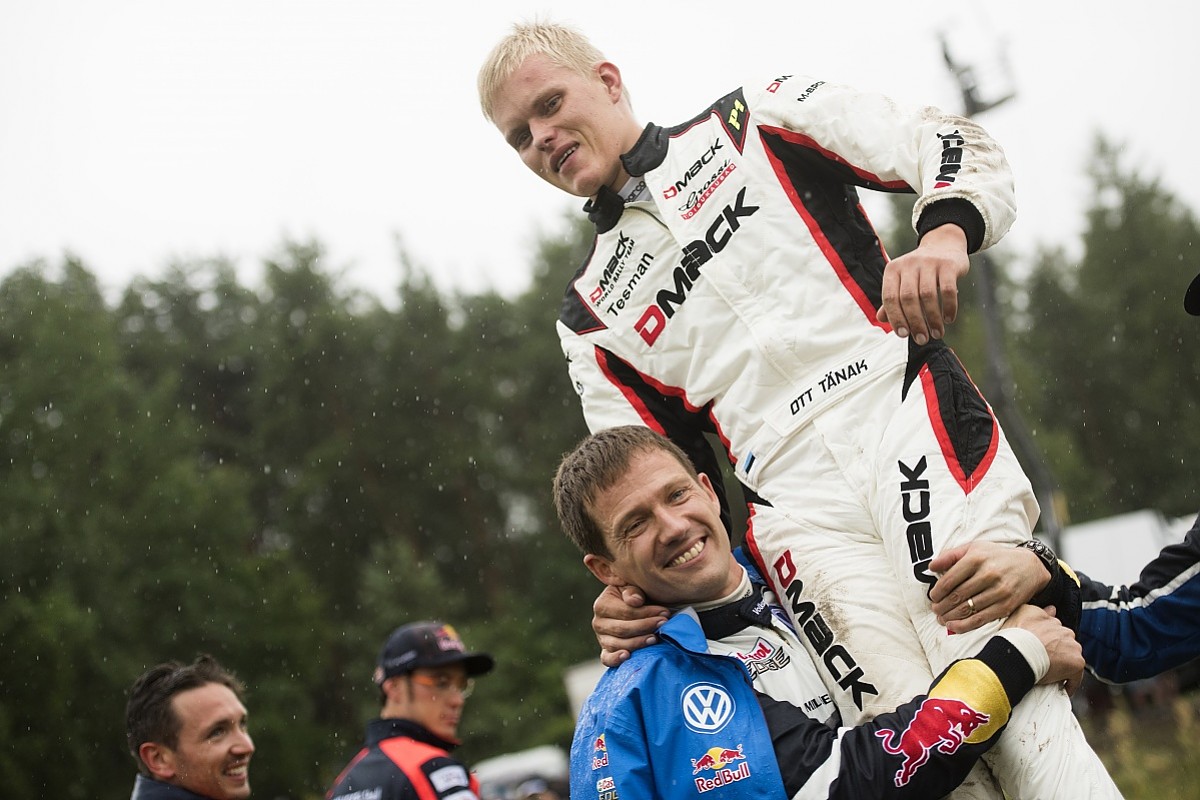 Ogier was the first to get to him. The champion wasn't going to allow Tanak to hide away from what had been a towering three days through staggeringly fast roads. In the pouring rain, he picked him up, put him on his shoulder and carried him back to his car. It remains one of rallying's most emotional moments and it told the world two things: the first was confirmation that Ogier is a bloody good bloke and second, that he rated Tanak as a real, genuine and honest rival.
Through the next year, Ogier and Tanak became close and their friendship is now among the strongest in the service park.
Last year, both in 2017-spec Fiestas, Ogier simply couldn't ignore what his team-mate was doing in equal machinery (admittedly from a preferable place on the road some of the time) and nobody was surprised when Estonia's first WRC success since Martin's Catalunya win in 2004 was delivered in Sardinia.
Win number two was a little bit more surprising: the asphalt of Germany had never seemed a natural fit for somebody with Tanak's flair for gravel.
Tanak is pulling the Toyota around to his way of thinking
And then came the big decision at the end of 2017. Should he go? Should he leave everything he'd ever known: the highs, the lows, the life at M-Sport? Toyota Gazoo Racing beckoned and he answered the call of the manufacturer.
I've been fortunate enough to see greats including the likes of Colin McRae, Carlos Sainz, Marcus Gronholm, Mikko Hirvonen and Jari-Matti Latvala come and go from Dovenby (admittedly, none as many times as Tanak...) and the tears and sense of loss were as real for Ott as they were for any of the others. Through triumph, trial and tribulation, he'd become part of the furniture.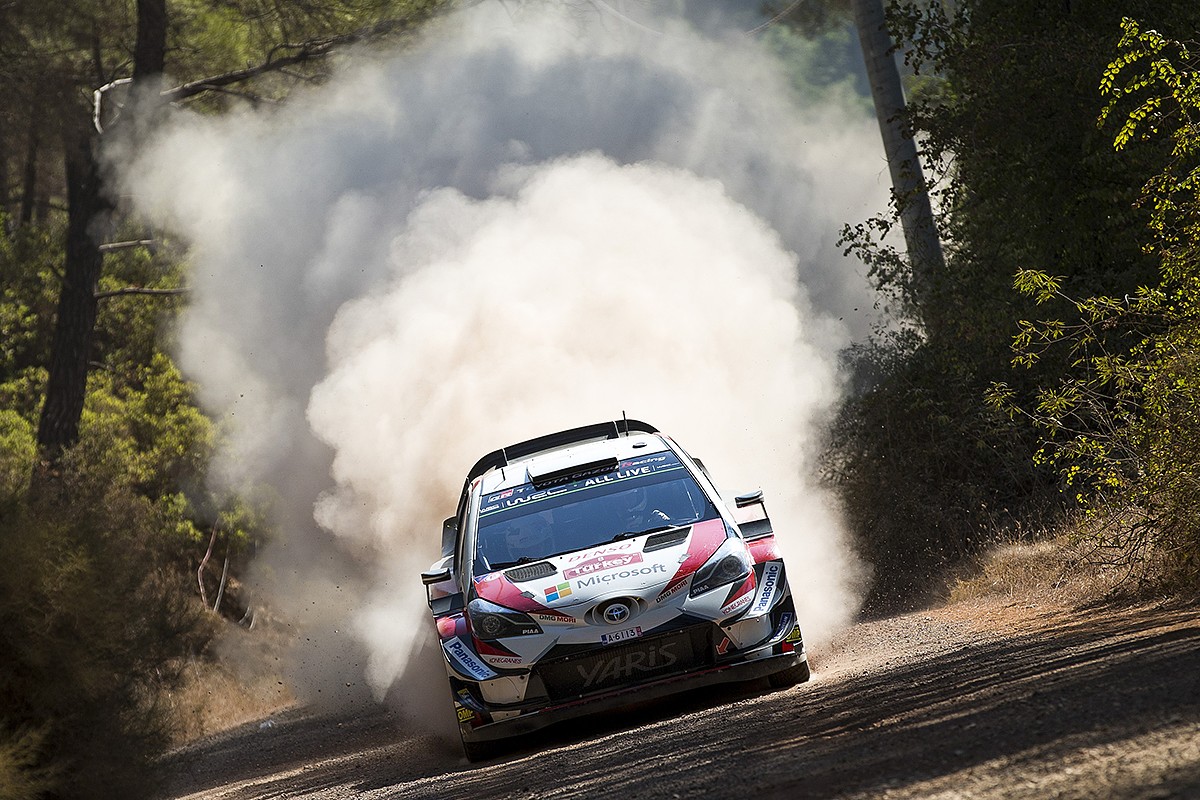 But Toyota made sense. For him it was the next chapter. Now, without Wilson, without DMACK and with Martin much more a mate than mentor, it was time for him to step out on his own.
And he's done it magnificently.
Admittedly, life's not the bed of roses it might look like from the outside, but Tanak's pulling the Toyota around to his way of thinking.
One of M-Sport's strengths has always been its ability to react to a problem and fix it very, very quickly. At times you've felt that Tanak has had to convince Toyota there's a problem in the first place.
Undoubtedly, there's still improvement to come with the chassis, but there's clearly a process to go through to get to the stage where the work can be done. Tanak doesn't really have the patience for that.
And he's in a different position to his team-mates, one of whom - Latvala - doesn't want to shout too loudly as he's well aware there aren't too many seats open to him and the other - Esapekka Lappi - is still in his first full season in a factory World Rally car.
For those reasons, Tanak's might have been something of a lone voice at times.
That said, he has Tommi Makinen's full backing. Talking to the four-time champion about Ott, you definitely get the feeling that Makinen sees a bit of himself in his lead driver.
It's not hard to see why. There's the hard-charging approach on the stages and a hard-edged approach to getting things done off of them.
And Turkey showed Tanak shares his boss's ability to come through and win when the chips are down.
In Finland and Germany, the car was a peach. In Turkey, it was a pig.
That he had the mental approach to still win in Marmaris brought final confirmation that he is a changed man. And a very serious contender in the race for this year's title.
The past three rallies have plated a perfect-looking omelette. Time to forget the eggs broken along the way and enjoy what's coming from Tanak.
And definitely time to stop swearing at Mr Wilson.