After almost a month in America and five flat-chat months in France, it all came down to an eight-minute ride up a steep hill.
But it captivated us, didn't it? Sebastien Loeb, Peugeot and Red Bull, collectively, we owe you. Without your decision to wind the clock back 25 years, climb and dance in Colorado, what would we have had to talk about for the last few weeks?
When the 208 T16 Pikes Peak was wheeled out for the first time, there was an intake of breath. It was beautiful and beastly all at the same time.
One thing was for sure, it was a car made for a hero. And fortunately Peugeot had borrowed a nine-time hero to drive it. But what could Loeb achieve with his second American outing in as many years?
Loeb's last American exploit was to win the X Games in Los Angeles last summer
I must admit, I questioned his motives. What was the point? What did he have to prove? He'd woken North America up to his own brand of brilliance with a dominant win in last year's X Games in Los Angeles, so why Pikes Peak.
Turns out, like the rest of us, he'd had his imagination fired by Ari Vatanen's rocketship run in a 405 T16 in 1988. And he wanted a piece of that for himself.
It's reassuring to know that, while the rest of us were swooning over his new motor, the man himself was wondering if he could ever get comfortable enough in the car to hustle it up the hill in record time.
Privately, he'd talked of nirvana coming in the shape of a power to weight ratio offering a horse for every kilo of the car's weight. But confronted by 875 horses housed in a car weighing just 10 times more than me, a flicker of doubt shot through Loeb's mind.
Peugeot's computer said a 100 per cent run would mean 8m15s. Surely that wasn't possible?
Let's take a look.
Sitting on the startline, Loeb gave his belts another tug. And another. He stretched his arms and pushed himself back against his seat. A prod of the right foot makes a noise. He's fidgeting. He's ready.
A man in a hat waves two green flags enthusiastically and Loeb eases the clutch on the 208. The car snatches at the middle American asphalt as it moves away. Once rolling, he gives it another gear and more gas. And makes even more noise.
He exits a third-gear left hander straight and booms it towards the right up ahead. He's through the start and the clock is running.
The speed is immediate. That right hander's done flat and so is the next one. Lift for a couple, but no downshift. For almost half a minute, it's like Loeb's driving an automatic. Such is the 208's torque, he can lift before the apex then get back on the throttle and have instant power.
It's 57 seconds in before the car sees third gear again. The first hairpin left is quite astonishing, with 100 per cent throttle being applied mid-corner in first gear. The grip is sensational, there's not a hint of a slide as super sticky Michelins come close to stop the world turning as they hurl the Frenchman above 3000 metres.
The project was inspired by Ari Vatanen's 1980s effort in the Peugeot 405
Out of one corner, Loeb's knowledge of the road is becoming more apparent. Up ahead there's what looks like a quickish right out of a much slower corner. Exiting the slow bend, Loeb flicks the right-hand paddle twice moving from first to third in an instant. The reason is the second section is a longer corner than it appears and running up the revs in one gear keeps the car more stable with consistent pull.
Ninety seconds in and Loeb's heart rate has risen from 92bpm at the start to 172.
So, he is human...
As more and more heat comes to the tyres, the speed with which Loeb is getting onto the throttle in the middle of the corners beggars belief. Four minutes in and the scenery is changing. Closing on 4000 metres, the trees have been and gone - with one sixth-gear straight fringed by the top of hundred-plus metre tall pine trees. Fresh air is starting to appear on the outside of corners. This is the start of the section that Ari Vatanen described as 'soft run-off'.
And that's where it's getting really scary. There's just nothing on the side of the road. Loeb's slowing for a third-gear right, but the approach is on the limit. The braking is breathtaking and the aerodynamics astonishing. Turn-in speed is outrageous as the car's mechanical ability keeps the terrible potential of gravity at bay. Time after time, the 208 skips along the edge of oblivion, with its controller installing absolute faith in what the car can do.
The Pikes Peak run-off is sometimes trees, sometimes just the sky...
And every time, the car delivers. It's precision at every turn, with no slip and no slide. Just power. And perfection.
Six and a quarter minutes in, the course runs across the top of the plateau. Loeb crosses that section with the V6 bouncing off its rev limiter. Outside, the noise has changed. Gone are the rifle-crack gear shifts. Momentarily, the car sounds like a machine gun as it gives absolutely everything its got. Unsurprisingly at that section, Loeb's heart nears its own limiter at 188.
Nearing the finish, the road is getting rougher with patchy asphalt. The 208's not quite as settled up here, every now and then the car skips out of a slower corner, revs rocketing as the wheels spin.
The final hairpin is a right-hander at 4272 metres. The outside of the armco is lined with people. Fortunately for them, Loeb's braking is as sharp as ever eight minutes in. With nothing but a nice view behind and beneath them, their maker meeting can wait for another day.
And then, 8m13.878s into his run there are more flags. Black and white check replaces plain green.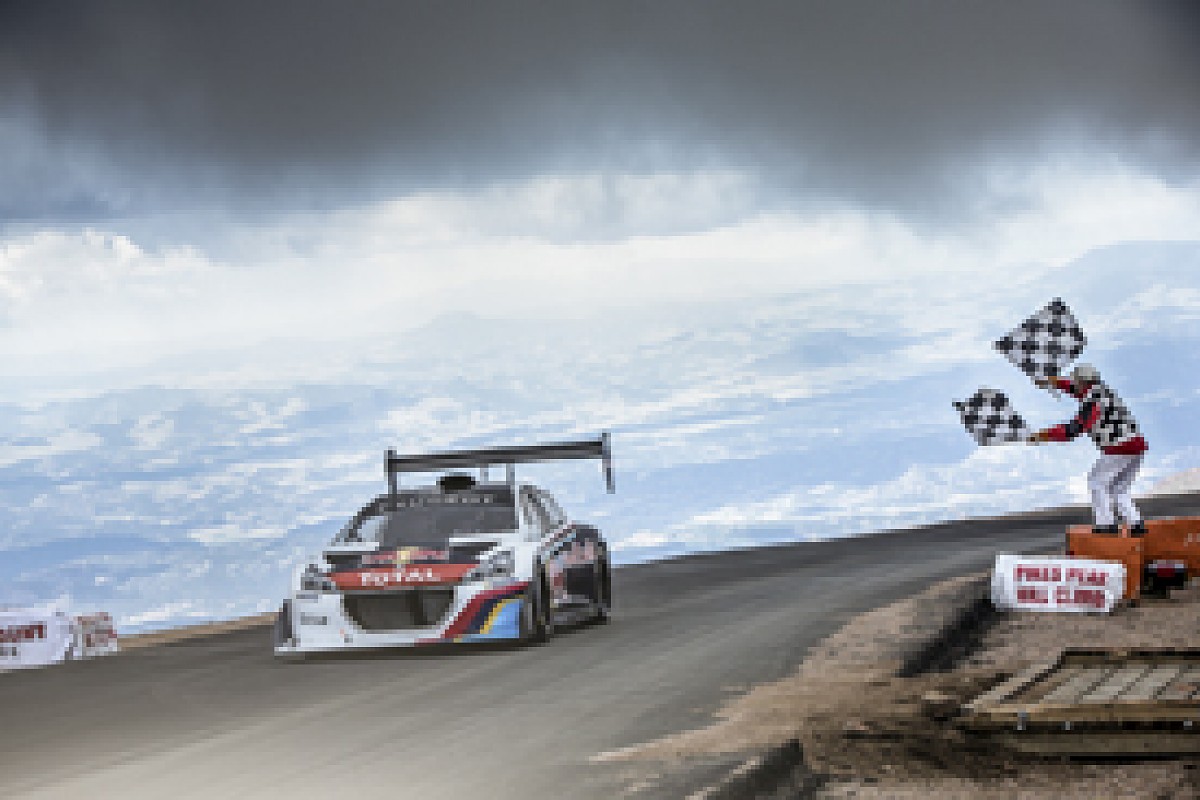 The moment of success
Off the throttle, Loeb clenches his left fist. He loosens his belts and gives another clenched fist.
From inside the cameras in the car and from the eyes on the outside, this looked like a trouble-free trip from bottom to top. Talking to Loeb afterwards, there was a sense, however, that he'd pushed things.
Had he gone to a place where he wasn't comfortable?
It seemed so. Fortunately for the nine-time champion, his innate ability is such that he's never really had to drive outside of his own comfort zone. Yes, there have been individual stages where he's let rip - and even three days in Finland in 2008 - but the stakes were, physically and metaphorically, even higher in Colorado last week.
Loeb took the risks and ran along the ragged edge. He took Peugeot's 100 per cent run and bettered it.
And in doing that, he gave Peugeot and Red Bull the perfect story they'd craved.
But, when he came back down to earth and talked of the risks he'd taken, he showed himself to be human after all.
Super-human.
To continue reading this feature, subscribe to Autosport Plus today.
Expert opinion. Technical insight. Unbeatable analysis. Subscribe today for unlimited access to the world's best motorsport journalism.
Get unlimited access now
No more monthly limits. Get complete access to all our news and Autosport Plus features.
Subscribe to Autosport Plus
Completely ad-free environment.
Access Autosport Plus - the best motorsport analysis, insight and opinion.
No monthly news limit.
Explore Forix, the world's most comprehensive motorsport stats database.