TransPennine Express. TransPennine is right. Express... not so sure.
I know. Because I'm on one. Heading north, but not technically over the Pennines. More to the side of them.
And I know we're not Expressing because lorries are overtaking us on the M6. They might be overtaking me, but at least I can read a newspaper while I'm doing less than 56mph. Or at least I could, if I wasn't transfixed by my fellow train travellers. Who are really beginning to scare me.
Take the chap sitting opposite me, who has a wonky eye. The wonky eye doesn't concern me. What concerns me is that he's making penguin noises. And he's just dived into his tartan bag and pulled out an apple wrapped in kitchen paper.
Over the way, a couple are tucking into their second four-pack of Strongbow. Why wouldn't they be... it's almost lunchtime.
And now they're tucking into each other.
Fortunately for me, Penrith's here and I'm alighting. Until tomorrow, people of the train world.
Another world awaits me now: the wonderful world of M-Sport. And its all-new Fiesta R5.
Dovenby Hall used to be home to those more challenged members of our community (some would unkindly have referred to it as a nut house... no room for such non-PC-ness in this column) and, considering my earlier experiences, quite possibly a few train-travelling folk. Not now. Now it's nirvana. Nothing short.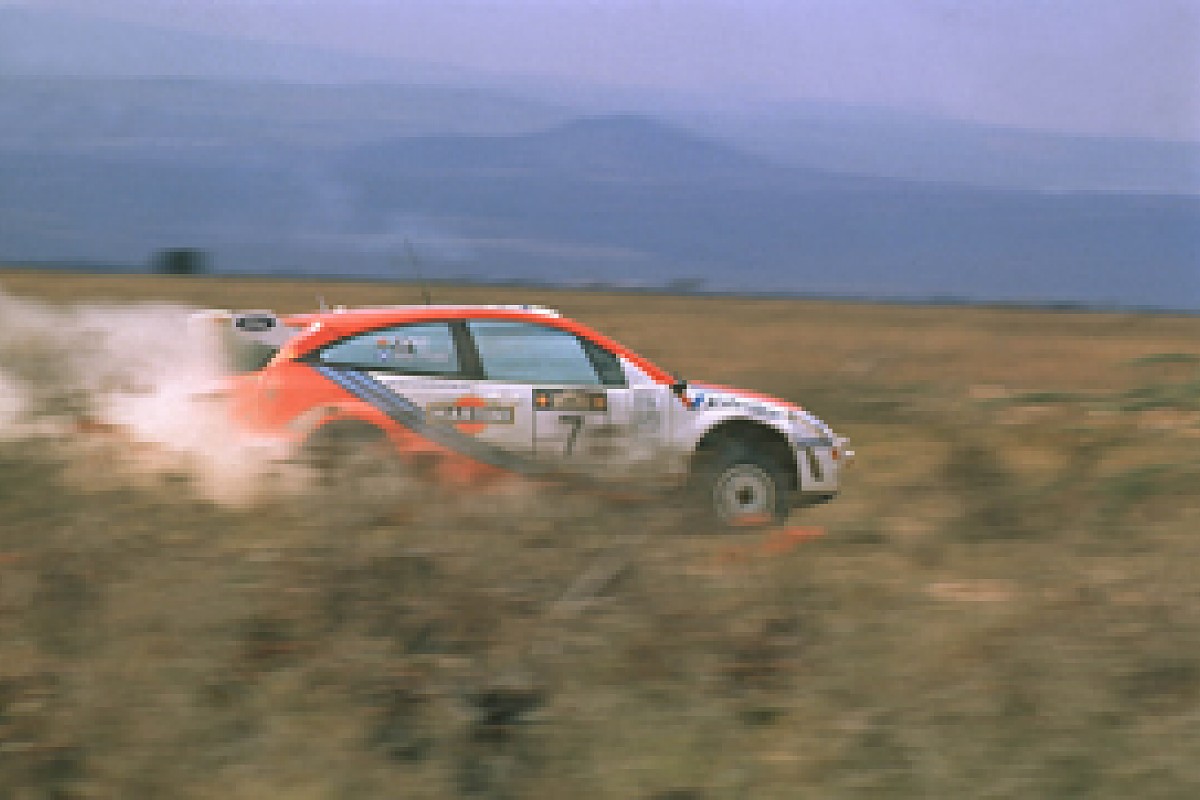 McRae's 1999 Safari winning Ford is one of the treasures at M-Sport's base © LAT
I love coming to this place - largely because the walls are adorned with AUTOSPORT and Motorsport News covers trumpeting the latest win for a Colin McRae-wheeled Focus. Step a little further down the corridor and you happen upon the car the Scot used to win the Safari in 1999. That Ford Focus WRC 99 remains a thing of absolute beauty. The sharp lines complimented perfectly by Martini's finest colours - although the red was a little too orange for my liking.
Ah, yes, S9 FMC will always have a place in our hearts. If not for its crushing Kenyan win first time out, then for Mark Higgins's similarly dominant performance on the 2002 Pirelli Rally. It's a cool car.
And M-Sport's a cool place. Especially tonight.
With the white lights down, the mood lights up and wraps come off Malcolm Wilson's new motor. Gun-metal grey and red is a mean-looking combination for the R5, which looks fabulous. Even in the half-light.
It's hard not to be impressed by the surroundings. We're in the factory - a term that unjustly diminishes the cleanliness and perfection of the place - surrounded by all-white Fiesta shells.
"They're all sold," says Wilson, with understandable pride. "And we've more shells coming in here by the day."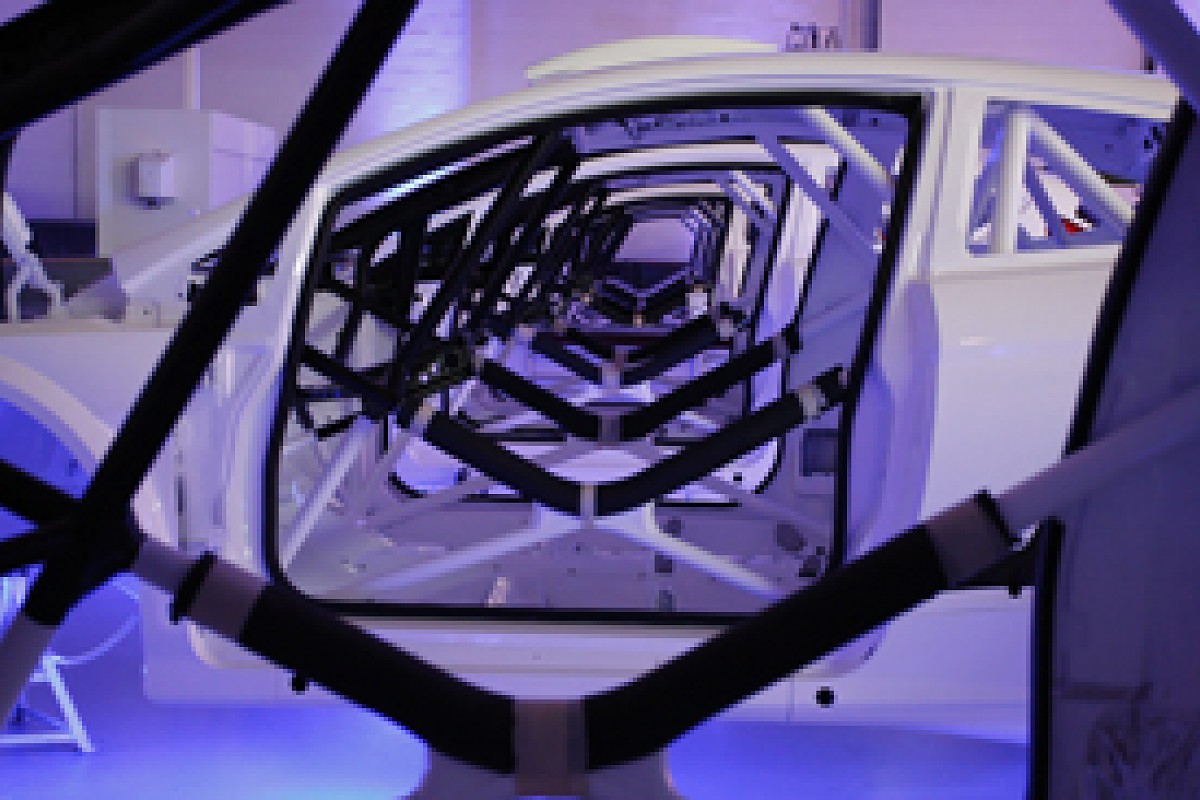 M-Sport's R5 Fords are being snapped up
It's an incredible fact that M-Sport has managed to sell 18 R5s without one of those customers even driving the car. What's even more incredible is that Markko Martin has put his card down for the first two. Markko has a reputation (entirely unjustified in my eyes - seeing as he paid for dinner the last time we sat down...) for being, hmm, careful with his cash. But, having won five rounds of the World Rally Championship at the wheel of a car coming from these parts, Martin knows his investment is sound.
Dinner is lamb, served surrounded by silverware from all four corners of the globe in one of Dovenby's more beautiful wood-paneled rooms. And a glass of one of Wilson's better reds.
The main event. The moment's arrived. I'm on the inside of the R5 now. And definitely questioning Matthew Wilson's eyesight. He can't possibly have seen those two barriers that we're fifth-gear-flying our way towards. He had. And we're through.
Fast forward 10 minutes and the same car is hammering its way towards the same barriers. No problemo. The gap's wide enough, the car's narrow enough. Coming through!
Before today, I'd always wondered what it sounded like when a front-right wheel arch collided with a heavy-duty plastic barrier.
And now I know. And it's not a nice noise. It sounds expensive.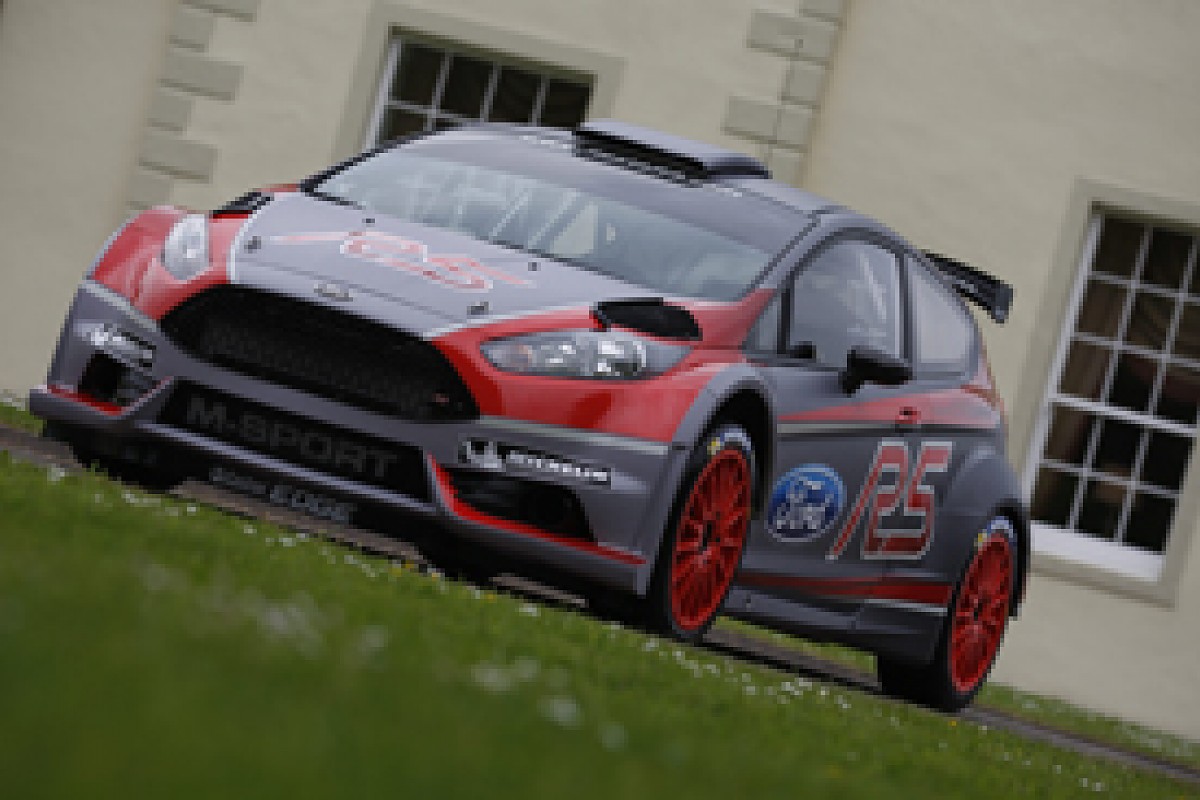 Matthew Wilson and AUTOSPORT were among those trying the Fiesta out
But, recalling my conversation with Wilson of the previous evening, I breathe easy. Nothing's expensive on this car.
Comparatively speaking, that is. A rally car that goes from standstill to 60mph in less time than it takes to shut the door on a TransPennine Express is never going to be cheap, cheap. But here's the thing. If you wanted to get to 60 a nanosecond quicker, you could buy a brand new Ford Fiesta RS WRC at £390,000. M-Sport would be delighted to sell you one.
And you, I'm sure, would be delighted to own one. But, unless you are one of the world's best rally drivers (which a scuffed spoiler and biffed barrier bear testament to the fact that I am anything but...) you are not going to notice the difference between an R5 and a WRC.
Both accelerate with staggering ability and both corner with the stability of... the TransPennine Express, which, as we all know, goes around corners on rails. As for slowing down and changing gear, both cars do it exceptionally well. But, for me, the R5 actually worked better in those two areas. The R5's regulation Sadev five-speed sequential shift was a dream and the AP brakes (practically the same spec as a World Rally Car, except with cheaper forged calipers) stopped you in your tracks.
And an R5, in all of its production parts glory, will cost you £160,000.
There will be those who need a World Rally Car. I'm not talking about Mads Ostberg here, I'm talking about those people whose Rolex has to be waterproofed to 60,000 feet, even though they can't swim. Those people who have to have the best, because it is the best. And to those people, a saving of £230,000 isn't worth having.
There's a sentence I never thought I'd write.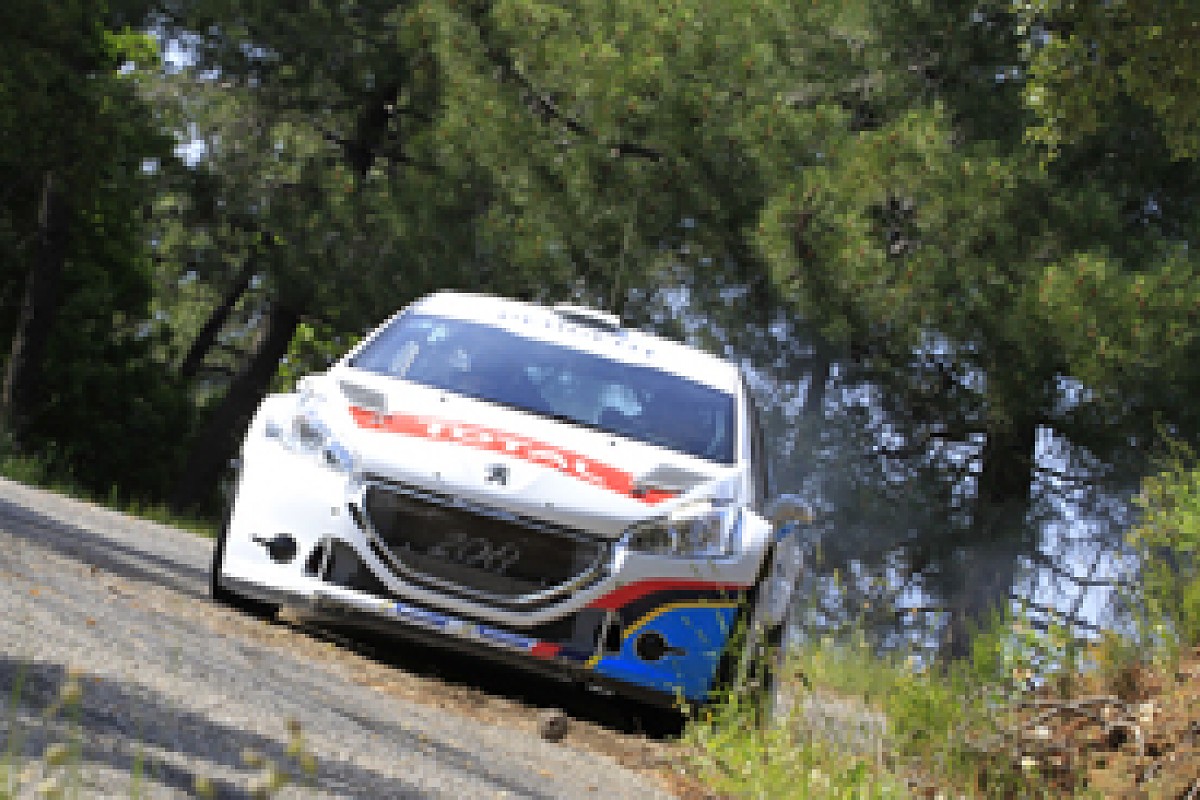 Peugeot's R5 is also ready to go
I can't speak highly enough of M-Sport's new car. It's mint. It's fast, driveable, predictable and beautifully engineered.
What we don't know, yet, is how fast. Wilson Sr and Jr are both confident it's fast enough, but it's only once the R5 offerings from across the Channel show their form that we'll really know.
One thing, according to Malcolm, is for sure... R5 has what it takes to get rallying back to the levels of popularity it once enjoyed. With M-Sport targeting 100 sales in a year and cars coming from Peugeot, Citroen and Skoda, there's no doubting the interest and potential in R5.
Sitting behind the wheel, pulling fifth for an instant before knocking it down to fourth for the entry to a quick right into a slower left, this journey has been so worthwhile; feeling the weight transfer, catching the slide, straightening the car up before banging it down four more gears to first for the open hairpin left.
So worthwhile.
And, with a mind full of those moments, I'm ready to return to the train.