Volkswagen Motorsport PR Andre Dietzel guided his winning driver from the post-event press conference in Greece on Sunday.
"So," he said to Jari-Matti Latvala, "you now have 347 interview requests. I think you might be late to the party..."
Little did he know, courtesy of a Citroen protest, the party would be late to the party.
Later than planned, the champagne was lifted from a watery ice bucket and glasses charged. Volkswagen now had two winners at world rallying's highest level. Officially.
Citroen's beef had been with the spare battery found in the back of the Polo R WRC. They reckoned that contravened one article, while VW maintained another article allowed its inclusion as a spare part. A Robert Reid-led panel of stewards agreed.
VW's argument was strengthened by the fact that the FIA's technical delegate had given it the go-ahead to put the battery there in the first place. When Jerome Toquet was summoned and confirmed all was in order, Citroen's case was not looking good. At close to one o'clock on Monday morning, almost half a day after he sprayed champagne on the podium, Latvala could allow himself a sip to celebrate.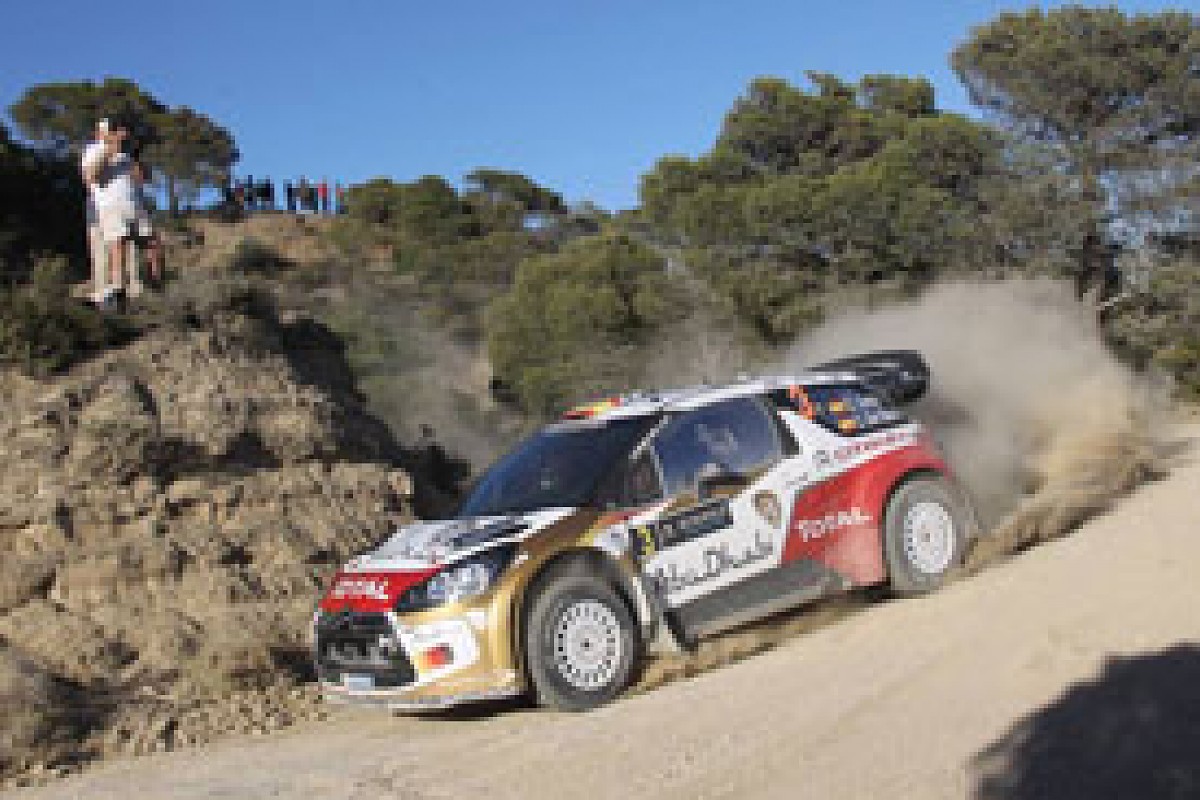 Sordo would have benefited most had Latvala been excluded © XPB
A tense evening was lightened inordinately. VW was never in doubt about the result of the stewards meeting, but privately there was annoyance that Latvala's moment had been stolen. And who would be the chief beneficiary of a Finnish exclusion? A certain Mr D Sordo, employee Citroen Racing.
One thing is for sure, much as Sordo wants a win, he doesn't want one that badly.
VW's rancour led Dietzel to ping out a communication by way of explanation. The thing was a work of genius for fans of the German team and a further sign, for those who believed in such things, of the shifting of power within the world championship.
There's some validity to the power-shifting point; VW has won four rallies this year, a Sebastien Loeb Citroen has won two.
But, some words of warning: Mikko Hirvonen's shocking run has to come to an end soon and Dani Sordo's dander is up after one of his most competent, self-assured and mature drives ever. Can Citroen win next time out in Sardinia? Of course it can.
And the rally after is the small matter of that annual dash through the forests of middle Finland. After the shoeing the French gave Ford's Fiesta in Jyvaskyla last season, the pace of the DS3 over the jumps is beyond question. And the combination of a shocking start to the year allied to a fierce national pride might even make Mikko favourite for round eight.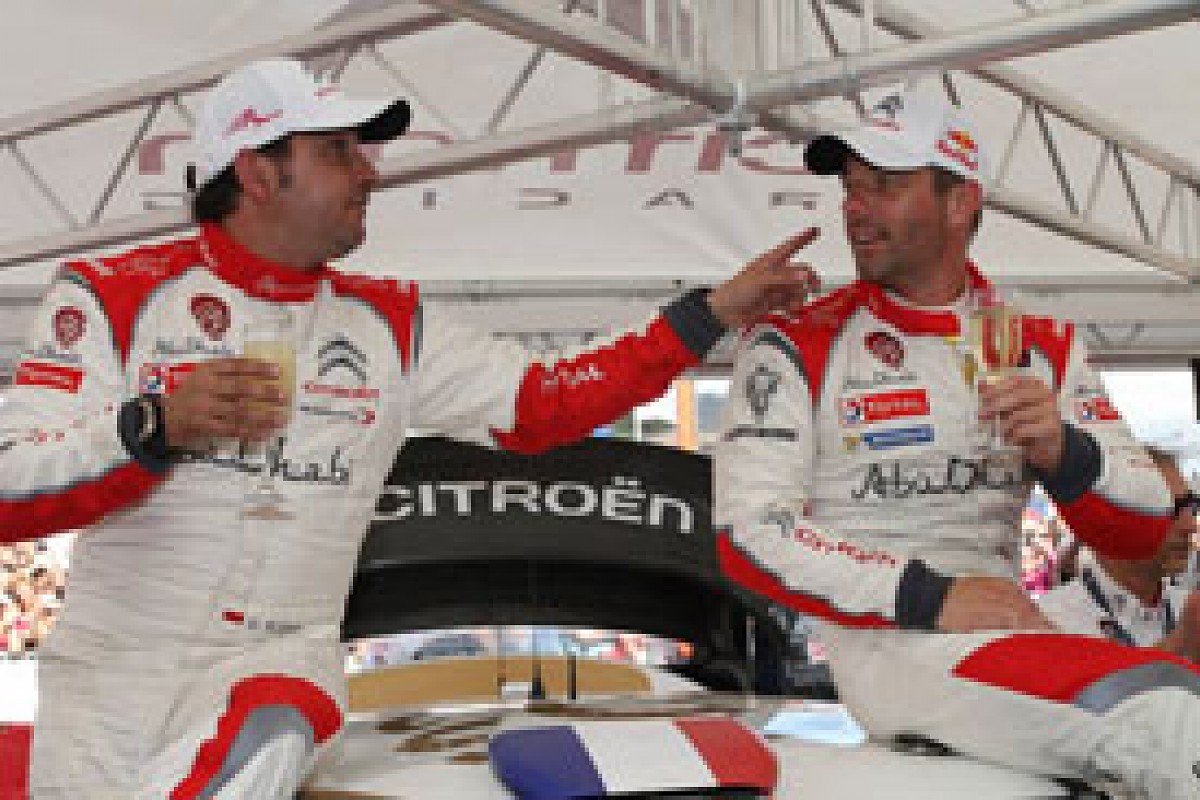 Loeb is the only Citroen driver to have sipped the champagne in 2013 © XPB
Latvala might think otherwise. Sebastien Ogier certainly will.
Much as after-hours protests are an unsavoury side of the sport, they certainly add an extra element of needle to proceedings. Last week's Loutraki service park was full of talk of togetherness between the manufacturers; a unified approach was working well in their dealings with the FIA and the WRC promoter.
It was all getting just a little bit too cosy.
Not any more.
Citroen was entirely justified in its decision to protest, believing firmly that Article 255A (relating to the number of batteries included in a car) had been transgressed and in a multi-million-pound, high-speed race to sell cars, no quarter is given on or off the stage. And neither should it be.
That's the regulatory and commercial side of the sketch.
From a sporting perspective, it would have been a tragedy if Latvala had lost a hard-earned and hugely deserved first win for his new team. There was no performance advantage on offer here. VW had hardly set out to emulate Toyota's spectacular, power-enhancing yet oddly absent-minded approach to the precise meaning of a restrictor.
And Latvala was that good, wasn't he?
Latvala has earned parallels to McRae, who won the Acropolis Rally in 1996 © LAT
The Finn's style has often been likened to that of Colin McRae and when the Scot won the Acropolis for the first time in 1996, it was a win that lifted what had been a pretty desolate season for the then Subaru driver. Prior to that, the reigning world champion had shown massive speed, but he wasn't exactly known for his ability to get a car to the finish on the slower, more technical rallies. And then he won in Greece and led from start to finish. Colin showed a merciful approach to nursing his Impreza 555 over the rocks, while showing the opposition no mercy at all.
Latvala's year, while improving more recently with podiums in Portugal and Argentina, had been similar to McRae '96.
By his own admission, Latvala had started to question what was going on with him this year. He couldn't make it work and the harder he tried, the worse it got. But last week's success was born out of even harder work and a more calculating approach. Jari-Matti intensified his recce period, added much more detail to his notes and, quite literally, left no - big - stone unturned as he searched for the most sympathetic route through the season's roughest roads.
And the driver who had a reputation for being hard on the car, harder on the tyres and hardest of all on himself turned it all around last Sunday.
Ten years ago Latvala started the Acropolis Rally in a factory-spec Ford Focus RS WRC 02. This wasn't just the deep end, this was a bottomless pool. But Latvala managed to swim. Just.
He arrived as an bounding 18-year-old, full of energy. But by the second day, he was half thinking about pulling over for a kip in the car, so exhausted was he by the step up in pace and punishment from British to World Rally Championship. But he persevered and took 10th overall. Then he persevered again and took 10 years to land a result he richly deserves.
Latvala has sat himself on the career launchpad numerous times before, but this time the blue touch-paper is well and truly alight... despite the best efforts of the red Sapeurs-pompiers on Sunday.