Who's going to sit on the bonnet, wearing his own-branded cool Oakleys and a Red Bull cap?
Who's going to answer most questions, 'Why not?' with a smile and a shrug?
Who's going to drink all that espresso?
And, most importantly, who's going fill Sebastien Loeb's boots on Sunday afternoon?
After 166 starts and 77 wins, you'd think we'd have had our fill of Loeb. Well, having been fortunate to have reported on most of those starts and all of those wins, I will miss him. It just won't be the same without number one.
Fundamentally, Loeb's a bit of a geezer. Were he a bit taller, he's the fella we'd all aspire to be; a pint-sized 007 in a rally car. He's nonchalant, considered, unassuming, funny, friendly and very, very fast.
But this week, he's at home. And not in Mexico.
The last time Loeb wasn't where he should be, he'd fallen off his motorbike and broken his arm in 2006. He was driving for Kronos Racing. Remember? When red turned blue and the Xsara WRC was a, err, private car?
In a 'private' Citroen in 2006, Loeb was so dominant he won the title despite an injury lay-off © LAT
That was a special season for Loeb. He won eight of the 12 rallies he contested and finished second on the other four. With four rallies remaining, he'd already racked up a title-winning 112 points, 34 more than his nearest rival Marcus Gronholm had accumulated at that moment.
The last time Citroen's superstar skipped a start was in Auckland in 2002. And that was a different era, another generation. At that point, the Alsatian had only won one rally and in his absence, Gronholm romped home to a four-minute Rally New Zealand win, which was enough to secure the Peugeot-driving Finn's second world title in three years.
Loeb's North Island absence - brought about because of Citroen's decision only to contest selected World Rally Championship rounds before it went full-time in 2003 - went pretty much unnoticed.
Well not this time.
Loeb has dominated Rally Mexico for the last six years and, unless he has a very, very late change of mind and a burning desire to eat food with his fingers for the next few days, his winning run will come to an end on Sunday.
Not only that, given that Markko Martin and Petter Solberg are the only other two drivers to have won on the gravel roads around Guanajuato, Rally Mexico will get itself a new winner. Somebody completely different will bag themselves the traditional pair of cowboy boots worn by the winner in Mexico's shoemaking capital on the podium.
Loeb shows what you get for winning in Mexico © LAT
But who?
Early 2013 form says it has to be WRC leader Sebastien Ogier. It's hard to ignore the Volkswagen driver's turbocharged start to the season, but Mexico is a quite different proposition to the fickle French Alps or the super smooth Swedish snow.
Mexico is hard, high and hot.
If the Polo R WRC is going to be found out anywhere, it's likely to be this week. And there are plenty in the sport hoping - in the kindest possible way - that the German-built apparent wonder World Rally Car does fall down.
If it doesn't, if it does dominate in the way it dominated in Sweden, then there will be some distinctly concerned faces in Versailles, Cockermouth and now Namyang and Alzenau - as Citroen, M-Sport and Hyundai consider possible ways to counter such early pace.
Volkswagen team principal Jost Capito laughs off the favourite tag on behalf of his own squad and Ogier individually. Rightly, he says VW now has nothing to prove; the Polo's a winner already. And the great thing for them both is that it was a winner while Loeb was still a full-timer.
It's now up to the rest of the world to see who can make the most of the absence of the nine-time superhero.
And there are plenty of drivers who have to make their move. If there's no pressure on Volkswagen, there's a whole heap on lots of other shoulders. Most of them Finnish.
Mikko Hirvonen has shown how quickly he can drive inside - almost 90mph in a buggy (when he set a new World Record for the fastest speed under a closed roof) - but now it's time to get back outside and get his season back on track.
The start to the year has been, frankly, woeful for Citroen's nominated point scorer for this season. But Hirvonen knows this better than anybody.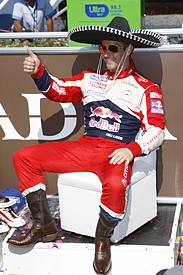 Without Loeb, Hirvonen is supposed to be Citroen's title hope, but that hasn't started well © LAT
His lack of pace on the Monte was just about excusable on an event which drivers either love or loathe; his shunt in Sweden was just about excusable as he tried to show the speed he missed on round one. Anything less than a big fight right at the front this week will be anything-but-excusable.
And what about Jari-Matti Latvala? How much pressure do we give him? Not much according to his boss Capito. Granted, he hasn't had much time in the car, but, for this event, he does have experience of these roads and these conditions after VW tested in Leon in November last year.
In reality, Latvala doesn't need to show any speed this week. His job's safe, but for his own self-confidence (a big issue for Latvala), he could do with showing the world that the band from Hannover has more than one man.
There is possibly even more pressure on Dani Sordo. At least Hirvonen and Latvala don't have that enormous great monkey on their back. The Spaniard's has been there for a while. And it's driving him mad. He needs a win and he needs one soon.
In all honesty, there's very little pressure within the Qatar M-Sport team. Malcolm Wilson's choice of three exceptionally talented young drivers means the Cumbrians can only win this year.
If Mads Ostberg, Evgeny Novikov and Thierry Neuville crash then it's because they're young and inexperienced. If they score points and a possible podium then that's a good result. If they win, that's dynamite. And, a victory - certainly for Ostberg or Novikov - is not out of the question if a couple of the others strike trouble.
With Loeb gone, anything can happen.
The man coming with the most pressure, however, has to be Chris Atkinson. The reigning Asia-Pacific Rally champion is on the cusp of disappearing from the top tier of the sport and he absolutely has to make use of his Citroen drive in central America. He's been good enough for second here in the past - and that was in a shaky Subaru...
Atko could drive and had he continued on his 2008 trajectory rally wins and possibly even a title would have followed. But now, who knows?
Granted, it's not easy coming to a relatively foreign car (he did do Finland in a DS3 WRC last year...) without much testing (he did do Mexico last year in a Fiesta...), but he has to put all of that out of his mind and get on with it. The DS3's not a bad motor when you push its buttons.
Push them harder and faster than anybody else and, you never know, it could be the key to a new pair of boots come Sunday.