Sebastien and Sebastien sat side-by-side. Peace, it appeared, had broken out between Loeb and Ogier.
By the end of their time at Citroen, the pair could barely look at each other. Ogier accused Loeb of crying to the management to get his own way; Loeb made the odd barbed comment, but largely smiled and got his own way.
Through last year, their paths rarely crossed - running at either end of the top 10 with Ogier in a Skoda Fabia S2000. Then in Monte Carlo last month, with Ogier's Volkswagen trailing Loeb's #1 Citroen, the Polo driver grew tired of telling everybody how much he didn't care about the leader and his seemingly unbeatable pace.
Loeb, you see, was a battle, not the war. And Ogier, whether he admits it or not, has his eye on the war this time around.
Loeb was only in Karlstad to win last week. Having lost too many times to Nordics in the snow, he was determined to plant the Tricolore in the mountain marked Sweden once and for all. Yes he'd won it before, but not properly.
Well, the town was painted red, white and French blue by Sebastien on Sunday night. But not by Loeb.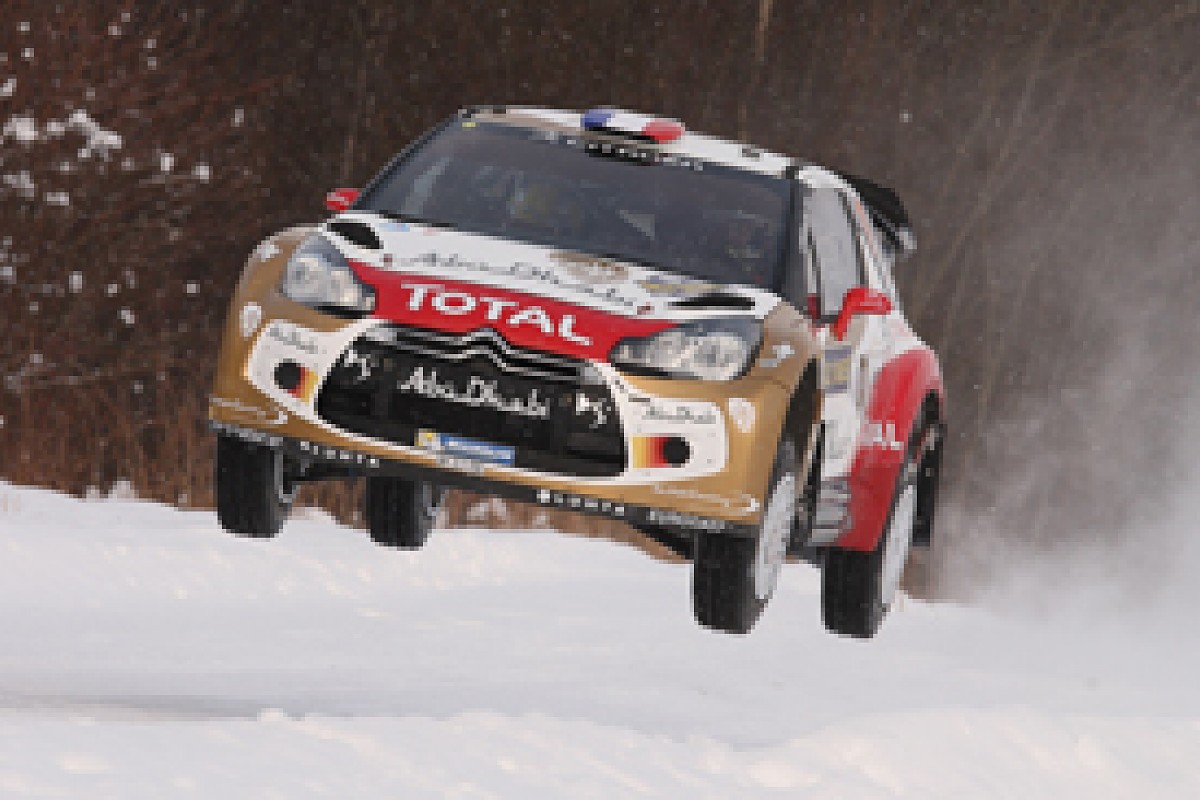 Loeb gave it everything to try and haul Ogier back in © XPB
The nine-time champion wanted this one. But in losing it he proved himself to be a proper sportsman and thoroughly decent fella.
Sitting on the startline of the Qualifying stage last Thursday morning, Loeb saw the marshals filling the ruts with snow. Indignant, he pulled his DS3 WRC up to the side of the ruts. He wasn't going to be cleaning the loose snow away for anybody.
Unfortunately, the road to the side of the ruts offered even less traction. Lights out, the Citroen sparked up, sat down and, momentarily, stayed exactly where it was. And in that wheel-spinning moment, Loeb's last chance of winning Rally Sweden was gone.
He qualified eighth quickest, ran 10th on the road and that was pretty much that.
But Loeb didn't quibble or carp. He just fessed up to the fact that he'd done himself no favours in qualifying or with the resultant set-up changes aboard the Citroen. He dropped 30 seconds and couldn't get that back.
"Sebastien Ogier," he said, "drove the perfect rally. He didn't make any mistakes."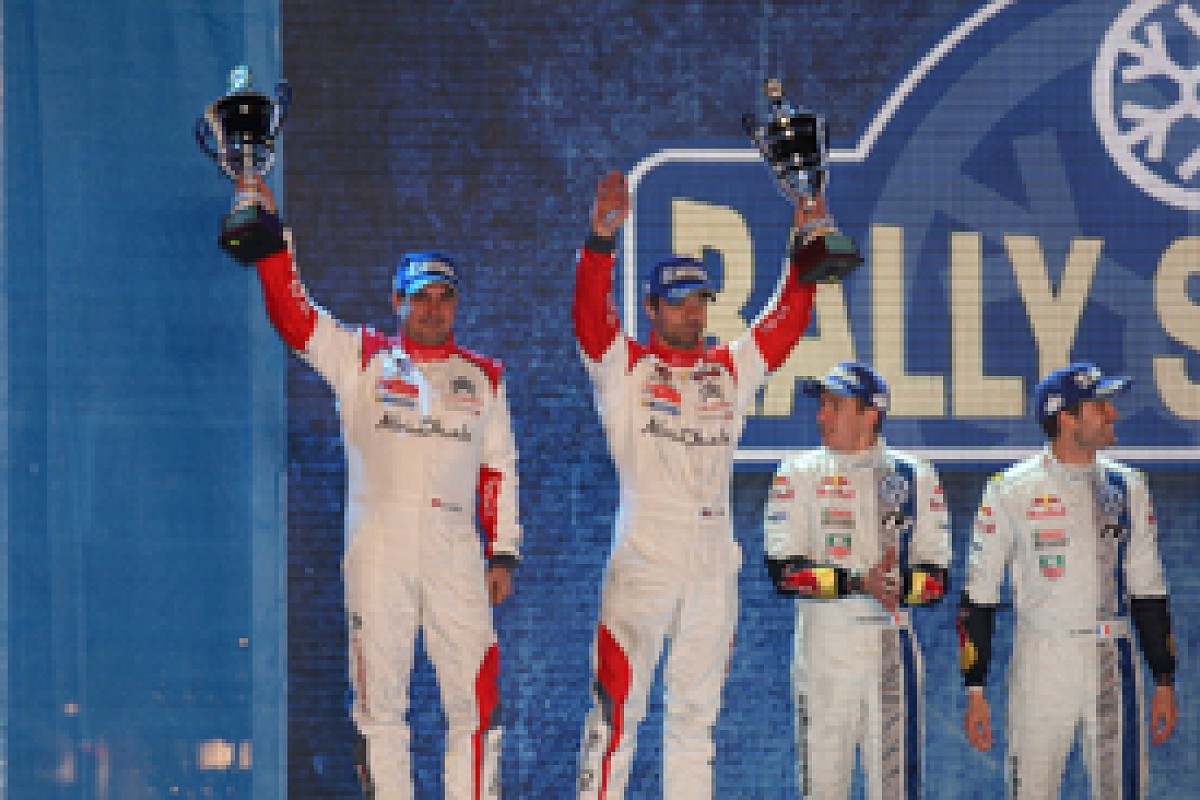 Loeb and Daniel Elena had to accept second place prizes © XPB
There was a moment's pause. A realisation. Ogier, sitting alongside, smiled briefly. Privately, the two might well have put everything behind them long ago, but publicly, this was Loeb's admission that he was over everything that had happened in the past.
Taking it a stage further, it was almost Loeb giving Ogier the nod.
The crown and the master's mantle, my friend, are yours.
And Ogier took them. Actually, he earned them. And, on the face of last week in Sweden - and last month in Monte - Ogier thoroughly deserved them. He and the Volkswagen Polo R WRC were magnificent in the snow.
Loeb talked of being able to match Ogier over the weekend, but we'll never really know how much the Polo had throttled back by then. Sitting on a cushion of half a minute, the urgency out of the corner or the bravery on the brakes is never quite the same.
What was quite clear, though, was Ogier's relief at returning to the winner's circle. It's been a while. For a driver who went through a period of winning five rallies in nine starts in 2011, '12 and a Skoda Fabia S2000 was clearly tough to take. And it undoubtedly caused him to question himself.
Last month in Monte he went some way to answering those questions. Last week, he answered them completely.
Ogier had to endure a year in the shadows with a Super 2000 Skoda © XPB
It had been too long for a man so comprehensively driven by nothing other than winning.
"Like I said in Monte Carlo, I didn't know," said Ogier. "I take one year away from all of this and I didn't completely know what would happen when I came back. Now I know. And now I am happy again."
And nobody should be under any illusions about the nature of this victory. This was vintage Loeb by another surname.
How many times have we seen Loeb control an event from start to finish? Seventy-seven at the last count...
Ogier's control in Sweden wasn't absolute. Going head-to-head with Loeb around the event-opening superspecial, he smacked a bank at the cost of a couple of seconds. But once the event went to the trees, he was never headed.
And crucially, for Ogier, his team-mate Jari-Matti Latvala never looked like getting close. Despite a confidence-inspiring test prior to the event, Latvala looked ill-at-ease in the sister car to the one that was leading the field.
Ogier found the perfect balance of a tractable soft car that still gave great precision on the high-speed stages. It was only when he moved towards the same springs as Ogier that he made an impression. Having talked of being happy with fifth, Latvala was mighty frustrated with fourth.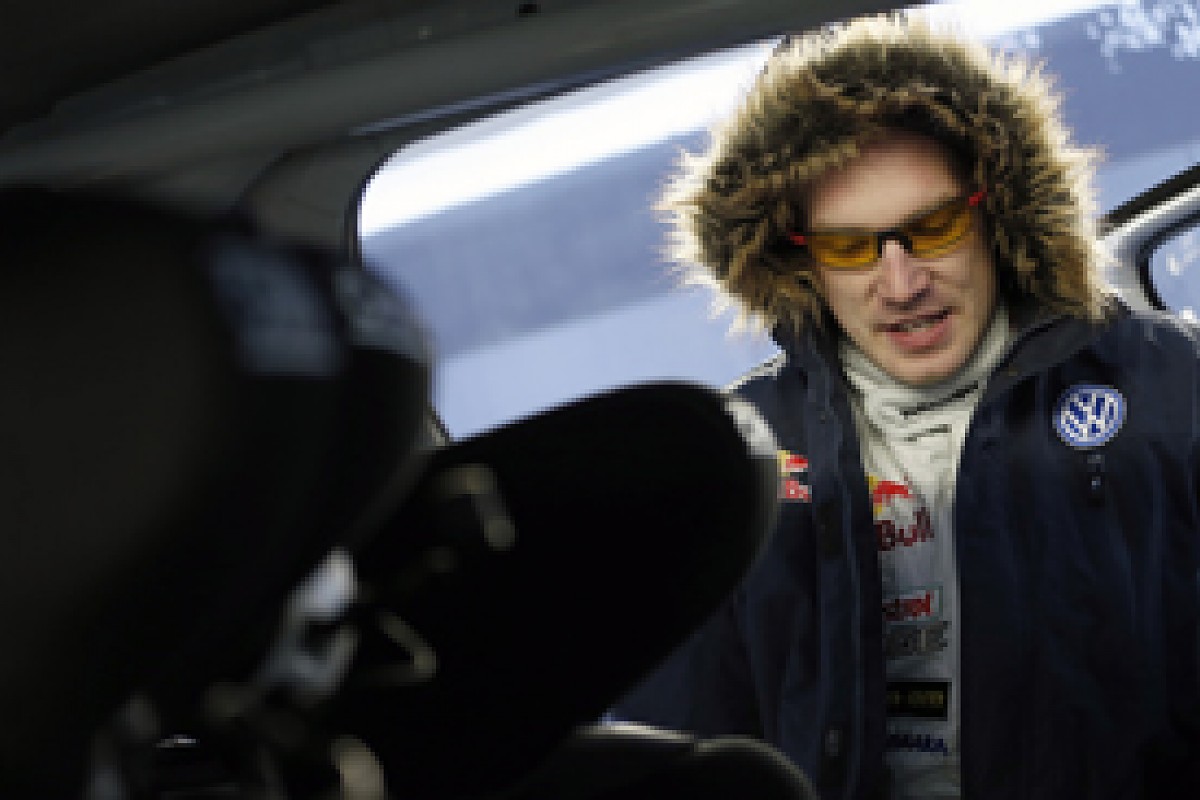 Latvala was left trailing by Ogier © LAT
But, it's going to take time for Latvala. Clearly he is lacking seat time and comprehensive knowledge of the Polo - and that's accentuated by the fact that the fella in the other one is so completely comfortable in his surroundings.
Latvala, however, remains one of the fastest drivers in the world and you don't forget how to do that overnight. It might take a rally, a handful of rallies or it might take much of the season, but Latvala will be back winning again, of that there can be little doubt.
One thing is for sure, though. Loeb will not win either of the next two rallies. When was the last time we could say that?
Well, 2006 when he broke his shoulder actually... But you know what I mean.
Suddenly the sport is wide open again. Or is it? Sweden gave us a glimpse of just how strong France's grip on the World Rally Championship could remain with Ogier.
It's up to the rest of the world to stop him. Otherwise we could be set for another nine years of a Sunday-afternoon rendition of the La Marseillaise.