Nobody, but nobody, has approached that blue building in this fashion before. The blue building in question is situated on a perimeter road of Carlisle Airport. It's not a particularly big building, nor is it a particularly sturdy being made out of wood. But it is directly in our path. A path being trodden backwards with all four wheels locked.
Fortunately, Ford Fiesta RS WRC did not meet blue building. But it was close.
My co-driver seems amused.
"Don't worry," says Jari-Matti Latvala, "I have made a few mistakes like that in this car..."
Latvala might not have had the best of seasons, but he must be wondering how it came to this: sitting alongside a hack whose enthusiasm far outweighs any kind of natural talent. But here we are. We're in this together and we're in it together for 15 miles as AUTOSPORT gets the chance to try the car which Latvala and his Ford team-mate Petter Solberg would use to thunder through the Welsh woods last weekend.
Having driven the Focus RS WRC, this car's immediate predecessor in the World Rally Championship, I had a vague idea of what was coming. But the Focus was quite a different beast; full of hydraulic and electronic wizardry which meant gearshifts could be made with the kind of effort usually reserved for a particularly strenuous game of Subbuteo.
The Ford Fiesta is a big change from its Focus predecessor © LAT
It's all change with the Fiesta. In an effort to cut costs, technology has been trimmed in the WRC, leaving the cars with mechanical differentials and straightforward sequential gearboxes relying on brute force to move between the cogs.
If the finger-flick gearshifts of the Focus gave you the feeling of playing a computer game - a mighty expensive one at that - then banging the Fiesta up and down the 'box is pure rally car.
Without a carbon clutch, the Fiesta is pretty simple to get moving. And even running gravel-specification tyres on this largely asphalt stage the car's agility is exceptional. Predictably, this is a car to be driven and it only truly responds when you provoke it.
Provoking it means Latvala pushing the 'stage' button situated on a panel of switches mounted low down and ahead of me. This moves the car onto a much more aggressive engine map, it also deploys the anti-lag system which keeps the turbo spinning to offer immediate boost on demand.
Outrageously impressed with the car before Latvala fiddled with the buttons, the Fiesta in full-on stage mode was staggeringly responsive.
Off the line, the gears couldn't come quickly enough in a momentum-building horizon-rush - and then when the corners come, the car sits and brakes neatly - you have to work surprisingly hard to lock the wheels.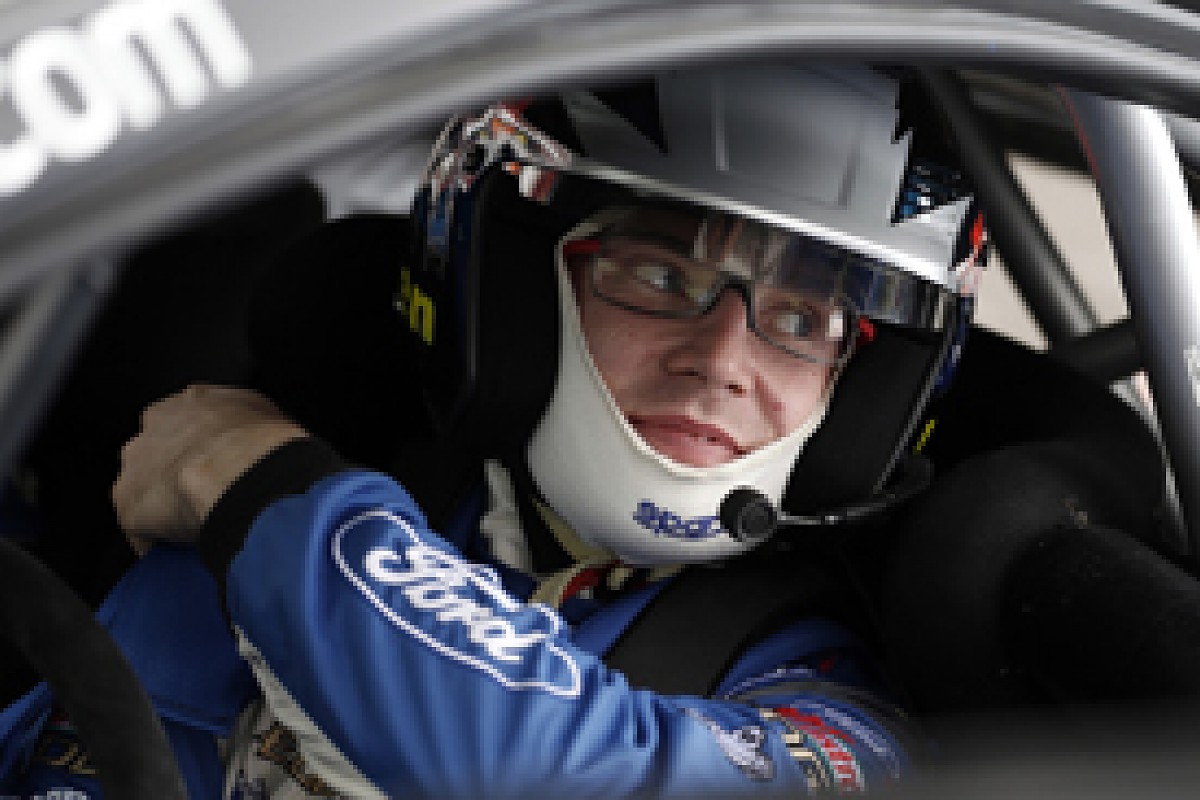 Latvala gets comfortable in his office © LAT
But still, only the best comes from the car when you get on it and really drive.
With confidence rising, despite a couple of spins and a big sideways moment into a traffic cone, I'm push harder and harder, slashing deeper into corners and breaking traction in the car to arrive at the apex with the car loose and slightly sideways. And it's controllable.
The car feeds back in volumes, urging you on to push even harder. But, boy is it hard work. The level of aggression - controlled aggression - to keep this thing on the boil is surprising. It makes the last generation of World Rally Cars look like a walk in the park. It's no wonder the drivers are looking sweatier than ever when the reach the end of the road these days.
One of the things that strikes me about the Fiesta is how easy it is to be flamboyant with the car. At a hairpin-right at the far end of the stage, a tug on the handbrake accompanied by the burying of the throttle delivers a gorgeous slide, ended only when the left-rear nudges the bank to straighten the car up.
And even when we're a couple of ratios up the box, I still feel confident enough to play with the car, unsettling it with some left-foot braking before drifting through a corner and using the transfer of weight to set the thing up for the next bend.
But this is different. I know this road now, I know what's coming and crucially, blue building aside, the run-off encompasses much of Cumbria. It wouldn't be like that in Wales. I would have been found out.
And, just when I'm feeling like I'm getting somewhere with the Fiesta, my co-driver wants to swap seats. Suddenly, I'm back in my place. And we're travelling much, much faster. In fact, we're in another world.
Which is why it was Latvala - and not me - as he claimed his second straight Rally GB win in a very, very fast car.
To continue reading this feature, subscribe to Autosport Plus today.
Expert opinion. Technical insight. Unbeatable analysis. Subscribe today for unlimited access to the world's best motorsport journalism.
Get unlimited access now
No more monthly limits. Get complete access to all our news and Autosport Plus features.
Subscribe to Autosport Plus
Completely ad-free environment.
Access Autosport Plus - the best motorsport analysis, insight and opinion.
No monthly news limit.
Explore Forix, the world's most comprehensive motorsport stats database.