Before we get to Rallye Deutschland, I'd like to talk about my first trip to Wiltshire in England.
For those of you who don't know where Wiltshire is, nor do I, in all honesty. We took the Rally GB road [the M4] out of Heathrow and stopped just before we went over the big bridge over the big river [the Severn Bridge over the River Severn]. We found a racetrack and used some tyres.
I think you all know me quite well and know that I like giving something back to the fans. This was the first time I had been able to do this with the Ford World Rally Team and it was fantastic.
The event was called Rallyday at the Castle Combe racetrack. I hadn't been before, but it was a very good day. There were plenty of people there, lots of fans, and a good chance to put on a show for them. I'm not sure how often the Fiesta RS WRC was pointing in the right direction, but there was lots of noise and tyre smoke!
Another big thing for me on that day was to be made an honorary member of the International Rally Drivers Club. The presentation for this was made by Jimmy McRae.
Let me tell you, when Jimmy McRae presents something to a rally driver, it really means something. I almost had a tear or two. I was really close with Colin and it was incredible to receive membership like this. It's something that's very important to me.
Solberg arrived in Germany having been made an honorary IRDC member © XPB
After leaving England, I came straight to Germany. And I had a very good feeling when we arrived in Trier. We had done a lot of work with the Fiesta over the summer and it felt really, really good.
I had never driven the car on a normal asphalt rally, only on some sections in Monte Carlo, but I guess Germany's not really a normal asphalt event with so many different surface changes. But, for me, it felt very positive.
And the rally started well. We were close with [Sebastien] Loeb from the beginning and pushing him. Then the rain came on Saturday morning. Loeb was two minutes ahead of me on the road and in those two minutes, the rain really came down. I dropped 21 seconds in the rain and then we were 41 behind.
Then came Panzerplatte. This is a really tough stage, the same one where I had a big crash in 2004. But I wasn't thinking anything about that when we began, even though the start of the stage did go past this place.
When we started the stage, we were second and quite comfortable there. But then in a long, long left-hand corner, it went wrong for my co-driver Chris Patterson and me.
I lost the rear of the car in the middle of the corner. I was working to try to get it back, but it wasn't possible. We went into a big slide. I can't remember what gear we were in exactly - it was fourth or fifth - but we were going uphill.
After sliding for a long time, the right-rear of the car hit a stone. It was a big bang, spinning us around a couple of times. I carried on but then the wheel came off a couple of kilometres down the road.
It's so disappointing. This car is so bloody fast! This was my first time competing in the Fiesta on this kind of event and it shows how strong the car is that we were able to be running in second place without any trouble.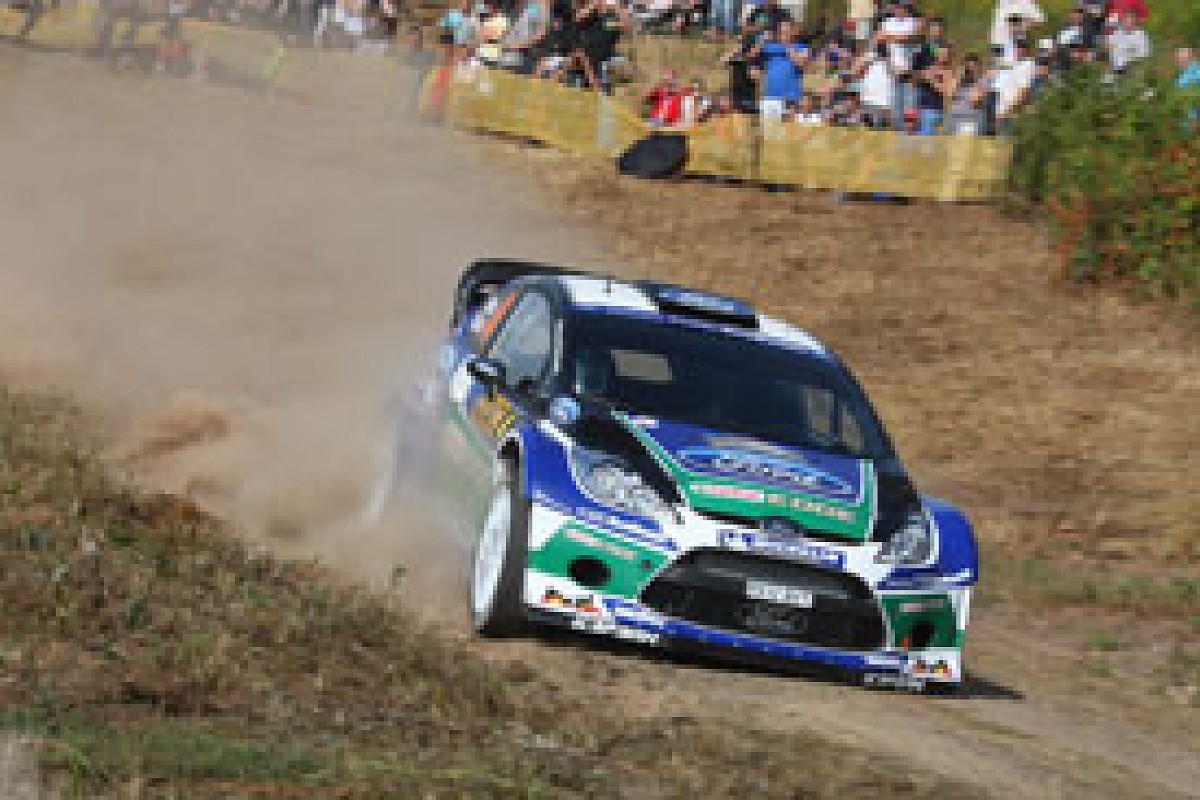 Solberg was running a comfortable second until Panzerplatte © XPB
Over the summer we made lots of improvements with the Fiesta and we really saw those in Germany. Everything felt so good. And we are close to Citroen, so close and soon we are going to be even closer.
The positive thing from Rallye Deutschland is that Jari-Matti [Latvala, Solberg's Ford team-mate] went on to finish in second place, but it would have been better to have second and third place. Now we have to move forward and focus on standing on the top of the podium next time out in Britain.
I've always liked Rally GB. My co-drivers have been British, with Phil Mills before Chris, and this makes it like a second home rally for me. As I saw before I came to Germany, there's good support for me in the UK and I hope to be able to give you all something to cheer about next month.
In the meantime, I have to get on with our Rally GB test in preparation for the event, which is next week - and some more races for my son Oliver. He won his cross-kart race last Saturday after running second for a couple of laps. It's good to see one of the Solberg family is winning!
I'm sure it will be like son, like father soon enough. The one thing I do know is that M-Sport and everybody in the Ford World Rally Team deserves the win that we're going to get soon.