Forty-four years ago, 10 minutes of film captured the imagination of a generation. 'Frank Bullitt', a Ford Mustang and a Dodge Charger were collectively immortalised on the streets of San Francisco. And now Ken Block has paid homage to those big screen heroes. With a twist.
I'm sure you've all seen Gymkhana 5. If you haven't, treat yourself with a peak here and come back to this column in 10 minutes.
Done?
What did you think?
I have to say, I thought Gymkhana 4 was a bit too weird. My then three-year-old son thought the shifty-looking fella eating a severed leg was odd and I tended to agree. It was all a bit too Hollywood: too many people on fire and gorillas on segways. But then it was the Hollywood Megamercial.
It was a shame, because I'd loved the version before, filmed at the Montlhery circuit in France. I put this down to me being a bit too long in the tooth and a bit too conventional in my visual consumption of cars doing skids. Although I'm clearly not alone as 44 million watched Monster's mental Fiesta around the beautiful and original banks of a 1924 Paris track, while 'only' 18-mil went for the plastic walls and pretend buildings a year later.
Since seeing the fifth incarnation of Block's annual donut-fest, I'm happy to say, he's back to his best. Swapping California's Universal Studios for the streets of San Francisco was, for me, genius.
He was pretty pleased too.
"It's awesome," he grins, "isn't it just amazing?!"

Block prepares for take-off
Watching him drop the clutch on a beautiful Bay Bridge morning is, I have to say, pretty incredible. There's nobody else in sight. A city of 7.5 million people has bowed down to this man of speed, noise and tyre smoke.
"In Gymkhana 4 we played with the streets in Universal Studios," says Block. "And that was really good fun, but I'd always wanted to take that further. I'd always wanted to take to the real city streets, but I have to admit I wasn't sure it was possible."
Brits will try to argue the toss for the car chase in the Italian Job being the best ever (with some justification), but having dug out Bullitt for a 64th viewing... that Mustang-Charger battle edges it for the Americans. The noise of those big-block V8s just can't be ignored.
And nor could the backdrop. Now Turin and the roof of Fiat's Lingotto factory was pretty cool, but the undulating streets of San Francisco were like an urban Ouninpohja.
That opportunity for air time wasn't lost on Block.
"When you talk about an iconic city for cars and movies, San Francisco really comes to mind with things like Bullitt," he says. These streets featured so many cool scenes and that was why we came here. San Francisco is unique with the jumps and the turns that it has in the city and we wanted to use those situations."
San Francisco embraced Block's escapades
But would they really be able to close off great swathes of the city? Surely not. Surely the residents of Russian Hill and Twin Peaks would take exception to Block hitting 60 from a standing start in under two seconds on the same streets where they let their cats out at night.
Apparently not. They loved it.
"In some places, we were able to close off a whole section for the day," says Block, "but in other places we had to let more residents through to get to and from their homes. And, in one scene, we were on a bus route, so we had to stop to let the bus through every 20 minutes!"
Filming in a city in 1968 brought its limitations. Steve McQueen and co were, reportedly, asked to keep speeds down to between 70 and 80mph during filming. Fortunately, they got carried away here and there and topped a hundred in their pursuit...
"Gymkhana 3 is probably my favourite video," Block admits, "because that track was unique, it was great. But, we were at a track and in a completely closed situation. You know what tracks are like, they're locked-down with ambulances around and everything worked through on the safety side. I could go and warm up the car when and where I wanted, because I had a track to do it. But this was a city and we couldn't do that. We were closing off blocks at a time and I couldn't just say. 'Hey, I'm gonna jump into the car and go get a feel for this section or that corner'. It didn't work like that. When everything was ready, we had to go and make it right."
Evidence of Block's one-take ability can be found near the start of the film. And it's pretty impressive.
Departing the Lincoln Highway (off the Bay Bridge) and heading for Fremont Street, exit 2C is a long, long, looping right-hander. In preparation, Block pops the Fiesta down a couple of cogs (to fourth), tugs the handbrake and slides. And slides. And slides.
Undoubtedly, the 665lb ft of torque on offer from the Fiesta simplifies the operation slightly, but he's still drifting between concrete walls in fourth gear and nailing it pretty much first time.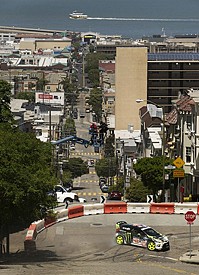 Block practices for Rally Finland... sort of...
There's more skidding in the next section and a nifty bit with Travis Pastrana on a motorbike, but it's the jump followed by the 90-right that I loved - and then the jump through the 90-right that I loved even more.
Block will be glad of that chance to practise the art of a drifting jump - he'll be doing it for real at the start of next month when he tackles Rally Finland for the first time.
The final part of the film is another dream scenario. There are a handful of hairpins winding up from the Bay and out through the suburbs. We all know a stretch like this. And, like the exit from the Bridge, we've all wondered, what if?
Now we know. Ken did it for us and had the most fun doing it.
"It's incredible to see the way it's turned out," he says, looking back at a job well done. "Just to see a race car running through the streets of downtown San Francisco. Amazing."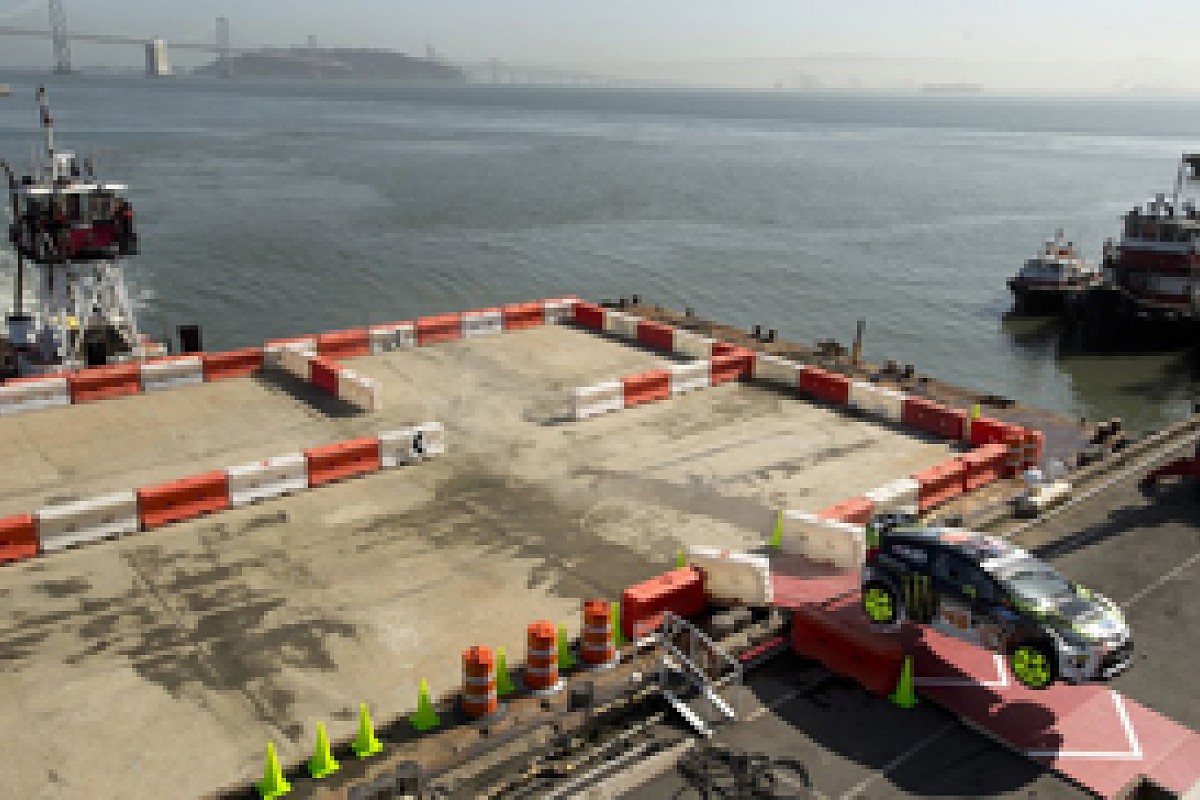 Block also uses public transport...
No arguments here.
But there are arguments against Block and the whole Gymkhana cult. There are those who sneer when he comes to a WRC round and relishes a place at the wrong end of the top 10.
Those people don't get him and they don't get what he does. Those people, as far as I can see, are stupid.
Block has single-handedly done more to acquaint his fellow Statesiders with rallying and the World Rally Championship than any other person on the planet. And what is the WRC's Holy Grail?
Exactly: a WRC round in China. Or India. And America.
And for those forum-dwelling folk who talk about Block not being the most proficient of pilots, switch off your X Box, come out of your bedrooms and give it a go.
Spinning 600 horses on a sixpence on a barge in the middle of the Bay with no margin for error and the Pacific for a fence.
Easy? Really?
Think again, my friend.