I couldn't believe it. I just couldn't believe it. Our hopes of fighting to win in New Zealand were pretty much over as soon as they had begun. It felt terrible. So bad.
We took a hard tyre on Friday morning, knowing it would be a gamble. And the gamble didn't work. I saw that from the first split time that came into our Ford Fiesta RS WRC. From then on, I knew I was in for a very long morning. We got to the end of the stage and I'd seen the time slipping away.
I saw Colin [Clark] from the radio [WRC Live] at the end of the stage, but I couldn't open the door, I didn't want to. I didn't want to talk about this, not yet. It was the same at the end of the next stage. It was the same all the way through the morning, actually.
We came to New Zealand on the back of three rallies I truly felt we were going to win and then this. Hey, I don't blame anybody for this, taking the tyres we did was a team decision; as much mine as anybody else's. But it hurt. It really, really hurt. I wanted to win so badly, like always.
At the end of the morning, we got to remote service in Raglan and I knew I had to get out of the car and talk to the journalists. I saw David Evans from AUTOSPORT coming and told him I didn't want to talk about it, so I asked him what he had for breakfast instead.
We'd dropped a minute and a half to the leader and our chance of winning was finished. Yes, we talked about the big rain that was coming on Saturday night and through Sunday, but in my heart I knew it was over and, like I said, that hurt.
The problem was that Friday had two loops of 100 kilometres (62 miles) each, the longest loops of the rally - you had to get the choice right on those loops simply because of the length of time you would spend on the rubber. On top of that, the roads south of Raglan were softer than the ones we would drive over the weekend, north of Auckland. Those softer roads with a lot of loose gravel were better suited to the soft tyre.
Solberg pushed hard to get back up to third © XPB
Reading this, you can probably tell that the Friday morning thing has gone around in my head a little bit and this long flight back to Europe's not giving me much chance to think about anything else!
After Friday I told myself I would do what I could to move back up the leaderboard as much as possible, but I was determined not to take the big risks and do anything silly. On the Acropolis Rally in Greece just before New Zealand, I had pushed hard - one per cent more than I should have done - and we caused ourselves some problems. I couldn't do that again. I just had to be sensible.
When you have given away quite a lot of time like we had, it takes a lot of self-discipline not to go out and try to win all the time back straight away. So, Chris [Patterson, co-driver] and I drove our own rally.
And then Jari-Matti [Latvala, team-mate] had his problem and dropped four minutes. Bloody hell! This is such an unbelievable year! Here we are with a great, great car - the fastest car in the championship - and it's just not going our way.
We came home third, sprayed some champagne and made some points for the team, but quite honestly this wasn't good enough. We are here to win. Ford is here to win and, I know I've said this before, but that is completely the focus from now on. We simply have to win rallies.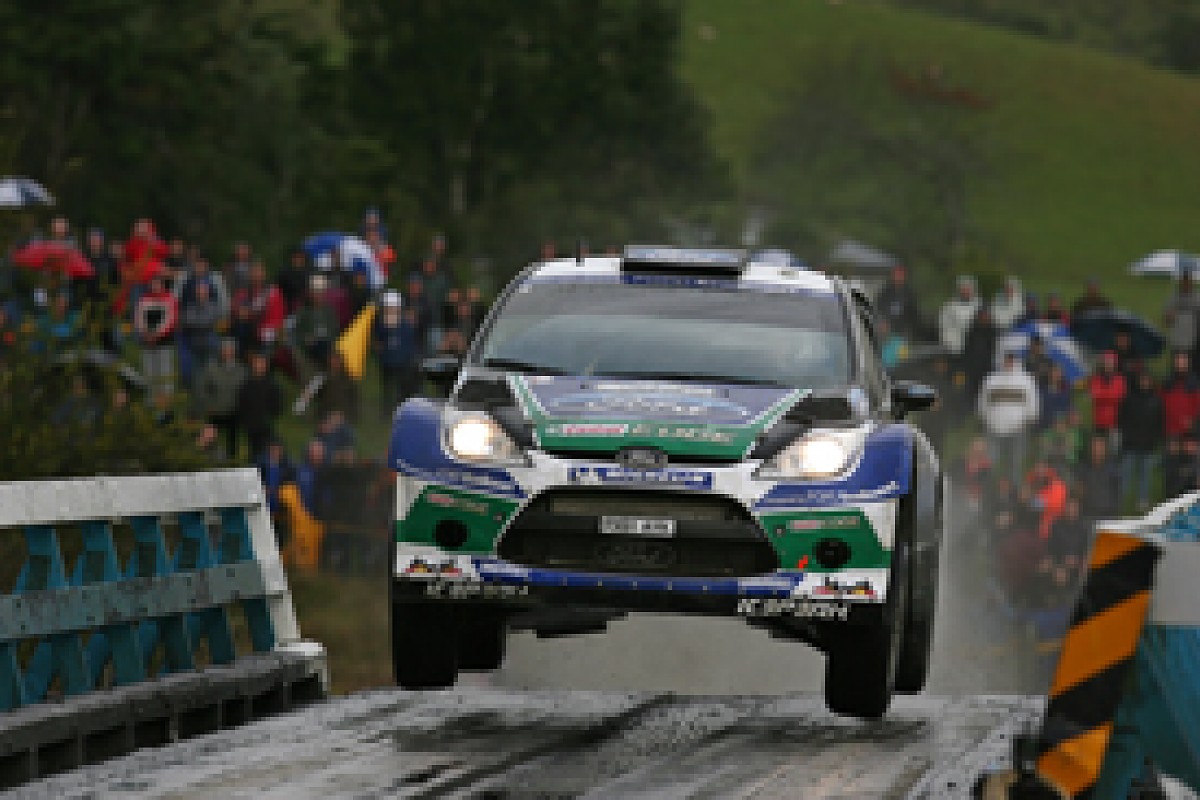 Standing below the Citroen drivers on the podium again wasn't what Solberg had hoped for © XPB
Come on guys, let's face it, those Citroen boys are having it too easy, so let's put a stop to it. Citroen and [Sebastien] Loeb winning is just boring.
The problem is that we have quite a long time now before the next rally in Finland. When you don't win a rally, you want to start the next one the next day to try and put that right. Believe me, I've been waiting for quite a while to get that winning feeling back. It might be quite a long time before we're in Jyvaskyla, but it's going to be a busy summer in the Solberg house.
Oliver will be doing more of his cross-kart races, so I'll be watching him and cheering him on - he won his first race just before we flew to Auckland. Maybe his success is going to rub off on his dad!
I've also got some sponsor stuff to do, some promotional work for Ford and some work on a rallycross car that my own team is building and running.
And then, most importantly, we've got the pre-Finland test. I can't wait to get there. The pre-event [test] is the first chance you get to start putting the pieces in place to win the rally. I might have said this before, but that's just what we're aiming for in Finland. More than ever now. I'm fed up with second, third and fourth places - I've got enough of those in my career; I want some more first places!
Before I go, there was one more thing I wanted to say and this really puts everything else we talk about in this column in perspective. I just wanted to remember Gareth Roberts. It was so sad to lose such someone like Gareth. He was a proper, proper guy and we'll miss him.