This long left is tightening. Tightening. The bank, we've hit the bank on the right. Over the road and bang. Bang. The left-rear is gone. We're out. Finished. I'm devastated. Hurting like hell. Hurting for everybody.
Last week's Acropolis Rally was not good for Chris [Patterson, co-driver] and I. I was pushing hard in my Fiesta RS WRC to try and catch [Sebastien] Loeb when it went wrong. I tried to take a little bit too much speed through a fast left and that was it.
I couldn't believe it had happened. You never can. You sit there afterwards and think: '"How did that happen?'"
I am so sorry for everybody, all of the Ford boys. They worked so hard to get us in this position and it went wrong.
The event didn't start so well for me, either. The ceremonial start in Greece was really good, lots of people and a very, very nice atmosphere. And then we went straight to the first stage.
There had been some rain on the [Thursday] morning and there was some talk about using the soft tyres for the stage in the evening. I thought this would work. After seeing the way the soft Michelins worked in Argentina last month, I thought this was the right thing to do. I was sure. The team did try to talk me out of it, but I was sure. This is how it is as a driver, sometimes you have to back your instinct. But this time it was wrong.
My tyres were finished and I knew almost from the start that I had got it wrong, so it was just a matter of getting through the stage. We lost quite a lot of time, but I had to put this behind me and get on with the rally.
And it was a great rally. It was great to go back to such stages as Bauxites and Drossohori. These are some really famous roads - and faster because they aren't quite so rough as the ones closer to Loutraki we would do on the second day.
Drossohori wasn't very kind to me this time around, though. I hit a rock in there, which I hadn't seen on the recce. This threw the car into the air and we landed with such a bang, I thought that was it.

We broke a rim when we landed and then we got the vibration in the car. I knew something was wrong. We had pushed the rear differential and propshaft right up almost into the car. It was an amazing hit, so strong - the kind of damage you only see on this rally or on the Safari.

I have to say this rock gave me the biggest moment of my life. Well, not the biggest moment - I wasn't scared we were going to crash or anything - but the biggest shock of my life. I totally wasn't expecting anything like that to happen and suddenly we were nose down into the ground. We were lucky to get away with that and the boys did what they could to put it right at the remote service that followed.
When we left, we still had the vibration and I really wasn't so sure we could make it to the end of the day. But I hadn't factored in how strong these Ford Fiesta RS WRCs are... Having seen the way the car dealt with that, it's no surprise that a factory Ford has been in the points on the last 151 rounds of the world championship!
We got through the day and the team then did an amazing job to fix the car on Friday night.
Peter was distraught not to deliver on his promise in Greece © XPB
We talked to Malcolm [Wilson, Ford World Rally Team director] about Saturday morning and, with [team-mate] Jari-Matti Latvala so close to Loeb, the decision was that we wouldn't take the big risks over the really, really rocky sections. So that's what we did. And then Jari-Matti got his puncture and we were into second place and pushing for the win.
The rain came back on Saturday afternoon and it was incredibly slippery, so bad. But I like it when the conditions challenge us like this, so it was OK. We took some time and started the final day 10 seconds behind Loeb.
What to do?
I knew I wanted to give it a go. Malcolm said OK - we had to try to win rallies to narrow the gap in the championship. So I went for it. I thought it would be possible to make two seconds in each of the five stages; that was the target.
We were up on Loeb [on the stage], then level with him and then we dropped half a second. I know where this was, we had one fast corner marked as a five and it should have been a six. This means we were in fifth gear, not sixth - that cost us half a second. When I saw that split in the car, I pushed even harder, which is where that long left came.
And then Loeb gets the puncture. This was pretty bad when we heard this. I don't think he would have got that puncture if he hadn't been fighting with me, or maybe I am just saying that to try and make myself feel a little bit better.
You know, this hurts like hell right now. I can't tell you.
After we had the debrief on Sunday night, I just wanted to go home. I changed the flight and got out of there, I needed to be on my own to think about things. This is a hard one to take.

I don't regret the way I drove; I had to take the chance. We have to push to try and beat Loeb, we're here to win and not to come second. It would have been much easier to sit back and settle for second, but we're not going to get anything if we do that.

But bloody hell, you have to say, well done to him [Loeb]. He was good last week, he was very good: so consistent and no mistakes. But we can beat him and it's our job to do that.

And this is the good thing, the car is fast, we are fast and we know when it all works for us, we can win. Did I already say that in this column? Well, I'm going to say it again: we can win and it's going to happen. This Ford Fiesta RS WRC is a fantastic rally car and our luck will change.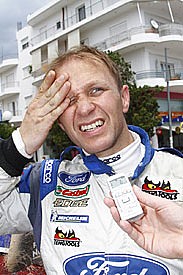 Solberg was in second and charging on the final day until... © XPB
I heard some talk last week about the Acropolis Rally maybe not being included in the calendar for next year and, for me, that would be a big shame. This sport is about challenges and the different roads we drive. Having to balance the speed to get through some of those incredibly rough places on Saturday is a part of what we do. We should keep coming here.
The one thing I wasn't so sure about was the remote service on Friday. I know this gives us the chance to go further away and to some different roads, but what about the fans and the sponsors who are sitting back in Loutraki. We promised them a rally in the town and then disappeared for 15 hours on Friday. I'm not sure that's such a good thing.
But for now, I have to forget about remote services and all of those things. It's time for me to get my hands dirty again, we have some testing and another race coming up in my son Oliver's Cross Karting Championship...