Hello from five miles above the Atlantic. Flying back to Europe after Rally Mexico, I'm feeling a lot healthier than when I was coming in the opposite direction. Another podium for the Ford World Rally Team has also helped put a smile on my face as well.
When Chris [Patterson, co-driver] and I were on the plane coming out to Mexico I felt pretty bad. I'd had the flu for a while and things had been so bad we almost cancelled the second day of our pre-event test. Can you imagine that? Me feeling too bad to get in a rally car. No, nor could I. So I did get in the car and we did the test - and what a great test it was as well.
Last year I was driving another car in Mexico and remember seeing Jari-Matti [Latvala Ford team-mate] and the boys struggling a little bit in the Fiesta when we were in Leon. I had been wondering how the car would be this time around. After the test, I knew there was nothing to worry about: we had found some things with the engine in the test and the boys did a fantastic job to make the changes we'd found before the event.
I knew we had a good car and I knew the car could win - and that started with the qualifying stage, where we were fastest. And then we went to Guanajuato for the run through the streets. I can tell you, this place is just unbelievable.
People talk about the stage itself being special, but it's not just the stage - it begins about three kilometres before you get to the start, there are just thousands of people going crazy for the rally. I love it, it's such a special place with an incredible atmosphere.
With so much noise from the crowds outside of the car - or from the car itself when you are in the tunnels - you might think you get distracted, but believe me you don't. When you get to that first corner and feel the car sliding so much, you soon focus on nothing but the road ahead. As well as being fantastic for the fans, this is a really difficult stage where you have to concentrate 100 per cent.
I was sensible in the stage. Nothing silly, no big slides or anything like that, just drive the car straight. And that was enough, we were leading Rally Mexico.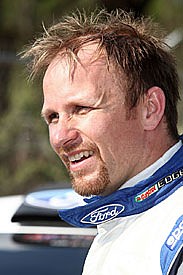 Petter was suffering from the flu when Rally Mexico began © XPB
Unfortunately, that lead didn't last for so long. We had a puncture on the first stage on Friday and we slipped back. Then, trying to make up time, we had another puncture on the second stage.
This was so frustrating, I can't tell you . So frustrating.
Both the punctures were my fault, completely my fault. I'm not sure about the third and fourth punctures - certainly the last one I had came from a nail. I'd like to say that summed up my luck in Mexico, but that wouldn't be fair. I take responsibility for what happened to the tyres on Friday.
I pushed hard from the start. The car felt good and I felt we had a good chance to be right at the front of this event all the way through. At the same time, I didn't know how much the Citroens had. How hard were they pushing? Was [Sebastien] Loeb at the max? I just didn't know, so I went for it. As it turns out, the Citroen boys look like they were on the limit as well.
After that, I was driving for the finish and for as many points for the Ford World Rally Team as possible. That was definitely the strategy in the long stage. Chris had 96 pages of pace notes to read in there and I have to say he did a fantastic job. In all honesty, it didn't feel like we were driving for 36 minutes at all. That's what it's like in this Fiesta RS WRC; the car is so easy to drive and, of course, so much fun - most of the time you just don't want the stage to end!
My plan was straightforward in there: to look after the tyres and make sure we didn't get a puncture. Basically prepare ourselves as well as possible for the powerstage, where we wanted to have a good push and chase those extra three points.
The powerstage started well for us, but then I ran wide in this long fourth-gear left-hander. I tell you, some people must have some pretty incredible pictures from this corner - the back of the car was right in the ditch and I was down to second gear giving it everything. I really thought that was it, I thought we'd blown it. I reckon we could have been a second and a half quicker through there without that moment, so to win and take the points was a fantastic finish to the event.
Taking another podium for the team is good for Chris, myself and the team and we're pretty pleased with that, but of course there is disappointment for Jari-Matti. I feel so, so sorry for him. I tell you, he is one ****ing quick driver - unbelievably quick, and he deserves more than this. One thing is absolutely for sure, he will be back and be strong next time out in Portugal.
But now, it's time for me to turn off the laptop, maybe time for a movie. I wonder if Days of Thunder's on...