After three years of waiting to get back to being a factory driver, I can't believe how quickly it all came in the end. I was talking to [Ford World Rally Team principal] Malcolm [Wilson] at the AUTOSPORT Awards in London in early December about this season. I was hopeful, but nothing was certain.
But then we made the deal and I was so happy. And, just over month later, I'm even more happy now!
The Monte Carlo Rally is never an easy place to start working with a new car or a new team, it's such a specific event - and, honestly, never one that I've managed to really get on with.
I had two good days of testing with the Fiesta RS WRC and I felt at home in the car straight away. A lot of you will know that this isn't the first time that I drove for Ford and you will also know about how things were when I left here in 2000.
Being completely honest, I was nervous when I came to the first test. I didn't know how people would be, how they would react. I thought maybe there were some people who were a bit scared of me coming back.
But it's been fantastic. It's been incredible.
Henning [Solberg, Petter's elder brother] has talked to me a lot about the family atmosphere in the team and now I can see it and understand what he means. I have struggled in the past with the atmosphere in some teams. It's perhaps wrong to talk about that, but it's the truth that it hasn't always been easy. But now I feel the way this Ford team is working. And I feel really sensitive towards everybody.
Chris [Patterson, co-driver] and I have been made to feel so welcome by the whole team and now I want to start to repay them. Okay, it's going to be step-by-step, but we can get there and, together with [team-mate] Jari-Matti [Latvala], we can make the right results.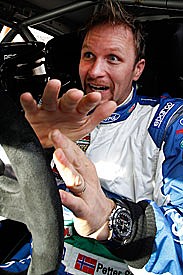 Petter admits he is loving life again as a works driver © LAT
And for me, that first result came in Monaco last week. I was really sad for Jari-Matti when he went off, he was going so well and setting an incredible pace. But that didn't change the way I was driving so much, anyway. I wanted to be at the finish, I had to be at the finish!
It shows how good the Fiesta is that I was able to get in the car and feel comfortable so quickly on such a difficult event. But I really did.
We quickly settled into a fight with Dani Sordo for second place and at times we were close to Sebastien Loeb as well.
I guess the chance of second place really went on Friday morning, the day when we left Valence and headed down to Monte Carlo. The weather was changing, like typical Monte, but we decided to go without the studs, gambling that the ice would have gone by the time we got to the stages.
It worked well on St Jean en Royans - I was fastest! What a feeling, that first fastest time as a factory driver and, more importantly, as a Ford driver again. But then came the flip side of our tyre choice. The next stage was nearly impossible. It was so tough.
The rain was falling, but it was freezing on the ground and making more ice. Without studs, we were really going to struggle. We had one moment - our only moment of the event - when we were aquaplaning for 100 metres down the road. It felt like my heart was going to jump out of my overalls!
I could have gone quicker through there, but there was just no point. We were going to be risking an accident. On those tyres, in those conditions, we weren't really in control of the car. Then we had a really slow spin at a hairpin and after that it was just about getting the car home.
I then cut a corner on the Col de Perty [Friday's third and last stage] and got a puncture on the front-left. The tyre rolled off the rim and we lost 16 seconds. But we were still looking good for third when we got to service.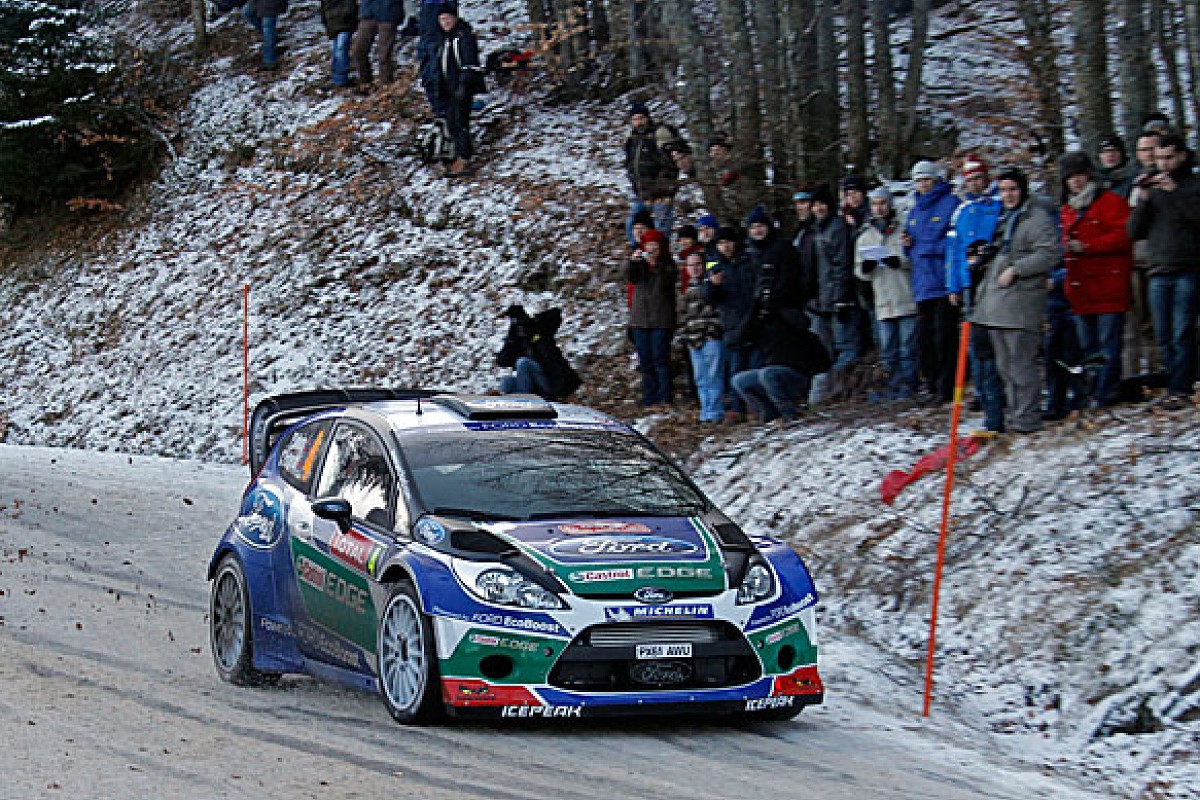 And then Saturday came. Wow, what a day!
Seriously, on the last real day, I started playing with the car a little bit and it's the best feeling I've had since 2004. I'm not just saying that, people can believe what they want - the Fiesta RS WRC is an easy car to drive and to push in. And I had so much fun, more fun than I think I have ever had in a rally car. It was incredible. And the times were good as well - we were fastest on three of the four stages.
I can really say that I haven't driven the Fiesta competitively at 100 per cent yet. Your first Monte in a new car's not about that, it's about much more. But now we've got that one done and I've had my best result - and first podium - in the French Alps.
On a personal level, a lot of people might have given up over the past six or seven years, it has been really tough. You know, when I look back to 2003, [Sebastien] Loeb and I were really fighting, and the same in early 2004, but then it all went and it became a really, really difficult time. I can't help but think what we might have achieved if we had been able to fight with Seb for all those years.
But now I have to stop thinking about that. Now, my dream is back.
And do you know what the best bit is? As good as I think the Fiesta is on asphalt, I'm told it's even better on snow and gravel!
How many hours until my Sweden test?