What else did you expect? Sebastien Loeb had come close to losing his title in 2009, closer than ever, in fact. That wasn't going to happen again. Loeb was at the top of his game through this season and, like all true maestros, he did it his way. For a seventh successive year.
Looking back at the start of the season, Loeb smiles at the way he had been written off after finishing second to Mikko Hirvonen on the season-opening Rally Sweden. Having almost been beaten to his title by the Finn a couple of months earlier, the watching world suspected Loeb's decline had truly begun when he could find no response to the Ford driver's final-day firepower in Karlstad. It was true, Loeb did settle for second after a significant moment with a snowbank on the final morning. But looking back, it was utter folly to think that Swedish swallow was going to make Mikko's summer.
Loeb is his own man, he drives his cars the way he wants. He beyond team orders now, he doesn't need to be told what to do. If he's happy, if he's comfortable, he's fastest. Period. End of. No question. Right now, from A to B, when Loeb's settled and in the groove - and in his Citroen C4 WRC - nobody can hold a candle to him. And if it's consistency you're after, this was Loeb's season of seasons: he finished every round in the points and was only once off the podium, in Japan where he was happy to settle for fifth in order to line up his dream result at home one round later.
It's only when he doesn't feel comfortable and doesn't want to push that the others get a look in. The only exception to this was New Zealand, where the World Rally Championship's superhero came down to earth with a bump. More than a bump, it was a thump when his side of the C4 met a bridge on the Cassidy stage. Loeb had actually made a pretty significant mistake. And it was refreshingly normal, by other drivers' standards almost a predictable mistake. He'd dropped a stack of time on the previous stage, an inevitable by-product of running first on the road on a dry, late autumn Rally New Zealand, and was trying to make it up when he ran wide in a right-hander.
From then on, he was magnificent. He won stage after stage on Saturday to play himself back into contention to trail Sebastien Ogier by just 5.3 seconds going into the final day. This was it, the scene was set for the greatest fightback drive in the history of motorsport. Having been almost two minutes down, Loeb was going to win in the most dramatic of circumstances.
But he didn't.
Just when this event couldn't get any more exciting, it did just that. Ogier made a mistake on the final morning's opener; Loeb moved into the lead with three stages to go. Then Loeb slid wide and clattered his C4 through the bushes on Whaanga Coast, dropping him to fourth. Eh? Exactly. Unbelievably, the Midas touch had deserted him and left him fourth and 21.7 seconds off Ogier's lead.
The Citroen pair's mistake-ridden morning had turned a two-way in-house powerstruggle into a straight four-way fight, with Ford's Jari-Matti Latvala and Petter Solberg now in on the act. But, with 6.2 seconds in hand over Latvala ahead of the final stage, Ogier looked likely to control proceedings to take his maiden win. Not this time. Not on this rally. NZ 2010 was all about the drama and the drama just kept on coming.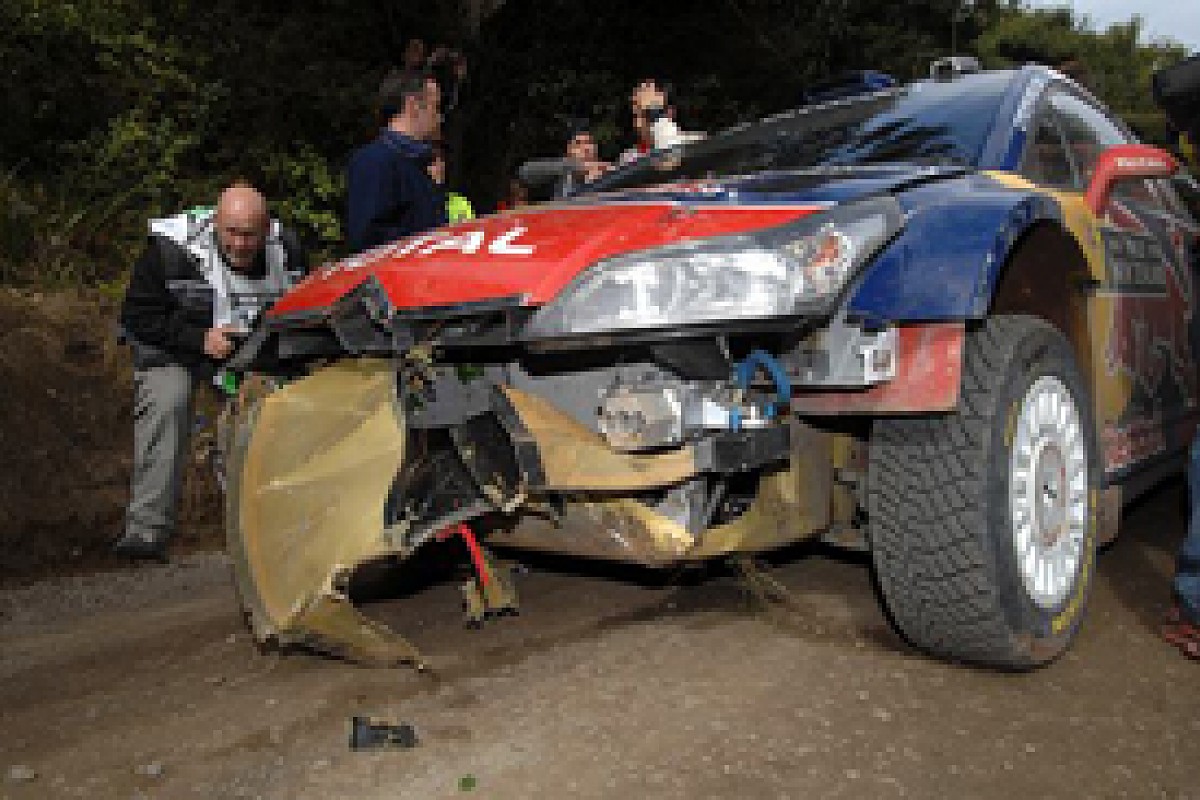 It all went wrong for Ogier within sight of victory in New Zealand © Sutton
First it was Solberg, he levelled a telegraph pole in his efforts to keep Loeb behind him and off the podium and then, three corners from the end of the rally, Ogier spun again. Latvala nipped through to pick up his first rally victory of the season - without even having secured a single stage win.
We should have formed another category in this year's AUTOSPORT Awards for the most entertaining and unpredictable motorsport event of the year - it captivated in the same way the Canadian Grand Prix had, except Rally New Zealand did it for three days rather than two hours.
Loeb's hopes of bouncing back with a win when the series returned to Europe for the Rally of Portugal were hit by an ever-improving Ogier who went head-to-head with the champion and beat him - the first person ever to do so in a C4. As well as being the sport's most successful driver ever, Loeb's also a true sportsman and he wasted no time in congratulating his opposite number on his first victory.
And what a win for Ogier. There was general bemusement in the service park that Citroen team principal Olivier Quesnel didn't intervene in favour of securing more points for Loeb, the driver most likely to return a drivers' title for the French firm. This bewilderment was entirely understandable following the shenanigans of round three, in Jordan, when Citroen did all it could to improve Loeb's lot.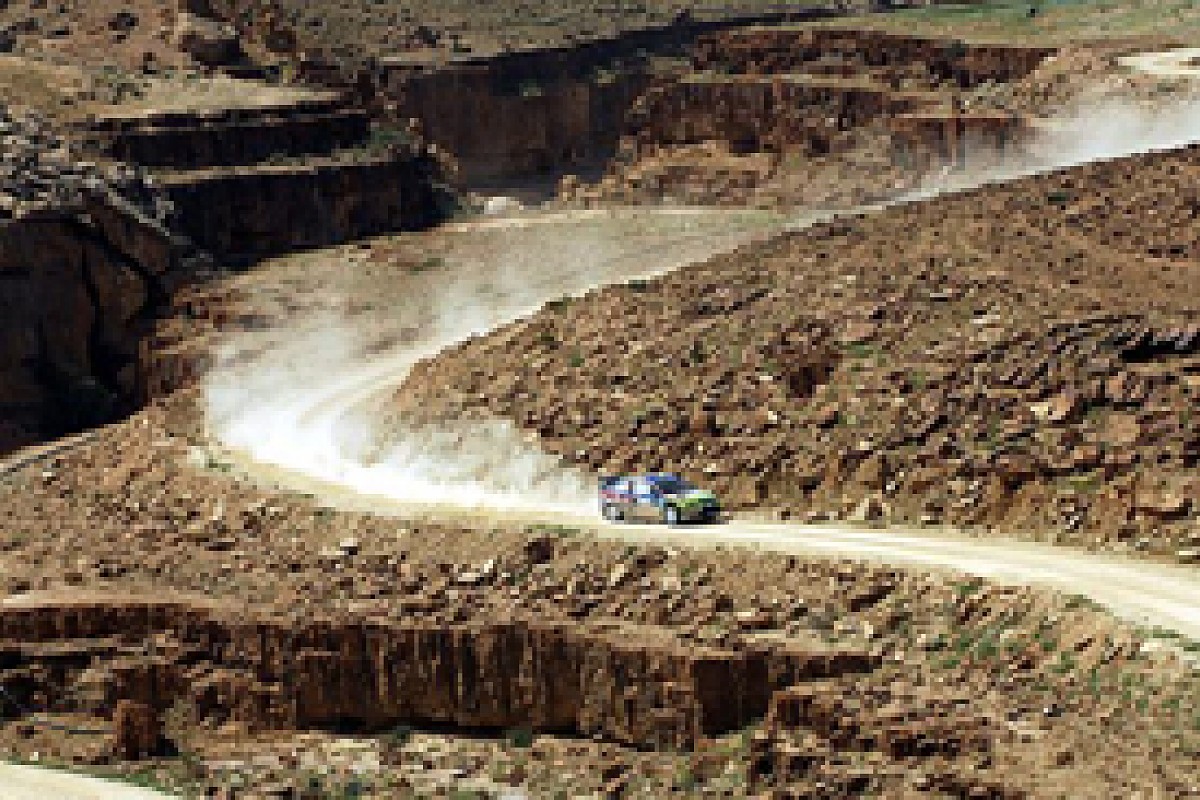 Jordan saw arguments over tactics © Sutton
If Portugal and Ogier's first win was a highlight, Jordan was a really low point for the sport. Unable to get the target time sent to Ogier's Citroen on the final day two stage, the former Junior World Rally champion remained one place ahead of Latvala, ensuring the Ford man a more favourable position on the road in his effort to challenge Loeb (who was first on the road). Rather fortuitously, Ogier's C4 suffered problems in service, forcing him to check out late and dropping him behind Latvala. Ford responded by checking Mikko Hirvonen in early ahead to run ahead of Latvala, before Citroen took its final shot and sent Ogier to the front of the field, ahead of Loeb.
At a time when the World Rally Championship is trying to pick itself up after a particularly tough time, the kind of antics on show on the shores of the Dead Sea were the last thing the series needed. The major problem was the confusion this generated in the eyes of the watching world. Hardcore rally fans would have struggled to keep up with the unfolding events, while those on the fringes, the ones who struggle with the lack of car-on-car competition, would probably have switched off.
The middle months of this year were marked by the great running order debate. It is undoubtedly unfair that a driver's success on a rally is rewarded by offering him the worst of the conditions the following day, but the situation remains in the absence of a workable alternative. Undoubtedly, when the WRC arrives at the first dry gravel rally of the year next season, the debate will be reopened and more column inches devoted to the tactical rather than sporting approach success apparently commands.
Aside from that debate, the other news which dominated proceedings away from the stages was the onset of technical change in the WRC. New regulations were coming, that much had been telegraphed from the previous season, but what would they be? It seemed that every meeting of the World Motor Sport Council brought new direction. This continued far too long through this year, with the powers-that-be still considering the contents of the kit which converts a Super 2000 (that's a Super 2000 with a 1.6-litre turbocharged engine rather than a naturally aspirated two-litre unit) to a World Rally car until all-too recently. Sometimes this sport does itself no favours at all.
But then you get to Finland and none of the above matters. All that counts in Finland is bravery. Do you really dare hold your car absolutely flat-out in top gear when you can see nothing over the approaching crest, just because the bloke next to you tells you to do so? And, if you do, do you have the skill to settle the car after a nano-second squirm on landing, at well over 100mph and with the trees in touching distance? That's what Finland is all about.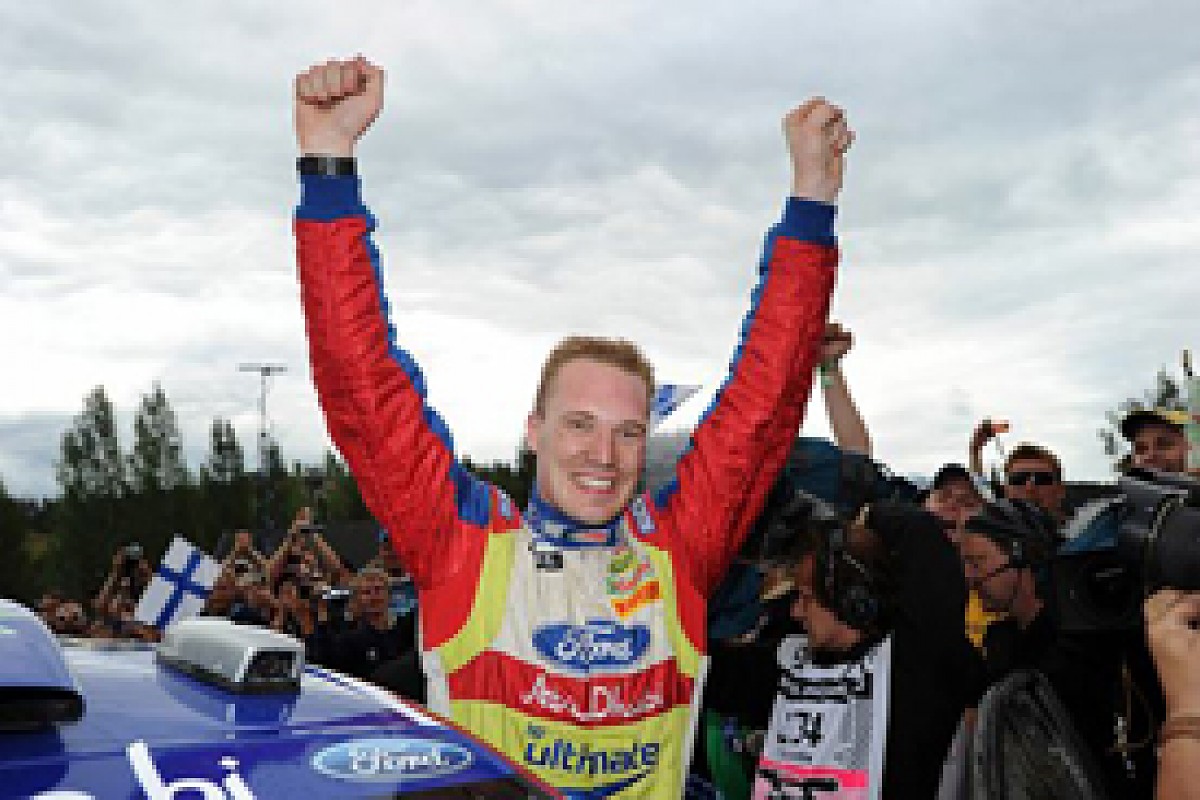 Latvala took a glorious home win in Finland © LAT
And this year's Rally Finland was an absolute classic. A two-day classic, for the first time, as the commercial reality of a financially pointless Sunday led the inventive organisers to leave it free for hangovers. The sport was as good as ever and with Latvala taking his maiden win at home, the hangovers were pretty big among the locals.
Latvala's win was superb, but so was Ogier's drive to second - on only his second time on these roads in a World Rally Car. Unfortunately for Ford, Finland will also be remembered as the event where they had way too much spare capacity in the transporters making the return trip from Jyvaskyla to Cockermouth. Hirvonen, Khalid Al-Qassimi and Henning Solberg all crashed their Focus RS WRCs heavily.
But none more so than Hirvonen. Given undisputed number one status for the season, Hirvonen struggled to match the form he'd shown the season before. This was his toughest year yet - a fact born out by the news that last year's runner-up was this season's sixth-placed man. Undoubtedly, Hirvonen wasn't himself on the stages, but he also suffered mechanical issues, like the hydraulic failure which cost him the chance to fight for the win. This is still the bloke who won Sweden at the start of the season, though. Let's not rule Hirvonen out just yet, there's always next year.
And next year is going to be fascinating. There are new cars coming, including the Mini Countryman WRC, and a return of the Iceman, Kimi Raikkonen. It's fair to say that the former Formula 1 world champion's rookie year in WRC was something of a disappointment. It was, perhaps, unfair to expect so much of a driver with so little experience of the sport - he'd only started one WRC round before this year. Fortunately, Raikkonen couldn't give two hoots what people expect or think of him. He's always harboured a shot at being a rally driver and this year he did it. He also kept the panel beaters of Versailles in work for much of the season.
Raikkonen was his enigmatic self at the start of the year, but as the season progressed he opened up and was clearly enjoying his time away from the pressure-cooker world of F1.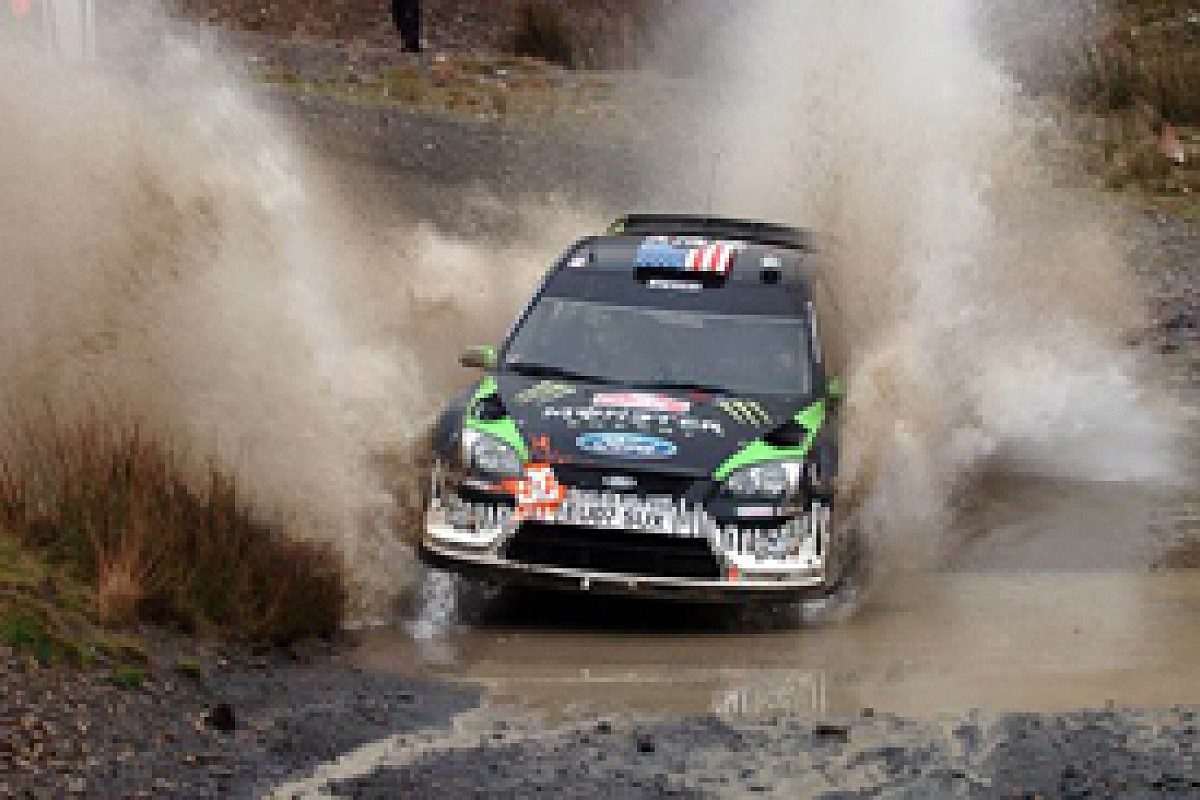 Block could bring a major new audience to the WRC © LAT
The other high profile star arriving in WRC this season was Ken Block. Block's fan-friendly approach is the polar-opposite of Raikkonen's hat-down-shades-on style. And Block's Ford was the quicker of the two newcomers. The American is, of course, vastly more experienced at driving a rally car than Raikkonen, but, by his own admission, he's a novice at the highest level.
Broadly speaking, the year didn't deliver as much as it might have for the Monster man, that was due to a combination of crashes and reliability issues. But when he was on the road and the car was working, Block showed plenty of pace and potential. His unassuming nature out of the car immediately endeared him to those very fans who clamour for YouTube footage of his scintillating approach when he's strapped in.
For Block and the rest of the WRC world, the yardstick going into next season remains Loeb. One of the highlights of next season will be the all-Citroen battle between the seven-time champion and the two-time rally winner Ogier. After four years of submission from Dani Sordo, Loeb is now confronted by a deeply driven and determined opponent who respects what he's done, but is not about to stand on ceremony or stand aside for him.
It's going to be a classic. Again.