This year, two newcomers arrived in the World Rally Championship with the global profile to awaken a huge new audience to the spectacular, but underperforming, sport. One was a former Formula 1 world champion not particularly renowned as a showman. The other was a 42-year-old American whose incredible stunt driving had made him an internet sensation. They could hardly be more different - but they're the men who could revitalise the WRC.
In the motorsport press, Kimi Raikkonen's WRC jump has attracted all the attention. But if you're looking for someone who could really turn a new crowd onto rallying, then Monster Ford's Ken Block might just out-strip his Finnish fellow rookie.
Not many people outside motorsport think 'WRC driver' when they hear the name 'Ken Block'. He's the co-founder of DC Shoes. He's also the 'Gymkhana Guy' - creator and star of the sumptuously-shot internet stunt/precision driving films, the ultimate displays of the driving skills that have also seen him appear in a famous Top Gear segment, take a rally car down a snowboarding course and jump a Subaru 171 feet.
He's also about to become a bigger presence in the video game world, as he takes a central role in the new DiRT 3 rally game, the latest instalment of the series that began life as Colin McRae Rally, and due to be released by Codemasters early next year.
It would be easy for die-hard rally purists to resent Block's presence in one of the few top-line seats currently available - particularly when drivers like P-G Andersson, Mads Ostberg and Jarkko Nikara are currently on the sidelines - but anyone sniffing with derision at Block's WRC move is missing the point. He's a late starter in rallying, having not competed regularly until 2005, but he already has a respectable pedigree - having won rallies in the American championship and medals in the rally element of the X-Games extreme sports tournament.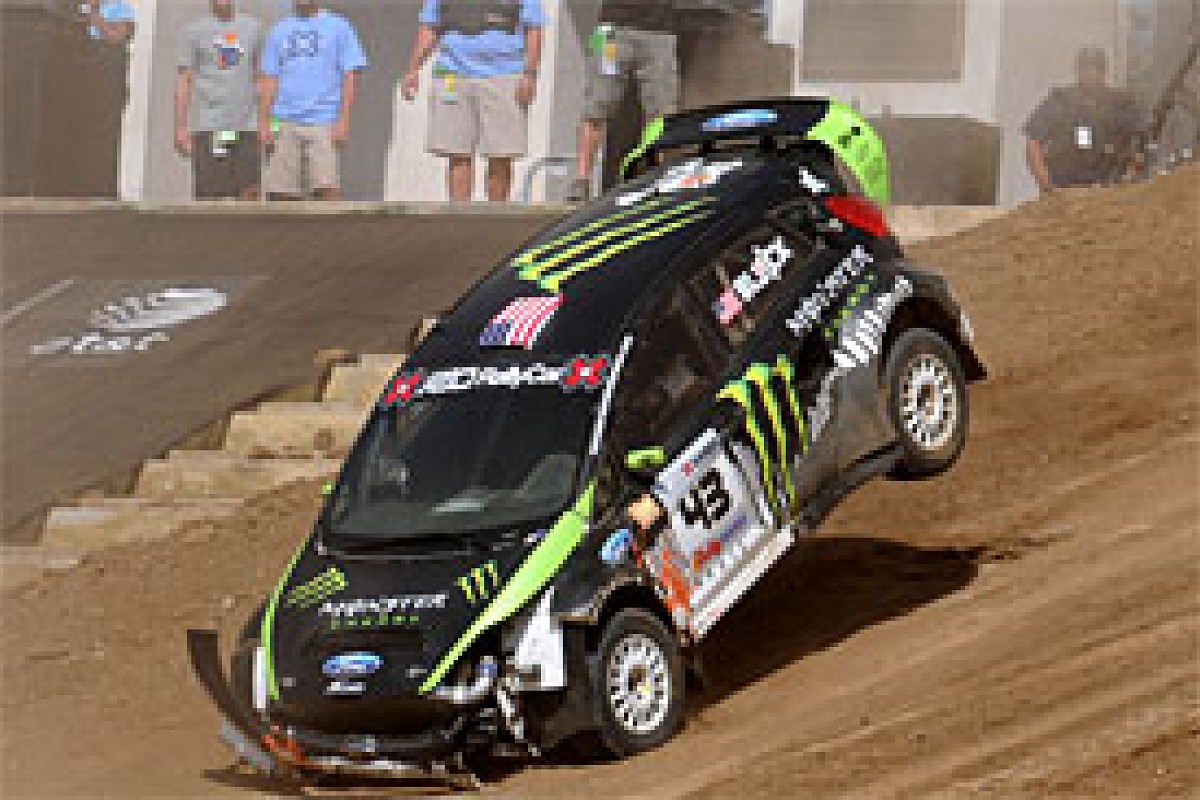 Block is popular for his stunts © Sutton
Forget the fact that he's yet to complete a rally distance in his four WRC starts to date - his stage times have been mightily impressive given his experience deficit and the long gaps between WRC appearances this year.
And never ever underestimate how serious Block is about his rallying. His tyre-smoking video antics are a) great fun for him and b) great marketing for DC, but more importantly in Block's mind, they also showcase rally driving skills to a fresh audience - the kind of audience the WRC has to entice if it's to regain the level of manufacturer and sponsor support it needs to blossom again and get the currently sidelined talents back in top-class cars.
"It's hard for people to actually appreciate the WRC because the TV programme's trying to cover a bunch of drivers over 300 kilometres over three days," says Block. "There's so much precision driving and super high speed in the WRC and those drivers are at such a high level, that people sort of lose the 'wow' factor because they see it every weekend.
"What we've done with these videos is to take that and kind of simplify it. A lot of the skills that I do in these videos can be done by most of the top world rally drivers. It's cool for me because we're taking those skills that rally drivers have and showcasing it in such a way that the average person can see it really well and enjoy it.
"What I'm doing with the car in making the videos really comes down to what I like to see as a rally driver, more than thinking of marketing."
After the fluorescent-light-smashing and lorry-exploding thrills of Gymkhana Two, latest episode Gymkhana Three was more purist-friendly, relocating to the classic former French Grand Prix venue Montlhery to combine the "slickness of Gymkhana Two and the rawness of Gymkhana One", but also to focus on what Block sees as rallying's fundamental visceral appeal.
"For me, the way that my Gymkhana car moves and the excitement that you see from it - like flames shooting out, the tyre smoke and the sideways - it looks like a modern day Group B car. And I think that's what a lot of people like about it - that it's wild and on the edge.
"It's certainly what I like to watch because I loved the Group B rally days and how on the edge, loud and obnoxious the cars were. Obviously we've lost a bit of that because of budgets, rules restraints and insurance and all that stuff."
That reference to the thrillingly unhinged Group B machinery of the mid-1980s will surprise any sceptics who doubt Block's passion for the WRC.
"Yes, I'm a creative person and I enjoy doing creative things. But in front of that, I'm a rally driver who absolutely loves to be in the car, and I absolutely love watching rallies.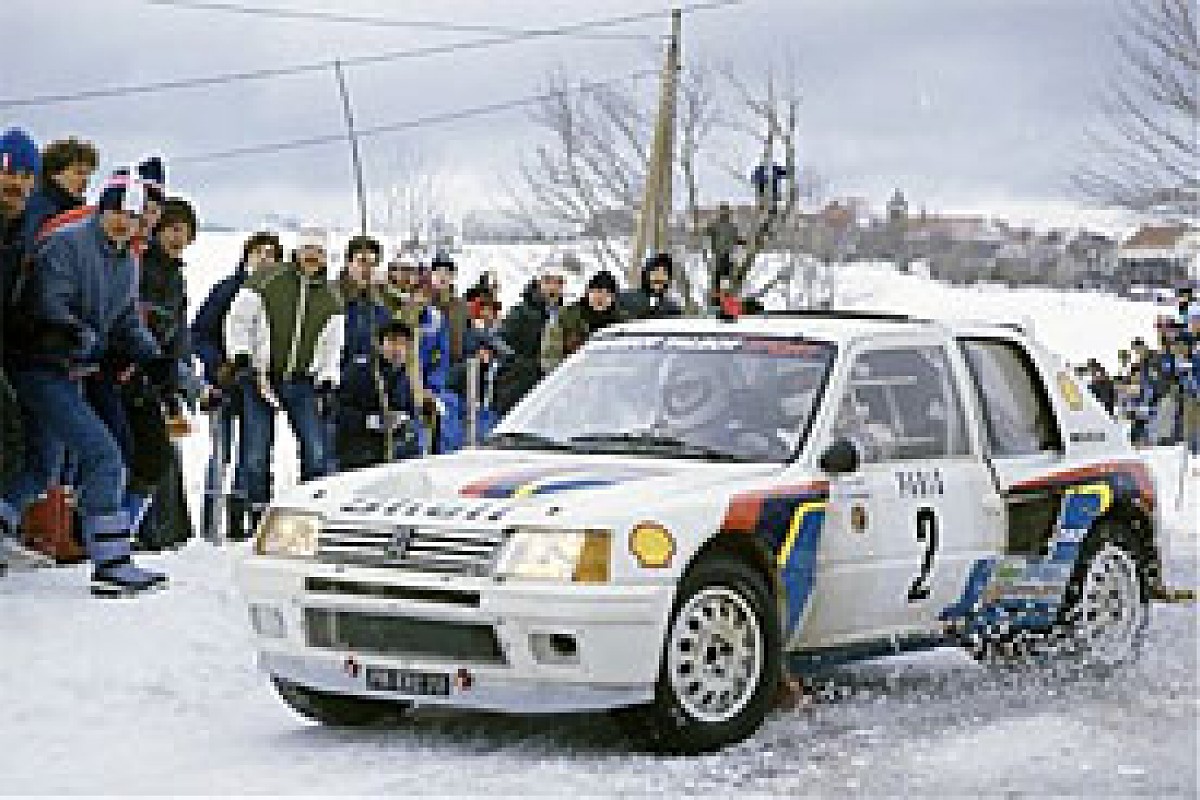 Ari Vatanen in a Group B Peugeot 205, 1985 © LAT
"I love watching videos of the old Group B days, I love watching old videos of Gigi Galli sliding his car around on the tarmac. It's things like that which influence me in the way I drive and what I go out and try and do in the cars. Colin McRae is one of the biggest influences in why I even rally - through his style and his flat-out attitude."
McRae was both a friend and a hero to Block, who admits that he could imagine the 1995 world champion joining him on the Gymkhana course had he lived longer.
"Colin and I became pretty good friends and we really shared a bond in the fact that we liked to go out and play with these cars, not just race them," Block recalls.
"He died right before I'd finished the video where I'm on the snow with the snowboarders. The last time I talked to him, he called me when I was filming that. He was super-excited, told me he couldn't wait to see it, and later that week, he died.
"We had such a bond. Talking about that sort of stuff, I wish he'd actually seen more of what I've done. There was definitely a possibility that he might have got involved - he was definitely that type of guy and he enjoyed that kind of stuff. That's why he had a Mk2 Escort, the buggies and his own track at home. He loved being in the car, not just racing it."
Given the McRae link, Block's involvement in DiRT 3 is a real honour for the American.
"It's very cool for me to be part of an amazing franchise that had Colin McRae's name on it," says Block. "Codemasters have done an exceptionally good job in developing these games. I've helped them with some of the car set-up and how the car drives in the game, and also the types of stages they're using and how the stages work.
"On top of that, now they're throwing Gymkhana into the game, so I've been very involved with how they do that and how they make it interesting in the game.
"There's a bigger focus on rallying and rally stages [in DiRT 3], so that's a great thing. I think the last game they tried to broaden things a little bit too broad, and they've been pulling back on some of that stuff and adding more rally in. For me and where I come from and what I enjoy, there's more rally and now they're adding Gymkhana in - perfect! They're making a game that gives me something I truly love."
Like the Gymkhana films, DiRT 3 is something Block hopes can catalyse new interest in the WRC - just as the original Colin McRae video games did in the late 1990s.
"Any time that you can get kids involved and knowing what rally is, it's a great educational point for them to watch and understand and then watch it on TV. The more exposure, and the younger the audience you can expose the sport of rallying to, the better it is for the long run of the great championship that is the WRC."
Block feels the modern WRC could do with someone of McRae's style and character - "it really translated well into good entertainment on TV" - as well as machinery that transmits the raw spectacle of rallying better than the current, precision-rewarding, World Rally Cars, now in their final season.
"Unfortunately all motorsport is a battle of what manufacturers want to promote, what the budgets are to go out and race, and also what's safe for the competitor and the spectators. I really would love to see rallying go back to the Group B days - kind of a Formula 1 car out on the dirt. But unfortunately the costs that it takes to do that type of thing, it all just makes it unrealistic.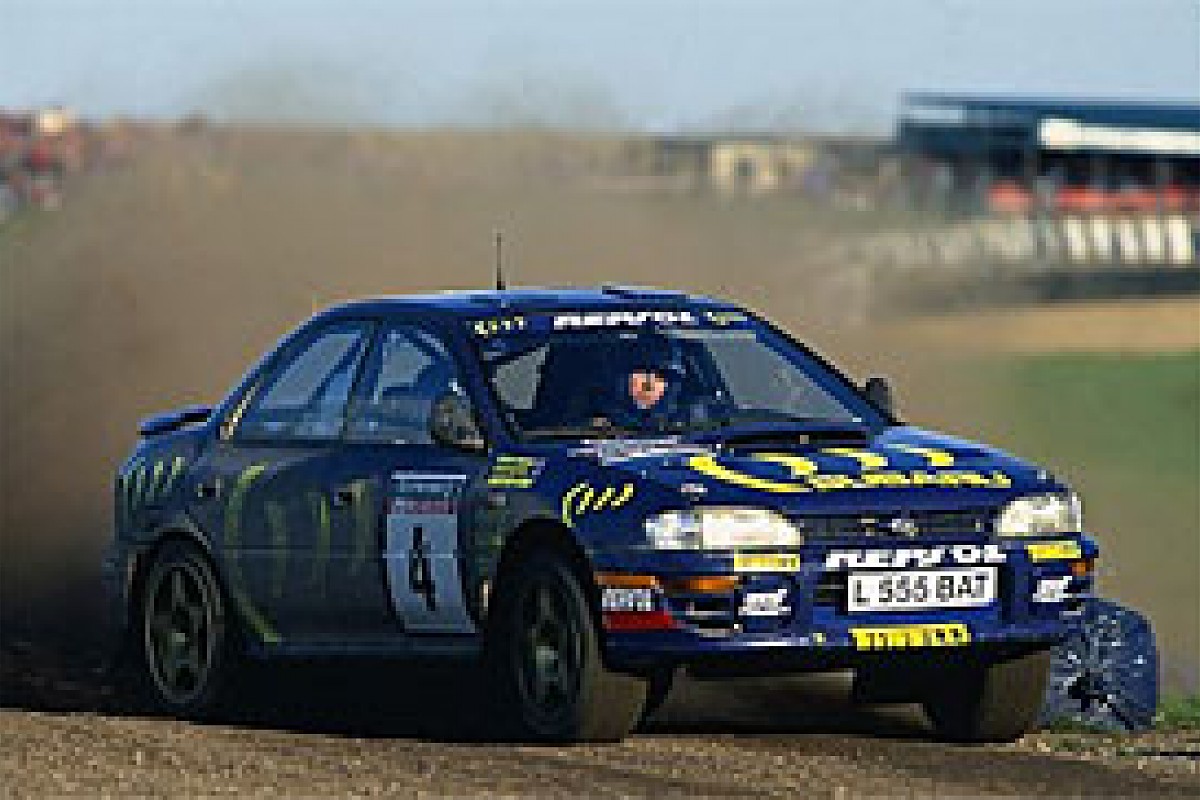 Colin McRae, Subari, 1995 © LAT
"The manufacturers work very hard to make something that's entertaining and that works, but I feel like the way the car manoeuvre these days is just not the same as it was back in the 80s and early 90s. That's unfortunate, but that's just the reality of technology. I think that next year with the new Super 2000 plus type cars could be very good, but we'll just have to wait and see."
Block sees the 2011 rules switch as a huge positive for his WRC career, eradicating the "big handicap" of being up against rivals who virtually grew up in the current generation of cars. This season he has juggled his handful of WRC outings with myriad other commitments, but he will contest all three remaining 2010 rounds plus the full '11 season.
"I've been jumping back and forth between three different cars, several different championships including the X-Games. As a driver, it's very difficult to do the best that you can in one car when you're not in that car very often. Next year that's going to be a lot better for me - just that one car for rallies all year.
"I knew what I was getting myself into, but I knew just jumping straight into the WRC was going to be difficult, so we tried to do something where I could balance out being able to compete in Rally America, doing the X-Games and the Gymkhana stuff just to ease myself into the WRC and get ready for next year when I can concentrate on the WRC 100 per cent.
"I see next year as a development year for me, but a much more competitive year."
Block admits that his pace note skills are not up to scratch yet, and this season has been a case of spotting the flashes of promise between mistakes and misfortunes.
"I'm very happy that in Turkey I set three top six stage times. The speed's there when things go well. But like when a note error sent me off the road in Portugal, it shows there's still some weakness.
"[In Germany] I drove very conservatively just because I wanted to get my first finish this year, then had a mechanical DNF - on the road section! That's just an example of my luck this year - I can't even seem to get a finish when I'm driving as conservatively as I possibly can."
Ideally he would like a team-mate to work with and learn from. It's no secret that the original plan was for Monster Ford to field ex-Subaru man Chris Atkinson in a sister car alongside Block, and AUTOSPORT magazine recently revealed the possibility of an all-star pairing between Raikkonen and Block next year.
"It's really a matter of budget not desire at this point," said Block of the chances of a second Monster entry. "The world economy isn't the greatest situation for marketing and advertising right now.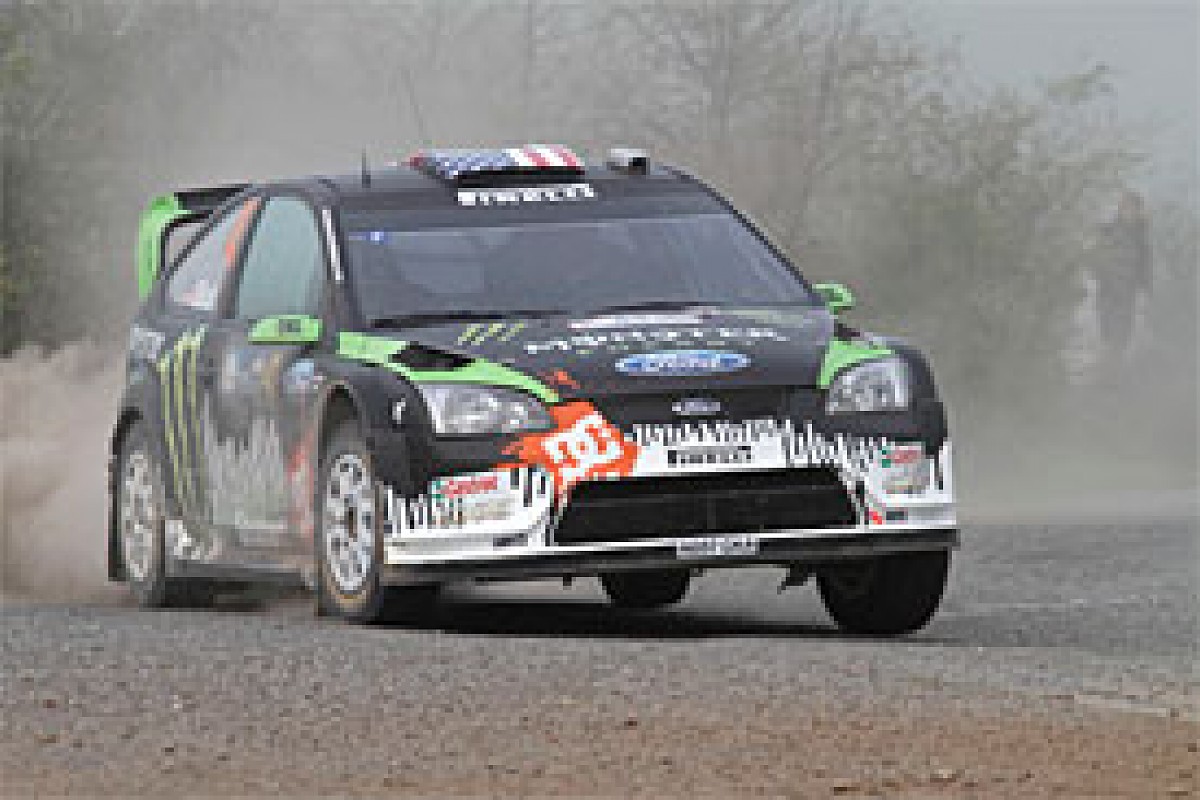 Block believes he can shine in the WRC © Sutton
"Someone like Chris Atkinson would be a great partner to help me develop as a driver and help us get manufacturer points. He's a guy that could be on the podium.
"Kimi would be a dream team-mate. I really enjoy hanging out with Kimi at all the events. But once again it's just a matter of budget and what would fit in and make sense."
And though he's technically been on his own at Monster Ford this year, Block hasn't lacked help and support. Being part of the Ford family has given him the chance to sit in with rally winners Mikko Hirvonen, Jari-Matti Latvala and Markko Martin.
"I've tried to use every available resource that I can to learn and develop, and Ford has been exceptionally helpful in that," says Block. "It's helping me learn the right techniques to take steps with the car, rather than me just experimenting on my own. For sure we're going to increase the budget next year so I can do more of that stuff."
Amid the excitement over the opportunities that Block's WRC presence creates, it's easy to forget that he's also there to get results for himself. Ask him whether, when he watches the likes of Hirvonen and Latvala at work behind the wheel, he feels the frontrunners are a league apart or whether he could, given time, match their pace, and his answer is quietly emphatic.
"I think it's achievable. It's amazing to be able to sit with Mikko and Jari-Matti. But genuinely I feel like I'm not that far away. I need a lot more experience, but I think it's genuinely something that's within my reach.
"It's just going to take time and effort to get used to that car, get to the know the events better and get my notes developed for those events. I think with the right programme I can definitely get there."