It's been quite a long time since I woke up on a World Rally Championship Sunday in the middle of a massive fight with Sebastien Loeb - and I have to say, I have really missed it.
There was just a couple of seconds between us with one day to go on the Rally of Italy last week, and, even though we were in his car from three years ago, I was still determined to give it absolutely everything to try and beat him. To feel that tingle of raw competition was incredible when we left the service park on Sunday morning.
But when we got into the stages, the amount of dust around made it a bit of a lottery. And then, of course, he got his two-minute penalty and we got our third place.
At the time, when Sebastien and I were engaged in this fight for third, it was really, really good, but looking back, I think it was a little bit over the edge. At times, the driving was just insane. We were just going faster and faster and faster to try and keep up with a car which is a long way ahead of ours - even after the improvement for this event.
I am so competitive, I never want to lose - the same as all professional sportsmen, but I wonder if this was a bit much. Phil [Mills, co-driver] and I were risking absolutely everything - and we were risking absolutely everything for third place. I have to do some thinking about whether this is the way I want to carry on.
We are looking at everything this week, looking at all the options for the car and the team and we will make a decision about the Acropolis Rally soon. I said I wanted to fight for the podium, I did that, but, like I said, I wonder if the chance of putting the car into the trees is a bit too much for the bottom step of the podium.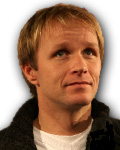 Petter Solberg and Phil Mills, Citroen Xsara © LAT
Having said all of that, the Xsara WRC worked well in Italy. There were still some heat-related issues, but the mechanical differentials were good. I didn't get any time to test the car in this set-up, which wasn't ideal, but I got to grips with it pretty quickly.
Some people have been asking me why I prefer the mechanical differential set-up rather than the active car (which I had from Norway until Argentina), which was probably faster. The reason is that to make the active car quick, you need to be out there testing all the time, so you know exactly which solution is going to work best for the transmission mapping.
There's absolutely no chance of me getting the budget to do all of that testing, which meant we were making an educated guess at what the right settings would be. With the mechanical diffs, we have a much smaller set of variables to pick from - which greatly reduces the probability of getting it wrong.
Now, that's enough about the intricacies of WRC transmission technology - time for something more interesting...
Have you heard about the Solberg Grand Prix? No, I'm not moving into Formula 1 racing - although having tested a Ferrari F12005, I might be tempted... No, Solberg Grand Prix is a downhill race for children. It's similar to the old soapbox derby, which ran at the Goodwood Festival of Speed a few years ago.
There are a load of children aged between seven and 16, who have all built their own cars and we're racing them down a hill near Oslo. The organisers have built a car for me, so I'm going to be competing against them. I'm sure it'll be loads of fun!
I'm also racing the following Saturday (June 6). But I go from zero horsepower this week, to 2000 horsepower the following week. That's right - 2,000 horsepower! I'm going to be racing a powerboat at an event organised by my sponsor Johs Lunde in Norway.
I've never driven a boat before, so I'm quite looking forward to it. I say 'quite' looking forward to it because I've never driven anything with 2,000 horsepower and no seatbelts before!
That's all for now. Like I said, there's lots going on right now, but I'll keep you all up to date on Autosport.com. By the way, if you want to read a bit more about anything I mentioned here - or you fancy checking out some of my super-cool new clothing - tune in to www.pettersolberg.com