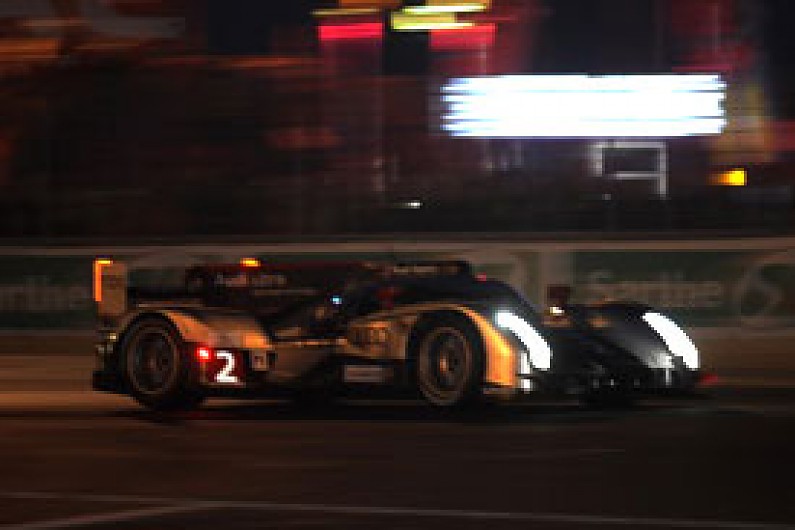 Benoit Treluyer continued to lead Le Mans after 11 hours but the #2 Audi was being caught by a flying Sebastien Bourdais in the #9 Peugeot in second position.
Bourdais who found himself separted by two third of a lap at the start of the hour, thanks to the staggered nature of the safety cars, set about hunting down the final remaining Audi, posting some stunning lap times and a couple of fastest overall middle sectors in the process.
By the end of the hour the former Toro Rosso Formula 1 driver had the gap down to 1m45s.
Some 25s further back was Alex Wurz in the #7 Peugeot ahead of Stephane Sarrazin who was also still on the lead lap in the #8 908.
Loic Duval remains fifth in the year-old Pug, and the ORECA-run car is still only a lap behind the factory cars. Christophe Tinseau runs sixth in the petrol-powered Pescarolo.
It was all change in LMP2 after long-time leader - the #48 ORECA - stopped for a long while with an electrical problem. Alex Premat was at the wheel at the time and dropped to fourth in the process. He climbed back to third by the time he handed over to Dominik Kraihamer.
That became second when Matias Russo crashed the PeCom Lola at the end of the hour at the Esses. While all this was going on Olivier Lombard moved to the front of the class for Greaves Motorsport.
Jan Magnussen took over from Oliver Gavin in the leading #74 Corvette in GTE Pro. The car has more than a lap's advantage over Toni Vilander's Ferrari.
Gabriel Gardel moved into the lead of the GTE Am class in the Larbre Corvette but remained locked in a battle with the team Porsche driving by Pascal Gibon.
NOTES:
- Mike Rockenfeller was taken to hospital following a frightening accident that totally destroyed the #1 Audi in the seventh hour of the race. The German had been running third when he made contact with a GTE Ferrari at kink after Mulsanne. Audi confirmed that their driver climbed from the car before medical crews got to him.
- The #3 Audi of Allan McNish crashed out of the race in the first hour having just taken second position. The Scot collected the #58 Luxury Racing Ferrari in the right-hander after the Dunlop Bridge. The heavy impact destroyed the car and McNish was taken to hospital for precautionary checks, but was later released with an all-clear.
- Both Aston Martin AMR Ones ran into trouble on the first lap of the race. Darren Turner spinning with mechanical trouble and Adrian Fernandez stopping out on the Mulsanne. The #007 car of Turner was recovered to the pits where it was discovered an alternator belt tensioner was to blame.
POSITIONS AFTER 11 HOURS

Pos  Car            Team                      Class   Gap
 1.  #2  Audi       Audi Sport Team Joest     (LMP1)  
 2.  #9  Peugeot    Team Peugeot Total        (LMP1)  +    1 Lap
 3.  #7  Peugeot    Peugeot Sport Total       (LMP1)  +    1 Lap
 4.  #8  Peugeot    Peugeot Sport Total       (LMP1)  +    1 Lap
 5.  #10 Peugeot    Team Oreca-Matmut         (LMP1)  +   2 Laps
 6.  #16 Pescarolo  Pescarolo Team            (LMP1)  +   5 Laps
 7.  #12 Lola       Rebellion Racing          (LMP1)  +   5 Laps
 8.  #13 Lola       Rebellion Racing          (LMP1)  +   6 Laps
 9.  #22 Lola       Kronos Racing             (LMP1)  +   9 Laps
10.  #41 Zytek      Greaves Motorsport        (LMP2)  +  10 Laps
11.  #42 HPD        Strakka Racing            (LMP2)  +  11 Laps
12.  #48 Oreca      Team Oreca-Matmut         (LMP2)  +  11 Laps
13.  #39 Lola       PeCom Racing              (LMP2)  +  11 Laps
14.  #33 Lola       Level 5 Motorsports       (LMP2)  +  12 Laps
15.  #26 Oreca      Signatech Nissan          (LMP2)  +  12 Laps
16.  #49 OAK        OAK Racing                (LMP2)  +  13 Laps
17.  #74 Corvette   Corvette Racing           (GTEP)  +  15 Laps
18.  #35 OAK        OAK Racing                (LMP2)  +  15 Laps
19.  #51 Ferrari    AF Corse                  (GTEP)  +  15 Laps
20.  #75 Porsche    Prospeed Competition      (GTEP)  +  15 Laps
21.  #73 Corvette   Corvette Racing           (GTEP)  +  16 Laps
22.  #59 Ferrari    Luxury Racing             (GTEP)  +  16 Laps
23.  #55 BMW        BMW Motorsport            (GTEP)  +  16 Laps
24.  #80 Porsche    Flying Lizard Motorsports (GTEP)  +  16 Laps
25.  #36 HPD        RML                       (LMP2)  +  17 Laps
26.  #76 Porsche    IMSA Performance Matmut   (GTEP)  +  17 Laps
27.  #56 BMW        BMW Motorsport            (GTEP)  +  17 Laps
28.  #77 Porsche    Team Felbermayr-Proton    (GTEP)  +  18 Laps
29.  #70 Porsche    Larbre Competition        (GTEA)  +  19 Laps
30.  #50 Corvette   Larbre Competition        (GTEA)  +  19 Laps
31.  #81 Porsche    Flying Lizard Motorsports (GTEA)  +  19 Laps
32.  #61 Ferrari    AF Corse                  (GTEA)  +  19 Laps
33.  #40 Oreca      Race Performance          (LMP2)  +  20 Laps
34.  #71 Ferrari    AF Corse                  (GTEP)  +  21 Laps
35.  #65 Lotus      Lotus Jetalliance         (GTEP)  +  21 Laps
36.  #63 Porsche    Proton Competition        (GTEA)  +  24 Laps
37.  #83 Ferrari    JMB Racing                (GTEA)  +  25 Laps
38.  #88 Porsche    Team Felbermayr-Proton    (GTEP)  +  26 Laps
39.  #57 Ferrari    Krohn Racing              (GTEA)  +  27 Laps
40.  #44 Norma      Extr                      (LMP2)  +  28 Laps
41.  #68 Ford       Robertson Racing          (GTEA)  +  28 Laps
42.  #60 Aston      Gulf AMR Middle East      (GTEA)  +  29 Laps
43.  #89 Ferrari    Hankook Team Farnbacher   (GTEP)  +  31 Laps
44.  #66 Ferrari    JMW Motorsport            (GTEP)  +  31 Laps
45.  #64 Lotus      Lotus Jetalliance         (GTEP)  +  44 Laps
46.  #58 Ferrari    Luxury Racing             (GTEP)  +  52 Laps
47.  #5  Oreca      Hope Racing               (LMP1)  +  61 Laps
48.  #15 OAK        OAK Racing                (LMP1)  +  71 Laps
49.  #24 OAK        OAK Racing                (LMP1)  +  31 Laps
50.  #1  Audi       Audi Sport Team Joest     (LMP1)  Retired
51.  #62 Ferrari    CRS Racing                (GTEA)  Retired
52.  #79 Aston      Jota                      (GTEP)  Retired
53.  #20 Zytek      Quifel-ASM Team           (LMP1)  Retired
54.  #3  Audi       Audi Sport North America  (LMP1)  Retired
55.  #007  AMR-One  Aston Martin Racing       (LMP1)  Retired
56.  #009  AMR-One  Aston Martin Racing       (LMP1)  Retired