John Andretti grew up thinking his first name was Other. As in, The Other Andretti. But, as the nephew of Mario and the cousin of Michael, John established quite a career for himself.
He won in Indycars. He won in the NASCAR Cup series. He won the 24 Hours of Daytona. He raced NHRA Top Fuel dragsters. He won on dirt tracks in midgets and sprint cars. He also was the first to ever do 'The Double' by racing in the Indianapolis 500 and then flying to Charlotte for the NASCAR Coca-Cola 600 on the same day in 1994. He was a racer. If it had wheels and an engine, he was willing to race it.
He was diagnosed with colon cancer in January 2017, but he fought the disease, going through gruesome surgeries and treatments while also raising awareness of the need to get routine colonoscopies with the programme called #CheckIt4Andretti. He passed away on 30 January 2020 at his home near Charlotte, North Carolina.
In 1988, John was in his first full season of IndyCar racing, at the age of 25, when he had an incredible opportunity to join Mario and Michael on the same team for the first time at the 24 Hours of Le Mans.
Here is an excerpt from his autobiography, RACER, written with Jade Gurss, describing his experience at Le Mans. Ten percent of all proceeds from the sale of RACER are being donated to John's chosen charity, the Riley Children's Hospital in Indianapolis. You can pre-order the book from Octane Press at OctanePress.com.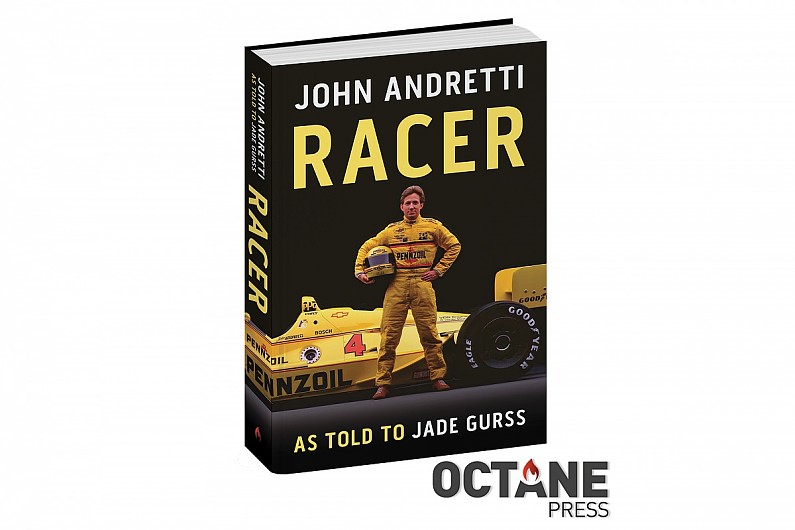 In the midst of the IndyCar season, I had the opportunity to race the 24 Hours of Le Mans with Mario and Michael as team-mates in the Porsche 962 factory team. An all Italian-American driver line-up racing a German car in France!
I had visions of grandeur of being at the race with such a successful manufacturer: 'Porsche! It's going to be great! I'm not the king, but I'm a prince!' But all they provided was a little, tiny-ass motorhome! Not one for each of us: each team of drivers got only one. We all had our wives with us. And this is where we're going to sleep? There was no shower, and everybody curled up in a corner.
I have a booklet that I kept during the race weekend with almost every detail I could write down. Every lap is in there. I wanted to spend as much time as I could in the car. With a track of that length, any laps around it would help me. Mario did a lot of laps. Michael did a lot of laps. And then it was finally my turn.
I had never been to Le Mans. There were no simulators, no iRacing, no YouTube video, so it was not like I could do homework ahead of time. They had just repaved the epic Mulsanne Straight - a 3.7-mile stretch of public road that was taken at top speed (For 1990, two chicanes were added to break-up the extended straightaway). Before I headed out for my first lap, Mario leaned in the car, and I thought he said, "Be sure to stay in the middle of the road." It was hard to hear!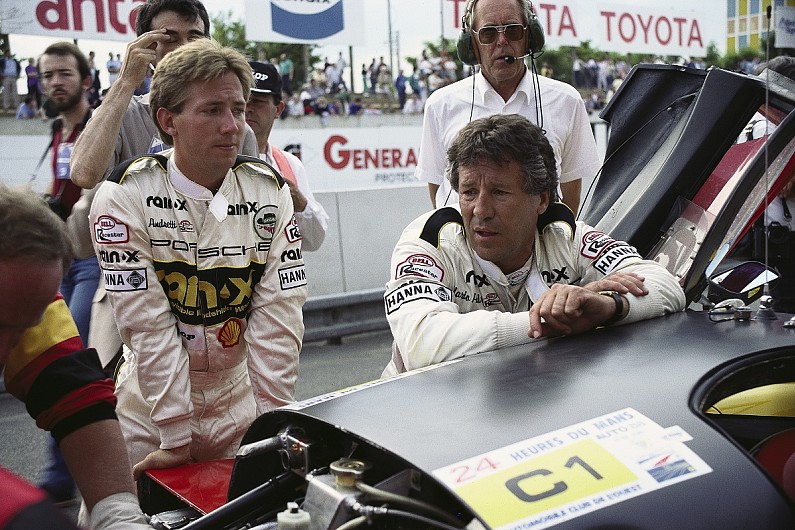 When I got onto Mulsanne, I fought like hell to stay along the centre line. It finally pitched me off to one side. "Oh! He told me not to stay in the middle of the road." It's just a country road, so it has a crown on it for drainage. The car was weaving on top of it until all of a sudden it landed on one side.
The last thing I wanted to do was wad the thing up because I needed to get every lap I could. But that cautious thinking didn't last long. Near the end of the straight is a small curve - 'the kink' - and I thought, 'I am manning-up. Just like at Indianapolis: you have to go flat out!' Why? Because you're an idiot and your ego is bigger than your brain. 'I'm going through it wide open the first lap!'
The moment the second issue happened, Mario said, "You jump every kerb, let's get our asses out of here! Drive it like there's no tomorrow!"
As I got there, everything went crazy. 'Hooooly crap!' A Sauber-Mercedes had blown a tyre and was ricocheting from one side to the other. It was only one car, but the whole thing scattered. Tyres, bodywork, everything was flying everywhere!
I was still going 200-plus mph, and you don't just slam on the brakes at that speed, so I tried to hit smaller stuff! 'Oh my God!' I made it through and the car only had a few rubber marks on it from the debris. Welcome to Le Mans, kid.
Mario qualified the car and then started the race. Early on, with Michael in the car, we burned a piston. The team pulled the injector and the spark plug from that cylinder. We were on five cylinders, but it's turbocharged, so as Michael left pitlane he was winding the turbo boost all the way up - just like he used to adjust the carburettor in karting! If the thing blew up, who cares! We were no longer in real contention for the win. I was standing behind the German crew, and they were all laughing about it. But we had lost a lot of time.
Before the race, Mario had said, "Treat this gearbox well, no kerbs, no fast shifts, we're going to treat this thing nice and we're going to be around for 24 hours." But, a few hours later, a water pipe broke while Michael was in the car. Another Porsche had dropped out with the same issue, but Michael caught it really quickly. The other driver didn't, and cooked the motor. A typical driver would say, "Do you want me to look at the gauges, or do you want me to drive the car? Pick one." Michael was good about doing both.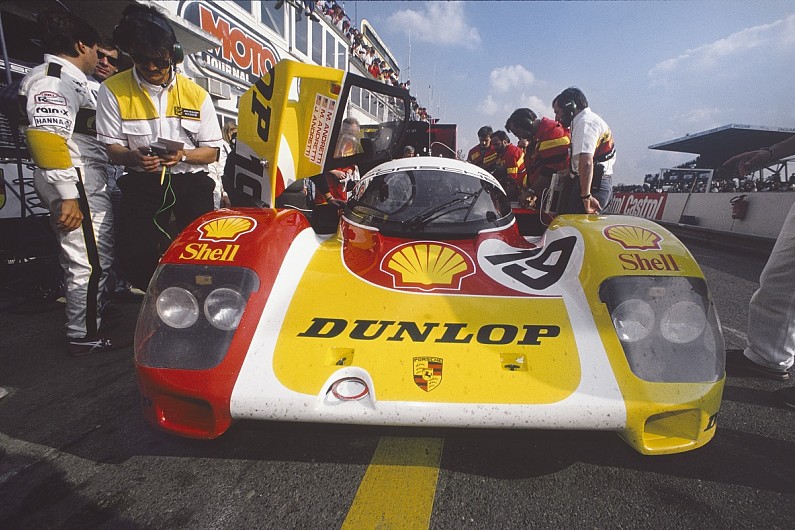 They fixed the pipe, but then we were laps down on an 8.5-mile track. The moment the second issue happened, Mario said, "You jump every kerb, let's get our asses out of here! Drive it like there's no tomorrow!" Now, it was game on! You didn't have to tell Michael and me twice.
We made up time on all of the cars ahead of us because it started raining. We didn't give a crap about our car anymore, so we pushed hard. We got to the end of the race and Michael was scheduled to finish. But he said, "You've got to finish, because finishing this race is really cool. All of the flagmen come out and a lot of cool stuff happens."
As I got in the car, Mario climbed out and helped me get strapped in. "The gearbox is really shot in this thing," he yelled. "Be sure you don't break it!"
We'd just spent hours and hours trying to break this thing, but Porsches don't break easily. Now we were so close, we committed to see the finish. So I just rode around. If I didn't have to shift, I didn't.
We ended up in sixth place, which was a bummer because it would have really been great to win Le Mans with them. Especially Mario, because that was the one big race that eluded him.
It was the only time we raced together as a team and it was fun. I think we could have been right there at the end if we hadn't had those issues. It was amazing that we finished where we did with the problems that we had.