Toyota team boss Rob Leupen believes the handicap system set to be introduced for the World Endurance Championship's LMP1 class will allow other teams to win races next season.
In the run-up to the Le Mans 24 Hours, the ACO suggested a system of 'success ballast' was being worked on for the 2019/20 WEC season, following a superseason dominated by Toyota against the non-hybrid privateer cars.
Although precise details of the system have yet to be revealed, Toyota indicated it supported the system being put in place for what will be the last season of its TS050 HYBRID.
The WEC used Equivalence of Technology during 2019/20 but it failed to allow the privateers to regularly compete with Toyota across a race distance.
But Leupen says the new handicaps targeted at Toyota will allow its opponents to fight for overall wins.
"We'll see other teams have the potential to win, definitely," said Leupen. "For us, it's an extra motivation to beat them again.
"It will not only affect us, but if we are the one collecting the ballast - or the handicap - the others should be able [to win].
"We would have less fuel or less fuel flow and this side of things we [would] reduce. Therefore we would need to stop a lap earlier.
"To tune down the car is still not the intention, but it depends a bit on the system. It's something we'd like to test."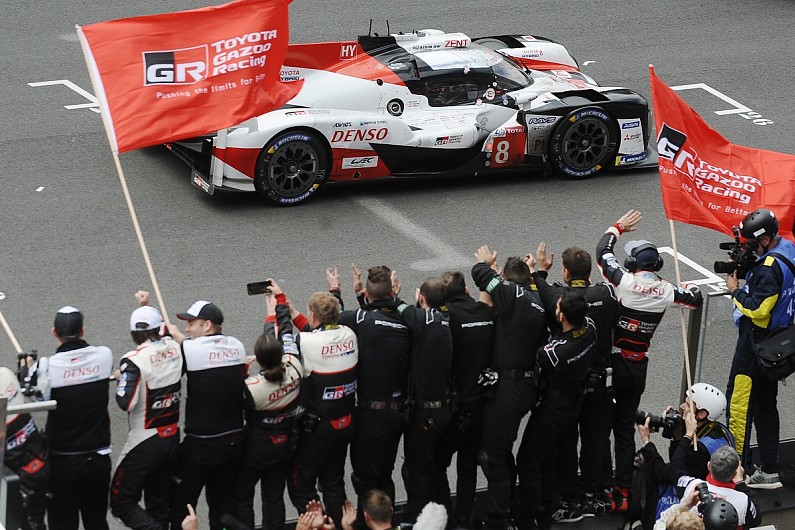 Leupen has previously suggested Toyota would not be prepared to reduce the effectiveness of its 8MJ hybrid system to level the playing field.
But at Le Mans, Leupen admitted this was an area being explored as a potential handicap.
"At the moment [the hybrid system] should operate [how it does now]," Leupen said. "But it's an idea, it's launched, it's in discussions.
"The Technical Working Group has to sit with the other teams and say what we're going to do. But just to put weight on [the car], it could cause other issues."
Six non-hybrid LMP1 cars appeared on the 2019/20 entry list issued at Le Mans in what would be the first season of the handicap.
The six are made up from two-car entries from SMP Racing, Rebellion Racing and Ginetta factory squad Team LNT.
But SMP is the only privateer team currently certain to race the full season with two cars, with question marks over Rebellion's second R-13 and Ginetta's search for a customer willing to campaign its G60-LT-P1s.
SMP's Stephane Sarrazin, formerly of Toyota, says he "hopes to stay" with SMP in 2019/20 and said he was cautious over the handicap.
"I really hope we can fight for overall [wins] because we are a private team and fighting with a four-wheel drive, hybrid car is difficult for us," Sarrazin told Autosport.
"It's not the same level of technology [between Toyota and privateers]. "I hope they can find a good way, but it's not so easy to make it, as we have seen this year [with EoT]."