Toyota considered swapping its cars before the end of the Le Mans 24 Hours after puncture drama cost the previously dominant #7 car the lead, says team boss Rob Leupen.
Fernando Alonso, Sebastien Buemi and Kazuki Nakajima inherited their second Le Mans win in a row in the #8 Toyota TS050 Hybrid after the problem struck the leading sister car of Kamui Kobayashi, Mike Conway and Jose Maria Lopez late-on.
The #7 crew had lead most of the race until Lopez suffered a puncture with just over an hour left to run.
A sensor issue when he pitted for a new tyre meant Toyota mistakenly replaced the right-front tyre when it was actually the left-rear that needed changing.
That meant Lopez had to nurse the car for another lap and make another pitstop, which gave Nakajima, who was over two minutes off the lead at the stage, the chance to take the lead and bring the #8 car home for a second Le Mans win of the World Endurance Championship superseason.
Rob Leupen explained that Toyota "thought about doing something" regarding the running order in the remainder of the race before deciding against it.
"But that wouldn't have been correct," he continued to Autosport.
"We talked it through with the drivers and I think we did the right thing. Le Mans chooses its winner again."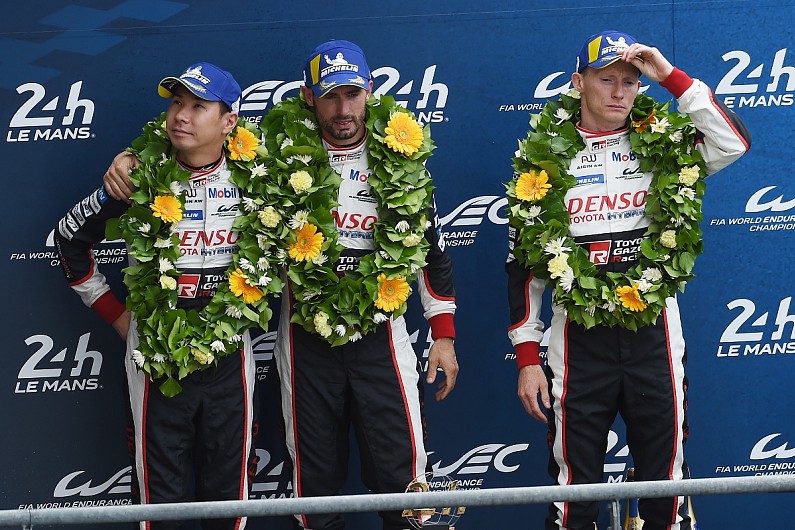 The ending meant Leupen was left with mixed feelings, despite Toyota's second consecutive Le Mans triumph.
"It's very difficult," he said. "We wanted to make it really boring, but that didn't happen.
"The #7 car was by far the fastest of the two, they all worked very hard.
"We got into a situation where we caught a puncture at the end, and it hurts a lot that the team didn't respond well to that."
Regarding the decision not to change all four tyres when Lopez first came in with the puncture, Leupen said: "The simple question was asked 'why we didn't change all four tyres to be safe?'.
"We didn't do that. It's all in the game and then you have to make a decision.
"I don't know what happened [with the sensor]. I don't think we're really thinking about that right now.
"I think the people of the #7 car have a lot of problems with this and we first have to accept it."