New Toyota LMP1 reserve driver Thomas Laurent could make his race debut with the manufacturer as early as the 2019/20 World Endurance Championship season.
Laurent has contested the 2018/19 campaign for the LMP1 privateer Rebellion team and says he would be on call should any of Toyota's regulars become unavailable for races next season.
Sebastien Buemi and Jose Maria Lopez's Formula E commitments could potentially create clashes with the WEC, but the FE calendar will not be announced until Friday's World Motor Sport Council meeting.
Laurent first drove for Toyota during a rookie test in 2017, pictured below.
"I'm there [at Toyota] for that [reason]," Laurent told Autosport. "If they have a clash or something, I guess I will be the driver do it.
"First, they have to have a clash - nothing is decided [yet]."
Laurent is expected to remain on the WEC grid next season as part of the Signatech Alpine LMP2 squad, which is losing Nicolas Lapierre after this week's Le Mans 24 Hours.
Lapierre is set to join the new Cool Racing effort that is moving up from the European Le Mans Series for the 2019/20 campaign.
"I hope I will [continue to race in WEC] because it's really important to stay in a race [environment] with the competition on the track," added Laurent.
"I will push to be in LMP2 next season with one of the best teams in the class for sure."
Laurent added that he is targeting a race seat with Toyota for the start of the 2020/21 season.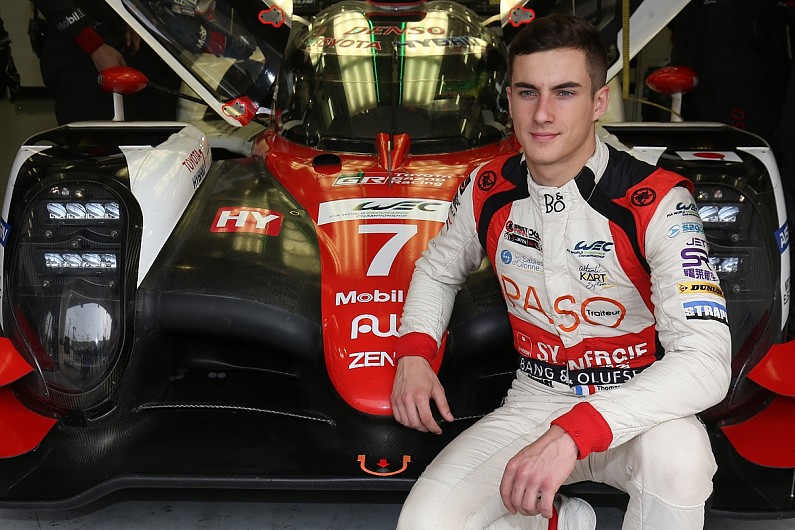 The 2020/21 campaign is the planned start of the hypercar regulations that will replace the current LMP1 regulations.
Manufacturers such as Ferrari and Aston Martin have been linked with a move into the new top class, but its future remains the subject of debate.
"I hope when I am a race driver [at Toyota] there is another manufacturer with us," he said. "It can be interesting to fight Ferrari, Aston Martin, or someone like that."
Toyota LMP1 team director Rob Leupen was asked at the recent Le Mans test day if he could foresee Laurent moving up from his reserve role into a race seat for 2020/21.
"He will be in our simulator where he can learn a lot, where he needs to learn a lot," said Leupen.
"He will do tests. He can jump in and we will then evaluate him, and then see if he's the same driver that we expected him to become."