Rebellion LMP1 driver Andre Lotterer believes it is "naive" to think a weight increase for Toyota will close the gap to non-hybrid privateers at the upcoming Le Mans 24 Hours.
At Sunday's pre-race test the two Toyota TS050 Hybrids ran 10kg heavier than in the 2018 event after an update to the Equivalence of Technology formula.
While privateers Rebellion and SMP Racing showed a more competitive qualifying pace at last year's Shanghai and Fuji World Endurance Championship rounds, which were run to a different EoT than Le Mans, neither team managed to seriously challenge the Cologne-based squad over a race distance.
The Toyotas continued to enjoy a significant advantage in traffic, using their hybrid deployment to swiftly power past slower cars out of low-speed corners.
"Maybe performance can be balanced over one lap, but endurance is not about one lap," Rebellion driver Andre Lotterer told Autosport at the Le Mans test.
"It's difficult to balance performance over multiple hours between us and Toyota because the hybrids have four-wheel drive and they have an enormous advantage in traffic.
"It's pretty much mission impossible to try and equalise that."
"I think it was a bit naive to believe in it because there's so much [extra] performance for four-wheel driven cars.
"Getting speed out of slow corners and not staying stuck in traffic is where they benefit much more than we do.
"A few kilograms more aren't going to change much.
"The only way to balance things is to limit the hybrid at speeds below 120 km/h."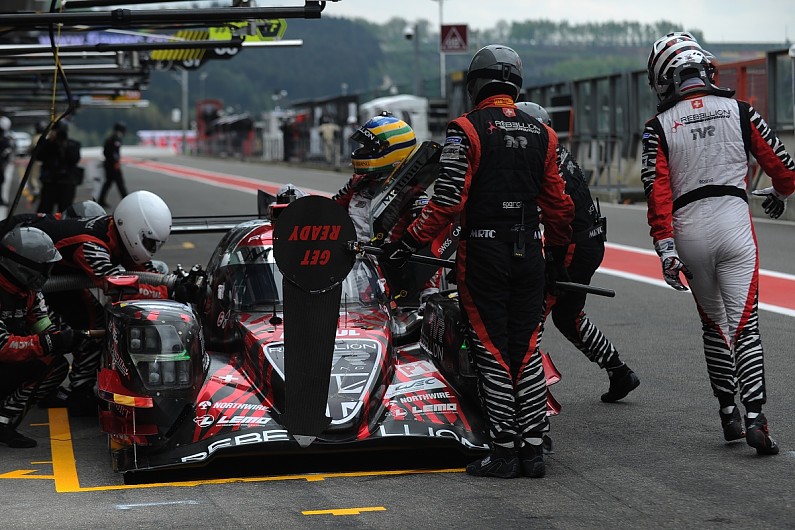 Lotterer, a three-time Le Mans winner with Audi, thinks the European-style race format with fewer safety cars makes it difficult for the privateers to benefit if Toyota hits trouble.
"If we drove with a format like in the US, staying in the same lap, we could be there if they make a mistake.
"But with the full course yellow system, there's zero suspense. There is no element to allow us to come back and stay on the same lap.
"Those are safety aspects but they're not adapted to endurance racing."
Toyota believes the privateers will pose more of a challenge at Le Mans because their relatively new cars are more developed than last year.
"The gap between us and the others will become closer, especially with SMP I think," Toyota team boss Rob Leupen said.
"Also Rebellion, they are not that far away as they have been last year."
"For me last year it was more about reliability, I don't think you can expect to win Le Mans after a few months with a new car.
"We have seen how difficult it was to win after a few years with a car which has been developed."
"The [privateers] can use more fuel per lap.
"They have the potential to have a lot higher downforce, so they are better in traffic and in the corners. We've not seen it at Spa, but they should have [higher top speeds].
"We should be able to be quicker than them on one lap, but [the difference should be] very tiny.
"With all these compromises we have seen on the EoT side, they will have to come closer."