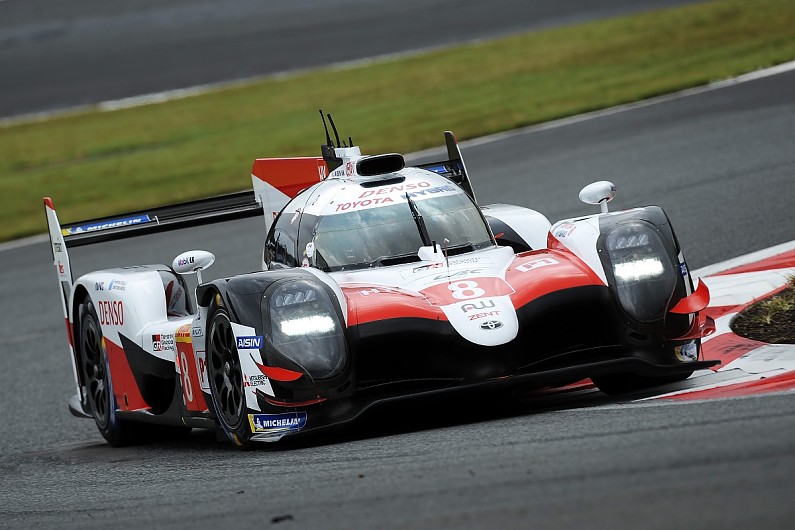 Toyota set the pace in both of Friday's free practice sessions for this weekend's Fuji World Endurance Championship round, amid numerous stoppages caused by loose kerbs.
The opening session of the weekend was paused for 32 minutes while a kerb at Turn 15 was repaired, and around 50 minutes of track time was lost in the second session in two separate stoppages.
While the morning session was extended by half an hour to compensate for the lost track time, only 10 minutes was added to the afternoon's running as dusk fell.
The #8 Toyota TS050 HYBRID of Sebastien Buemi topped the opening session with a best time of 1m25.847s, which was blown away by Fernando Alonso in the opening minutes of second practice.
Alonso set a 1m23.973s, which was enough to beat Jose Maria Lopez in the sister #7 machine by over a second.
Rebellion was the quickest of the non-hybrid outfits, with the Silverstone race-winning #3 R-13-Gibson leading the charge in the hands of Thomas Laurent with a time 1.724 seconds off the pace of Alonso.
Jenson Button had led the privateer charge in first practice but slipped to fourth in the second session, lapping just a tenth slower than Laurent.
Fifth was the #1 Rebellion of Andre Lotterer, followed by the second of the SMP BR1s, the #17 of Matevos Isaakyan that slowly limped back to the pits in the dying stages of second practice.
The sister #11 car also appeared to suffer a brake issue while in Vitaly Petrov's hands during the first session.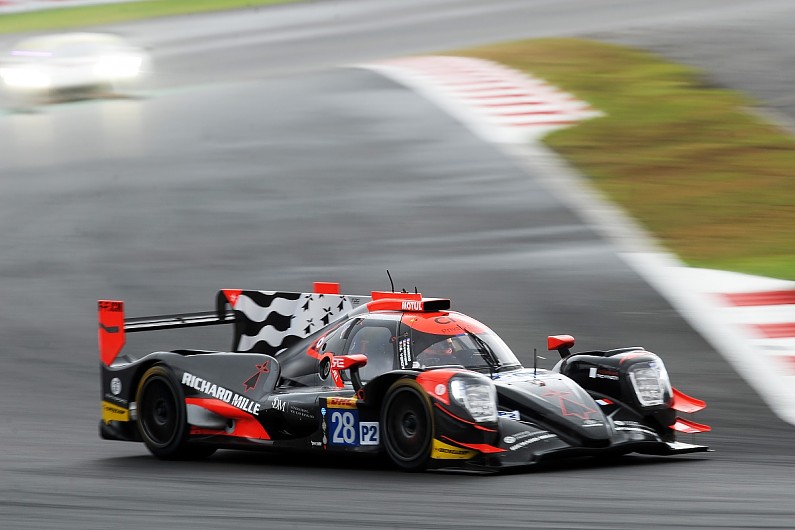 LMP2 was topped by TDS Racing, with Matthieu Vaxiviere setting the best time of 1m30.360s during FP1.
Signatech Alpine led FP2 courtesy of Andre Negrao's 1m30.893s in the #36 ORECA, which left the team second for the day ahead of the two Jota Sport-run Jackie Chan DC ORECAs.
Aston Martin topped the GTE Pro times courtesy of a late flyer in FP2 from Nicki Thiim in the #95 Vantage GTE.
Thiim set a 1m37.659s with less than 10 minutes remaining to depose Ford driver Harry Tincknell by a little under two tenths.
Ferrari made it three different makes in the top three, Davide Rigon leading its charge in the #71 488 GTE Evo, ahead of the two Porsche 911 RSRs and the #66 Ford GT that was fastest in FP1 thanks to Stefan Mucke.
Porsche topped the times in GTE Am, with Matteo Cairoli posting the class benchmark of 1m38.989s in the #88 Dempsey-Proton 911 RSR.
FP1 times
| Pos | Class | Driver | Team | Car | Time | Gap | Laps |
| --- | --- | --- | --- | --- | --- | --- | --- |
| 1 | LMP1 | S.Buemi, K.Nakajima, F.Alonso | Toyota Gazoo Racing | Toyota | 1m25.847s | - | 43 |
| 2 | LMP1 | M.Conway, K.Kobayashi, J.M.Lopez | Toyota Gazoo Racing | Toyota | 1m26.381s | 0.534s | 44 |
| 3 | LMP1 | M.Aleshin, V.Petrov, J.Button | SMP Racing | BR Engineering/AER | 1m26.890s | 1.043s | 23 |
| 4 | LMP1 | N.Jani, A.Lotterer, B.Senna | Rebellion Racing | Rebellion/Gibson | 1m27.151s | 1.304s | 44 |
| 5 | LMP1 | S.Sarrazin, E.Orudzhev, M.Isaakyan | SMP Racing | BR Engineering/AER | 1m27.635s | 1.788s | 36 |
| 6 | LMP1 | M.Beche, T.Laurent, G.Menezes | Rebellion Racing | Rebellion/Gibson | 1m27.916s | 2.069s | 37 |
| 7 | LMP1 | J.Allen, B.Hanley | DragonSpeed | BR Engineering/Gibson | 1m29.088s | 3.241s | 40 |
| 8 | LMP1 | O.Webb, T.Dillmann, J.Rossiter | ByKOLLES Racing Team | ENSO CLM/NISMO | 1m29.250s | 3.403s | 26 |
| 9 | LMP2 | F.Perrodo, M.Vaxiviere, J-E.Vergne | TDS Racing | ORECA/Gibson | 1m30.360s | 4.513s | 45 |
| 10 | LMP2 | H-Pin Tung, G.Aubry, S.Richelmi | Jackie Chan DC Racing | ORECA/Gibson | 1m31.605s | 5.758s | 39 |
| 11 | LMP2 | R.Gonzalez, P.Maldonado, A.Davidson | DragonSpeed | ORECA/Gibson | 1m31.705s | 5.858s | 45 |
| 12 | LMP2 | F.van Eerd, G.van der Garde, N.de Vries | Racing Team Nederland | Dallara/Gibson | 1m31.708s | 5.861s | 40 |
| 13 | LMP2 | N.Lapierre, A.Negrao, P.Thiriet | Signatech Alpine Matmut | Alpine/Gibson | 1m31.926s | 6.079s | 44 |
| 14 | LMP2 | J.Jaafar, W.Tan, N.Jeffri | Jackie Chan DC Racing | ORECA/Gibson | 1m31.965s | 6.118s | 42 |
| 15 | LMP2 | E.Creed, R.Ricci, K.Ihara | Larbre Competition | Ligier/Gibson | 1m34.342s | 8.495s | 38 |
| 16 | GTE Pro | S.Mucke, O.Pla | Ford Chip Ganassi Team UK | Ford | 1m38.555s | 12.708s | 33 |
| 17 | GTE Pro | R.Lietz, G.Bruni | Porsche GT Team | Porsche | 1m38.819s | 12.972s | 42 |
| 18 | GTE Pro | M.Christensen, K.Estre | Porsche GT Team | Porsche | 1m38.996s | 13.149s | 29 |
| 19 | GTE Pro | A.Priaulx, H.Tincknell | Ford Chip Ganassi Team UK | Ford | 1m39.387s | 13.540s | 33 |
| 20 | GTE Pro | A.P.Guidi, J.Calado | AF Corse | Ferrari | 1m39.420s | 13.573s | 31 |
| 21 | GTE Pro | M.Sorensen, N.Thiim | Aston Martin Racing | Aston Martin | 1m39.422s | 13.575s | 38 |
| 22 | GTE Pro | T.Blomqvist, A.F.da Costa | BMW Team MTEK | BMW | 1m39.626s | 13.779s | 36 |
| 23 | GTE Pro | D.Rigon, S.Bird | AF Corse | Ferrari | 1m39.660s | 13.813s | 38 |
| 24 | GTE Pro | M.Tomczyk, N.Catsburg | BMW Team MTEK | BMW | 1m39.715s | 13.868s | 30 |
| 25 | GTE Am | P.D.Lana, P.Lamy, M.Lauda | Aston Martin Racing | Aston Martin | 1m39.763s | 13.916s | 43 |
| 26 | GTE Am | C.Ried, J.Andlauer, M.Campbell | Dempsey-Proton Racing | Porsche | 1m39.925s | 14.078s | 38 |
| 27 | GTE Pro | A.Lynn, M.Martin | Aston Martin Racing | Aston Martin | 1m40.125s | 14.278s | 44 |
| 28 | GTE Am | S.Yoluc, J.Adam, C.Eastwood | TF Sport | Aston Martin | 1m40.139s | 14.292s | 43 |
| 29 | GTE Am | S.Hoshino, G.Roda, M.Cairoli | Dempsey-Proton Racing | Porsche | 1m40.232s | 14.385s | 39 |
| 30 | GTE Am | M.Wainwright, B.Barker, T.Preining | Gulf Racing | Porsche | 1m40.469s | 14.622s | 37 |
| 31 | GTE Am | Mok W.S., K.Sawa, M.Griffin | Clearwater Racing | Ferrari | 1m40.694s | 14.847s | 39 |
| 32 | GTE Am | J.Bergmeister, P.Lindsey, E.Perfetti | Team Project 1 | Porsche | 1m40.787s | 14.940s | 8 |
| 33 | GTE Am | M.Ishikawa, O.Beretta, E.Cheever | MR Racing | Ferrari | 1m40.870s | 15.023s | 39 |
| 34 | GTE Am | T.Flohr, F.Castellacci, G.Fisichella | Spirit of Race | Ferrari | 1m40.980s | 15.133s | 42 |
FP2 times
| Pos | Class | Driver | Team | Car | Time | Gap | Laps |
| --- | --- | --- | --- | --- | --- | --- | --- |
| 1 | LMP1 | S.Buemi, K.Nakajima, F.Alonso | Toyota Gazoo Racing | Toyota | 1m23.973s | - | 30 |
| 2 | LMP1 | M.Conway, K.Kobayashi, J.M.Lopez | Toyota Gazoo Racing | Toyota | 1m25.068s | 1.095s | 29 |
| 3 | LMP1 | M.Beche, T.Laurent, G.Menezes | Rebellion Racing | Rebellion/Gibson | 1m25.697s | 1.724s | 22 |
| 4 | LMP1 | M.Aleshin, V.Petrov, J.Button | SMP Racing | BR Engineering/AER | 1m25.801s | 1.828s | 27 |
| 5 | LMP1 | N.Jani, A.Lotterer, B.Senna | Rebellion Racing | Rebellion/Gibson | 1m25.931s | 1.958s | 29 |
| 6 | LMP1 | S.Sarrazin, E.Orudzhev, M.Isaakyan | SMP Racing | BR Engineering/AER | 1m27.664s | 3.691s | 27 |
| 7 | LMP1 | O.Webb, T.Dillmann, J.Rossiter | ByKOLLES Racing Team | ENSO CLM/NISMO | 1m28.209s | 4.236s | 26 |
| 8 | LMP1 | J.Allen, B.Hanley | DragonSpeed | BR Engineering/Gibson | 1m28.914s | 4.941s | 16 |
| 9 | LMP2 | N.Lapierre, A.Negrao, P.Thiriet | Signatech Alpine Matmut | Alpine/Gibson | 1m30.410s | 6.437s | 28 |
| 10 | LMP2 | H-Pin Tung, G.Aubry, S.Richelmi | Jackie Chan DC Racing | ORECA/Gibson | 1m30.842s | 6.869s | 24 |
| 11 | LMP2 | J.Jaafar, W.Tan, N.Jeffri | Jackie Chan DC Racing | ORECA/Gibson | 1m30.990s | 7.017s | 28 |
| 12 | LMP2 | F.Perrodo, M.Vaxiviere, J-E.Vergne | TDS Racing | ORECA/Gibson | 1m31.040s | 7.067s | 29 |
| 13 | LMP2 | F.van Eerd, G.van der Garde, N.de Vries | Racing Team Nederland | Dallara/Gibson | 1m31.259s | 7.286s | 28 |
| 14 | LMP2 | R.Gonzalez, P.Maldonado, A.Davidson | DragonSpeed | ORECA/Gibson | 1m31.995s | 8.022s | 21 |
| 15 | LMP2 | E.Creed, R.Ricci, K.Ihara | Larbre Competition | Ligier/Gibson | 1m32.736s | 8.763s | 27 |
| 16 | GTE Pro | M.Sorensen, N.Thiim | Aston Martin Racing | Aston Martin | 1m37.659s | 13.686s | 21 |
| 17 | GTE Pro | A.Priaulx, H.Tincknell | Ford Chip Ganassi Team UK | Ford | 1m37.821s | 13.848s | 25 |
| 18 | GTE Pro | D.Rigon, S.Bird | AF Corse | Ferrari | 1m38.041s | 14.068s | 26 |
| 19 | GTE Pro | R.Lietz, G.Bruni | Porsche GT Team | Porsche | 1m38.053s | 14.080s | 24 |
| 20 | GTE Pro | M.Christensen, K.Estre | Porsche GT Team | Porsche | 1m38.081s | 14.108s | 26 |
| 21 | GTE Pro | S.Mucke, O.Pla | Ford Chip Ganassi Team UK | Ford | 1m38.179s | 14.206s | 28 |
| 22 | GTE Pro | A.P.Guidi, J.Calado | AF Corse | Ferrari | 1m38.248s | 14.275s | 26 |
| 23 | GTE Pro | M.Tomczyk, N.Catsburg | BMW Team MTEK | BMW | 1m38.388s | 14.415s | 27 |
| 24 | GTE Pro | A.Lynn, M.Martin | Aston Martin Racing | Aston Martin | 1m38.477s | 14.504s | 24 |
| 25 | GTE Pro | T.Blomqvist, A.F.da Costa | BMW Team MTEK | BMW | 1m38.504s | 14.531s | 28 |
| 26 | GTE Am | S.Hoshino, G.Roda, M.Cairoli | Dempsey-Proton Racing | Porsche | 1m38.989s | 15.016s | 26 |
| 27 | GTE Am | C.Ried, J.Andlauer, M.Campbell | Dempsey-Proton Racing | Porsche | 1m39.152s | 15.179s | 23 |
| 28 | GTE Am | Mok W.S., K.Sawa, M.Griffin | Clearwater Racing | Ferrari | 1m39.295s | 15.322s | 23 |
| 29 | GTE Am | T.Flohr, F.Castellacci, G.Fisichella | Spirit of Race | Ferrari | 1m39.410s | 15.437s | 25 |
| 30 | GTE Am | M.Ishikawa, O.Beretta, E.Cheever | MR Racing | Ferrari | 1m39.559s | 15.586s | 24 |
| 31 | GTE Am | J.Bergmeister, P.Lindsey, E.Perfetti | Team Project 1 | Porsche | 1m39.712s | 15.739s | 27 |
| 32 | GTE Am | M.Wainwright, B.Barker, T.Preining | Gulf Racing | Porsche | 1m39.930s | 15.957s | 25 |
| 33 | GTE Am | S.Yoluc, J.Adam, C.Eastwood | TF Sport | Aston Martin | 1m40.181s | 16.208s | 26 |
| 34 | GTE Am | P.D.Lana, P.Lamy, M.Lauda | Aston Martin Racing | Aston Martin | 1m40.429s | 16.456s | 25 |