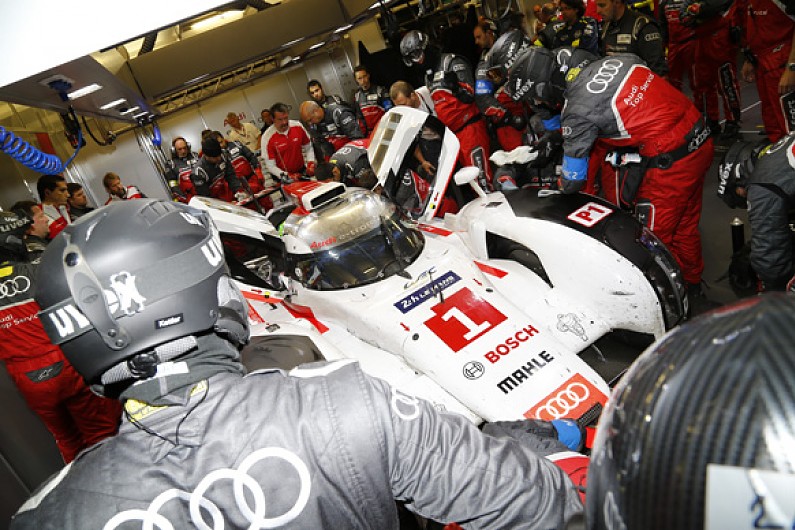 The Le Mans 24 Hours lead battle was reduced to two cars in the 13th hour of the race, as the #1 Audi hit trouble.
Tom Kristensen - who had been keeping the second R18 on the lead lap behind the #7 Toyota and the #2 Audi - suddenly slowed on the Mulsanne straight with a loss of drive.
The car almost came to a halt before Kristensen was able to find some power and tour back to the pits, losing nearly four minutes.
After a stay of nearly seven minutes in the pits the Audi crew carried out a fuel injector change, and the #1 entry rejoined the action with Lucas di Grassi at the wheel, having lost third place to the #20 Porsche.
The Brazilian was then forced to make an unscheduled stop just a few laps later due to a puncture.
The battle at the front of the race hotted up during the hour too, as Andre Lotterer made inroads against Stephane Sarrazin's race-leading #7 Toyota.
Lotterer brought the gap down from just under two minutes to as low as 1m33s, at which point Sarrazin was able to prevent him from gaining any more time.
A driver change and new tyres for the #2 Audi meant that its stop just before the hour mark was 40 seconds longer than the Toyota's, allowing Sarrazin to stretch the lead to a safer margin again.
Another LMP1 car hit trouble in the form of the #14 Porsche, which crawled round in very similar style to the #1 Audi as Marc Lieb coaxed it back to the pits, where mechanics discovered that the car had suffered a fuel pressure problem for the second time in the race.
In LMP2, the #35 OAK-run Ligier continued to control the race, with Jann Mardenborough taking over from Alex Brundle and picking up the laptimes battle with the chasing #36 Signatech car of Paul-Loup Chatin.
Ferrari broke Aston Martin's stranglehold on the GTE element as Giancarlo Fisichella jumped ahead of Stefan Mucke.
Alternate strategies had handed Mucke a sizable lead while Fisichella and Richard Westbrook waited to be fitted with new tyres.
While that did not offer enough of an advantage to overturn Mucke's 27-second advantage, Fisichella did blast into a 15-second lead when Mucke made his stop.
That was slightly lengthier than normal, with Turner get in a new set of boots in the process, and though he dropped behind the AF Corse 458 Italia driver in the process Westbrook's Corvette C7.R slipped further back.
While it lost the GTE Pro lead, Aston continues to dominate GTE Am.
David Heiemeier Hansson holds a lap of a full lap over the SMP and #61 AF Corse Ferrari.
POSITIONS AFTER 13 HOURS

Pos Cl       Car       Drivers                             Laps  Gap
 1. LMP1 #7  Toyota    Wurz/Sarrazin/Nakajima              204  
 2. LMP1 #2  Audi      Fassler/Lotterer/Treluyer           204  +  2m12.517s
 3. LMP1 #20 Porsche   Bernhard/Webber/Hartley             202  +     2 Laps
 4. LMP1 #1  Audi      Di Grassi/Gene/Kristensen           201  +     3 Laps
 5. LMP1 #14 Porsche   Dumas/Jani/Lieb                     193  +    11 Laps
 6. LMP1 #8  Toyota    Davidson/Lapierre/Buemi             193  + 14m01.384s
 7. LMP2 #35 Ligier    Brundle/Mardenborough/Shulzhitskiy  189  +    15 Laps
 8. LMP2 #36 Alpine    Chatin/Panciatici/Webb              189  +  1m17.614s
 9. LMP2 #46 Ligier    Thiriet/Badey/Gommendy              189  +  2m24.956s
10. LMP2 #34 Oreca     Frey/Mailleux/Lancaster             188  +    16 Laps
11. LMP1 #12 Rebellion Prost/Heidfeld/Beche                186  +    18 Laps
12. LMP2 #24 Oreca     Rast/Charouz/Capillaire             186  +  2m46.414s
13. LMP2 #38 Zytek     Dolan/Tincknell/Turvey              186  +  2m57.851s
14. LMP2 #43 Morgan    Klien/Hirsch/Brandela               185  +    19 Laps
15. LMP2 #33 Ligier    Cheng/Tung/Fong                     182  +    22 Laps
16. GTEP #51 Ferrari   Bruni/Vilander/Fisichella           180  +    24 Laps
17. LMP2 #42 Zytek     Kimber-Smith/McMurry/Dyson          180  +     5.599s
18. GTEP #97 Aston     Turner/Mucke/Senna                  180  +    12.445s
19. GTEP #74 Chevrolet Gavin/Milner/Westbrook              180  +  1m00.165s
20. GTEP #92 Porsche   Holzer/Makowiecki/Lietz             179  +    25 Laps
21. LMP2 #29 Morgan    Schell/Leutwiller/Roussel           178  +    26 Laps
22. GTEP #73 Chevrolet Magnussen/Garcia/Taylor             178  +  6m44.159s
23. GTEA #95 Aston     Poulsen/Heinemeier-Hansson/Thiim    178  +  7m31.105s
24. LMP2 #50 Morgan    Ragues/Taylor/Ihara                 177  +    27 Laps
25. GTEA #72 Ferrari   Bertolini/Shaitar/Basov             177  +  2m21.655s
26. GTEA #61 Ferrari   Perez-Companc/Cioci/Venturi         176  +    28 Laps
27. GTEA #88 Porsche   Ried/Bachler/Al Qubaisi             176  +    51.978s
28. LMP2 #27 Oreca     Zlobin/Salo/Ladygin                 176  +  1m28.466s
29. GTEA #90 Ferrari   Montecalvo/Roda/Ruberti             174  +    30 Laps
30. GTEA #57 Ferrari   Krohn/Jonsson/Collins               174  +  2m16.333s
31. GTEA #77 Porsche   Dempsey/Foster/Long                 174  +  3m42.423s
32. GTEA #70 Ferrari   Nakano/Ehret/Rich                   173  +    31 Laps
33. GTEA #66 Ferrari   Al Faisal/Neiman/Pumpelly           173  +  1m32.695s
34. GTEA #58 Ferrari   Barthez/Pons/Ayari                  172  +    32 Laps
35. GTEA #76 Porsche   Narac/Armindo/Hallyday              171  +    33 Laps
36. GTEA #67 Porsche   Maris/Merlin/Helary                 171  +  2m34.880s
37. GTEA #98 Aston     Dalla Lana/Lamy/Nygaard             169  +    35 Laps
38. GTEP #79 Porsche   MacNeil/Curtis/Bleekemolen          167  +    37 Laps
39. GTEA #53 Ferrari   Mowlem/Patterson/Hamilton           163  +    41 Laps
40. GTEA #62 Ferrari   Mallegol/Bachelier/Blank            150  +    54 Laps
41. GTEP #91 Porsche   Pilet/Bergmeister/Tandy             150  +  2m10.472s
42. GTEA #75 Porsche   Perrodo/Collard/Palttala            139  +    65 Laps
43. GTEP #52 Ferrari   Griffin/Parente/Leo                 139  +1h20m29.413s
44. LMP2 #26 Morgan    Rusinov/Pla/Canal                   120  Retired
45. GTEA #60 Ferrari   Mann/Case/Giammaria                 115  Retired
46. LMP2 #47 Oreca     Howson/Bradley/Imperatori            87  Retired
47. LMP1 #13 Rebellion Kraihamer/Belicchi/Leimer            73  Retired
48. LMP2 #48 Oreca     Berthon/Gonzalez/Chandhok            73  Retired
49. LMP2 #41 Zytek     Munemman/Latif/Winslow               31  Retired
50. GTEP #71 Ferrari   Rigon/Kaffer/Beretta                 28  Retired
51. LMP1 #3  Audi      Albuquerque/Bonanomi/Jarvis          25  Retired
52. GTEA #81 Ferrari   Wyatt/Rugolo/Bird                    22  Retired
53. LMP2 #37 Oreca     Ladygin/Minassian/Mediani            9   Retired
54. CDNT #0  Nissan    Ordonez/Reip/Motoyama                5   Retired