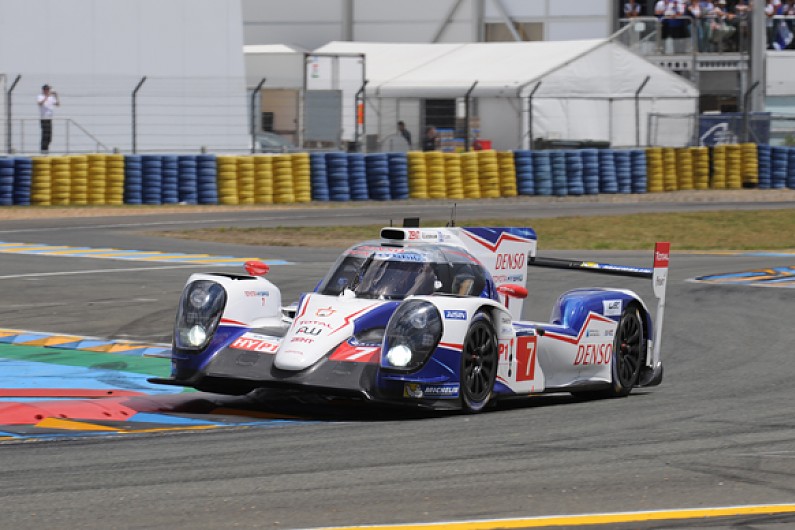 Toyota regained control of the Le Mans 24 Hours, as Stephane Sarrazin jumped the Porsche of Brendon Hartley in the pits before the 919 Hybrid made an unscheduled stop.
Hartley and Sarrazin had been taking turns at the front between their stops, but Sarrazin crucially pulled off a 15-second swing to go from being 10 seconds behind to five ahead during a pitstop cycle.
The Toyota TS040's position at the front then became even more secure, as Hartley had to make an unscheduled stop with what he suspected was a puncture.
That allowed Benoit Treluyer up to second in the #2 Audi R18 e-tron quattro, while Hartley briefly lost third to the #1 Audi of Lucas di Grassi - which passed the Porsche with ease on the start-finish straight before pitting shortly afterwards.
However, Treluyer was unable to match Sarrazin's pace, allowing the Toyota to extend his lead to more than 50 seconds towards the end of the hour, before Treluyer made a scheduled pitstop.
Alex Brundle has opened up a lead of 16 seconds in the LMP2 class driving the #35 Oak Ligier-Nissan JSP2.
He reeled in previous leader Michel Frey's #34 Race Performance ORECA thanks to fresher rubber and passed him into the first Mulsanne chicane.
Frey took to the escape road while trying to tough it out on the outside, but retained second place in class ahead of the #36 Signatech Alpine ORECA of Pierre-Loup Chatin.
The #48 Murphy Prototypes ORECA, which crashed earlier in the race, has rejoined although a gearbox glitch then manifested itself on the car, costing it more time.
CORVETTE CONTINUES GTE CONTROL
Corvette continues to lead the GTE class after a superb stint from Tommy Milner opened up a commanding advantage for the lead C7.R.
Milner led the two Manthey Porsches by half a dozen seconds at the top of the hour but a long stop for Jorg Bergmeister handed him a gap over the other 911 RSR of Marco Holzer that was closer to half a minute.
The American then eked away lap by lap with supreme consistency to build a buffer of three-quarters of a minute over Tony Vilander, who moved his Ferrari 458 Italia into second courtesy of swift pitwork from the AF Corse crew.
He had Bruno Senna's Aston Martin Vantage closing in by the end of the hour though, after the Brazilian caught as passed the squabbling Porsches - headed by Bergmeister after a brave move into the tightening right hander before Indianapolis.
Aston Martin continues to lead in GTE Am, with Christoffer Nygaard well clear of the Ram Racing Ferrari 458 of Archie Hamilton. Patrick Dempsey is third, dropping out of second in his Proton-run Dempsey Porsche after a mandatory pitstop.
POSITIONS AFTER 5 HOURS

Pos Cl       Car       Drivers                              Laps  Gap
 1. LMP1 #7  Toyota    Wurz/Sarrazin/Nakajima               72  
 2. LMP1 #2  Audi      Fassler/Lotterer/Treluyer            72  +  1m44.060s
 3. LMP1 #20 Porsche   Bernhard/Webber/Hartley              71  +      1 Lap
 4. LMP1 #1  Audi      Di Grassi/Gene/Kristensen            71  +    45.691s
 5. LMP1 #12 Rebellion Prost/Heidfeld/Beche                 69  +     3 Laps
 6. LMP1 #14 Porsche   Dumas/Jani/Lieb                      67  +     5 Laps
 7. LMP2 #35 Ligier    Brundle/Mardenborough/Shulzhitskiy   66  +     6 Laps
 8. LMP2 #34 Oreca     Frey/Mailleux/Lancaster              66  +    15.798s
 9. LMP2 #36 Alpine    Chatin/Panciatici/Webb               66  +    20.462s
10. LMP2 #46 Ligier    Thiriet/Badey/Gommendy               66  +  1m06.320s
11. LMP2 #26 Morgan    Rusinov/Pla/Canal                    66  +  3m04.783s
12. LMP2 #43 Morgan    Klien/Hirsch/Brandela                65  +     7 Laps
13. LMP2 #24 Oreca     Rast/Charouz/Capillaire              65  +    39.484s
14. LMP2 #47 Oreca     Howson/Bradley/Imperatori            65  +  1m12.030s
15. LMP2 #38 Zytek     Dolan/Tincknell/Turvey               65  +  1m49.894s
16. LMP2 #33 Ligier    Cheng/Tung/Fong                      65  +  2m03.613s
17. LMP1 #13 Rebellion Kraihamer/Belicchi/Leimer            64  +     8 Laps
18. LMP2 #50 Morgan    Ragues/Taylor/Ihara                  64  +    22.214s
19. GTEP #74 Chevrolet Gavin/Milner/Westbrook               64  +    47.887s
20. LMP1 #8  Toyota    Davidson/Lapierre/Buemi              64  +  1m18.180s
21. GTEP #97 Aston     Turner/Mucke/Senna                   63  +     9 Laps
22. GTEP #51 Ferrari   Bruni/Vilander/Fisichella            63  +     0.985s
23. GTEP #91 Porsche   Pilet/Bergmeister/Tandy              63  +     8.822s
24. GTEP #92 Porsche   Holzer/Makowiecki/Lietz              63  +     9.425s
25. LMP2 #42 Zytek     Kimber-Smith/McMurry/Dyson           63  +    19.442s
26. GTEP #73 Chevrolet Magnussen/Garcia/Taylor              63  +    34.479s
27. GTEA #98 Aston     Dalla Lana/Lamy/Nygaard              63  +    55.217s
28. GTEA #53 Ferrari   Mowlem/Patterson/Hamilton            62  +    10 Laps
29. GTEA #95 Aston     Poulsen/Heinemeier-Hansson/Thiim     62  +    22.979s
30. GTEA #72 Ferrari   Bertolini/Shaitar/Basov              62  +    24.709s
31. GTEA #77 Porsche   Dempsey/Foster/Long                  62  +  1m04.130s
32. GTEA #88 Porsche   Ried/Bachler/Al Qubaisi              62  +  2m44.214s
33. GTEA #61 Ferrari   Perez-Companc/Cioci/Venturi          62  +  2m46.900s
34. GTEA #90 Ferrari   Montecalvo/Roda/Ruberti              62  +  3m33.165s
35. GTEA #70 Ferrari   Nakano/Ehret/Rich                    61  +    11 Laps
36. GTEA #57 Ferrari   Krohn/Jonsson/Collins                61  +  1m18.520s
37. GTEA #66 Ferrari   Al Faisal/Neiman/Pumpelly            61  +  1m24.255s
38. GTEA #67 Porsche   Maris/Merlin/Helary                  61  +  1m26.324s
39. GTEA #75 Porsche   Perrodo/Collard/Palttala             61  +  1m35.079s
40. GTEA #58 Ferrari   Barthez/Pons/Ayari                   61  +  2m57.759s
41. GTEA #60 Ferrari   Mann/Case/Giammaria                  60  +    12 Laps
42. LMP2 #29 Morgan    Schell/Leutwiller/Roussel            60  +     4.825s
43. LMP2 #27 Oreca     Zlobin/Salo/Ladygin                  59  +    13 Laps
44. GTEP #79 Porsche   MacNeil/Curtis/Bleekemolen           58  +    14 Laps
45. GTEA #76 Porsche   Narac/Armindo/Hallyday               58  +    17.439s
46. GTEA #62 Ferrari   Mallegol/Bachelier/Blank             57  +    15 Laps
47. GTEP #52 Ferrari   Griffin/Parente/Leo                  50  +    22 Laps
48. LMP2 #48 Oreca     Berthon/Gonzalez/Chandhok            35  +    37 Laps
49. LMP2 #41 Zytek     Munemman/Latif/Winslow               31  Retired
50. GTEP #71 Ferrari   Rigon/Kaffer/Beretta                 28  Retired
51. LMP1 #3  Audi      Albuquerque/Bonanomi/Jarvis          25  Retired
52. GTEA #81 Ferrari   Wyatt/Rugolo/Bird                    22  Retired
53. LMP2 #37 Oreca     Ladygin/Minassian/Mediani            9   Retired
54. CDNT #0  Nissan    Ordonez/Reip/Motoyama                5   Retired

Autosport has produced a standalone special magazine to celebrate our 70th birthday. All current print subscribers will receive a copy for free. To order your copy of the 196-page Autosport 70th Anniversary issue, please go to: autosport.com/autosport70th