Toyota believes the form of its latest TS030 HYBRID in Saturday's Spa 6 Hours proves it can challenge arch-rival Audi at next month's Le Mans 24 Hours.
The 2013-spec TS030, which was making its debut in the second round of the World Endurance Championship in Belgium, led the race and ran ahead of the new long-tail R18 e-tron quattro Audi before retiring with drive-train issues.
Toyota had been optimistic of a victory push at Spa after its 2012-spec cars were outmatched in the WEC Silverstone opener.
Nicolas Lapierre, who shared the solo 2013 Toyota with Kazuki Nakajima and Alex Wurz, said: "We are very disappointed by the final result because we were fighting for the win.
"The positive thing is the pace of the car, which was better than in qualifying. Even if we are a little bit slower than them, I think it would have been close.
"Considering we were using the Le Mans package, we are back in the game."
Lapierre conceded that the new Toyota was slower than the long-tail R18 and the high-downforce versions of the German car that finished one-two in the race.
"I think we were a little bit slower than the #3 [long-tail] car," he said. "They struggle on the exit of the corners but they are definitely faster."
The revised Toyota retired halfway through the fourth hour after encountering problems with its energy-retrieval system, which stopped recovering energy and caused the rear brakes to overheat.
The second Toyota, a high-downforce 2012 car, finished fourth behind the three Audis in the hands of Anthony Davidson, Stephane Sarrazin and Sebastien Buemi.
AUTOSPORT SAYS
Special contributor Gary Watkins
The "back in the game" rhetoric from Toyota doesn't tally with the air of despondency in the camp in the immediate aftermath of the Spa 6 Hours on Saturday night.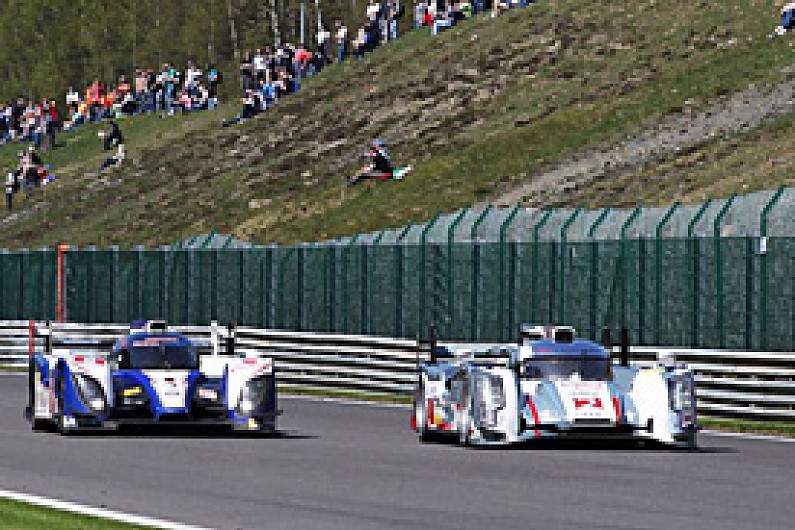 A downbeat mood might seem odd given that the 2013 Toyota TS030 HYBRID was ahead of Audi's Le Mans-spec R18 e-tron quattro for much of the first half the race, but you got the impression that the Toyota Motorsport GmbH squad felt that its arch-rival hadn't shown its hand with the long-tail contender over the course of the six hours.
The Le Mans Audi was significantly quicker in qualifying than the new Toyota, which was also running in the specification at which it will race at next month's 24 Hours. That begged a question: where did that pace go?
Toyota did make some set-up improvements ahead of race and the Japanese car did appear to look after its tyres better than the R18, but its best race lap was six tenths slower than its rival.
That was similar to the deficit over a four-lap average in qualifying, but the telling statistic was the gap over one lap — 1.8 seconds.