Toyota will start Sunday's World Endurance Championship opener at Silverstone from pole position.
The #7 Toyota TS030 HYBRID shared by Nicolas Lapierre and Alex Wurz was confirmed on pole more than an hour after qualifying finished, following problems with the timing system.
The Toyota duo were nearly two seconds clear at the top of the timesheets amid the introduction of a new qualifying procedure.
The grid is based on the aggregate time of the two best laps of two drivers in each car.
The four-lap average of Lapierre and Wurz was a 1m48.021s, which compared with 1n49.995 of the sister car, driven by Davidson and Buemi during the 20-minute session.

AUTOSPORT's 2013 World Endurance Championship season guide
The best Audi R18 e-tron quattro, which was driven by Loic Duval and Tom Kristensen, was a further 1.3 seconds down in third place.
Lapierre explained that Toyota had called the changeable conditions right: he started on intermediates before Wurz took over on slicks.
The Joest Audi team started both cars on intermediates, but each came into the pits for wets before completing a lap. They subsequently changed to slicks for the second half of the session.
Joest technical director Ralf Juttner said: "We started both cars on inters, but both drivers [Duval and Benoit Treluyer] said it was too wet, so we went to wets.
"In hindsight, we should have stayed on inters because the rain lessoned. After the first driver, we were already in the shit."
The best of the Rebellion Racing Lola-Toyota B12/60s ended up fourth fastest ahead of the second Audi, in which Treluyer was joined by Andre Lotterer.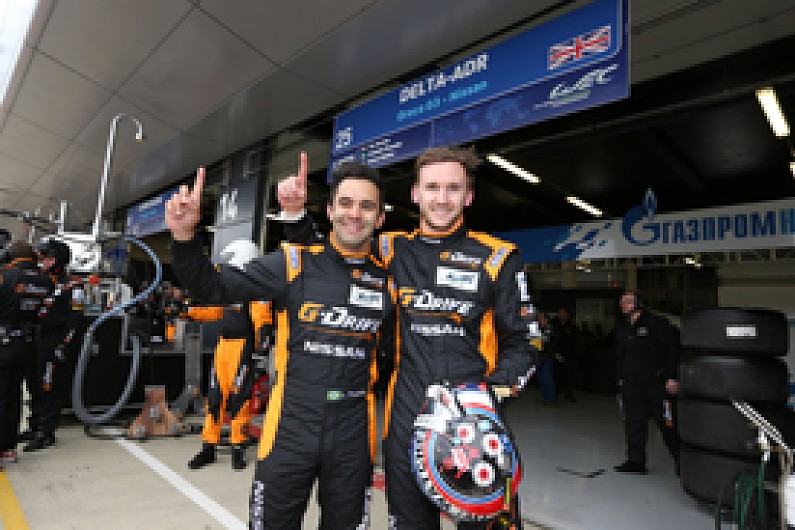 The LMP2 times were headed by the G-Drive/Delta-ADR shared by Antonio Pizzonia and James Walker, which ended up 2.5s ahead of the OAK Racing Morgan-Nissan LMP2 driven by Olivier Pla and Alex Brundle.
Walker, who is driving a prototype for the first time this weekend, said: "We went out on a cut slick, which stood up to two or three laps around here."
Aston Martin Racing dominated in the GTE rankings, filling out the top three positions on the final timesheets.
Stefan Mucke and Darren Turner ended up fastest ahead of Pedro Lamy and Bruno Senna in the second GTE Pro class Vantage GTE. Jamie Campbell-Walter and Stuart Hall were third fastest overall in GTE and quickest in the Am division.
Pos  Cl.    Drivers                         Team/Car                Time       Cl. gap
 1.  P1     Wurz/Lapierre                   Toyota                  1m48.021s
 2.  P1     Davidson/Buemi/Sarrazin         Toyota                  1m49.995s  + 1.974s
 3.  P1     Kristensen/Duval/Mcnish         Audi                    1m51.283s  + 3.262s
 4.  P1     Prost/Jani/Heidfeld             Rebellion Lola-Toyota   1m52.124s  + 4.103s
 5.  P1     Lotterer/Treluyer/Fassler       Audi                    1m53.488s  + 5.467s
 6.  P1     Belicchi/Beche/Cheng            Rebellion Lola-Toyota   1m53.835s  + 5.814s
 7.  P2     Graves/Pizzonia/Walker          Delta-ADR ORECA-Nissan  1m55.148s
 8.  P2     Pla/Heinemeier Hansson/Brundle  OAK Morgan-Nissan       1m57.629s  + 2.481s
 9.  P2     Rusinov/Martin/Conway           Delta-ADR ORECA-Nissan  1m57.697s  + 2.549s
10.  P2     Baguette/Gonzalez/Plowmann      OAK Morgan-Nissan       1m58.729s  + 3.581s
11.  GTE P  Turner/Mucke/Senna              Aston Martin            2m00.566s
12.  GTE P  Dalla Lana/Makowiecki/Lamy      Aston Martin            2m00.772s  + 0.206s
13.  GTE A  Goethe/Hall/Campbell-Walter     Aston Martin            2m01.158s
14.  GTE P  Bergmeister/Pilet/Bernhard      Manthey Porsche         2m01.308s  + 0.742s
15.  GTE P  Lieb/Lietz/Dumas                Manthey Porsche         2m01.452s  + 0.886s
16.  GTE P  Bruni/Fisichella                AF Ferrari              2m01.512s  + 0.946s
17.  GTE A  Nygaard/Poulsen/Simonsen        Aston Martin            2m01.544s  + 0.386s
18.  P2     Holzer/Kraihamer/Charouz        Lotus-Praga             2m01.555s  + 6.407s
19.  GTE P  Kobayashi/Vilander              AF Ferrari              2m01.803s  + 1.237s
20.  P2     Weeda/Liuzzi/Bouchut            Lotus-Praga             2m02.144s  + 6.996s
21.  GTE A  Gerber/Griffin/Cioci            AF Ferrari              2m02.396s  + 1.238s
22.  P2     Perez Companc/Minassian/Kaffer  Pecom ORECA-Nissan      2m02.454s  + 7.306s
23.  GTE A  Potolicchio/Aguas/Peter         8Star Ferrari           2m02.513s  + 1.355s
24.  GTE A  Bornhauser/Canal/Rees           Larbre Corvette         2m02.862s  + 1.704s
25.  P2     Imperatori/Howson/Ka To         KCMG Morgan-Nissan      2m02.991s  + 7.843s
26.  GTE A  Narac/Bourret/Vernay            IMSA Porsche            2m04.176s  + 3.018s
27.  P2     Dyson/Marsal/Kimber-Smith       Greaves Zytek-Nissan    2m04.491s  + 9.343s
28.  GTE A  Krohn/Jonsson/Mediani           Krohn Ferrari           2m05.482s  + 4.324s
29.  P2     Nicolet/Merlin                  OAK Morgan-Nissan       2m10.475s  + 15.327s
30.  P1     Leventis/Watts/Kane             Strakka HPD