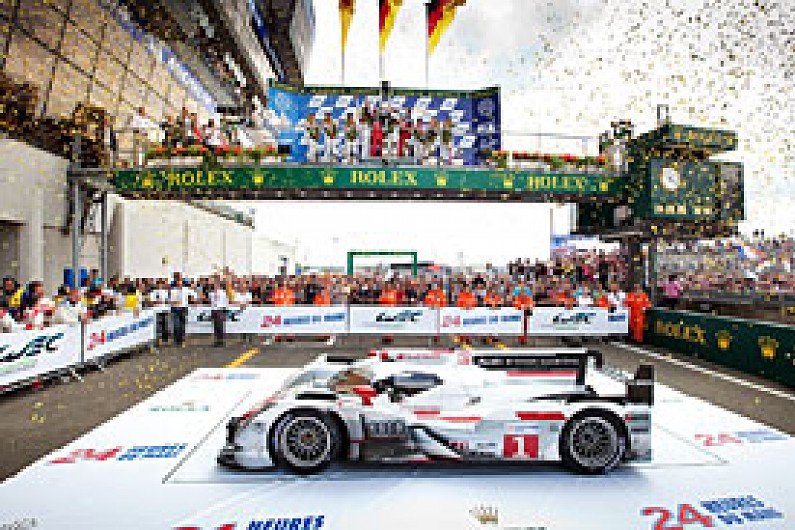 Audi claimed the first Le Mans 24 Hours victory for a hybrid car as #1 crew Andre Lotterer, Benoit Treluyer and Marcel Fassler repeated their 2011 triumph in the 80th running of the famous event.
The trio led a one-two for the new e-tron and topped an all-Audi podium.
But while that result might have been widely predicted given the rival Toyota TS030's lack of preparation mileage and Audi's enthusiasm for proving the effectiveness of its e-tron concept, the winners certainly did not have it easy.
Toyota exceeded expectations with its pace and Audi allowed its drivers to push other to the limit in a battle from which none of the combatants could get through totally unscathed.
None suffered as big an accident as Toyota man Anthony Davidson though, with the Briton sustaining two fractured vertebrae in a horrifying clash with a GT car.
The #1 Audi was the only one of the team's four cars not to run into moderate trouble in the opening hours, as both ultras needed precautionary garage visits for checks, and the sister #2 e-tron had to pit to remove a large amount of rubber build-up that was interfering with its suspension.
That allowed the impressively quick Toyotas to take the fight to the #1 Audi, and near the end of hour five Toyota's Nicolas Lapierre was going wheel-to-wheel with Audi's race leader Treluyer in a spectacular side-by-side dice from which the TS030 emerged on top.
But just as it did so, the television cameras cut to the sight of the wreckage of the sister #8 TS030, which had flipped through the air and slammed into the barriers after contact between Davidson and AF Corse Ferrari GTE Am driver Piergiuseppe Perazzini on the approach to Mulsanne corner.
A long safety car period followed while Davidson was extricated and the crash barriers rebuilt following violent assaults from both the Toyota and Ferrari.
Toyota lost the lead in the pitstop during this caution, and then saw its starring run all but ended at the restart when Kazuki Nakajima clashed with the DeltaWing, ending the experimental car's promising race and forcing the Toyota into its garage for extensive bodywork and floor repairs.
An engine failure then stopped the car just before half-distance.
There was still an Audi e-tron internecine squabble to keep the race alive up front, though. The #2 car got the break it needed when the hitherto flawless #1 was spun into the Porsche Curves barriers by Fassler shortly before dawn. The damage was repaired during scheduled stops, but it brought the #1 back into range - and when Fassler had an incident with the #74 Corvette and mangled the rear bodywork again on Sunday morning, the race was wide open again.
In the end, though, it was an accident for the #2 that decided the race, as Allan McNish spun into the Porsche Curves barriers just over two hours from the finish when trying to pass a GTE Ferrari.
Typically rapid Audi repairs meant he, Tom Kristensen and Dindo Capello (in his Le Mans swansong) kept their second place, but there would be no more challenges to Lotterer, the unwell Treluyer and Fassler.
The best of the ultras finished third with Oliver Jarvis, Marco Bonanomi and Mike Rockenfeller, three laps down on the winner. There was little to choose between the e-trons and ultras in terms of headline pace, but the e-trons had a smoother run - particularly compared to the #3 Audi, which was placed in the barriers by both Romain Dumas and Marc Gene in near-identical incidents on Saturday evening and Sunday morning respectively.
Those crashes left the Audi back in fifth, and opened the door for the relentless #12 Rebellion Lola-Toyota of Nick Heidfeld, Neel Jani and Nicolas Prost to claim fourth.
Rebellion had a great shot at getting both its cars in the top six, had the #13 not required a clutch change a few hours from the finish.
JRM completed the top six with its HPD, as Peter Dumbreck, Karun Chandhok and David Brabham overcame the team's tough start to LMP1 life with an impressive race performance.
Strakka, the top independent team from qualifying, charged hard to try and make up for a pre-race oil leak that left it starting six laps down, and nearly caught JRM before a puncture and then engine issues halted it.
LMP2 was as competitive as expected. OAK's Morgan set the early pace before its #24 car lost oil pressure and several punctures stymied the #25. The metronomic Starworks HPD therefore added Le Mans LMP2 victory and seventh place overall to the team's excellent Daytona and Sebring results.
The #46 TDS ORECA fended off the #49 Pecom entry and Signatech's #26 to take second, while the Brundle family's Greaves Zytek-Nissan had a number of niggling problems.
GTE Pro started as an epic four-way fight, but ultimately the lead AF Corse Ferrari's pace and ability to run longer stints than its rivals saw it come from the back to take a commanding victory - as the team masterfully turned its week around following Giancarlo Fisichella's massive Wednesday crash. The Italian F1 veteran took the win alongside team-mates Gianmaria Bruni and Toni Vilander.
It was a Ferrari one-two, as Luxury's polesitters Frederic Makowiecki, Dominik Farnbacher and Jaime Melo took second despite losing time with late brake changes.
They resisted a recovery charge from Aston Martin, which lost crucial ground when Stefan Mucke put the car into the Indianapolis barriers on Sunday morning.
Corvette was in the thick of the initial dicing, but a series of incidents left the #74 rather battered and the #73 was delayed by steering problems.
GTE Am saw the most thrilling finish, with little to separate the Larbre Corvette and the Imsa Porsche even in the closing minutes. A charge from Pedro Lamy took the Corvette past Imsa's Anthony Pons even before a puncture hobbled the Porsche almost within sight of the flag - although Lamy then had to dive for the pits to hand over to team-mate Julien Canal on the very last lap to ensure the latter completed the minimum permitted driving time.
Patrick Bornhauser completed the class winning line-up, with the Krohn Ferrari filling the podium. Flying Lizard's #79 Porsche had dominated the class until a Saturday evening crash.
POSITIONS AFTER 24 HOURS

Pos Car            Drivers                      Class  Laps  Gap
 1. #1  Audi       Lotterer/Fassler/Treluyer    LMP1   378   
 2. #2  Audi       McNish/Capello/Kristensen    LMP1   377   +     1 Lap
 3. #4  Audi       Jarvis/Bonanomi/Rockenfeller LMP1   375   +    3 Laps
 4. #12 Lola       Prost/Heidfeld/Jani          LMP1   367   +   11 Laps
 5. #3  Audi       Gene/Dumas/Duval             LMP1   366   +   12 Laps
 6. #22 HPD        Brabham/Dumbreck/Chandhok    LMP1   357   +   21 Laps
 7. #44 HPD        Potolicchio/Dalziel/K-Smith  LMP2   354   +   24 Laps
 8. #46 Oreca      Thiriet/Beche/Tinseau        LMP2   353   +   25 Laps
 9. #49 Oreca      Perez Companc/Kaffer/Ayari   LMP2   352   +   26 Laps
10. #26 Oreca      Ragues/Panciatici/Rusinov    LMP2   351   +   27 Laps
11. #13 Lola       Belicchi/Bleekemolen/Primat  LMP1   350   +   28 Laps
12. #41 Zytek      Zugel/Julian/Gonzalez        LMP2   348   +   30 Laps
13. #25 Oreca      Martin/Charouz/Graves        LMP2   346   +   32 Laps
14. #35 Morgan     H Hansson/Leinders/Martin    LMP2   341   +   37 Laps
15. #42 Zytek      Brundle/Brundle/Ordonez      LMP2   340   +   38 Laps
16. #23 Oreca      Tresson/Mailleux/Lombard     LMP2   340   + 2m47.469s
17. #51 Ferrari    Fisichella/Bruni/Vilander    GTEP   336   +   42 Laps
18. #59 Ferrari    Makowiecki/Melo/Farnbacher   GTEP   333   +   45 Laps
19. #97 Aston      Mucke/Fernandez/Turner       GTEP   332   +   46 Laps
20. #50 Corvette   Bornhauser/Canal/Lamy        GTEA   329   +   49 Laps
21. #67 Porsche    Pons/Armindo/Narac           GTEA   328   +   50 Laps
22. #71 Ferrari    Bertolini/Beretta/Cioci      GTEP   326   +   52 Laps
23. #73 Corvette   Garcia/Magnussen/Taylor      GTEP   326   + 3m10.910s
24. #45 Oreca      Briere/Nakano/Petersen       LMP2   325   +   53 Laps
25. #57 Ferrari    Krohn/Jonsson/Rugolo         GTEA   323   +   55 Laps
26. #40 Oreca      Frey/Hirschi/Meichtry        LMP2   320   +   58 Laps
27. #79 Porsche    Neiman/Pumpelly/Pilet        GTEA   313   +   65 Laps
28. #70 Corvette   Bourret/Gibon/Belloc         GTEA   309   +   69 Laps
29. #43 Norma      Rosier/Haezebrouck/Thirion   LMP2   308   +   70 Laps
30. #21 HPD        Leventis/Kane/Watts          LMP1   303   +   75 Laps
31. #61 Ferrari    Kauffman/Aguas/Vickers       GTEA   294   +   84 Laps
32. #83 Ferrari    Rodrigues/Illiano/Ferte      GTEA   292   +   86 Laps
33. #55 Porsche    Daniels/Palttala/Camathias   GTEA   290   +   88 Laps
34. #74 Corvette   Gavin/Westbrook/Milner       GTEP   215   +  163 Laps
35. #17 Dome       Minassian/Bourdais/Ara       LMP1   202   +  176 Laps
36. #38 Zytek      Hancock/Dolan/Kurosawa       LMP2   271   Retired
37. #33 HPD        Tucker/Bouchut/Diaz          LMP2   240   Retired
38. #30 Lola       Sims/Buurman/Iannetta        LMP2   239   Retired
39. #88 Porsche    Ried/Roda/Ruberti            GTEA   222   Retired
40. #15 OAK        Montagny/Kraihamer/Baguette  LMP1   219   Retired
41. #66 Ferrari    Walker/Cocker/Wills          GTEP   204   Retired
42. #48 Oreca      Firth/Hartley/Hughes         LMP2   196   Retired
43. #77 Porsche    Lietz/Lieb/Henzler           GTEP   184   Retired
44. #75 Porsche    al Faisal/Curtis/Edwards     GTEA   180   Retired
45. #31 Lola       Holzer/Schultis/Moro         LMP2   155   Retired
46. #58 Ferrari    Ehret/Jeannette/Montecalvo   GTEA   146   Retired
47. #24 Morgan     Nicolet/Lahaye/Pla           LMP2   139   Retired
48. #7  Toyota     Wurz/Lapierre/Nakajima       LMP1   134   Retired
49. #80 Porsche    Bergmeister/Long/Holzer      GTEP   114   Retired
50. #28 Lola       Giroix/Badey/Johansson       LMP2   92    Retired
51. #8  Toyota     Davidson/Buemi/Sarrazin      LMP1   82    Retired
52. #0  DeltaWing  Franchitti/Krumm/Motoyama    CDNT   75    Retired
53. #81 Ferrari    Perazzini/Cadei/Griffin      GTEA   70    Retired
54. #99 Aston      Nygaard/Poulsen/Simonsen     GTEA   31    Retired
55. #16 Pescarolo  Collard/Bouillon/Hall        LMP1   20    Retired
56. #29 Lola       Ihara/Deletraz/Rostan        LMP2   17    Retired

Access even more news on Autosport.
Register for free to increase your monthly limit from 15 to 25 stories - or subscribe today and get unlimited access.
Get unlimited news
Full access to our news and in-depth Autosport Plus features - all in an ad-free enviroment.
Subscribe to Autosport Plus
Get 10 free extra stories
A quick upgrade and you'll boost your monthly news limit instantly - for free.
Register for free