Caterham is supporting Greaves Motorsport's programme at this year's Le Mans 24 Hours; its technology CEO Mike Gascoyne playing a key role in its weekend and Formula 1 reserve driver Alexander Rossi joining Tom Kimber-Smith and Eric Lux in the squad's #41 Zytek-Nissan.
In the latest installment of his exclusive blog here on AUTOSPORT.com, Gascoyne recalls a race that left him with mixed feelings
Sunday, June 23: Mixed feelings after race day
After qualifying we had high hopes for the race pace in the car. We knew the conditions would be mixed and that proved to be true very early on. Tom put in a good, strong first stint and was able to move up through the field.
We chose to go onto intermediates and I think that would have paid off for us in the long run, but unfortunately just before the end of Tom's stint we had a suspension issue that meant the car had to spend quite a long time in the garage and we lost a few laps repairing it.
Alexander went out and was immediately very, very quick, and was able to pull us back up through the field. Unfortunately, as we were making some progress, Eric had a small off under the safety car on cold tyres which cost us a little bit of time. Tom then went out and unfortunately had a suspension issue and then a puncture, which all just added up to too much time lost.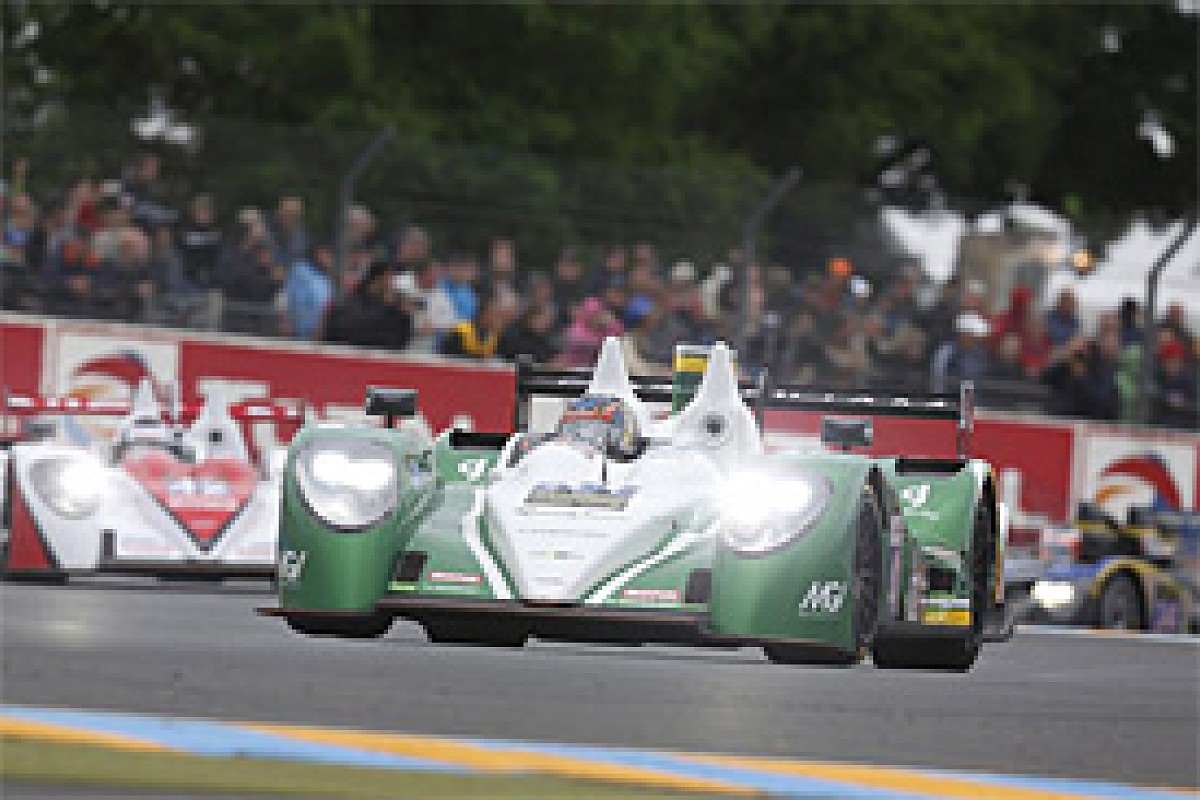 The car had the pace to be on the podium © LAT
But you could see from Alexander's long stint in the middle of the night, he drove nearly a four-hour stint at a really great pace, and again later on in the morning, that the car had the pace to finish on the podium in LMP2.
So mixed feelings, it's great for Caterham to be represented in such an iconic race and to get a finish at the first attempt, but naturally it's disappointing that we couldn't have a more competitive finish. I'm sure for the future you'll see the name back here and we'll get that competitive finish.
Thursday, June 20: Back in the hunt
Qualifying was pretty good for us in the end, especially considering the conditions we had, and we needed that after the track time we'd lost. The rain just before the second qualifying session upset our plans a little because we were hoping to catch up on some dry running.
We ran with Tom in the car in the first session but had to wait quite a long time for the track to dry. As it dried out he did a time that got us into the race, and got us in front of most of the GT field, which was our minimum aim. Alexander was just about to get in when the session was red-flagged and the last half-hour was abandoned. That meant he wouldn't drive the car at all this week until the final qualifying session, which obviously wasn't ideal for him.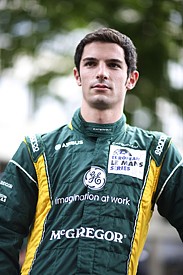 Rossi was quickly up to speed in qualifying © LAT
There were more mixed conditions in final qualifying. It had already rained just as we were looking to switch to slicks in the earlier session and now the second started mixed as well. It was dry for a lot of the lap but really quite wet for the rest of it. We were able to switch to slicks, initially with Tom who qualified the car, and then we wanted to get Alexander and Eric some more time in the car on slicks. We kept them on the same set of tyres to get some wear data.
Although we're only 13th in class, Tom did that lap while it was still very damp. We lost a few of positions at the end when some people did new-tyre, low-fuel runs to get a better grid position. We didn't want to do that - it's far less critical in endurance racing than it is in Formula 1. So overall we're well set up for the race, the drivers are happy with the car and it's going to be a long 24 hours.
We're set up quite well for the race, even though our preparations were compromised. Losing out on track time was pretty critical, especially for Alexander. But it's clear that he's quick and has adapted to the car very well.
Driving at night was very new to him, especially with the conditions making the track wet and dry at the same time. It was difficult for all the drivers to work out what the conditions were at each corner, and then it's nearly four minutes until you get there again and it can have changed completely. But he adapted very quickly and I'm sure he'll gain experience and get stronger and stronger as the race goes on.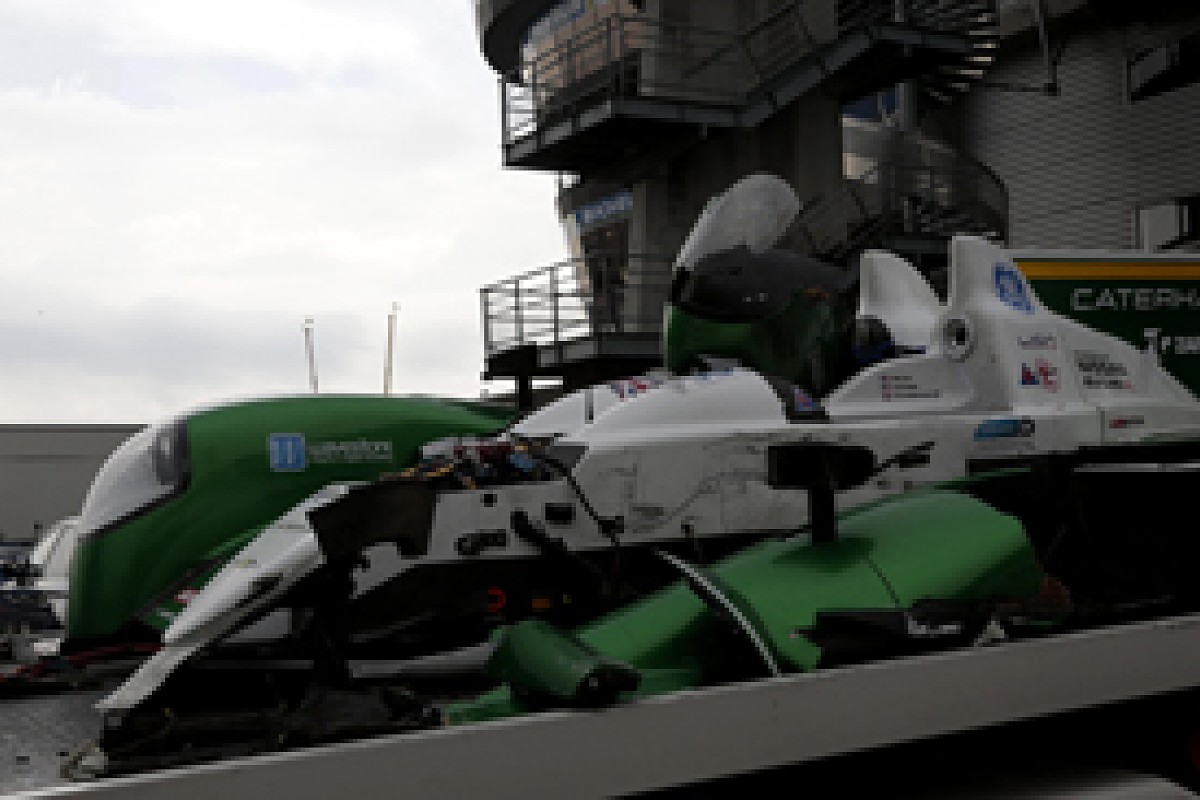 Wednesday, June 19: Starting with a bang
Obviously it was a very challenging first day for Caterham Motorsport, which is partnering with Greaves Motorsport at Le Mans.
In the first practice session we did installation laps with Tom and Eric, and already on Eric's first proper run he was having trouble with working with the brake bias and trying to stop them locking up.
Unfortunately he locked the rears at the second Mulsanne chicane and went off. That caused some damage, meaning we couldn't run in qualifying.
But conditions weren't great yesterday anyway. There was a lot of rain around and a lot of red flags in the second session especially, so we didn't miss as much running as we might have, and the weather forecast looks better for second qualifying.
Initially we thought the car was quite heavily damaged and that the chassis might be a write-off. That didn't prove to be the case and we were able to work on the car overnight to have it ready for today's sessions.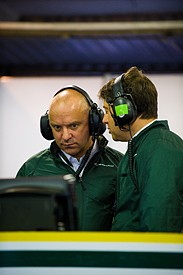 Gascoyne is Caterham Technology CEO
We had to give the car a full strip down, with the chassis being damaged and the wishbone going back, we had to do a small chassis repair but the damage was actually very minor.
We obviously took the engine off and stripped the car right down, but we would have done that anyway because for today the car is built in its race spec.
A new engine was already going to be going in as well as a new gearbox and new corners on the car. Apart from the chassis repair, most of the work that we did, we would have been doing anyway. We didn't lose too much time from that point of view. It was just the track time loss that was frustrating.
I'm enjoying the event itself so far. Le Mans is a very different experience to Formula 1, running at night, the times and lengths of the sessions - there are six hours of qualifying! The atmosphere here is unique and I'm very much looking forward to the race itself.
From the point of view of car set-up, working with the drivers, finding the balance, it's very similar. Obviously the cars are a lot more robust than F1 machines, but that aside, the process of working is very similar.
Day one was a challenge, but I've been in the garage for 25 years - I've had many frustrating days. There's a lot of running left and we're ready to get back into it this evening.