In 1989 the FIA decided to bring an end to the Group C fuel consumption formula that had been so successful in encouraging a wide diversity of engine solutions from manufacturers.
Instead, the World Sportscar Championship would eventually be open only to 3.5-litre normally aspirated engines, as already used in Formula 1.
The general idea was that if the same type of power unit could be used in both series, more car makers would be willing to get involved, and it would ultimately be good for both types of racing.
Not surprisingly one of the driving forces behind the initiative was Bernie Ecclestone, who had suddenly found himself charged with promoting sportscar racing, and whose idea for Procar - in effect F1-engined 'silhouette' touring cars - had failed to get off the ground.
He knew that manufacturers who would otherwise shy away from single-seaters would now be forced to create an engine that might somehow find its way onto the grand prix grid.
It seemed like a good idea at the time, and in some ways it was. But when after a couple of interim seasons the series switched solely to cars built to the new regulations, interest was lacking.
After a poorly supported race at Magny-Cours in October 1992, the championship was cancelled - and we would have to wait 20 years for the return of a proper world championship for pukka prototypes.
To some degree Ecclestone got his wish, because manufacturers did find their way into F1. In fact the 3.5-litre sportscar era left quite an impressive legacy in a number of ways.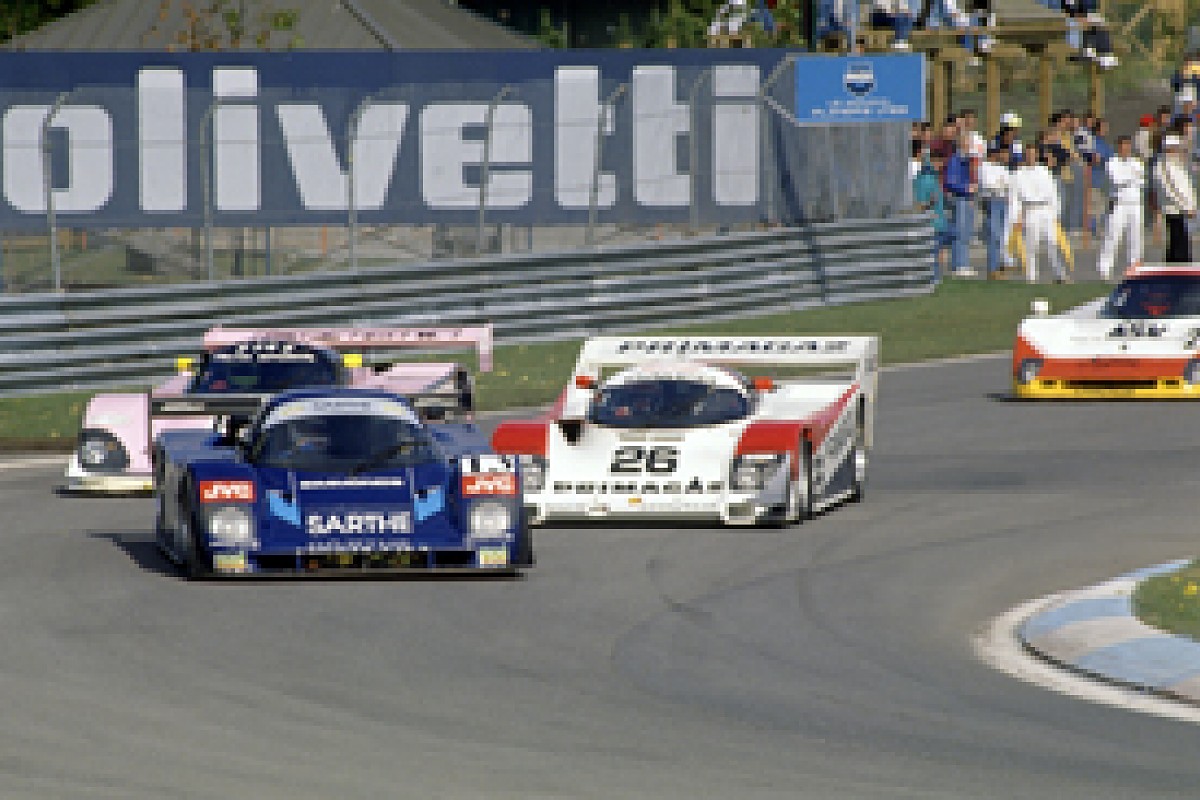 The smaller teams would find there was little room for them in the new era © LAT
The future seemed so bright when the new rules were announced, and potential entrants expressed their intention to compete. Crucially, their number did not include Porsche, whose works and customer teams had been the backbone of the sport for so long.
In the first interim year in 1990 we had a sample of the future as Spice Engineering became the first team to run a car to the new rules. On paper it was not a big step, and in essence the team just beefed up its hugely successful Group C2 design, replacing the 3.3-litre Cosworth DFL with a 3.5-litre DFZ.
At some of the tighter tracks the cars could mix it with the established Mercedes, Jaguar, Nissan and Porsche turbo cars. However, there was a downside.
"C2 was a terrific class, and it was affordable too," says team owner Gordon Spice. "As soon as we went to C1, it was the death knell, because that DFZ was an absolute bastard! It vibrated and kept breaking components. The cost of running a car went up by about four times."
Even then the writing was on the wall, as it was clear that the class would be extremely expensive for those without manufacturer backing.
However, as far as the FIA and Ecclestone were concerned it was all about the manufacturers, and in the last two races of 1990 we got our first proper taste of the new era when Jean Todt's Peugeot team arrived.
With its 905 chassis, swoopy aerodynamics, V10 engine and a stellar driver line-up that included Keke Rosberg, the French outfit seemed to point to a rosy future. As long as there were manufacturers who could afford to do it...
In 1991 there were three, and with a field made up of handicapped old turbo cars, we still had a proper series. A fantastic one in fact, as Jaguar's awesome XJR14 moved the goalposts. Designed by Ross Brawn, and powered by a version of the Ford HB V8 that was used by Benetton and Jordan in F1, it was a stunning machine.
Meanwhile Mercedes, who had pushed hard for the 3.5-litre rules, took a wrong turn. The C291 was a superb little chassis, but its 12-cylinder engine was complex and unreliable, sometimes breaking as it drove out of the pitlane - much to the frustration of its keen young drivers, Michael Schumacher and Karl Wendlinger.
For most of the season the Jaguar versus Peugeot battle kept us entertained, with Mercedes occasionally joining in when the car kept going.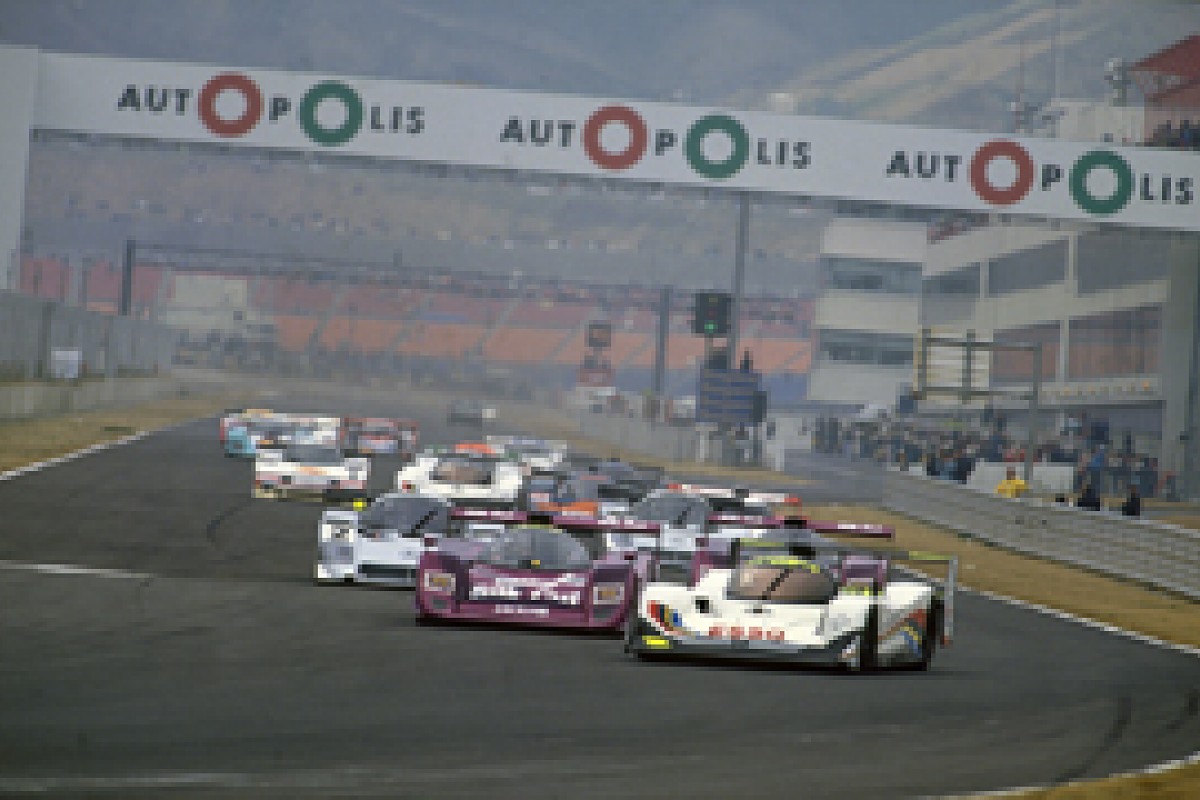 The 1991 Autopolis race provided a glimpse of what might have been © LAT
Then in the final race of the season, at a foggy Autopolis in a remote part of Japan, we had a frustratingly brief taste of something quite remarkable.
Due to join the championship in 1992, Toyota was allowed to run its new TS010 for Geoff Lees and Jan Lammers, although the car was not eligible for points.
So for one race only TWR Jaguar, Sauber Mercedes, Peugeot Sport and TOM'S Toyota competed together with 3.5-litre machinery. Fittingly for the surreal mountain-top venue, for once the Mercedes held together.
Schumacher and Wendlinger won the race, followed by two Jaguars, a Peugeot, the other Mercedes and, in sixth place, the Toyota.
Had the series gone on like that, and possibly added another manufacturer or two, it would have been something quite special. The problem was that as Toyota arrived, Mercedes and Jaguar were already planning to leave.
When everything shook out for 1992, we were left with Peugeot, Toyota and a somewhat half-hearted Mazda effort using a reworked Jaguar XJR14 with a Judd V10 engine.
This was the first year when the old turbo cars were no longer eligible, and with no credible customer cars available, the grid shrank. There was no longer any room for the likes of Joest, Kremer and Lloyd and the others that would have loved to have fielded a competitive customer Porsche.
The five regular works cars were joined by just a handful of privateers, and it said a lot that Ferdinand de Lesseps, driving a three-year-old Spice C2 car, finished seventh in the points table...
The world championship came to an ignominious end at Magny-Cours, with everyone well aware that it was dead on its feet. Toyota then took its cars to Japan for the last two races of the Japanese series, which still featured turbo cars.
They fielded a TS010 in the Mine finale for three youngsters called Irvine, Villeneuve and Kristensen - the last two making their sportscar debuts.
Mine gave another indication of a missed opportunity. Nissan had on the quiet built a 3.5-litre engine and chassis only to find the formula dying. The car was given its first and only race outing, in a plain white livery, before being consigned to the history books.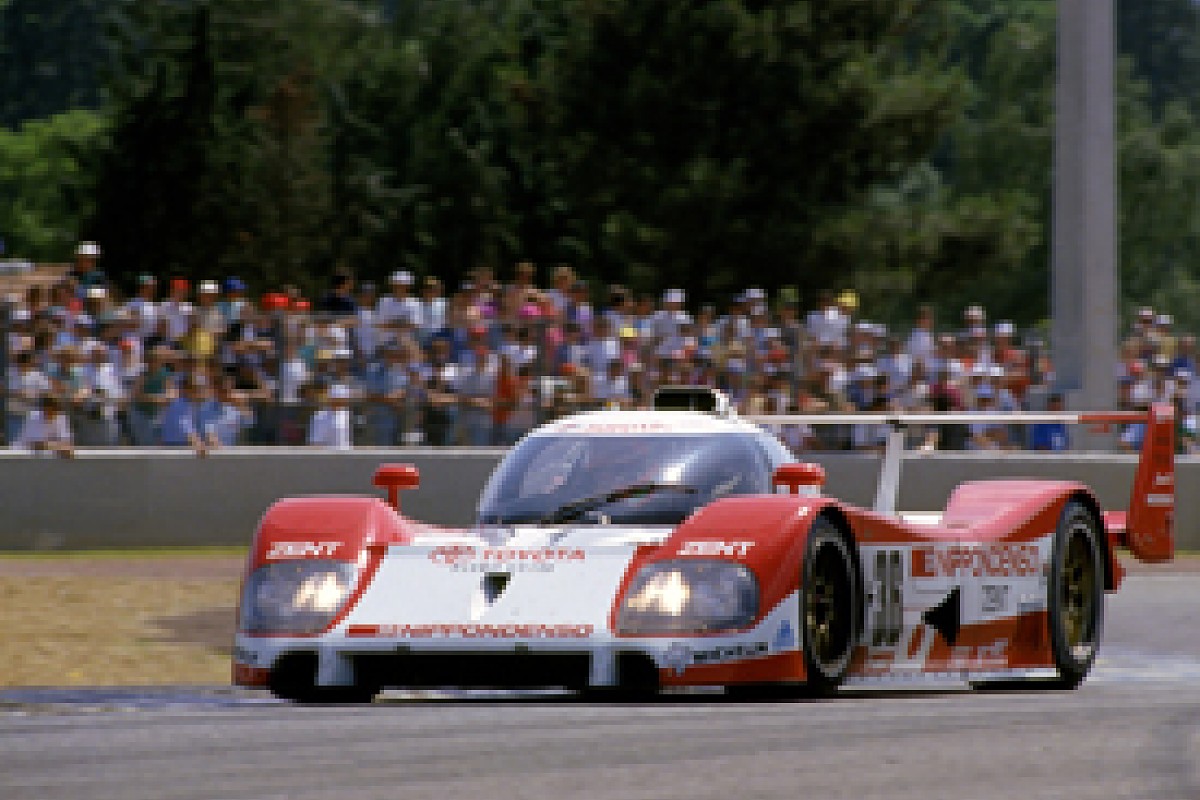 Toyota's TS010 had one last outing at Le Mans in 1993 © LAT
Toyota and Peugeot did at least have one more hurrah, with a hard-fought race at Le Mans in 1993, before both projects were closed down.
Meanwhile in a variety of different ways some of the key players merged seamlessly into new roles in grand prix racing.
Tom Walkinshaw had become involved in the Benetton team in the middle of 1991, and had hopes that Jaguar might want to follow him - and given that the sportscar and F1 teams used the same Ford engine, it wasn't such a long shot.
But at the end of '91 Jaguar not only withdrew its works support from the sportscar project, it showed absolutely no interest in going single-seater racing. Eight years later new management would come to a different decision...
Ultimately Walkinshaw was not too bothered about the lack of Jaguar interest as Benetton was thriving on its own. He'd moved Brawn sideways to become its technical director, and in September 1991 he'd signed a new driver with one grand prix start to his name.
Michael Schumacher might have caught the world's attention when he raced for Jordan at Spa, but Walkinshaw already knew all about him from sportscar racing. Within three years, Benetton won the world championship.
Meanwhile Mercedes withdrew from sportscars after its nightmare 1991 season. Peter Sauber duly pressed on with an F1 project, confident that the Daimler board would give its blessing to a full-scale Silver Arrows team for 1993 and beyond. In the end, it didn't happen.
Having invested so much in the Hinwil facility, the Stuttgart marque eventually sanctioned 'Concept by Mercedes-Benz' logos on the Sauber when it appeared in 1993, using an Ilmor engine rather than anything with sportscar origins.
By the following year that works involvement had become more overt, and with Karl Wendlinger joined by another Mercedes sportscar protege in Heinz-Harald Frentzen, in effect we had the works team that Sauber had always wanted; all that was missing was a silver livery.
But then a more interesting opportunity presented itself, and Mercedes jumped ship and joined forces with McLaren for 1995.
Meanwhile Peugeot was badly left in the lurch when the WSC collapsed. As with Jaguar and Mercedes, there was no board interest in a full F1 project, although there's no doubt that the capability was there to have done it.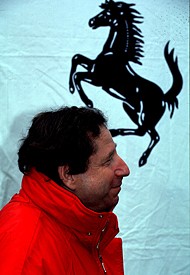 Todt moved from Peugeot's sportscar programme to Ferrari in F1 - with huge success © LAT
Aware that there was no future at Velizy, team boss Todt accepted a job with the struggling Scuderia Ferrari. He hung around until Le Mans in June 1993, and left for Maranello immediately afterwards.
Like Walkinshaw, he was very aware of the quick guy in the Mercedes called Schumacher. And he also had a lot of respect for Brawn, the man who had designed the XR14 that had given Peugeot such a headache in 1991. Eventually they would all get together. The rest, as they say, is history...
Meanwhile Ecclestone had his wish when Peugeot took its 3.5-litre engine into F1 with McLaren in 1994 - the only sportscar unit to make the crossover, although of course it took a lot of work to develop it into a 'sprint' F1 engine.
You could argue that the French manufacturer never quite succeeded, given its chequered history with McLaren, Jordan and latterly Prost.
Like Peugeot, Toyota could have gone into F1 with a works-backed team circa 1994, and its partner TOM'S was pushing hard in the direction, having hired John Barnard.
But the board said no, and also chose not to pursue the engine supply route, when clearly it could have done so. The planned TOM'S F1 factory would eventually be used as a base by Lotus/Caterham.
Meanwhile, manufacturers have continued to dip in and out of various forms of motorsport. Toyota returned to Le Mans in 1998, not with TOM'S but with a team grown out of its Cologne rally outfit, and ironically using some ex-Peugeot folk, such as 905 designer Andre de Cortanze.
The Japanese marque finally arrived in grand prix racing in 2002, only to quit seven years later. This year it headed once more back to sportscar racing.
Peugeot had already returned to prototypes with some success, taking on Audi - whose core is the ex-Joest Porsche team, of course. For this year Todt, now FIA president, sanctioned a World Endurance Championship, and we should have seen Toyota and Peugeot trading paint again for the first time since Le Mans 1993.
Having been left stranded when the last championship collapsed in 1992, this time around the boot was on the other foot as Peugeot left the series in the lurch with its withdrawal late in the winter, leaving Audi and newcomers Toyota on their own.
As always in sportscar racing, you never quite know what's going to happen next...