My first thought on climbing aboard the Porsche 962C? It's a Norbert Singer car!
I feel immediately at home. Sitting there in a 21-year-old Group C car didn't feel so different from being inside the Porsches I drove in the late 1990s. But then Norbert was the brains behind the 962 as well as the 911 GT1 cars I raced.
The ergonomics inside, the sliding Recaro seat and the dog-leg synchro gearbox - basically the same transmission that we had in 1997 on the 911 GT1 - all take me back. And there's so much space in the cockpit, a far cry from my Audi R15 TDI. That's the first thing that strikes me: how much room there is.
The seating position reminds me of a debate I had with Porsche guys way back when. The Mercedes of the time all had a proper moulded, racing seat, so I always felt we were giving something away. Even in the 1998 carbon-chassis car, the 911 GT1-98, we still had a Recaro seat, though bolted-in by that stage. You could feel it distorting in the fast corners, which I always reckoned gave you a diluted sensation in the corners.
The 962 feels more basic than a modern Le Mans car inside, but it is very functional. Again, that's the hallmark of a Singer car. All the switches and controls are just where you want them. In an age where we have a tendency towards overcomplication and information overload, it's sometimes worth looking back at how things used to be done.
The noise of the engine is the other thing that distinguishes the Porsche 962 from the Audi turbodiesel LMP1s I've been racing over the past five seasons. This car is loud by comparison and the noise, heightened by being in an enclosed cockpit, only adds to the sensation of speed as I accelerate out of the Silverstone pitlane.
The boost knob is set at 2.1-bar, which car owner Steve Tandy tells me means 650bhp. It feels like it, too: the first time I hook fifth before Copse Corner I realise how quickly I am going.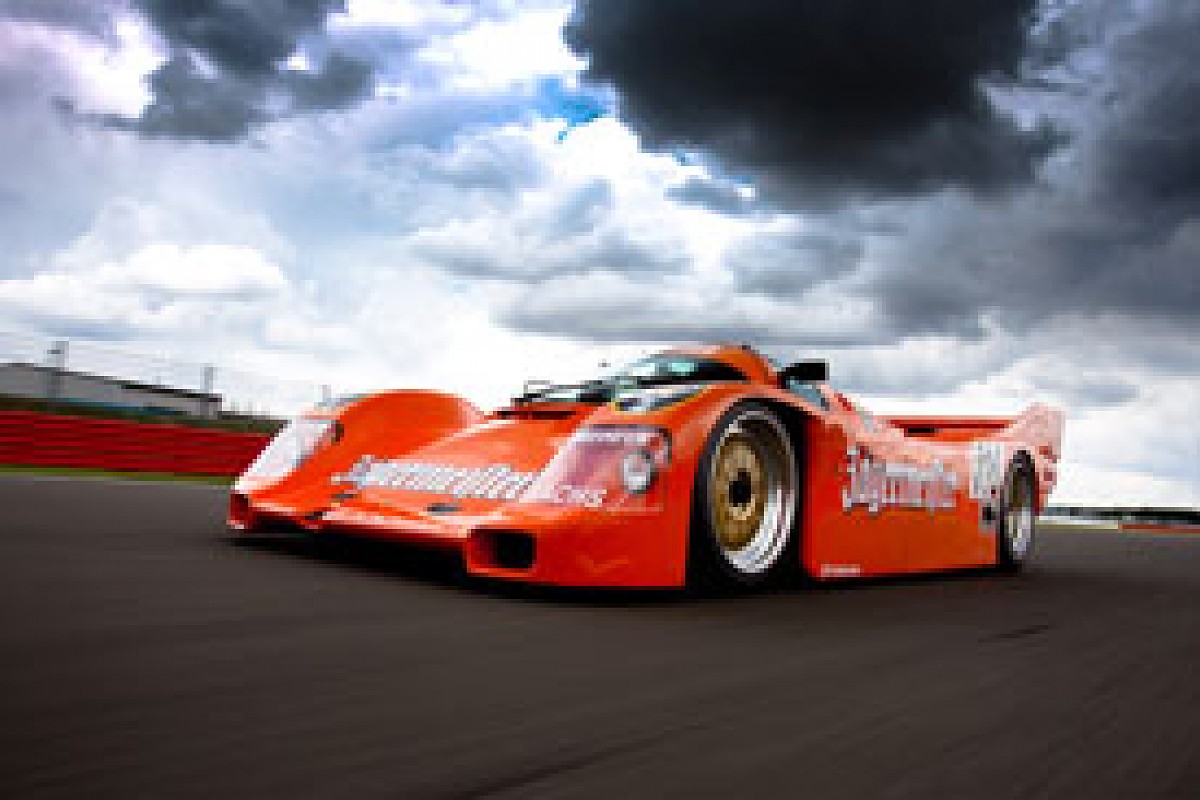 Norbert Singer, the brains behind the 962, was also involved in the 911 GT1 cars McNish has raced © LAT
This is a late 962, built in 1989, but I'm struck by the turbo lag. That's something I've never even thought about before, certainly not in a decade with Audi and not even when I was driving for Porsche in 1997-98. There is lag at low speeds, but once the turbo is spinning in fourth and fifth gears the power delivery is almost instant and quite brutal.
Using the old Porsche synchro transmission causes me a few problems on the brakes. The stopping power of the car is better than my ability to get down through the gears, which only lengthens the braking zone.
The other thing I'd forgotten over a decade of driving open-top Audis is how hot it gets in a closed car. It's hot in the Porsche, and it's not a blazing summer's day at Silverstone. I'm not surprised I blanked some bad memories form the late 1990s. Racing those Porsches in the hot and humid conditions we encountered at places like Suzuka and Homestead in Miami wasn't a enjoyable experience. And back then, of course, we didn't have the air-conditioning systems that my friends over at Peugeot enjoy today.
The forward visibility is more or less unimpeded. I reckon I can see as much from inside the 962 as I can from my reclined position in the current Audi. On the other hand, the view out the back is terrible. The mirrors are fine, but all you can see is that big rear wing, so you have to try to peer through the narrow slit between the wing and the tail. That makes me think that the 962 was a car to overtake in rather than be overtaken in.
The car is much more gentle on cold tyres than I've become accustomed to: a modern LMP1 is terrifying on cold rubber. (I know that just as well as anyone, but I'd prefer not to talk about what happened at Petit Le Mans at Road Atlanta a couple of years back!) That's a function of modern tyres and the importance of aerodynamics these days. The Porsche, on the other hand, relies much more on mechanical grip.
Turning out of the garage for the first time I feel the lack of powersteering. That's a culture shock: for 12 years every car I've driven has had power steering, going all the way back to 1997 and my first time in a sportscar. It's a bit like getting back in an early 1990s Formula 3000 car!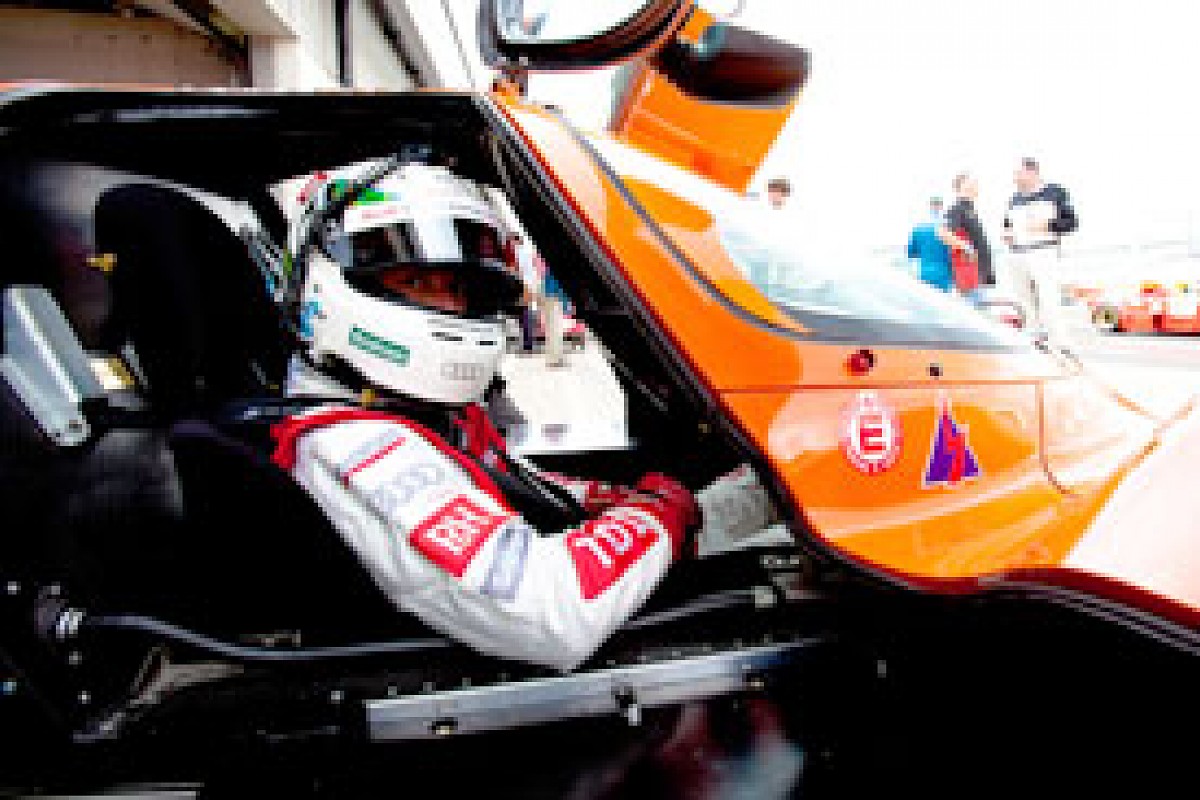 A lack of power steering and heavy turbo lag took adjusting to © LAT
The lack of power-assistance is good in terms of feedback, but it means the geometry you can run is very restricted. If you ran a geometry of a modern-day prototype without powersteering, you would only be able to do a couple of laps. You wouldn't have the strength to turn the wheel: there's too much downforce and too much castor and camber.
The forces coming back through the steering wheel are much higher than I'm used to, but the g-forces in the corners are much, much lower. It probably took similar effort to drive one of these things quickly in its heyday as it does to go fast in a modern prototype. It's just a different type of effort.
The other sensation that strikes me in my short run is how much the car moves around on the straights, though thinking back it's probably not so different to how it was in the late '90s. That's almost certainly a result of aerodynamics and tyre stiffness.
I only manage six or so laps in a truncated half-hour test session on the 'Bridge' Grand Prix layout at Silverstone, thanks to a mid-session red flag, but in that time I'm already starting to feel comfortable. You can throw the car around and it doesn't bite you.
The natural tendency of the car is towards understeer (again, another trademark of a Porsche Le Mans car), but you can control that with the throttle. The rear feels soft and a bit lazy, and through Becketts rolls about a bit too much. That makes you think it's going to snap into oversteer, but it doesn't. The car is very well balanced.
I can definitely tell that things had moved on a bit by the time I started out with Porsche. The 962 may have been a purposed-designed prototype - and my 911 GT1 essentially a road car with a tubeframe inside - but the later Porsche, I think, was much closer to the cars of today in terms of grip.
We had much more grip on turn-in than the 962. I'm sure the cars I drove had a lower centre of gravity and they ran on taller front tyres and, with a front splitter, had more bite at the front.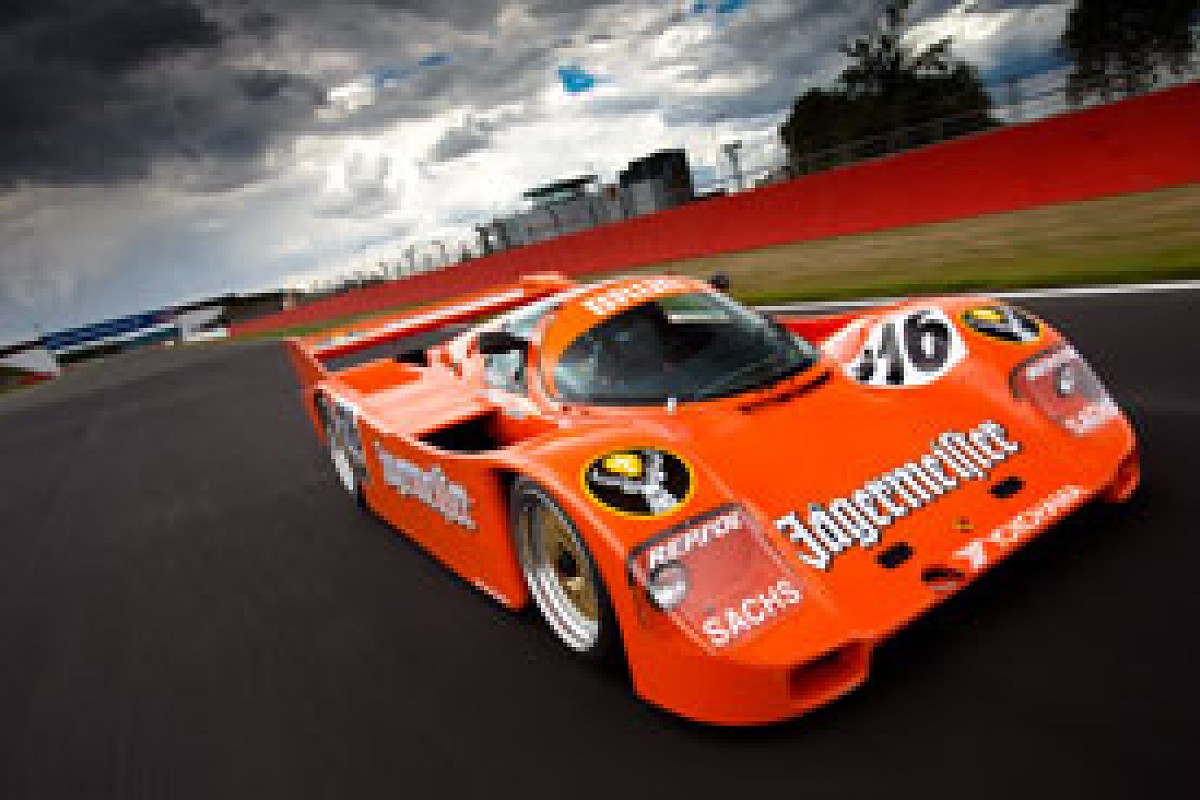 The 962C lost time in the slow stuff, but was rapid on the straights © LAT
I'm not saying the GT1 Evo would be quicker around the Circuit de la Sarthe at Le Mans, but I'm confident it would faster in the corners.
This car is so much slower in the corners than the current generation of prototype. I was going through Stowe in second gear. In the Audi R10 TDI, the last prototype I raced at Silverstone back in 2008, we were in fourth! Third may have been possible in the Porsche if I'd had time to work up to it, but that would have depended on dealing with the understeer and getting my downshifts faster in that synchromesh gearbox. Basically, in those days you were much slower in the corners.
One shouldn't forget how much things have moved forward even in my time in sportscars. I did a 3m38s lap around Le Mans aboard the Porsche in which I won the race in '98. Now, that's a good wet lap in a R15.
This car gives a lot of confidence straight away. In a few laps, I'm ready to start pushing. With loads of mechanical grip and excellent traction, it really is so easy to drive.
When the chequered flag comes out, I am just getting into the swing of it and really starting to push in the corners. I have to say I was a bit pissed off. It was like seeing the chequered flag at the end of qualifying, when you know that with just one more lap you could go faster. I wanted more...
A big thanks to Steve Tandy for allowing me to sample his gorgeous Jagermeister-liveried 962. These were the cars that were up the front at Le Mans when I first started getting interested in the race when I was just starting racing in the late-1980s.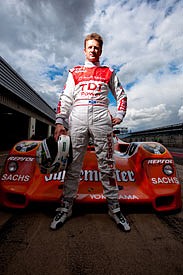 McNish was a Group C fan even as he made his way up the single-seater ladder © LAT
You might ask why a young single-seater driver was interested in sportscars when his only goal was Formula 1. Back then, Group C in general, and Le Mans in particular, was big news in Scotland. We had Ecurie Ecosse racing at La Sarthe and all of us knew Hugh McCaig, the man who revived the famous team that had won the 24 Hours with its Jaguar D-type back in 1956.
Hugh helped me out, like many Scottish drivers, when I started in Formula Ford, so it is a bit of a coincidence that I ran into a driver at Silverstone who Hugh sponsored a few years before that. Some of you may remember David Duffield racing Ralt Formula Atlantic cars sponsored by Caledonian Coal. He's my Dad's cousin and came over for a chat while I was sitting in the car. I thought he'd remind me that he gave my first set of overalls!
I'd always wanted to have a go in a 962 having worked with Norbert Singer at Porsche. So many drivers I've known, and quite I few that I've been team-mates with, have talked about the car, and its predecessor, the 956, so I've always been curious about it.
Sportscar racing wasn't on my radar in the late 1980s or early '90s when this car was racing. But then it wasn't really on my to-do list in the mid-1990s when I came into contact with Porsche. It wasn't what I wanted to do. My first outings in the '96-spec Porsche 911 GT1 and then Evo factory car opened my eyes to sportscar racing. So much so that I know regret not taking an earlier opportunity.
I spoke to Tom Walkinshaw, at a time when I was testing for the Benetton Formula 1 team, about driving the Jaguar XJ220C at Le Mans in 1993. I thought about it for a while and eventually turned him down. A few years later, I regretted it. It was a great opportunity to spread my wings with a team that knew how to win at Le Mans.
Would I have liked to have raced a 962 like this one in period? I'd have to say yes. It was a great time for sportscar racing that people still talk about today. There were a number of manufacturers involved and F1 drivers, past and present, raced their products.
The style of racing would have been different to what I know today, but I'm sure it would have been just as cut-throat.