On and off the track Le Mans 2012 was an absorbing experience. It may not have been the classic that we witnessed 12 months previously, but there were plenty of sub-plots. We noted down our thoughts and observations following another historic first for Audi in the 80th running of this great race.
Nicolas Lapierre: ready for sportscar stardom
For too long Nicolas Lapierre has been under the radar. He's been quietly brilliant in a variety of ORECA-run sportscars in recent years. It was obvious to anyone who's been willing to pay attention, but the spotlight has always been on the celebrities - the likes of Alex Wurz, Olivier Panis, et al. Time for that to change we reckon after his starring turn in this year's Le Mans 24 Hours.
The race will be remembered for many things, but we'll particularly cherish Lapierre's robust attempts to oust Benoit Treluyer from the lead, culminating in an audacious pass with two wheels on the grass. Not classic sportscar driving, perhaps, but it will live long on YouTube (we hope).
"At the beginning, our balance was not perfect, then it went much better after two stints and their pace [Audi's] seemed to be a bit reduced," Lapierre told AUTOSPORT. "Then we could see they were under pressure, starting to make mistakes, while we had a very comfortable situation with the two cars running together and working very well.
"It was a very nice battle with Benoit. We knew we had to put pressure on them because we had lost a bit of time in the pits. I knew it would be difficult to overtake him because our top speeds were quite close, and the hybrid system of the Audi is working quite well - they have a fast exit speed from the corners.
"The difference in pace during qualifying was less important in the race. Our hybrid system was working much better than theirs exiting hairpins, so I had the opportunity and I had to take it!"
Sadly for Nicolas and Toyota, his exploits were instantly overshadowed as soon as he had established himself in front of the Audi, when the sister Toyota flew off the circuit at Mulsanne and Anthony Davidson broke his back.
Audi definitely doesn't do team orders
Le Mans fans have plenty to thank Audi for. Once the Toyotas were out of contention, it would have been very easy for Audi to order its drivers to back off and deliver a one-two-three-four with the e-trons at the front of the field.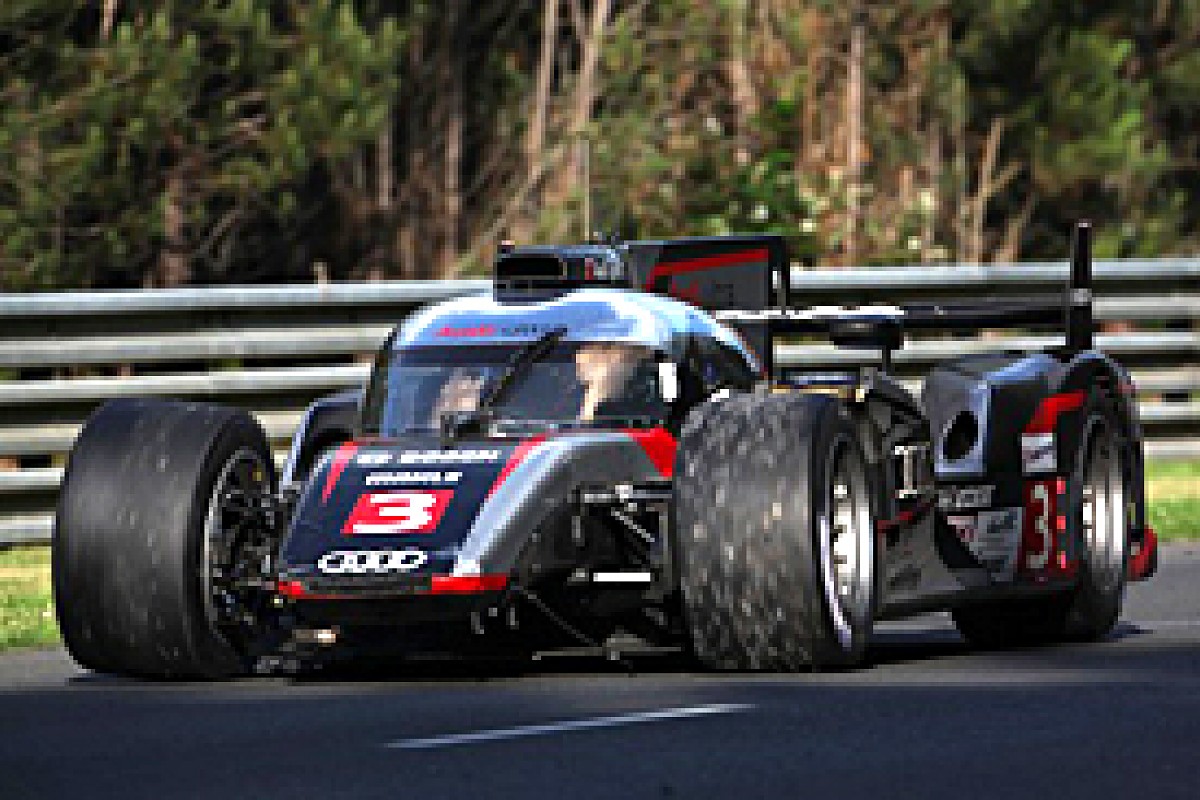 Audi's four cars were not subject to team orders, and some of them were left battle-scarred © LAT
Aside from the #3 ultra's second big incident of the race allowing Rebellion to interrupt the Audi symmetry by taking fourth place, Ingolstadt got its ideal result. But it allowed its drivers to race their way - flat-out and sometimes destructively - to that result, rather than achieving it with 18 hours of less-than-entertaining choreography.
That led to scenes such as the two e-trons going wheel to wheel like touring cars (or at one point, rallycross cars) on Sunday morning, the #3's deja vu trips into the barriers, Benoit Treluyer spinning the #1 in the pit entry and the accident that left Allan McNish so dejected post-race.
It could be argued that with no external opposition once the Toyotas faded, Audi could afford to smash its cars up a bit and still win, but that's not the point. It would have been cheaper and less stressful for Audi to rein its drivers in, but that's not its style, and not how Le Mans should be won.
As team boss Dr Wolfgang Ullrich put it: "I know my drivers quite well, and we trust each other." And the 2012 Le Mans 24 Hours was so much better for it.
Dindo retires happy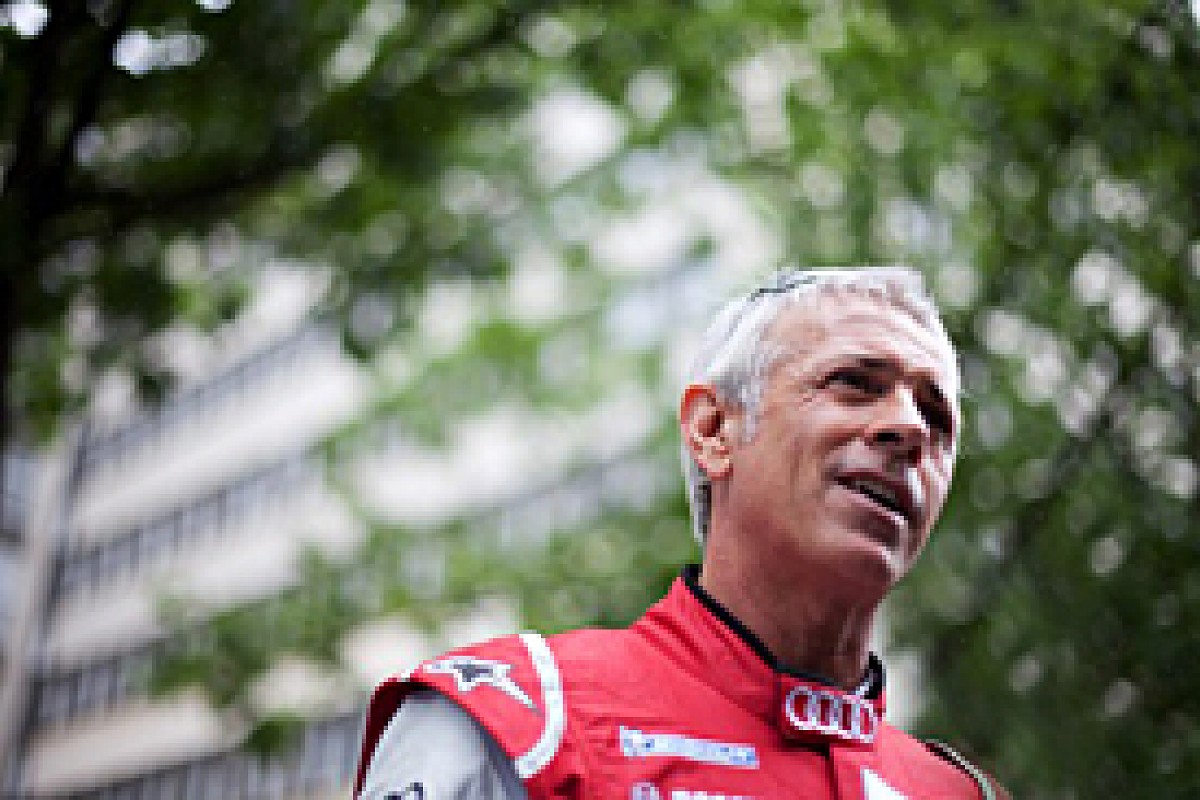 Rinaldo Capello has probably fought for his last win at Le Mans © LAT
The 80th running of the Le Mans 24 Hours almost certainly was the last for one of its stars, three-time victor Dindo Capello, who finished second on his 48th birthday.
He might have become a four-time winner but for McNish's accident in the closing stages of the race, but the Italian wasn't bitter about that, and also said it didn't make him want to come back one more time to finish the job, either.
"It would be a little bit arrogant to say I'll come back because I have to win," he said. "I have a lot of respect for this race. I am lucky and proud to have won here three times already. There are great drivers who have tried many times without winning.
"What I have achieved in my career is something special. Three Le Mans wins, five Petit Le Mans, five Sebrings, 37 ALMS victories - it's something great, so if that was my last Le Mans, then it's time to step back a little bit."
He's still not officially announced his retirement, but Dindo admitted that age is taking its toll, and that he is now less physically equipped to compete at the front in prototypes.
"I actually asked Allan to go in the car after Tom Kristensen during the night because I was struggling a little bit with vision, and I didn't want us to give up any tenths," he said. "I know that Allan likes the night quite a lot. I think it worked. I know I probably wouldn't have struggled in terms of lap times but in terms of confidence.
"At the moment these cars are so fast, and with so much traffic we have to be really precise in every manoeuvre we do, and I felt that in the night.... you know," he shrugged. "Sometimes age is age - you cannot change it. When you fight for tenths of a second, everything should be perfect, and if this is my last Le Mans, one of the reasons is age. It would be nice to be perfect until you are 70 or so - unfortunately it doesn't work like that."
Multi-class accident debate rumbles on
The practise of mixing professional and amateur drivers came up for discussion once again at this year's Le Mans 24 Hours, and for the third time in fewer than 30 hours of racing at La Sarthe a leading prototype's driver ended up in the medical centre after a collision with a GTE machine - ironically in all three cases a Ferrari F458.
Anthony Davidson's accident five hours into this year's race was another graphic demonstration of the dangers of multi-class racing at somewhere with as many high-speed areas as Le Mans. The 33-year-old Briton got airborne at something approaching 300k/mh when contact was made with Piergiuseppe Perazzini's GTE Am Ferrari. The impact of the Toyota's unscheduled landing broke Davidson's back.
But interestingly, even before this latest accident, the feeling among many of the top drivers in both prototypes and GTs is that speed differentials in the braking zones and similar straight-line terminal velocities are the key contributors to these accidents.
For some time Allan McNish, who was involved in a similar crash in last year's Le Mans, has been saying that the way the rule changes have limited the LMP1's top speeds makes it more difficult for them to pass GT machinery on the straights, so drivers have to take more risks when they do have an advantage under braking and into the corners. Indeed, Davidson intimated similar feelings prior to the race while chatting to AUTOSPORT.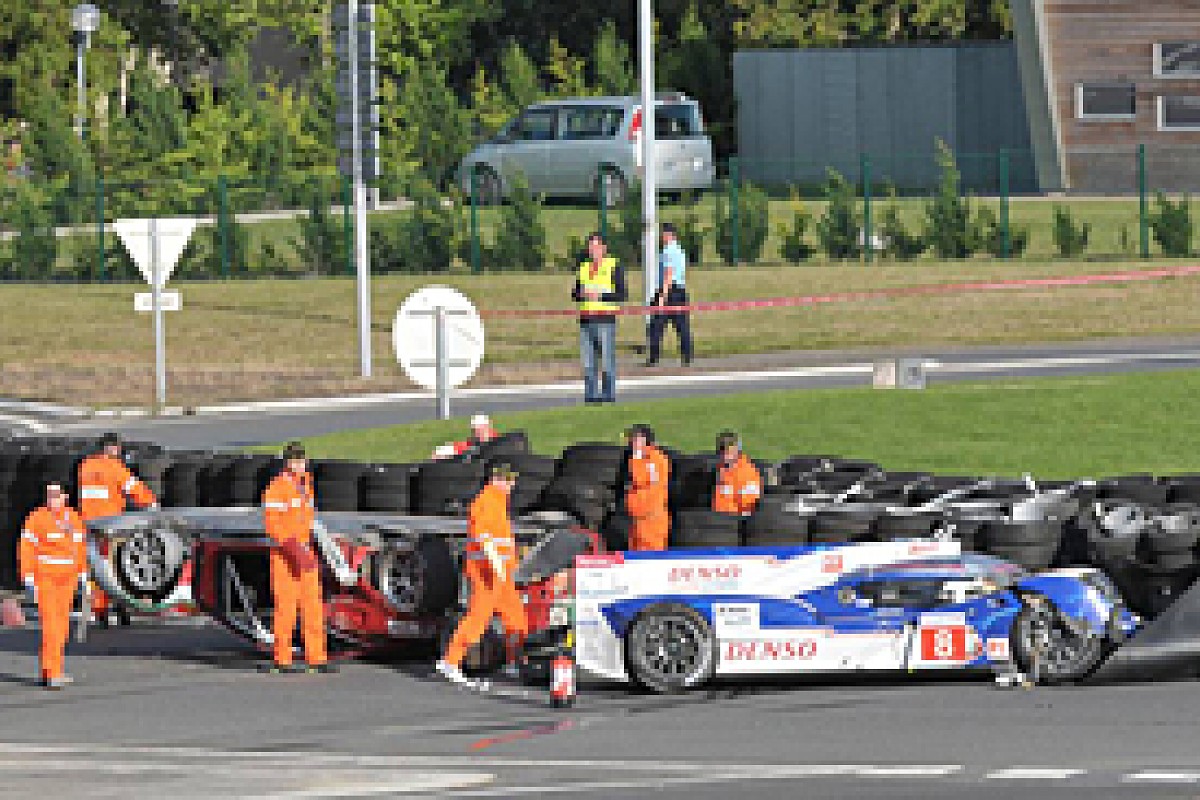 Anthony Davidson was seriously injured after a collision with a GTE Am backmarker © XPB
McNish also points out that driver ability has been to some extent addressed by the FIA and the ACO, now that each driver has to qualify within a certain time before being allowed to race.
But even in the GT class, drivers are aware that there should be more of a difference in speeds between categories on the straights - where passing slower cars is a much a safer proposition.
"It has always been an issue with this form of racing, and we see it all the time in the United States in the ALMS and GrandAm, or in the Daytona 24 Hours," said Corvette's Oliver Gavin. "The main issue is that a lot of cars are now going at a similar speed on the straight and it makes the drivers really have to do everything in the braking zone and the corners.
"Nowadays the prototypes are having to keep their momentum up, because they haven't got the power to just drive by the traffic on the straight, so they get desperate to get past people before they get to the corner. And that's been the case for about the past four years, maybe longer. It's something that needs to be addressed.
"Obviously the ACO wants to try and keep overall lap times under control, but I think it has still got to keep that speed difference on the straights between the different classes - it's really important."
Chandhok: You don't know until you've tried it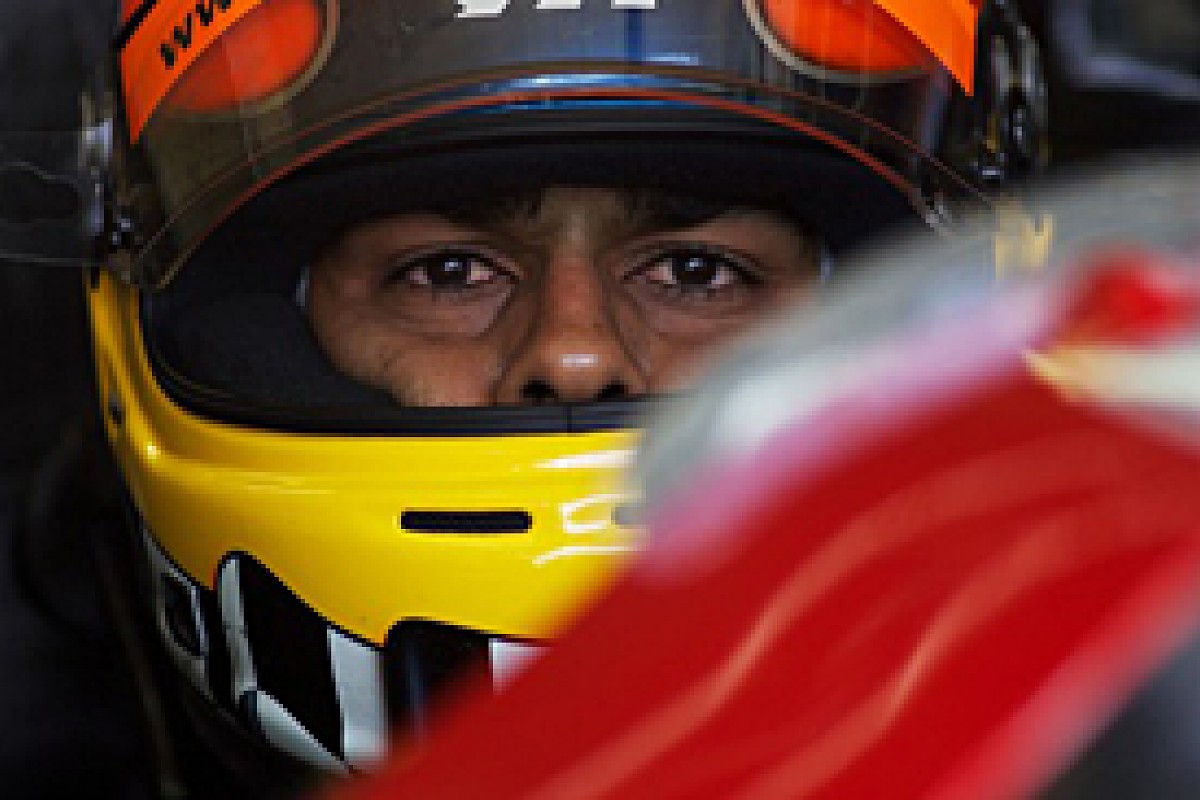 Karun Chandhok loved his Le Mans experience © LAT
Le Mans virgin Karun Chandhok had the highly experienced David Brabham and Peter Dumbreck alongside him at JRM, but reckoned most of the race's tricks were things that had to be learned first hand and not through instruction.
"You always learn bits and pieces [from other drivers]," he told AUTOSPORT. "But ultimately I found this weekend that you have to discover it yourself. There are lots of things that they can tell you, and they both helped me a lot - particularly Brabs - with what to do outside the car, which is to chill out, turn off and stop watching. He said, 'You get out of the car and just go. Go back to the house or to the motorhome, and just fall asleep, do something else for a little while.' I think that was a good lesson.
"On track, whatever they might say, you have to find it out for yourself. It's all about the feel, the track changes, the car balance changes, and also there are so many little tricks to the place. The road has so many camber changes.
"But I was really pleased - no real mistakes, no shunts, no offs, no collisions."
And it wasn't just an error-free performance, it was a rapid one, too. Despite limited preparation time since its switch to the prototype ranks and a tough start to its Le Mans week, JRM had a superb race to take sixth place, beaten only by the Audis and one of the Rebellion Lolas.
DeltaWing: Point proven
For everyone excited by the DeltaWing concept before Le Mans, there were plenty of naysayers unconvinced by the project and wondering how it would even get around corners, let alone achieve its creator's aim of lapping between LMP1 and LMP2 pace.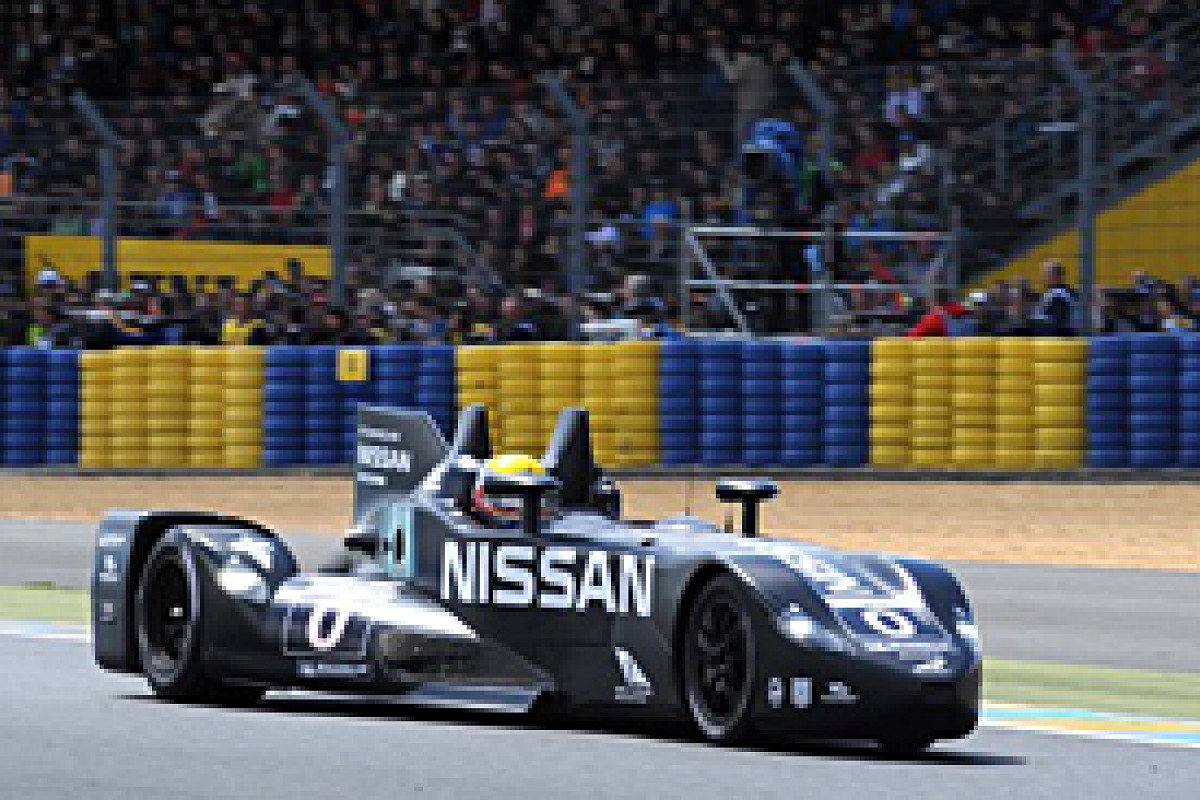 There was audible disappointment in the pressroom when the Delta Wing went out © LAT
Its relatively early exit after contact with Kazuki Nakajima's Toyota denied the DeltaWing a bigger opportunity to showcase itself, but it still had time to prove some important points. By virtue of its 500kg weight and low drag coefficient it was able to set a competitive time against the LMP2 runners, posting a qualifying lap of 3m42.612s in the hands of Michael Krumm.
The DeltaWing also demonstrated its low fuel and tyre consumption, with Krumm completing the first three and a half hours without a change of rubber, and consistently doing 11 laps on only 40 litres of fuel. In comparison, the Audi e-tron used 58 litres in the same period, meaning that the DeltaWing can do 11.5mpg at race pace, while the event's winner did fewer than 8mpg.
Designer Ben Bowlby said that the most important point to prove had been the car's pace.
"As designers, we always worry about pace first, and we proved that it works," he said. "We actually had brake balance problems in qualifying, and on the lap that Michael came in he could have done a 3m39s very easily."
Marino Franchitti added that not only was the car fast but that all of the problems the team suffered were typical of any new car. "They are not DeltaWing specific problems," he said, "they happen on any new car. It is great fun to drive once you, as a driver, understand how to drive the car, and that it will just grip."
LMP2's transformation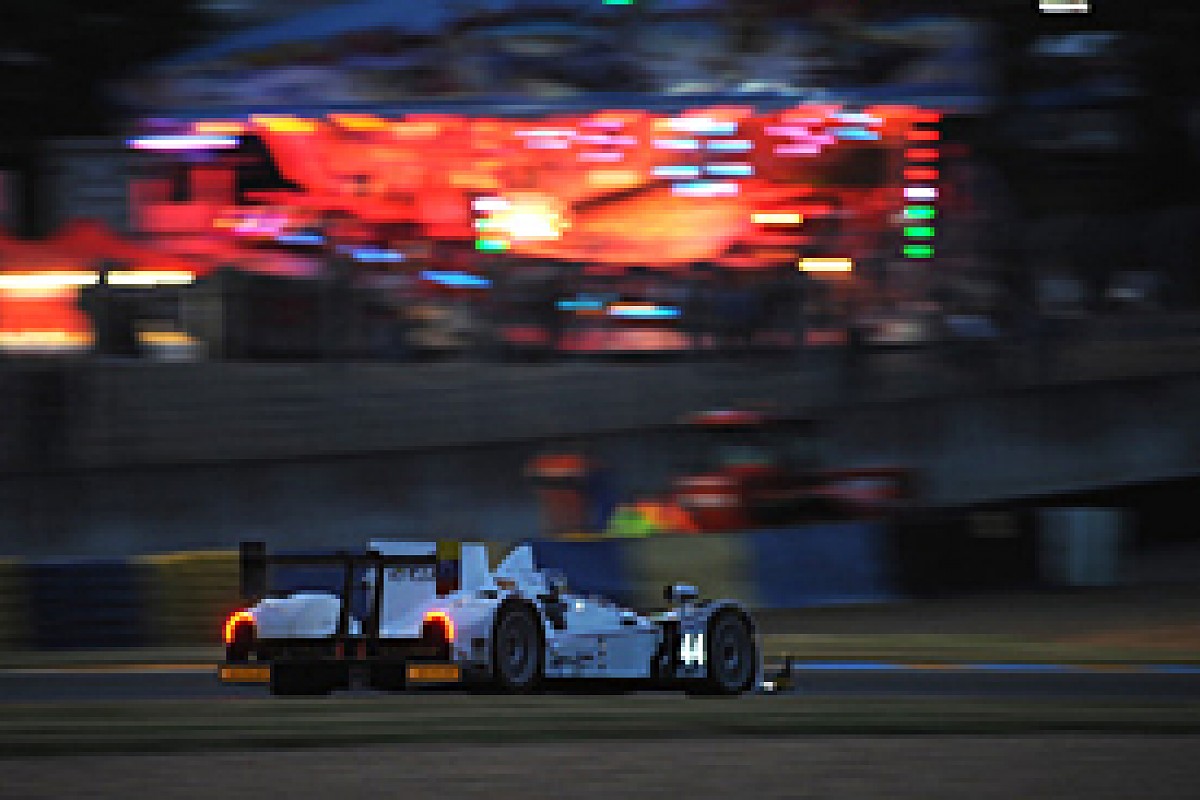 Starworks won through in a highly competitive LMP2 field © LAT
Gone are the days when the smaller prototype category was seen as Le Mans' most flaky class, stereotypically won by a car limping to the minimum distance cut-off after its rivals had coughed to a halt even earlier.
In 2012, the winning #44 Starworks HPD-Honda finished only 24 laps behind the overall winning Audi, and a further six LMP2 cars finished within eight laps of it. The LMP2 class is now as closely fought as LMP1, and with a larger variety of manufacturers and teams.
Before the race, Martin Brundle predicted that "12, or possibly even 15 teams" could win the category, and OAK, Murphy Prototypes, TDS, Signatech and Pecom all had their opportunities before Starworks triumphed.
The #42 Greaves Zytek-Nissan finished eighth in class and was only 14 laps behind the class winner, whereas in 2011 the first eight LMP2 cars were covered by 79 laps.
Tom Kimber-Smith, LMP2 winner with Greaves in 2011 and a last-minute addition to Starworks' winning crew this year, is confident 'division two' is now the more interesting prototype category.
"The fact that it was a flat-out race proves that the category has improved through the years, and it is really the one worth watching," he told AUTOSPORT.
Brundle still has it
"Yeah, the old man has still got what it takes," said Alex Brundle to AUTOSPORT after climbing out of the Greaves Motorsport Zytek after his final stint. Martin brought the machine home 15th overall (and eighth in LMP2 class) in the end, to record amazingly only his second finish in the event.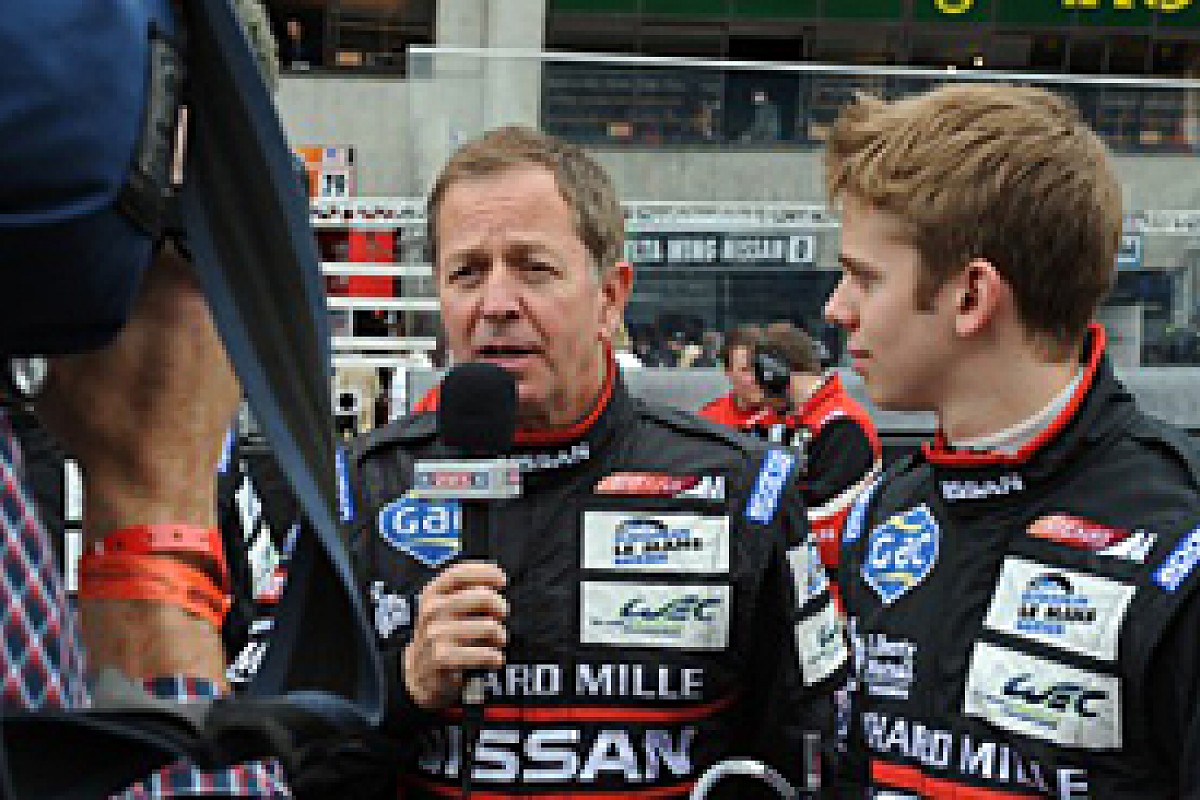 Martin Brundle and his son Alex before the start of the race © LAT
"Dad was brilliant all weekend - he was consistently fast and he produced a good lap in qualifying," added Brundle Jr, who was experiencing his first Le Mans. "I've learned a lot from him, and when we ran into problems with a sticking throttle during the night, it was dad who suggested I switch to right-foot braking to cover the clutch. I can't remember the last time I did that!"
In the early stages of the race, Brundle Sr, now 53, looked as if the years had fallen off him as he ran on the lead lap in class comfortably and with pace to spare.
But typically for the still competitive former F1 driver, he was frustrated by the problems that the team faced. He'd told AUTOSPORT prior to the race that his plan had been to follow old mentor the late Tom Walkinshaw's philosophy of 'Don't go racing until the sun comes up'; but by that stage the car had lost four laps to an alternator change. Nevertheless, he'd enjoyed the experience.
"I really wanted to do this with Alex," he said, "and for him as well because of how the exposure would help him with his career, but I've loved every minute of it.
"However, we have been hampered by some problems, and from a racing point of view that takes the shine off it. Without the issues, we could have been in the hunt. You could see that the top cars in class had done a lot of work to recover the downforce lost to the regulation holes in the louvres, but I still think we could have been in the top five."
Asked if he'd do it again he said: "You never know, do you?"
Aston Martin is back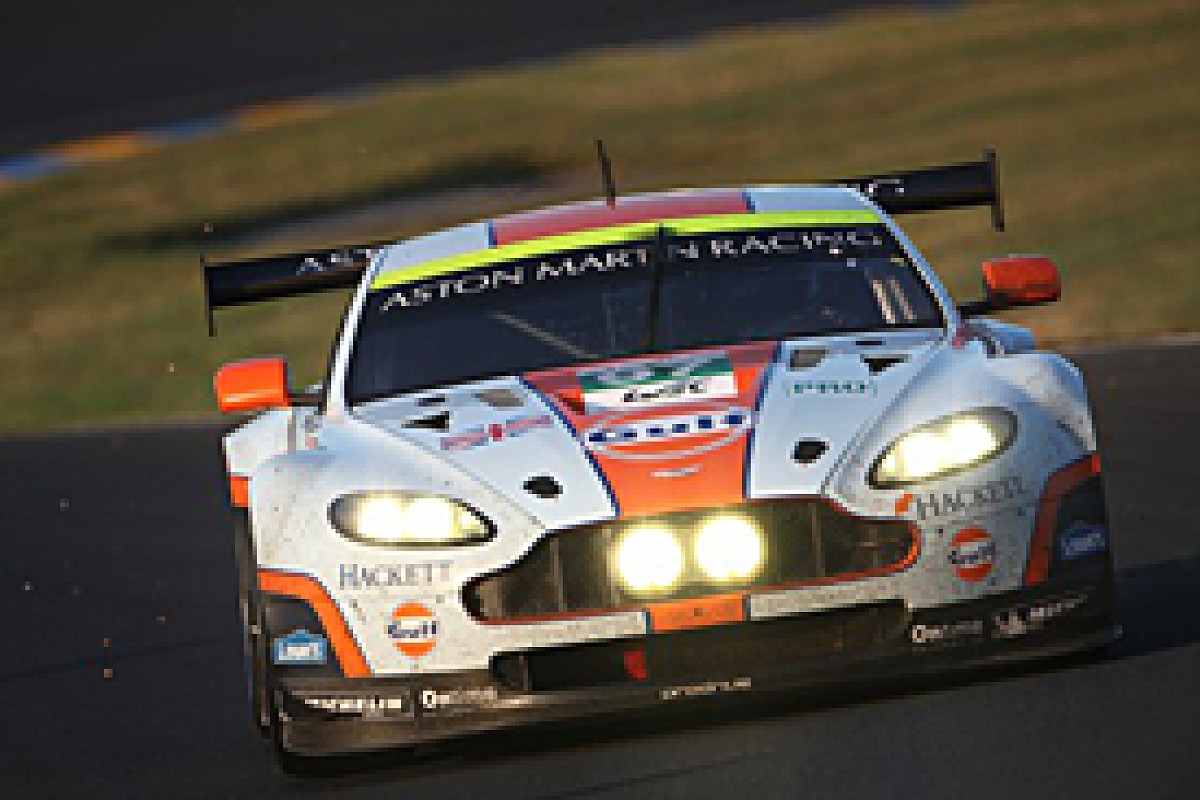 Aston Martin made a massively positive impact on its factory return to GTs © LAT
Aston Martin opted for a tone of quiet optimism rather than overblown confidence heading into La Sarthe, paying full respect to the trials the world's greatest endurance race can offer. The Vantage was, after all, making its Le Mans debut, barely 10 months after the programme was first agreed.
From the start, it was clear the pace was there, as the #97 GTE Pro went fastest in the opening practice session and the sister #99 went second in the Am class. The team had been forced to compromise the handling slightly - the decision, for example, to remove the rear wing gurney flaps boosted straight-line speed down the Mulsanne, but did lead to a slightly lighter, looser rear. Still, on single-lap pace the Aston was in the mix.
In the race, the #97 excelled again. It remained locked in battle with the lead Corvette throughout the first four hours, recalling the iconic fights between the two marques from the past decade. Despite being slightly thirstier, when the pitstops had cycled through, Aston Martin was an ever-present at the head of the field.
Despite Stefan Mucke's excursion at Indianapolis, and a few other minor scrapes, third place was a just reward for a tremendous job. With the project still in its infancy, there is still far more time that can be found.
"The car is not as easy to drive as it should be, but we know what we have to do to sort it out," said Aston Martin Racing managing racing director John Gaw. "Inevitably you run out of time on these things, but we already know exactly what we need to do for the remainder of this year and for next season, so it's all planned."
Following its debut showing, the signs suggest Aston Martin might just have another Le Mans winner on its hands.
GTE really is a sprint race - for some

It is often said that as teams become more evenly matched at Le Mans, the race itself will increasingly become a sprint held over 24 hours. In GTE Pro, though, that adage proved true. Over the opening four hours, the GTE runners, both in Pro and Am categories, diced in large groups, sometimes running four-wide down the Mulsanne Straight.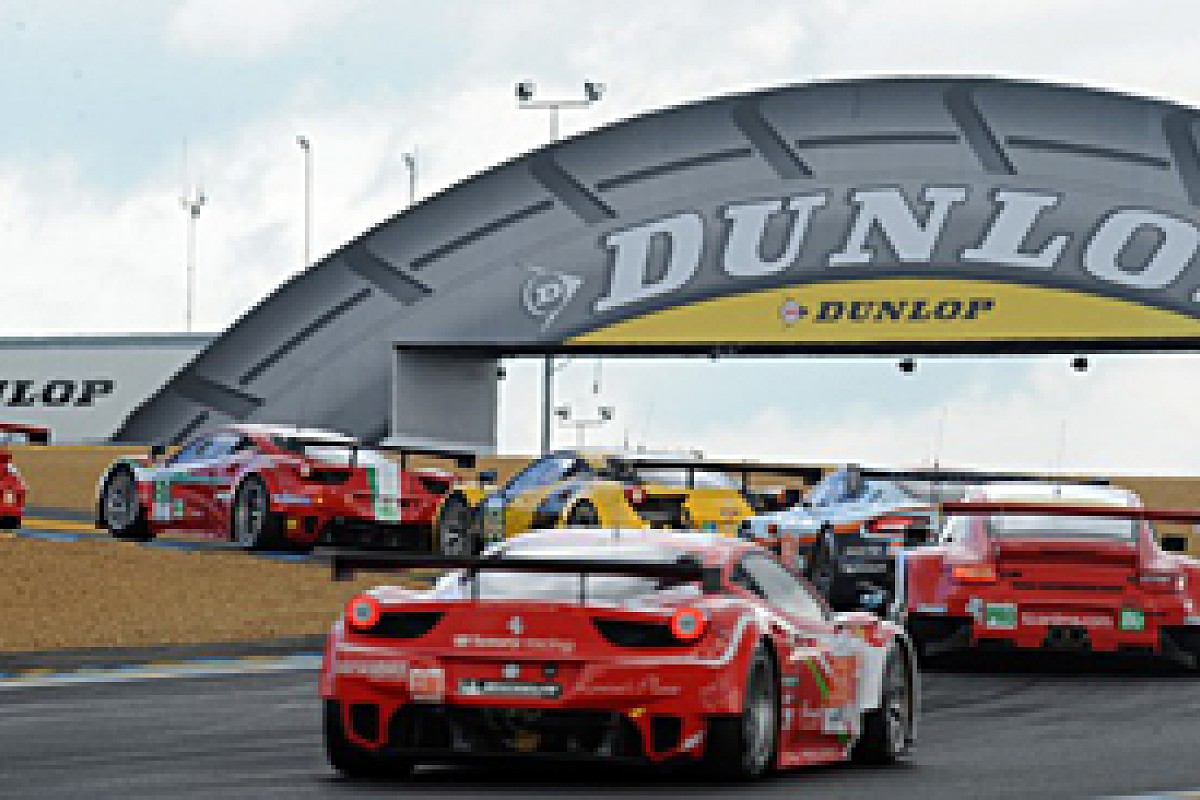 The racing in the GT categories was breathtaking © LAT
That early form reflected Darren Turner's view that it would "be like a touring car race".
Running alongside the sprint race ethos, however, was a more classical element - fuel preservation. Aston Martin's lead was always going to be at risk because the Vantage proved the thirstiest of the frontrunners, while the Ferraris came increasingly into play because their direct-injection systems were the thriftiest.
The effect of running deep was evidenced on the sixth hour, when the #97 Vantage pitted for what was the seventh time, dropping to sixth in class in the process. The #51 AF Corse Ferrari, which went on to claim victory, had already stopped two times fewer, and was reaping the rewards more than a minute up the road.
"My speed was good in the early parts," the #51's opening driver Toni Vilander said. "I knew we had 24 hours to go, so I wanted to respect the car, and also not overdrive and damage it in the early stages. But the pace was also judged to get the maximum laps out of a full tank.
"Our target was never to get into the lead for the sake of it, but to be first at the end of the 24 hours. If the race was shorter, we would have had a different strategy, but the reality was that we needed to race over 24 hours."